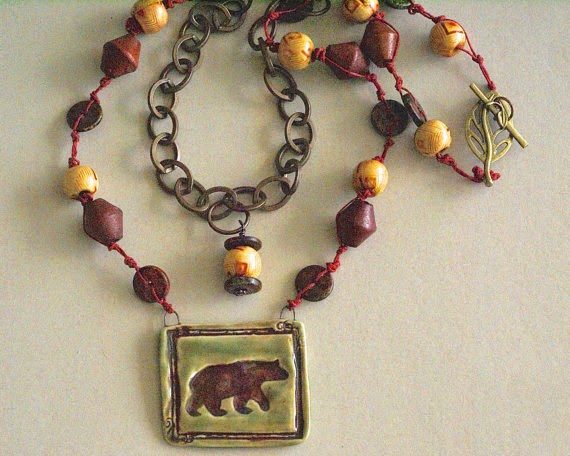 The bear as a spirit animal
is a powerful grounding force filled with strength. It is symbolic of
courage. I think this is a good choice to kick off our inspiration of
totems. I like that Miss Kathy chose to go with the warmer tones that
are present in the painting, the rusty brown, the golden ochre and the
soft sage green all give this necklace has an earthy quality. I am sure that it would give the wearer protection from adversity and strength to face what comes.
Miss
Kathy featured the pendant from Blu Mudd from ceramic artist Moriah
Betterly. Unfortunately, I have learned that Miss Moriah has decided to
discontinue making jewelry components and focus her work on more
sculptural and useful pieces, like mugs and pottery. I know that many
designers over time have used her lovely pieces, and I am sure we will
continue to see them pop up in designs. We wish Miss Moriah the best of
luck in her new endeavors.

~~~~~~~~~~~~~~~~~~~~~~~~~~~~~~~~~~~~
Just a friendly reminder… We
have a slightly new format for uploading your pictures for consideration
for the Perfect Pairings each Wednesday, as well as the Monthly
Challenge Recap post.
We are now using Pinterest!
You can find more details in this post about the exciting new changes
, including a board devoted to art beads inspired by the monthly challenge! (Ooh! Look! More pretty beads to lust after!)
Pretty please make sure that you post a
link in your Pinterest description so that I have someplace to attribute
the picture to! And don't forget to tell us about those art beads!
Deadline to get
your pictures posted to the Pinterest boards for the creation of the
Monthly Challenge Recap post is Thursday, February 26th!