Hopefully once a month we will offer a What's New from the Art Bead Scene Team to share with you what we have been up to. It will be open to all of our members and to any kinds of art beads they want to share. Today I will be focusing on 6 bead artists. Let's start with Heather Millican of Swoondimples who has added a number of beads to her shop since she had her major destash event. They are all very timely and charming: peaceful words and loving chit chat, as she calls her little birds talking. See picture below. You can find more of Swoondimples work in her Etsy shop HERE.
Chit Chat by Swoondimples on Etsy
We are all about color and birds and Spring Fever this month!! Look at these stunning color mixes in Rebecca Anderson's End of the Day hand woven beads from her The Curious Bead Shop.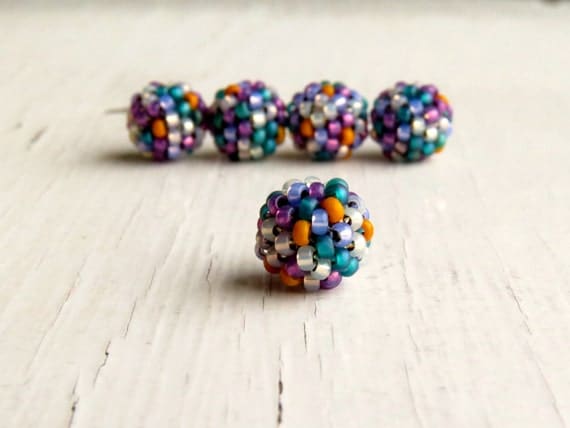 End of the Day Hand Woven Beads by Rebecca Anderson in The Curious Bead Shop
Rebecca weaves these intricate beads from tiny seed beads and both sells them in her shop and uses them in her jewelry. These are called End of the Day because they are a random gathering of leftovers in her bead tray from other projects. What a great way to get exciting color combinations like these. If you would like more information you can read about her process on her blog HERE.
Ceramic Headpins from FireFly Design Studio
Michelle McCarthy from FireFly Design Studio has designed and created the above set of head pins out of ceramic clay. They are so new that they are not yet available in her shop. I am sure she will let us know when they are ready to go.
Here is what she told me about these Headpins:
" Here is a new product of mine, a headpin set that includes the ceramic headpin on a 3″ 24 gauge wire, a 10mm disc and a 10mm round bead. Add a crystal and a metal spacer bead, add a loop and attach it to an earring wire for instant earrings." ( see picture above)
Love those colors and design. They will be fun to use!!
Bright colors and Spring cheerfulness are what these Humblebeads birds by Heather Powers are all about!! What a delightful flock!!
Flock of Birds by Heather Powers of Humblebeads
Be sure to check out the lovely necklace made by Martha Thomas with these birds in the current issue of Stringing Magazine. You can see a picture of it on Martha's website Blog Here
Our next artist, Erin Prais-Hintz of tesori trovati takes us to the sea for an enchanting set she just completed. She tells us that they are made to order raised relief pendants. Each one of the series has a different message on the back in her own typography. I especially like the message on the Sea Horse–"You are the entire ocean in one drop." I have included a picture of the entire group below.
Seascapes by tesori trovati
I am sharing a new bracelet bar, or a bracelet topper, as I have learned from fellow teammate Michelle McCarthy, can be another name for a bracelet bar. This one is of a prolific weed that grows in our area and perhaps in yours as well.
I may seem a bit light on new work but it is because I am working on a project for my next Inside the Studio post March 28 related to my previous post Inspiration Part I which you can see HERE
I hope you have enjoyed this look at what the Art Bead Scene Team has been creating.
Thanks so much for stopping by.
Mary