I really enjoy J.J. Grandville's illustrations. They can seem non-sensical, but a deeper look shows a wink with serious commentary on society. In fact, I liked the illustrations so much that I struggled with this Journey at first. My designs seemed so mundane. But I plodded along so I'd have something to show. Maybe it's pandemic muggy-brain, I thought.
I really liked the Battle of the Playing Cards. It reminded me of Alice in Wonderland which further reading told me it helped inspire. I tried a variety of designs but landed on this fairly simple one.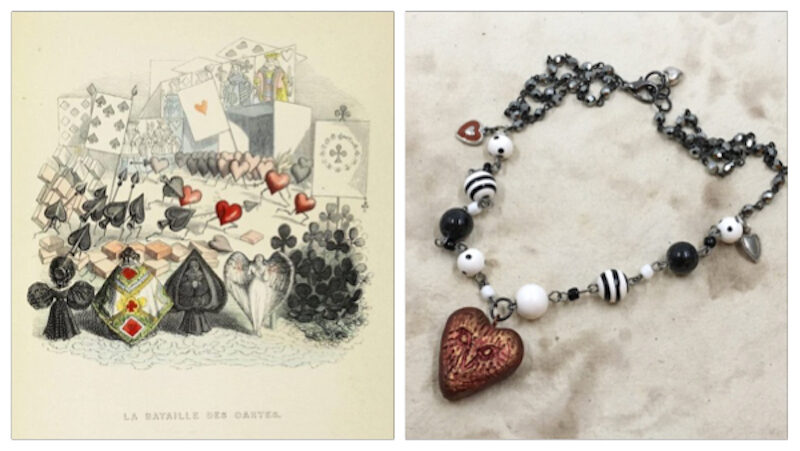 This features a heart pendant by Andrew Thornton (with a face that I see as an owl, but still a personified heart) and beaded chain by Jennifer Jangles. I've added different heart charms at each connection point.
Next up, I was inspired by Family of Scarabs. I had recently gotten a lovely bug pendant by our own Terri of Artisticaos. I didn't go with the bright colors in the inspiration but brought out colors in the pendant. You can't see it well in the photo, but the cylinder beads at the bottom of the strand are a lighter version of the green on the bug's head. I feel like their shape gives a bit of an antennae feel. All of the beads in the strand are vintage glass.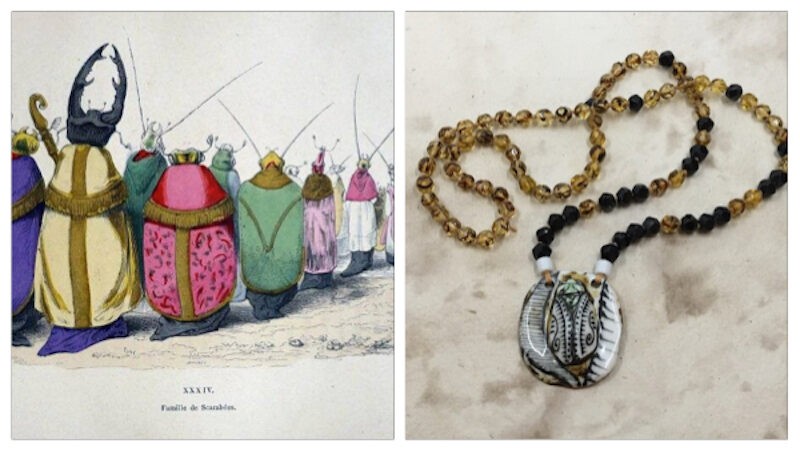 Then it occurred to me to look at more pictures than the few I had seen. When I saw Combat of Two Refined Creatures, I knew I had the perfect bead and an idea that felt more creative.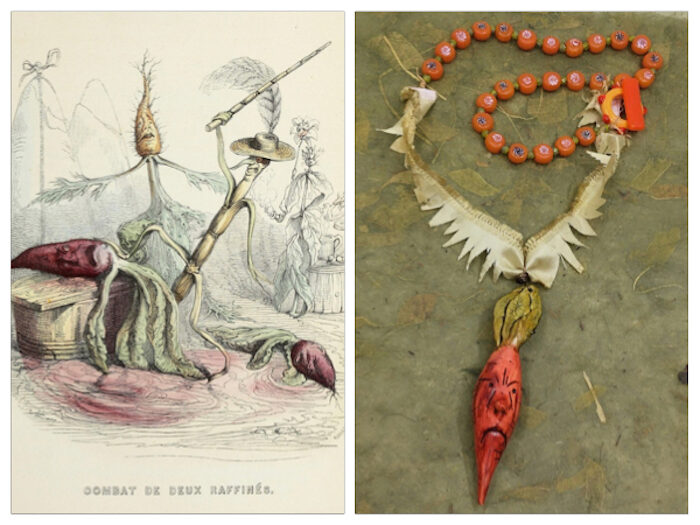 This distressed carrot pendant by Jeni Houser Alasad of Auntie Moons is perfect for the gruesome scene depicted. And this explains why I enjoy Grandville's art so much; I am someone who would have an upset carrot bead! I cut some sari silk ribbon to look like the leafy outspread arms. It is all finished off with a glass toggle clasp by Earthshine Beads.
One last necklace was inspired by The Metamorphosis of Sleep. Natalie of NKP Designs often makes beads with flowers that look like people. I didn't remember that I had a pendant as well!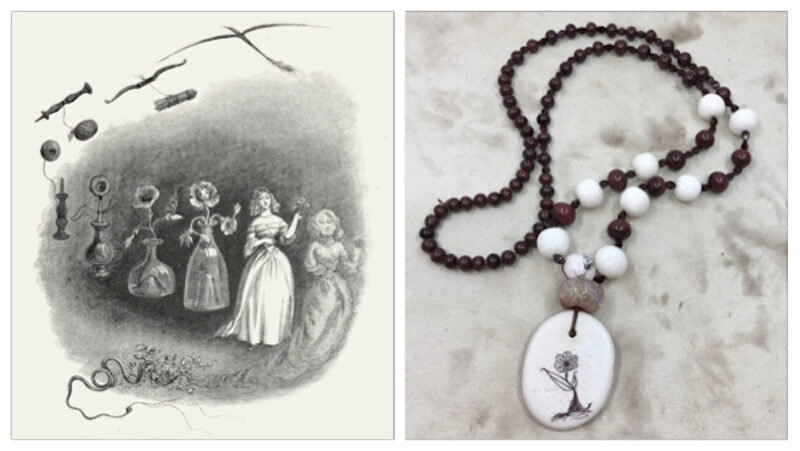 I kept a two-tone look similar to the drawing with this one and used the flower pendant and matching bead above a lampwork bead by Hannah Rosner. The brown rounds are vintage glass with Czech glass spacers in between.
I hope you've found something to inspire you in the whimsical world of J.J. Grandville. There is much to behold! See what others have made and play along yourself by visiting the album on the Art Bead Scene Lounge Facebook page.