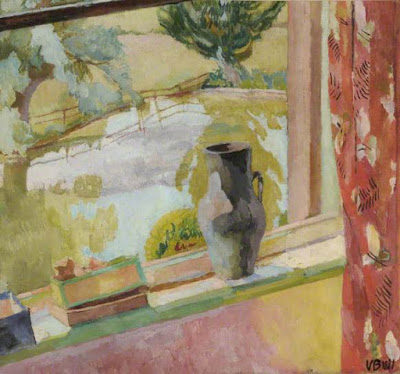 Looking at this month's painting, I was struck by the varied swath of colors. The strong coppery red color of the curtain… the cool reflection of the pond…. the warm walls… the utilitarian grey ceramic pitcher… the fresh sun-kissed green yard. Sometimes when I am unsure where to let my Muse lead me, I turn the picture upside down. As I created my own interpretation of this painting for September Simple Truths Sampler Club, I flipped the image so that I could select different areas of the painting to focus on for a bead set that I made.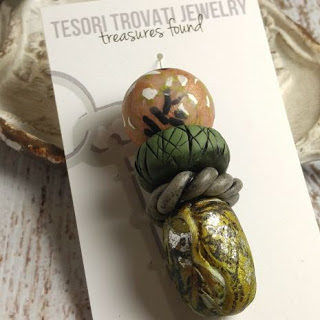 Do you see the inspiration I drew from the painting? The curtain….the grasses and fence posts….the handle on the pitcher….the view from above, like when flying in an airplane and seeing the shimmery reflection of ponds, the winding black roads and the rolling hills.
I loved seeing the variations in this month's challenge, both beads and jewelry designs. The color palette for this month was unexpected for the fall, but really couldn't be more perfect. There is a riot of color exploding all around us, and the textures that this, my favorite season, displays makes it hard to succumb to the inevitable. The last days of summer are waning and the warmth is fleeting (first frost advisory of the year tonight!), giving me glimpses of the cold and barren vista that is to come. But I need to fill myself up with the beauty of this season to make those wintery nights feel less stark. So let's take a last lingering look at the changing landscape of autumn to store the rich colors and textures until we meet this season again.

September Challenge Recap by Slidely Photo Gallery
Be sure to click the image to make it full-screen and to listen to the beautiful song Autumn Walk by Brad Jacobsen.
Now it is your turn! Show us what you made so we can celebrate you!