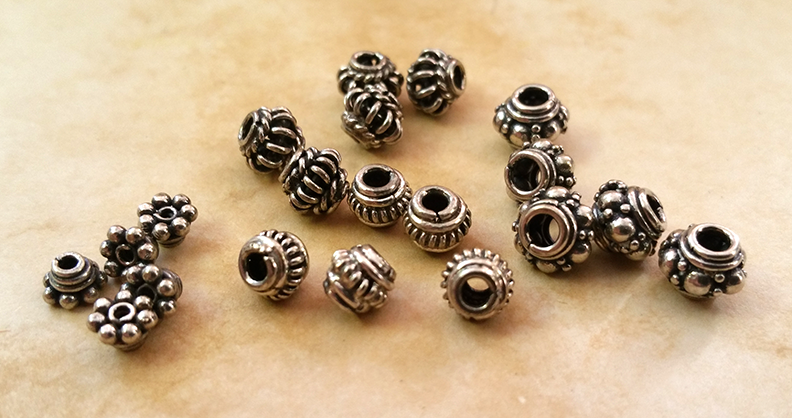 Bali Beads
The Love of Bali Beads
I have always loved Bali Beads. They can be added to so many designs and can be the lead singer or back-up singers. Used singly or en mass they are a wonderful handcrafted silver beads. Make sure when you are buying these beauties that are .925 sterling silver and handmade.
I photographed some of what I have. My favorites have always been the little flower spacer beads. They not only give you space but texture between more dominant beads.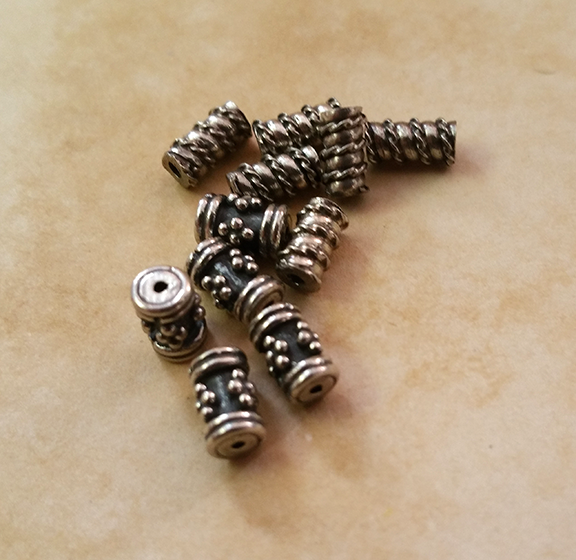 Bali Tube Beads
History
Indonesia learned the metal work crafts from Southern Chinese and Southeast Asian traders during the late Bronze age, several hundred years before the birth of Christ. These influences have been inferred from archeological digs that have uncovered dongson drums, jewelry, weapons and other artifacts clearly bearing "imported symbols." Excavations of ancient graves have also turned up artifacts from this period than show remarkable similarities with similar items from modern day China and India.
Over time, the metalworking skills of the Indonesian people grew, no doubt added by continuous contact with outsiders seeking trade in spices and other items. Gold and silver, which continue to be mined in Indonesia, were in no short supply by the time the Majapahit Empire emerged in Java (1300s) and moved into Bali. By the time the empire had failed, Bali had become the center of Indonesia's silversmithing and gold work activities.
One cannot easily discern how past influences have shaped current silver work practices in Bali. It is important to keep in mind that Bali, far from being an isolated island culture, has had vigorous contact through trade with many cultures over many, many centuries. Indeed, Indonesia as a Dutch colony as of 1602 and controlled much of the nation for 350 years. As such, European silverwork traditions and standards were no secret to the Indonesians, many of whom no doubt produced for export.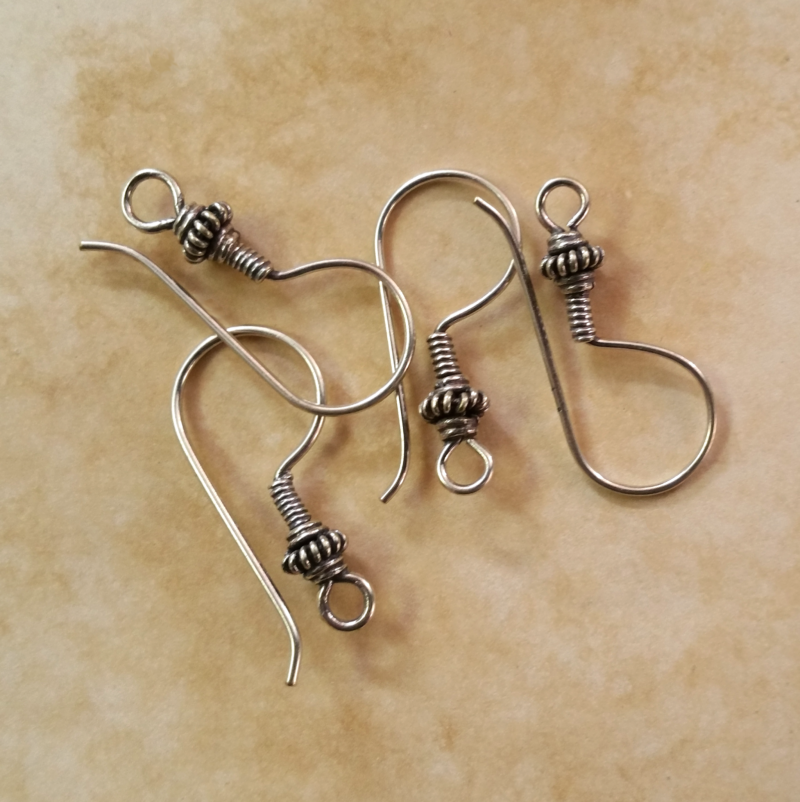 Bali Earwires
The Art of Silversmithing
Bali is a small island located in Indonesia, a nation of islands. The Balinese people, who are primarily Hindu, have a long and illustrious history. Arts and crafts are a significant part of their culture, and among their artisans is a community of highly skilled silversmiths. While silversmithing is practiced all around the island, there is a concentration of silversmiths in and around Celuk, a village in the south central part of the island.
Bali is known throughout the jewelry world for its sterling silver beads and jewelry. Balinese silver has a unique look to it, distinguished by its use of soldered granulations and twisted wiring.
The Balinese style involves applying little sterling silver dots and wires that have been bent into various forms to a larger base. The base can be round, oval, square, rectangular, or virtually any other geometric shape.
The silversmith will use a glue from a native berry to attach these granulations and wires to the base. Once he or she (there are many talented female silversmiths in Bali) is satisfied with the layout, every piece is soldered. That's a lot of labor, but this approach leads to a crisp appearance, with much contrast!
When these components are brought together into a single piece of jewelry, the effect can be stunning! Many Balinese silversmiths make the beads and findings that go into their jewelry, and then assemble the final piece to produce treasures that are truly of their own creation.
The Balinese style is also distinguished by its use of antiquing (induced tarnishing). Antiquing of the base allows the protruding granulations and wires to stand out.
Silversmithing in Bali, like many of the other arts of the island (wood carving, painting, fabric making, etc.) is a family affair. Children often apprentice with their parents, passing on skills from generation to generation.
Sadly, the silversmith craft is under attack from outside forces. Today, it is easy to to find "Bali-style" beads and jewelry made in Indonesia, Turkey and other countries. These products are essentially copies of Balinese design, and are usually not made up to the same exacting standards of the Balinese people. India, in particular, is producing a lot of imposter Bali silver that is of poor quality. India's Bali-style silver often makes use of casting, which leads to poorly articulated beads, and is seldom made of sterling silver, although it is usually sold as such. These low-quality, low-priced cheap imitations have reduced demand for Bali silver, causing hardship for the Balinese people. If you find Bali silver attractive, buy from a Bali source. Don't support cultural theft by purchasing imposter jewelry.
Source
Another history article to
read
.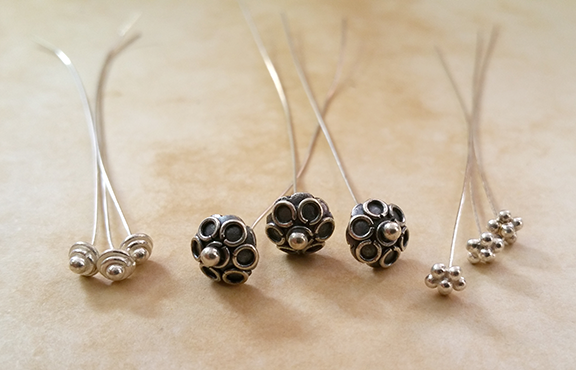 Bali Headpins
Where to Buy Bali Beads
I have purchased Bali Beads from
Zeelver.com
in the past. Nice selection and quality.
I researched other places to purchase but have not purchased from them before.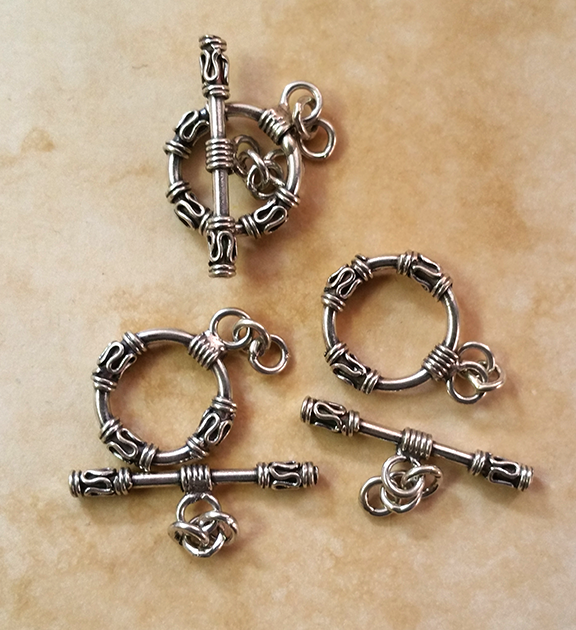 Bali Toggles
US Sources to Buy Bali Beads
Here are a couple You Tube Videos I found on Silversmithing Bali Beads…enjoy!