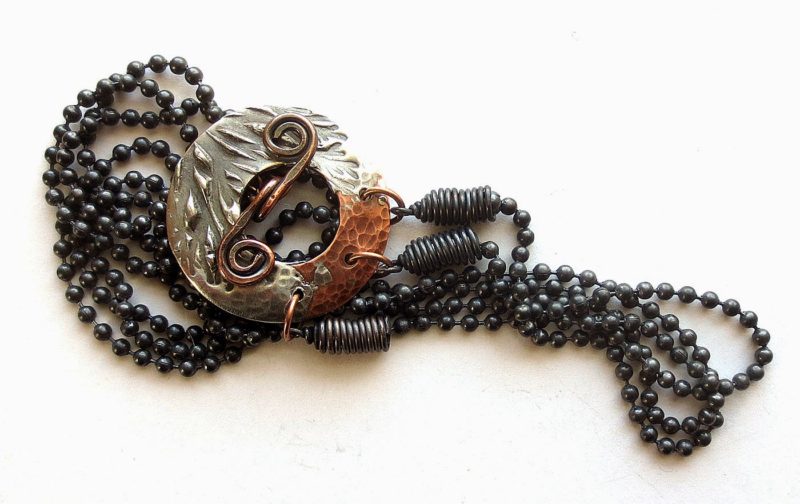 In keeping with the urban setting of this month's Art Bead Scene Challenge Painting, I have
designed a this century city style bracelet for my tutorial using blackened copper ball chain and one of my art bead toggle clasps. This is a 3 strand double wrap bracelet that is simple to construct and fun and fashionable to wear.
1 toggle clasp 1 1/8 inch diameter
42 inches ( approximately) copper ball chain–2.4mm bead
6 2.4mm bead ball chain connectors
3 balled end head pins 20 gauge annealed copper wire 7 inches long or substitute copper end pins
3 size 5 mm jump rings
3 size 7 mm jump rings
1 size 9 mm jump ring
Liver of Sulfur patina
Acrylic Fixative Spray
Tools
Round Nose Pliers
Chain Nose Pliers ( 2 pairs for closing jump rings)
Flush Cutters
Flat needle file
Butane torch if you are making your balled end head pins Use 8 inch pieces of 20 gauge wire and anneal them for easier wire wrapping
Directions
These directions are based on a 6 1/2 inch wrist. You may need to adjust the measurement of the ball chain. Bracelet is designed for a snug fit on your wrist. To figure how much chain to cut for your wrist, use a tape measure and wrap it tightly around your wrist. Double that measurement. You should come very close to a good fit with this method.
1. Cut the ball chain into 3 pieces 13 inches long. Make one of the pieces 2 beads shorter than the other two. I suggest you make all 3 pieces of chain a little longer than they will need to be to go around your wrist twice. Then you can adjust later.
2. Add the copper ball chain connectors to both ends of all three pieces of chain.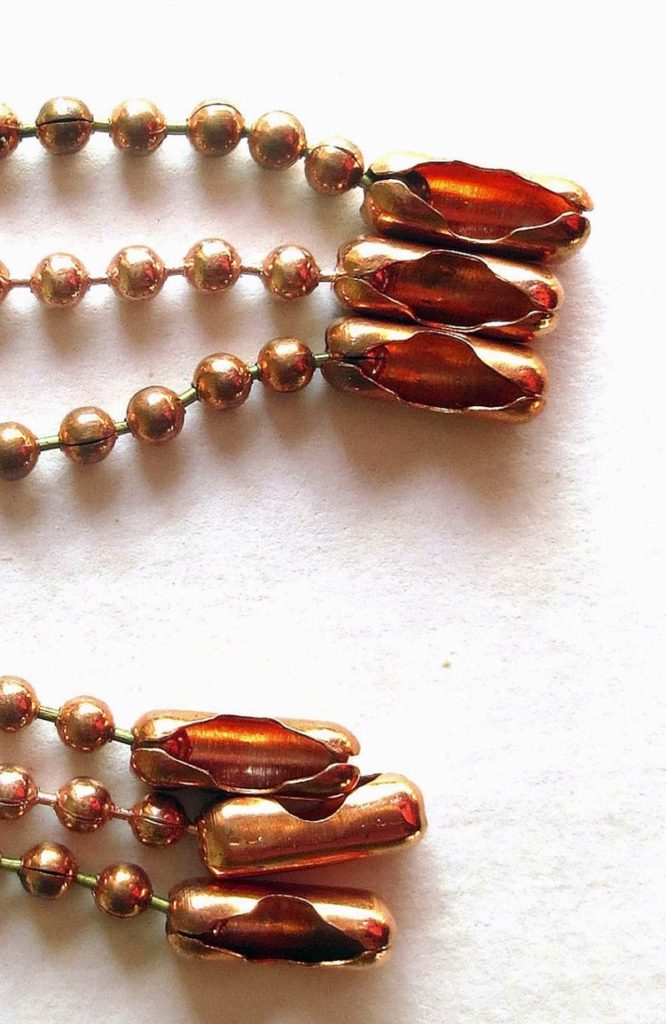 3. Make a small wire wrapped loop for 1 end of each of the chain as follows:
Insert the the non balled end of the head pin into the hole at the top of the ball chain connector and align it so that the smooth side faces out.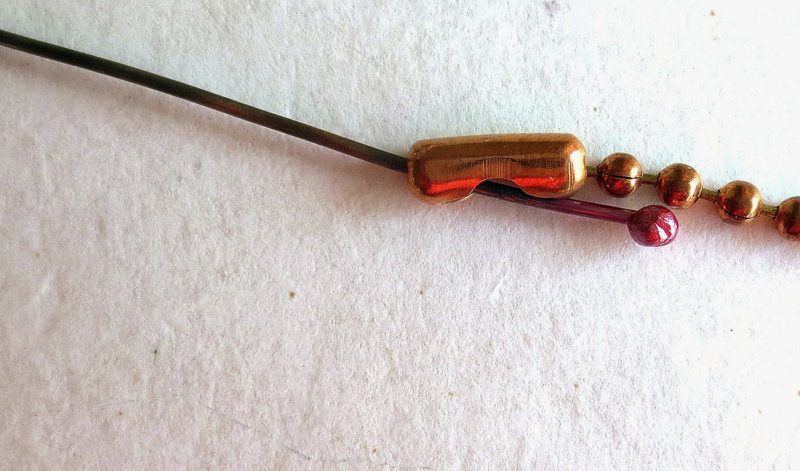 Then make a wrapped loop and continue wrapping the length of the connector as seen in picture below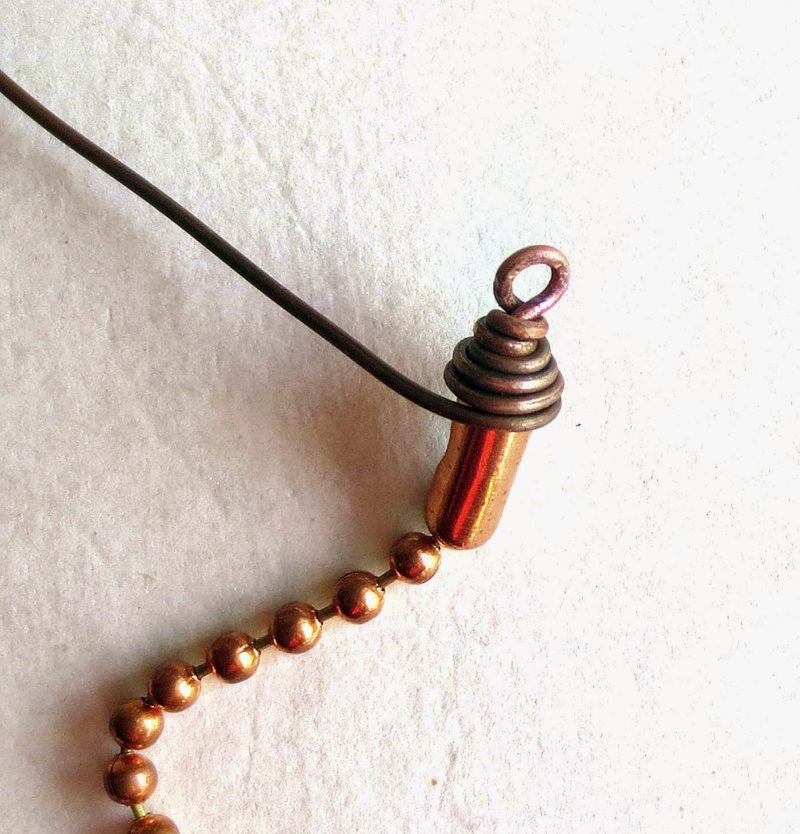 When you have finished your wire wrapping flush cut the wire on the back side of your wrap. File the edge smooth.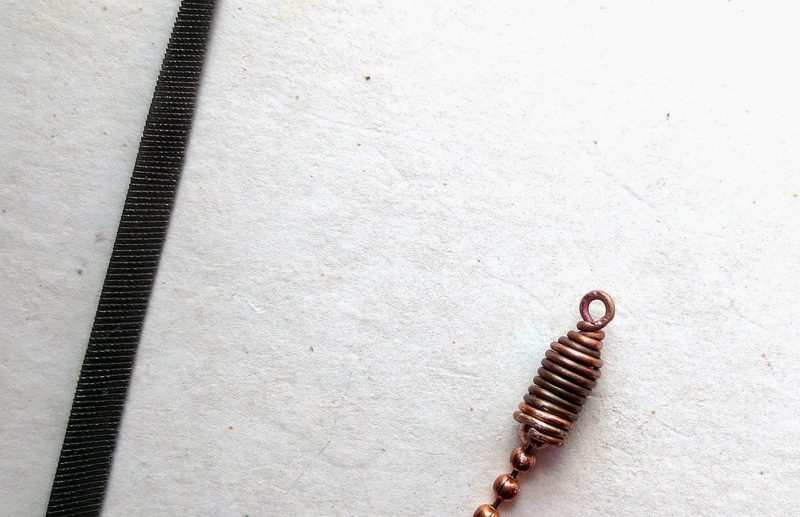 Back side of the wire wrapped connector
When you have finished wrapping all three connectors, add the 7 mm size jump rings to the wire wrapped loops and 5mm size jump rings to the connectors that don't have wrapped loops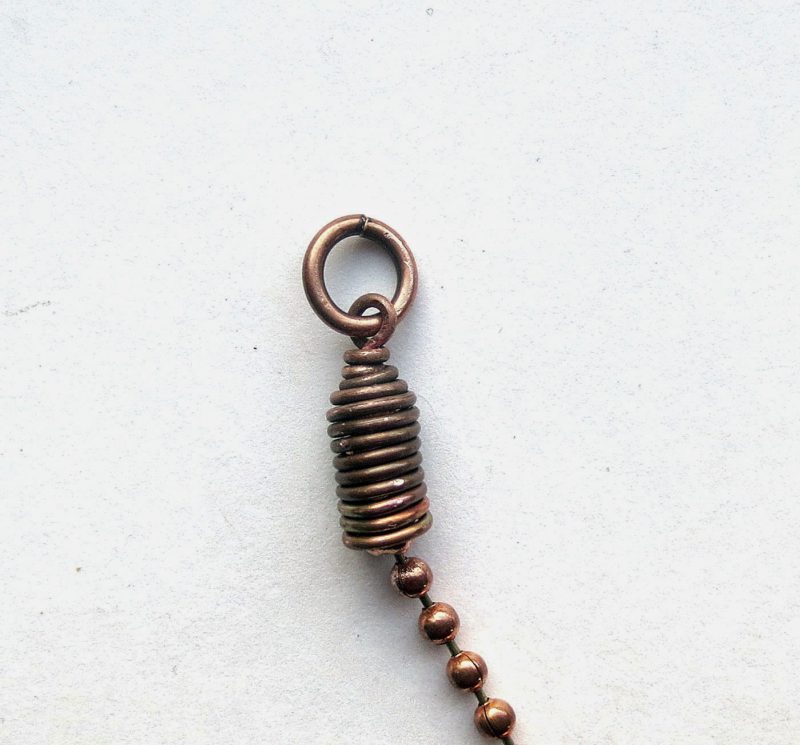 7 mm jump ring added to the wrap loop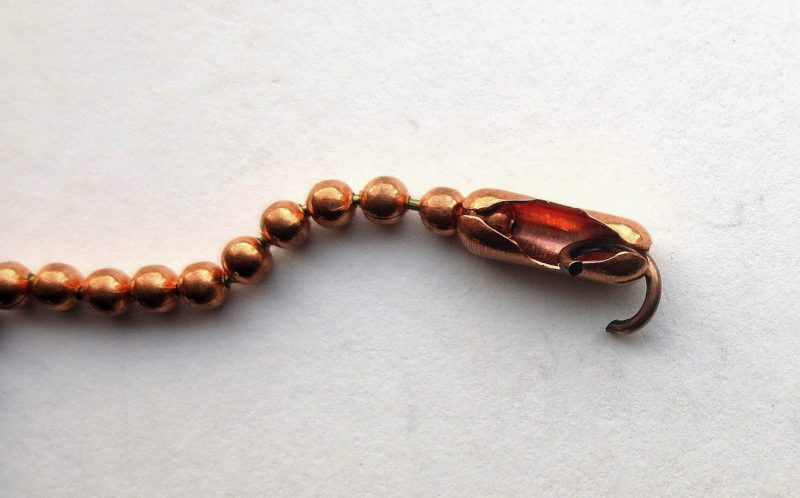 adding 5 mm jump ring to connector bead through hole on end of link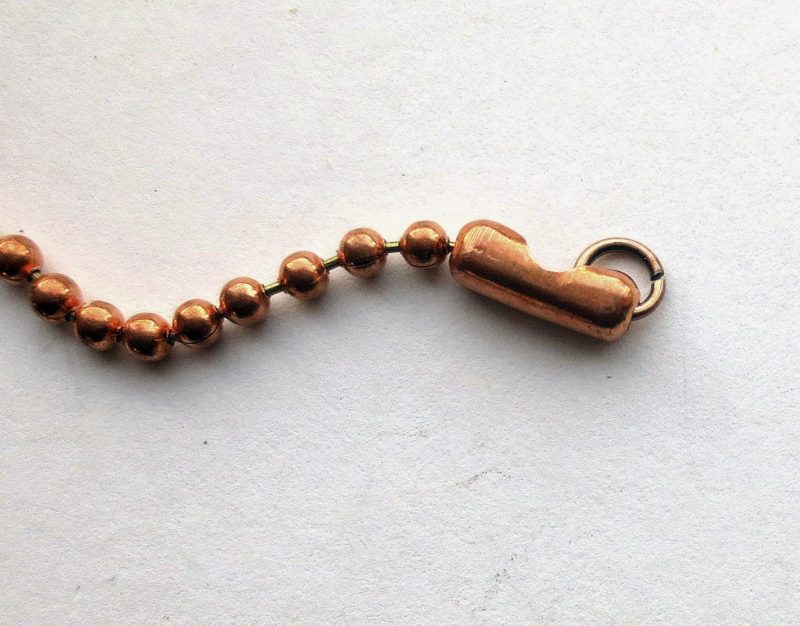 5mm jump ring connected to the connector bead
Then put all 3 pieces of chain into a liver of sulfur solution ( be sure to use in a well ventilated area, wear eye protection and rubber gloves) and wait until they turn completely black. Rinse with cold water. Dry thoroughly with a hair dryer before continuing.
Bracelet Assembly
1. Attach the three wrapped loop chains to the three holes in the toggle clasp.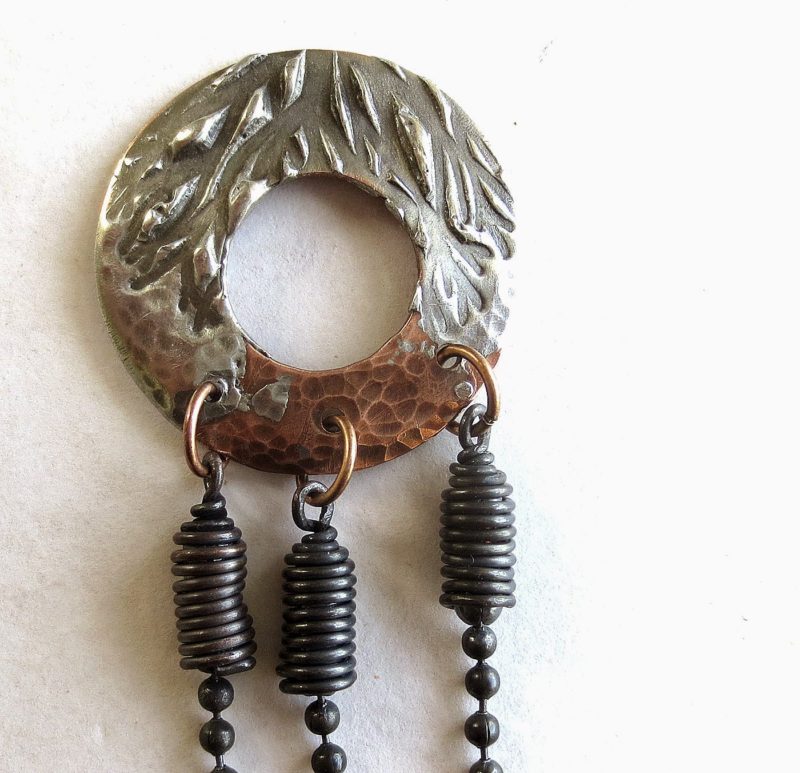 2. Lay out your chain, making sure that each strand is straight and attach the three jump rings on the other end to the loop in the toggle bar.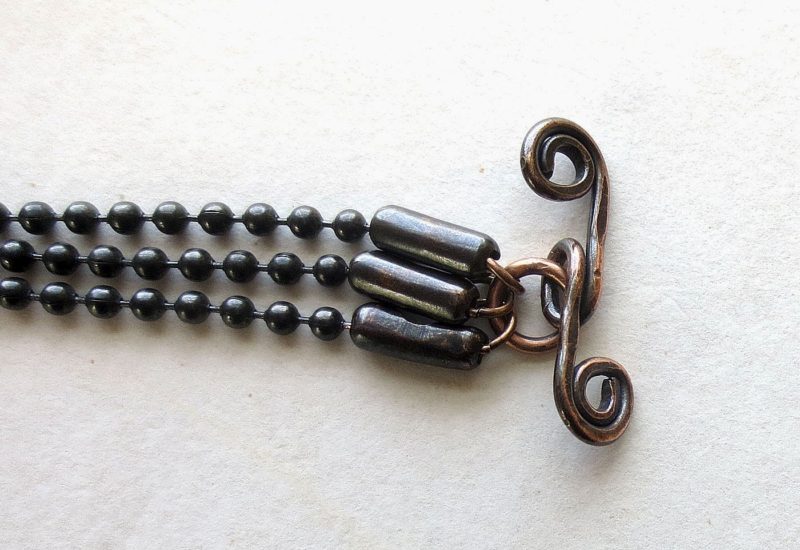 3. Put on your bracelet by wrapping the chains 2 times around your wrist and closing the toggle clasp with the toggle bar. If your bracelet is too big you can easily cut off the extra lengths with a pair of scissors or your flush cutters. Remember to make the middle chain about 2 beads longer than the other 2 chains.
If you want to protect your patina lightly spray the chains with the Krylon Acrylic fixative spray.
Enjoy your new urban chic bracelet!!!
Sources:
3 hole Toggle Clasp MaryHardingJewelry
Copper Ball Chain 2.4mm bead Rio Grande
Copper Ball Chain 2.4mm bead connectors Rio Grande
Jump rings Ornamentea
Balled end head pins MaryHardingJewelry
Krylon Acrylic Fixative Spray Michaels and other art supply stores
Liver of Sulfur Patina Etsy