Thank you to all who participated in the Art Journey #7 inspired by the lush botanicals of artist Rachel Ruysch. She sure was an inspiration!
Here is a little collage of the entries for this challenge: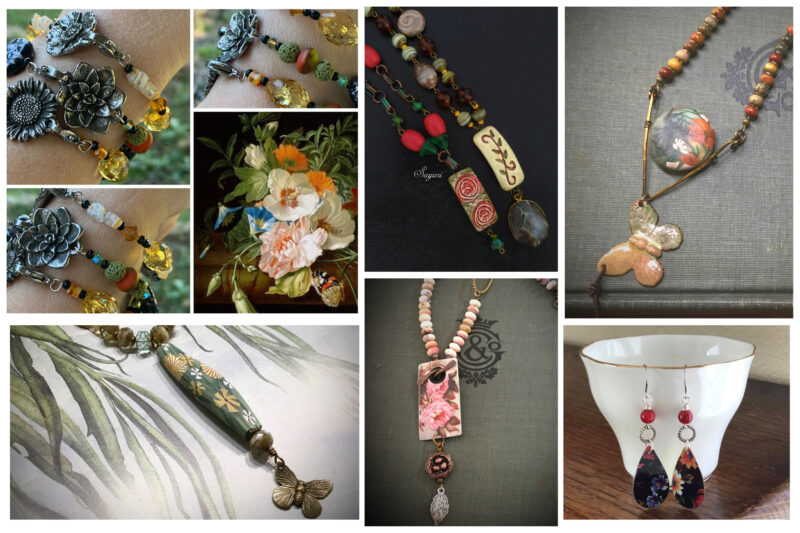 And here is a collage of what some of the editors of the Art Bead Scene created.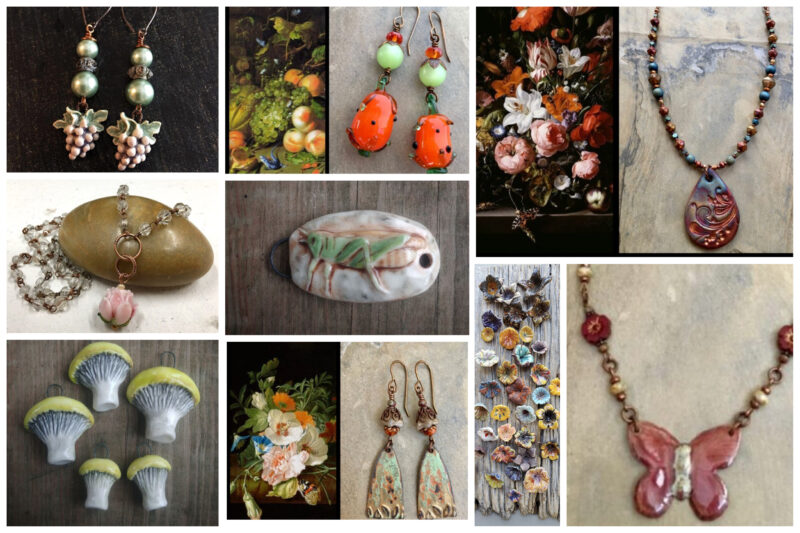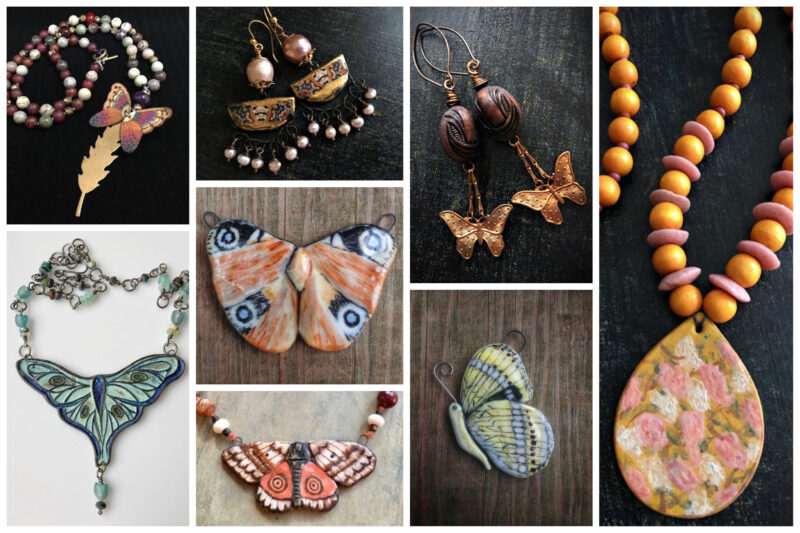 The winner of the participation prize is….
ALISON ADORNS!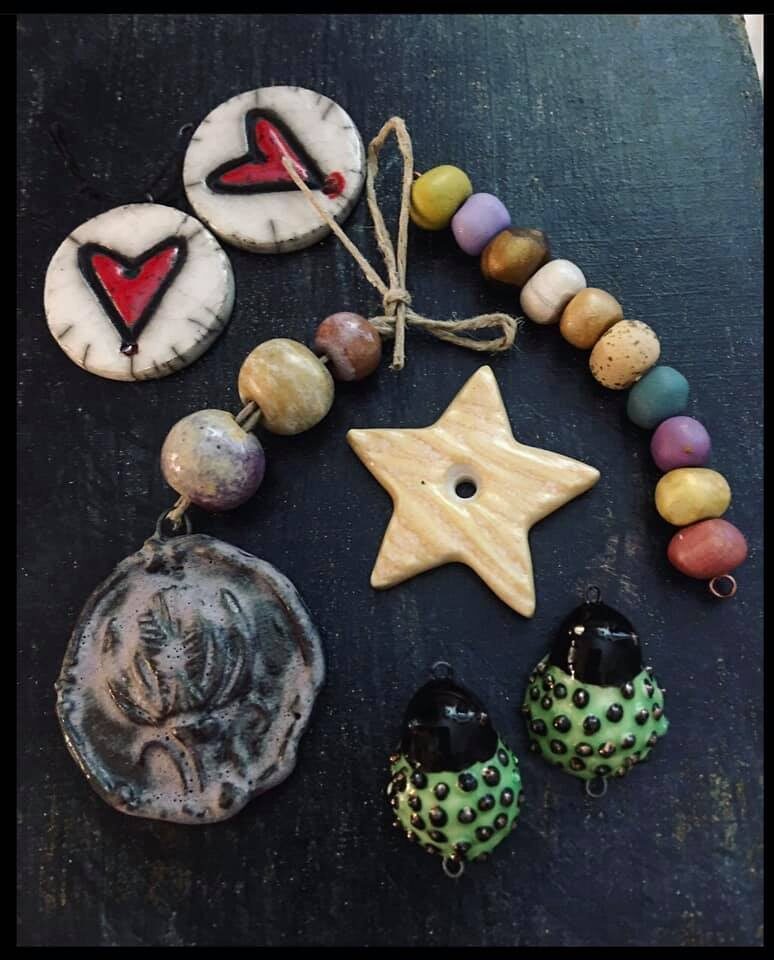 Please email me at [email protected] and I will have your prize from sent out to you!
---
Art Journey Challenge #8: The Wonderfully Odd World of JJ Grandville
Thanks to Loralee Kolton for finding this truly engaging artist!
Jean-Ignace-Isidore Gérard, known simply as J.J. Grandville (1803-1847) was an imaginative and unique graphic artist from the early nineteenth century. He was born in Nancy, France to an artistic and theatrical family. Grandville was a family stage name that he adopted and he later shortened his first name to J.J. Grandville's father drew miniatures and taught his son to draw. From an early age he showed a talent for exaggeration and inventiveness. He moved to Paris when he was 21 to continue his artistry, at the time when lithography was in widespread use for producing prints. Grandville's style was well-suited to lithography.
The Metamorphoses of the Day, published in 1828 was a series of seventy scenes that satirized the bourgeois middle class of Paris society. Strange juxtapositions of animals and humans in the clothing and settings of the time were dripping with satirical humor and were often widely mimicked.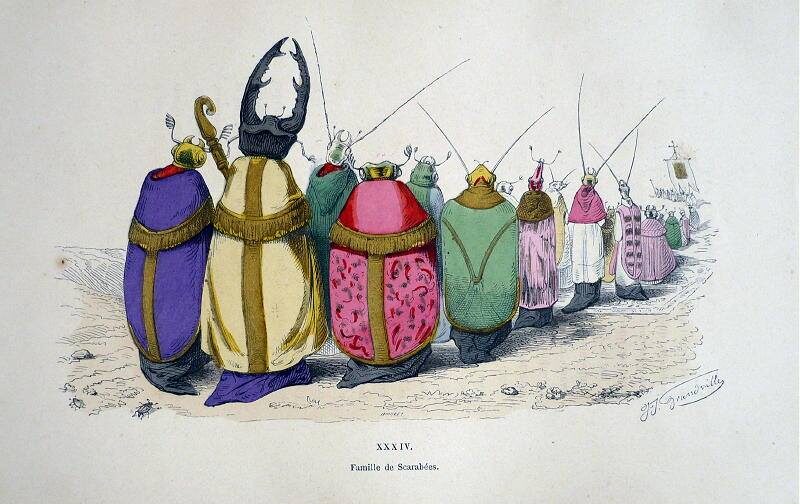 In the Family of Scarabs, Grandville seems to mock the parade of brightly hued beetles equating those that exult in outward appearance – particularly in religious garb – to little more than congregating insects.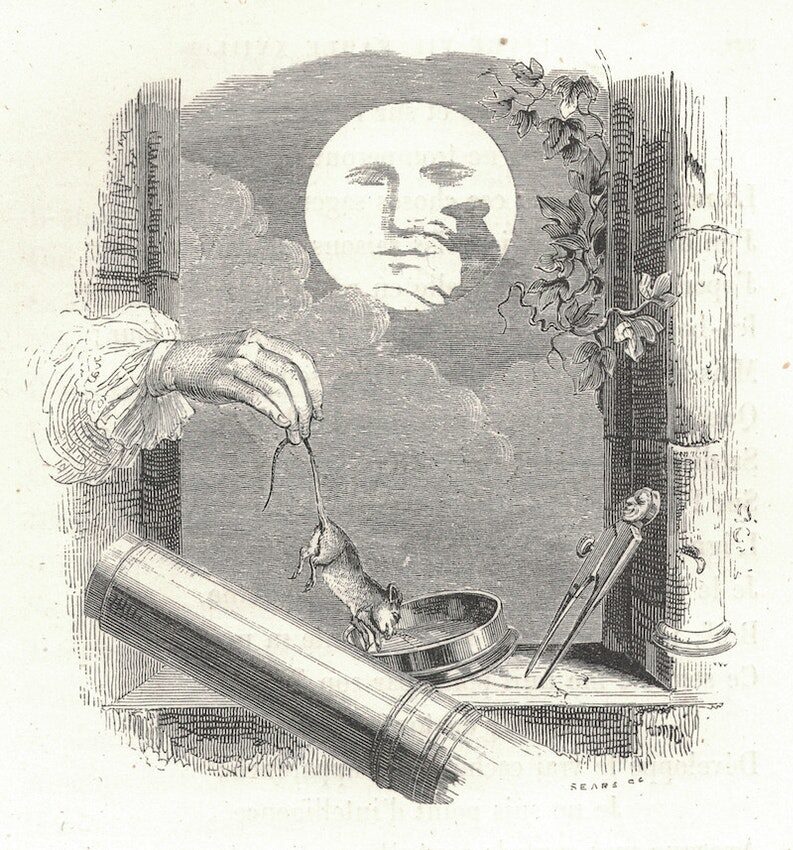 The book Fables de La Fontaine comprised of allegorical verse mixed with Grandville's allegorical illustrations. An Animal in the Moon seems to be a pointed jab at those that don't believe in science. You can read the text here.
Grandville's illustrations were full of fantastical imagination as well as a disquieting and sometimes disturbingly surreal qualities. Why is the disembodied hand holding a rat upside down by the tail? What is the meaning of the discarded scientific instruments, one of which has a human head? Nothing here is rational.
The French poet Baudelaire was disturbed by the oddities that Grandville drew saying, "There are superficial people whom Grandville amuses, but as for me, he frightens me. When I enter into Grandville's work, I feel a certain discomfort, like in an apartment where disorder is systematically organized, where bizarre cornices rest on the floor, where paintings seem distorted by an optic lens, where objects are deformed by being shoved together at odd angles, where furniture has its feet in the air, and where drawers push in instead of pulling out." It is most certain that he fascinated – and repulsed – his contemporaries.
Grandville said of his own works, "I don't invent… I just juxtapose dissimilar things and interweave discordant and incongruous forms."
Grandville's best known works showed anthropomorphic animals and objects in human roles.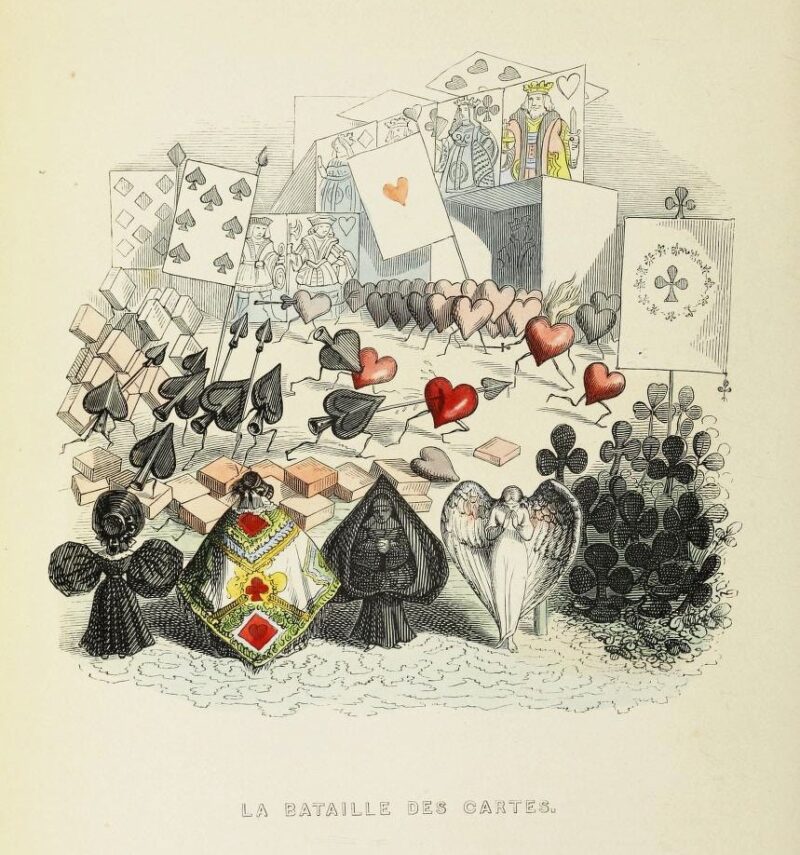 His Battle of the Playing Cards ascribes the human condition of war and conflict to the inanimate object of playing cards. Here they battle it out over the notion of being fictitious factions merely from belonging to a certain narrow group based on an attribute, much like warring nations across imaginary borders under patriotic flags. Watching over the fray are the King and Queen, seemingly removed and above it all, yet directing the carnage. This image undoubtedly inspired Lewis Carrol's Alice's Adventures in Wonderland and is likely the most recognizable image of Grandville's work.
Transformations, deformations and metamorphoses. These were concepts that Grandville frequently communicated through his art. A Promenade through the Sky is just one such depiction.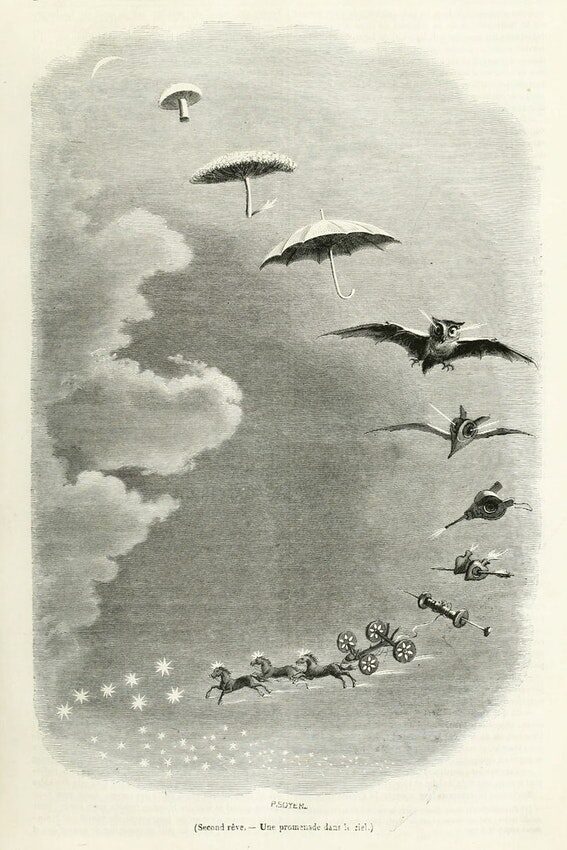 There is a sort of reasonable and languid progression of the imagery from one object to the next, transfiguring and morphing as if in a dream state. A mushroom becomes a parasol, which in turn becomes an owl, until it ultimately becomes a horse-drawn chariot sprinkling the night sky with stars. This is what the moments between wakefulness and sleep must be like for Grandville, a visual stream-of-consciousness where one image dissolves into another. It calls to mind the flip-book cartoons that we grew up viewing.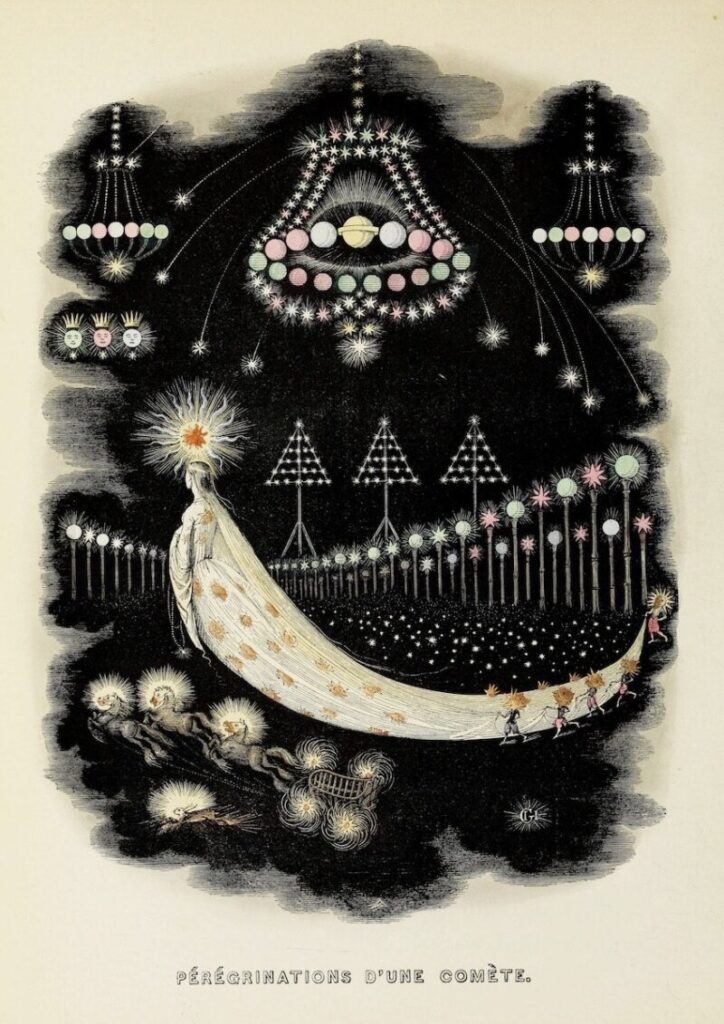 Another World was Grandville's most influential work, but the least successful during his own lifetime. You can view the entire work at the Internet Archive. The plot of the book revolves around a parallel world created by three beings: Dr. Krackq, Dr. Puff and Dr. Hahblle. Each travels through the world, describing the people and customs in a thinly veiled parody of our own. More like a graphic novel with 36 full-page hand-colored wood engravings, 146 wood-engraved vignettes and smaller illustrations inserted within the text, each chapter poses the question, "What if…?"
Grandville wrote to a friend, three years after publication of Another World, "Until now, I believe, no work of art has understood and expressed dreams (except Another World, a recent and little-known work by your humble servant)."
Grandville was particularly aware that Another World was both unique but also ignored during his brief life. Relegated to the dustbin of history that is until 1963 when Max Ernst republished the work with the inscription,
"A new world is born. All praise to Grandville."
For all of the imagination, humor, fantasy and whimsy depicted in his work, the final decade of Grandville's short life was marked by deep tragedy. He suffered the loss of his first wife and all three of their sons, who each died before the age of 5. Grandville remarried and had a fourth son.
When his third son, George, died in 1847, Grandville went into deep despair and he was described as going insane. J.J. Grandville died on March 17, 1847, just three days after his son's death. J.J. Grandville only lived for 43 years, but amassed a large spectrum of graphic art, from book illustration to political caricature. His work is considered the precursor to Surrealism, delighting writers and even influencing the early animations of Walt Disney, and though relatively unknown today, he might well be one of the first successful political caricature artists.
---
What is the Art Journey Challenge?
Every six weeks or so we will challenge our readers to create jewelry inspired by the featured artwork or collection of art or theme. Use any or all of the artworks as your guide to the challenge: color, theme, motif, style, etc. You have until the end of the Art Journey period to share your work and then we pick one winner to receive beads and jewelry-making supplies from our editors and sponsors that will work with our NEXT Art Journey to hopefully inspire you to continue joining the challenges. Our only rule?
You must use at least one art bead in your piece!
We need to emphasize that all art provided on the Art Bead Scene is for inspiration and education only. No art may be downloaded or replicated in your art. Please bear that in mind.
How to Enter the Monthly Jewelry Challenge:
Create something using an art bead that fits within our monthly theme. This challenge is open to jewelry-makers, fiber artists, collage artist, etc. The art bead can be created by you or someone else. The challenge is to inspire those who use art beads and to see all the different ways art beads can be incorporated into your handiwork. An art bead must be used in your piece to qualify for the monthly challenge. Upload your photo to our photo album. Include a short description, who created the art beads and a link to your blog or shop, if you have one.
NEW! Entries will now be posted at our Art Bead Scene Lounge page on Facebook! Go to the Albums, find the one corresponding to the current Art Journey challenge, and post your images there. Remember that each entry is a chance to win! Be sure to add the hashtag #artjourney8 to your post.
Deadline to enter is Saturday, November 27th.
You may upload as many entries as you like per Art Journey, as long as they follow the guidelines. (Please be patient as they are approved by one of our editors to post in the Album). Our prize for Art Journey #8 will be given away from a random draw of all entries on Nobember 27th with our prize package donated by Susan LeGuyader that will be perfect for use with the Art Journey #9! We hope this will encourage you to play along!
Monthly Challenge Winners
• One prize winner will be selected at random from all pictures posted in our new Facebook albums!
• The winner will be randomly chosen from all the qualifying entries on November 27th.
• Be sure to point out all the art bead artists in your work in the description of the photos when you upload to the new gallery. Links to their website or shop are appreciated. That way we can all find new art beads to love!
What is an Art Bead?
An art bead is a bead, charm, button or finding made by an independent artist. Art beads are the vision and handiwork of an individual artist.
***A bead that is handmade is not necessarily an art bead. Hill Tribe Silver, Kazuri ceramic beads or lampwork beads made in factories are examples of handmade beads that are not considered art beads. Beaded beads, stamped metal pendants or wire-wrapped components are not considered art beads for our challenge.***
Bead Artists
Feel free to share beads that you made inspired by our challenge in our gallery. You can enter multiple submissions for each challenge. We love to promote new artists and share what you've created! Be sure to add some links so that we can know where to find more of your art beads!