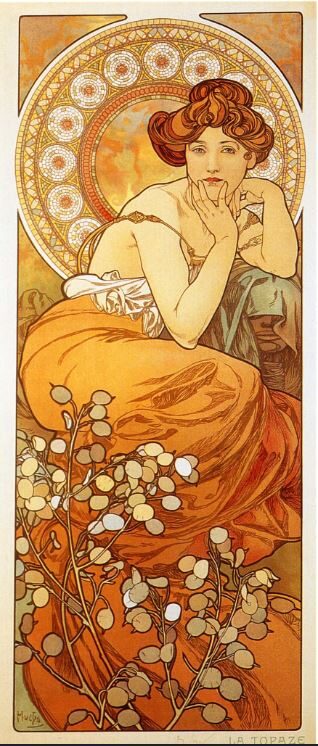 Hello! I'm beginning my Art Journey post with a beautiful vintage(y) pair of floral art nouveau style earrings!
Rich gold plated brass connectors with layered flowers and loops on all sides where I attached tiny glass pearls from a salvaged vintage necklace. Ivory and gold Czech glass drops and vintage ornate rings as dangles.
No art beads used in this pair, but they were too pretty to leave out!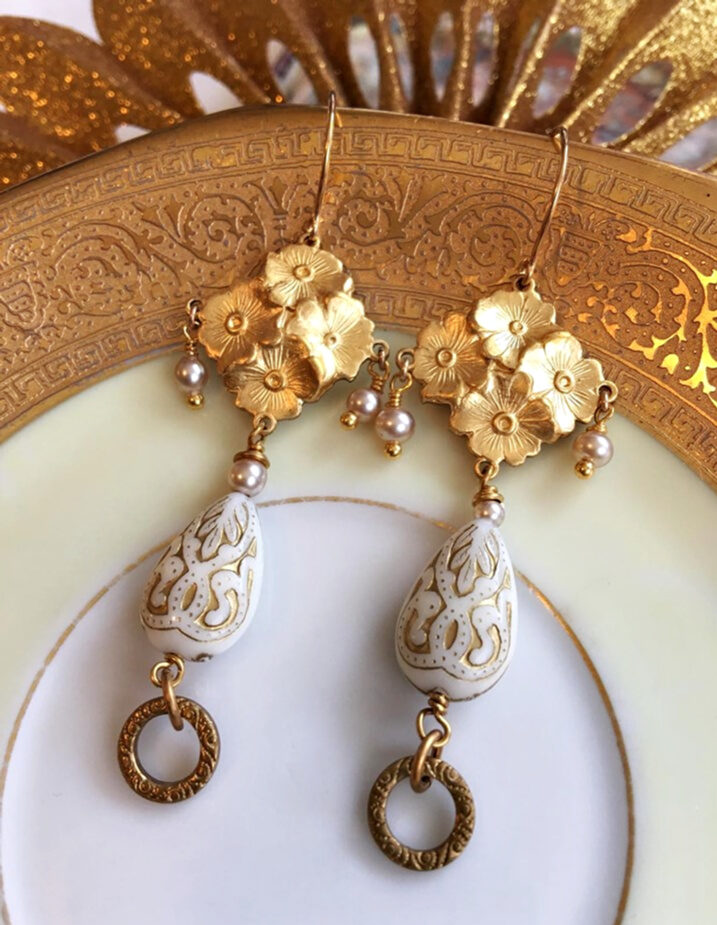 Here come the art beads!
Faux tin on copper discs by Anna Pierson of Sagahus. I had these wonderful side-by-side looped connectors in my stash and by using faux tin, I was able to punch holes where I liked! Versatility is a huge upside to working with metal. I normally order them as-is from Anna, this way I can decide later as I work out a design, where I need the holes punched or if I want to dome or make the discs concave or not.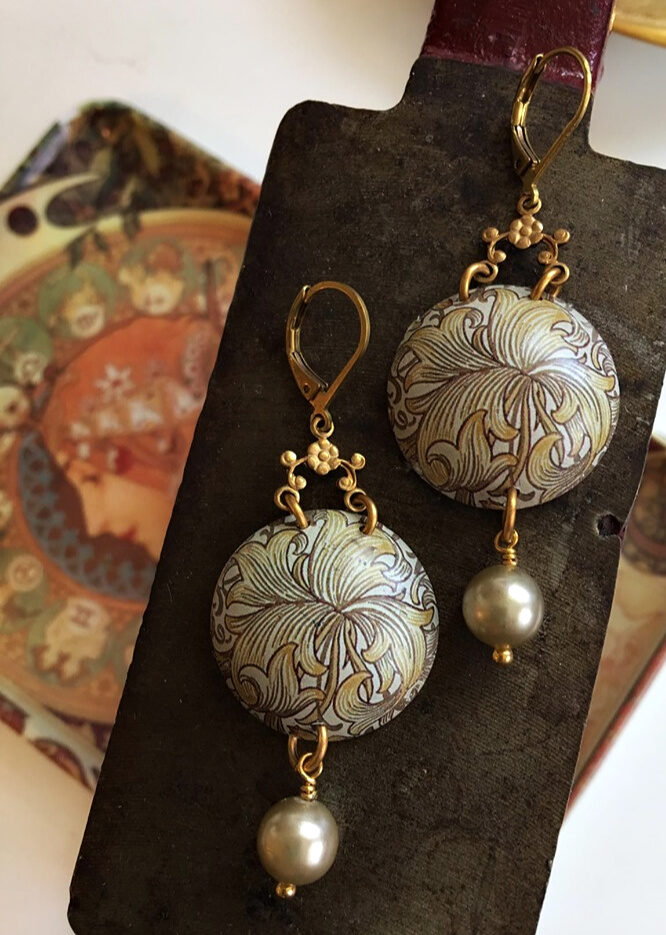 I purchased a couple of small drop pendants from Marsha Neal Minutella. They reminded me so much of the poinsettias in print above. Ceramic is always slightly on the heavier side so instead of using gemstones as accent beads, I used these wonderful vintage lucite lookalikes from Allegory Gallery. I like to balance the weight out on earrings for comfort.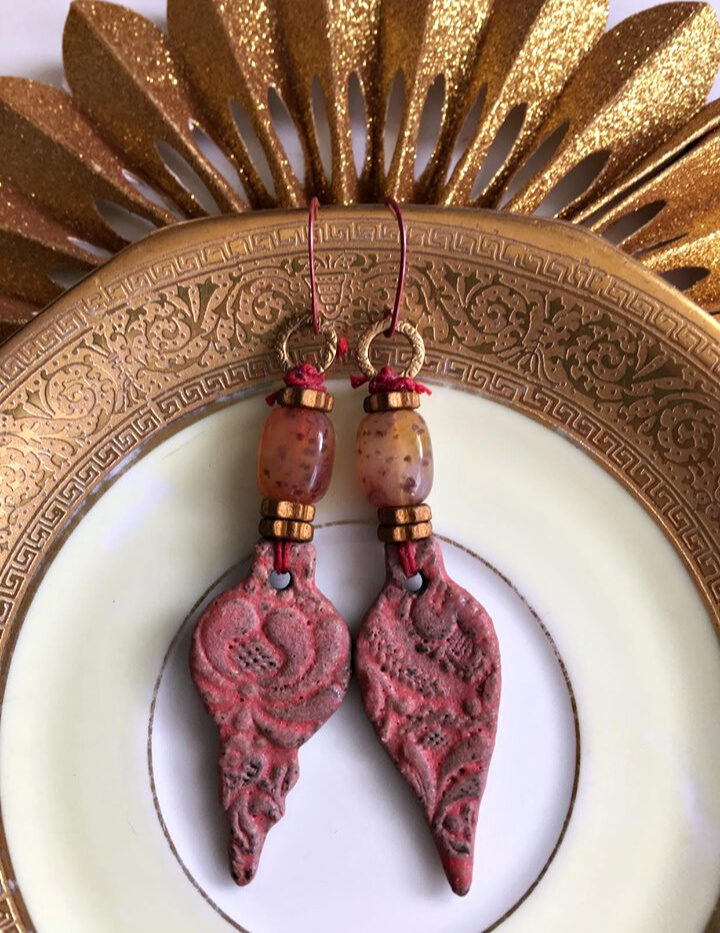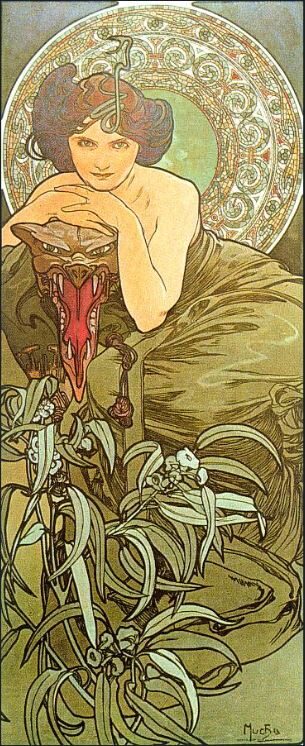 For the next two earring designs, I focused on the snake headpiece she wears in the print. I had a fabulous pair of Czech glass snakeheads and tails to use, the problem was, I only had one set!
I purchased these from a bead shop out East and quickly placed a new order but there wasn't enough time for today's blog post. When I tried to find others, I quickly realized just how hard they were to come by! Almost all the people selling them were out of the U.S. So, I decided to make one earring from each design rather than leave one design out completely. When my order arrives I will make the others to complete the pairs.
The snake design is actually a replica of a Czech glass design originally from the 1920s. I found an intact antique set on Etsy in emerald green, but it was selling for a $165.00, tempting, but not in my bead budget (here's the LINK for the antique set if you want to take a peek)! I am so glad they are revisiting this design again; I want all the colors and they are very affordable!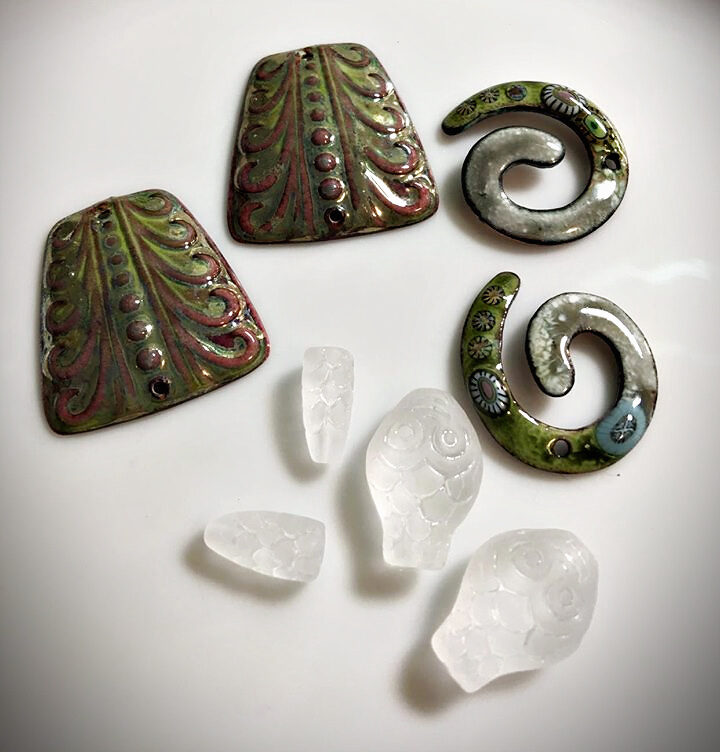 So, here are my two designs! One of each, but I tell you, after looking at them competed, they look great as an asymmetrical pair as well!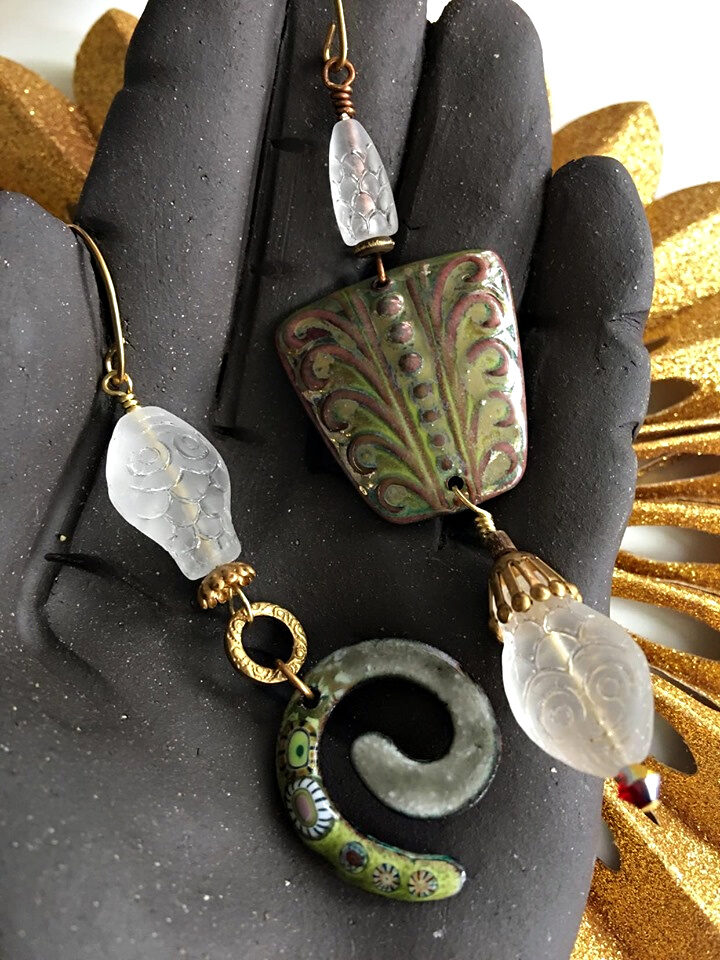 Below is enamel work by Marie Demicco of Spurwink River Arts. I thought they looked great as a stylized body and tail. I reworked the design a few times and loved the added gold ring in the center the best. I truly love this pair.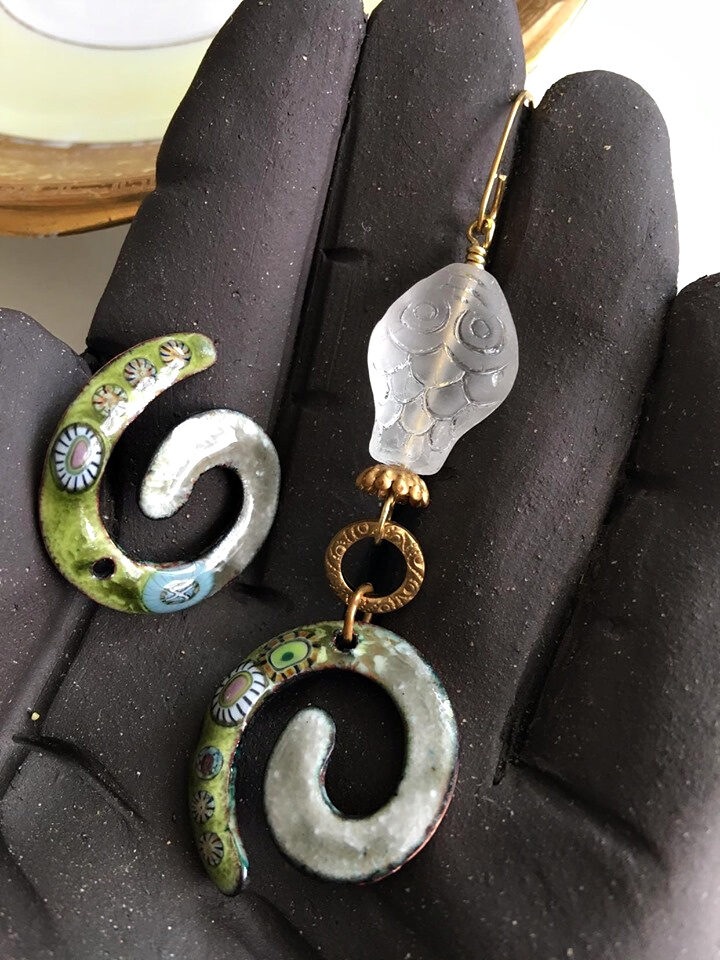 And below is lovely enamel work by Anne Gardanne. I felt it had a beautiful art nouveau feel and the greens were absolutely perfect! With this design, I used both head and tail. I also added a tiny AB Swarovski crystal for the tongue.
I would also like to mention the cool hand displays I use were a custom order done by Gaea Handmade.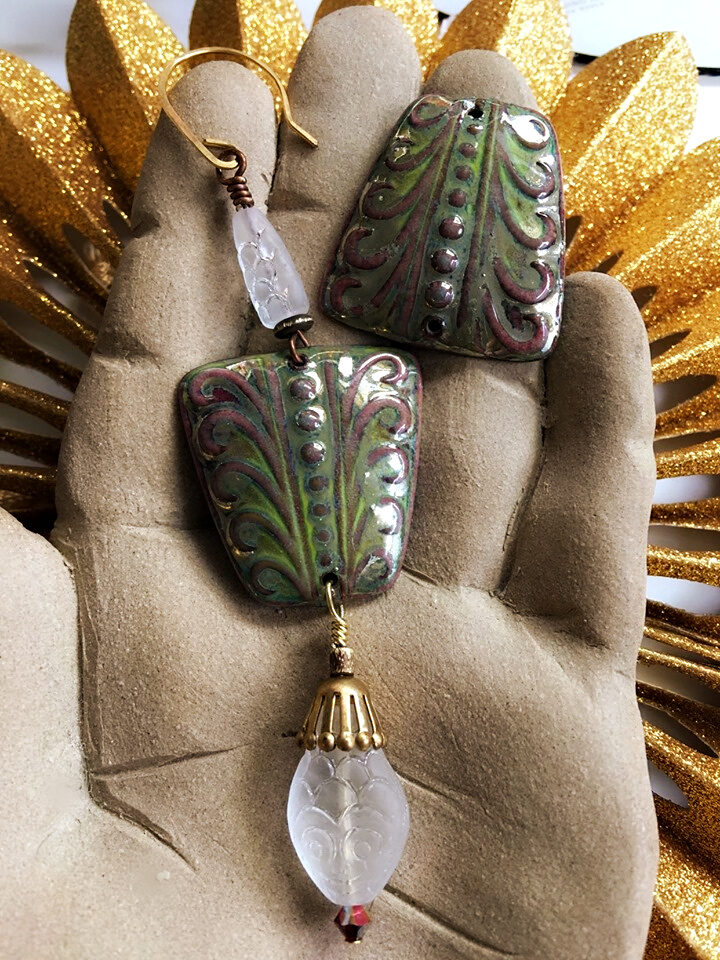 For my final pair and big finish – I focused on the arm of the dragon chair she is sitting on. I used some stunning bumpy dragonesque glass spikes by Kimberly Rogers of Numinosity!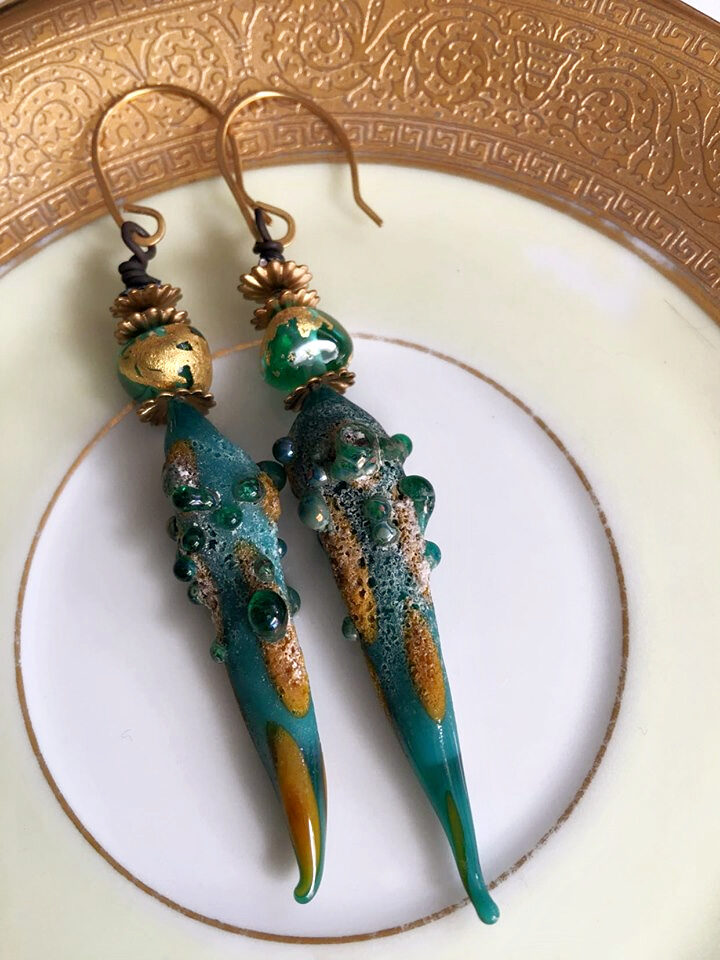 Small artisan lampwork beads with 24k gold detail used as accent beads. Tiny vintage brass stampings were used as scales.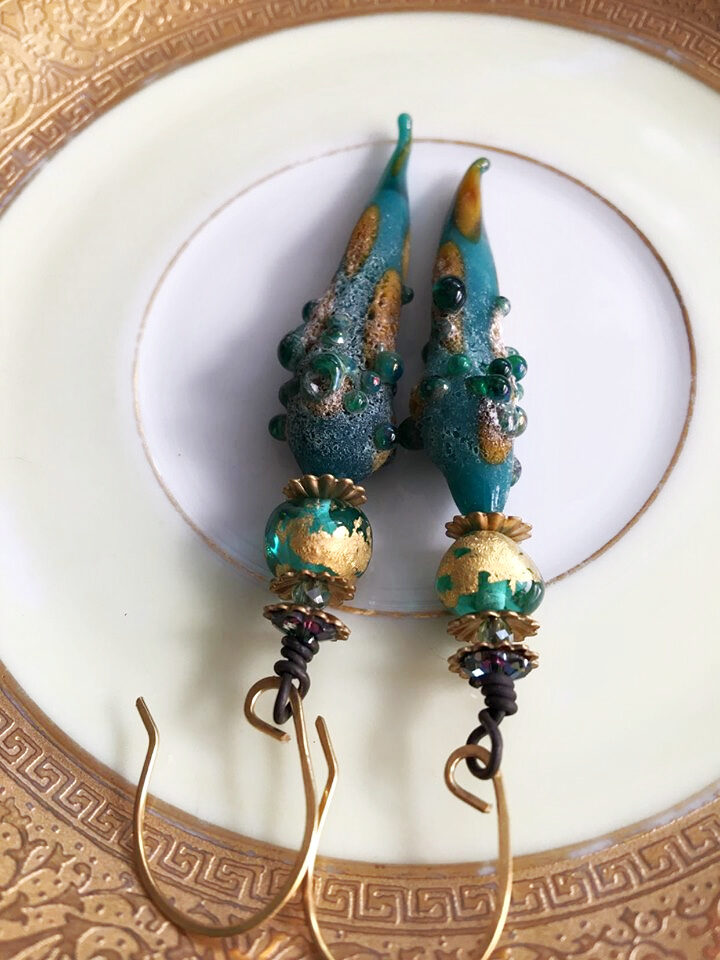 Thank you so much for joining me today and I hope you found some inspiration to play along with our art challenge!
Thank you,
Loralee Kolton
www.loraleekolton.etsy.com