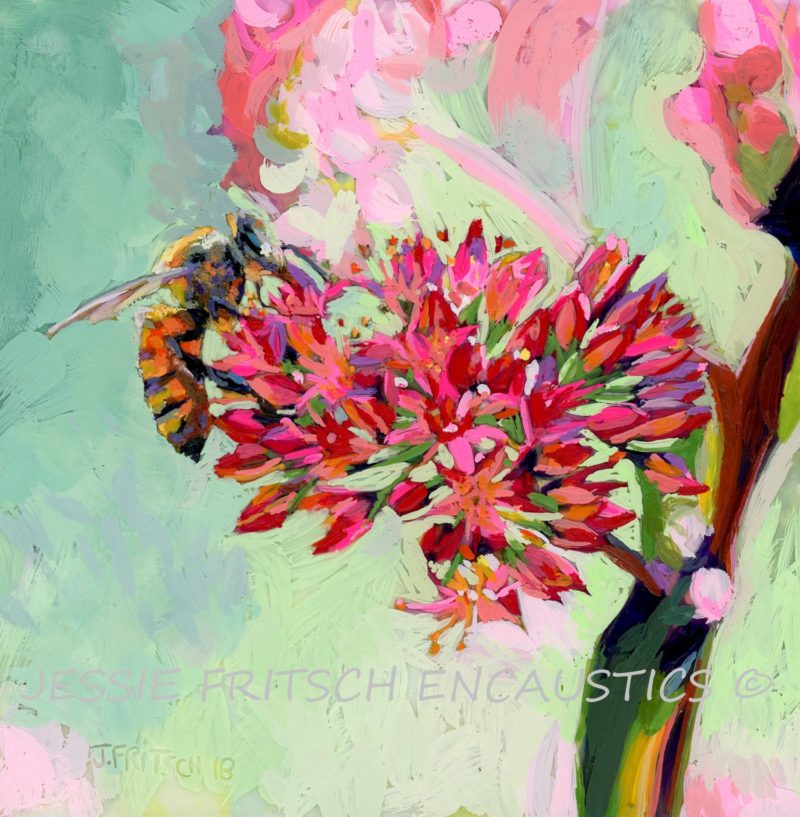 Happy Monday, my friends! Since my last post focused only on the bees from Jessie Fritsch's encaustic artwork (see it HERE if you missed it), I wanted to give the flowers a little love before Art Journey Three comes to an end. After all, pollinators need those flowers!
As much as I don't consider myself a flowery kind of a girl, I do love making jewelry with floral elements. Go figure. I had tons of great beads and focal elements to choose from… the only thing I was lacking was time. But I still managed to get a few new designs completed to share with you all.
---
Earrings are my go to for most challenges… I usually start with a pair of earrings so I know that I have something completed on time if my world goes completely bananas. I had some fun flowery ceramic lentil beads from Golem Design Studio in my stash that were just crying out to become some spring-y earrings so I started there. Coordinating Czech glass flower dangles and sterling silver ear wires complete the look. Even if flowers aren't blooming outside in Minnesota yet, you can have blooms dripping from your earlobes!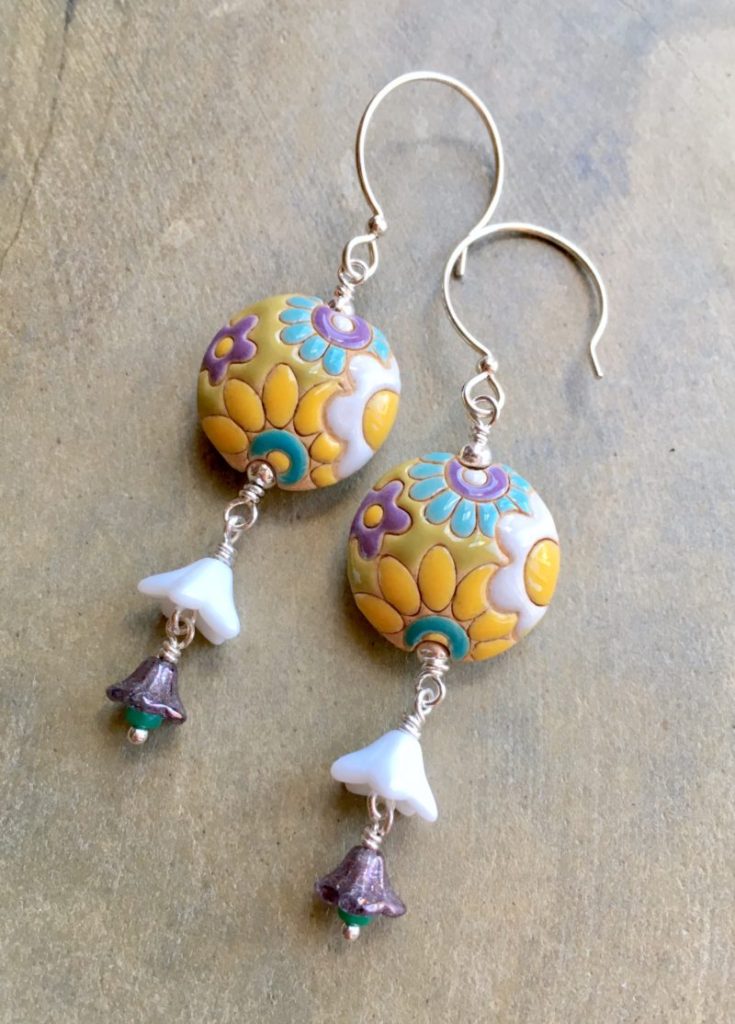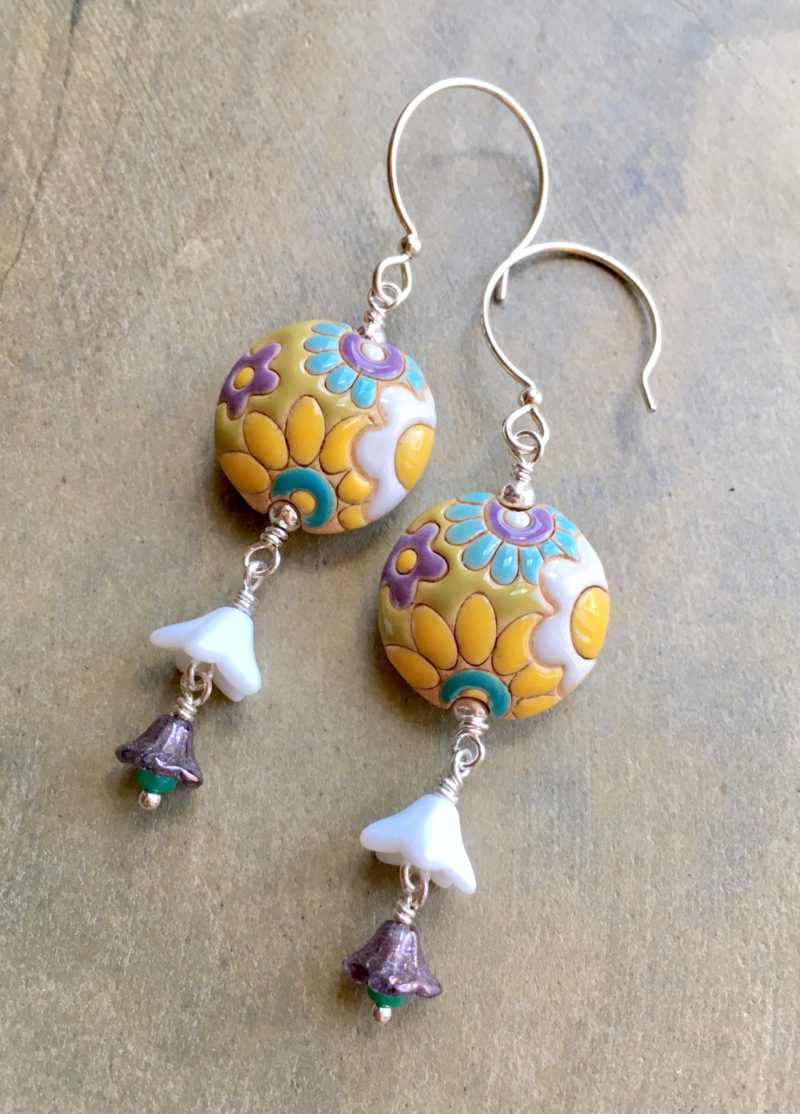 ---
Flowers steal the show in this next design, but there is a sneaky little bee in there too. Do you see him? He's part of the gorgeous pewter clasp from Green Girl Studios! I don't know about you but while I adore special fancy clasps, I struggle with how to use them so that they can be seen and appreciated to their fullest effect. I really wrestled with this design for that very reason. Hiding that beautiful piece of artwork at the back of the necklace just made no sense… but if it was to be in front I needed something to balance it both physically and visually. Luckily, I had a flower link from Green Girl that ended up being the perfect thing!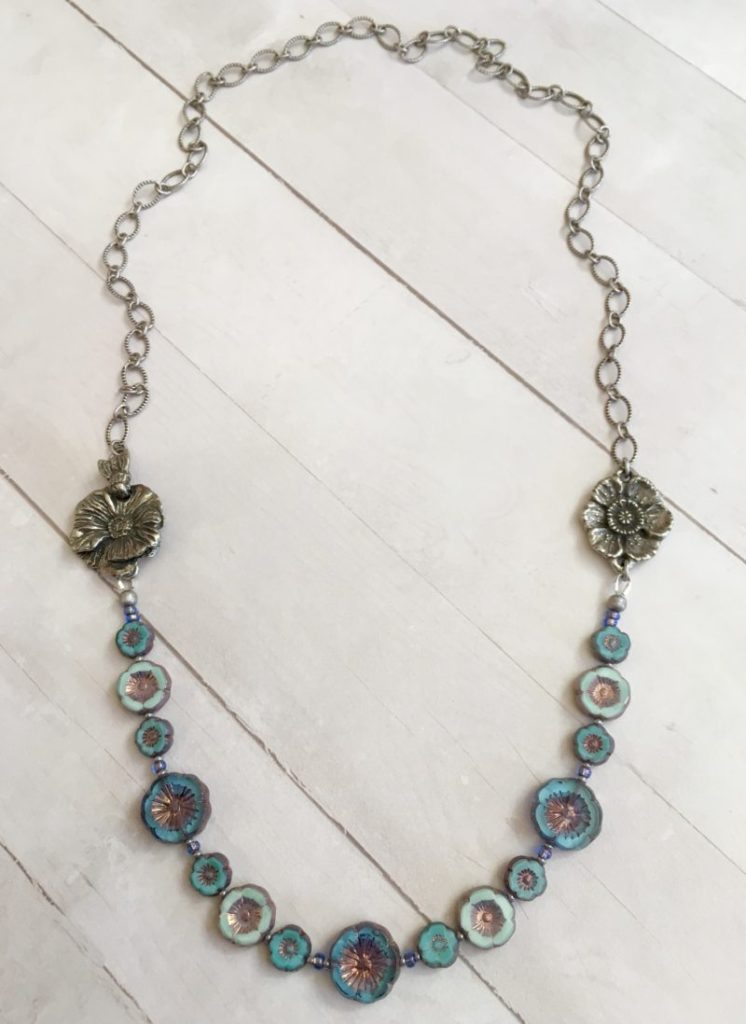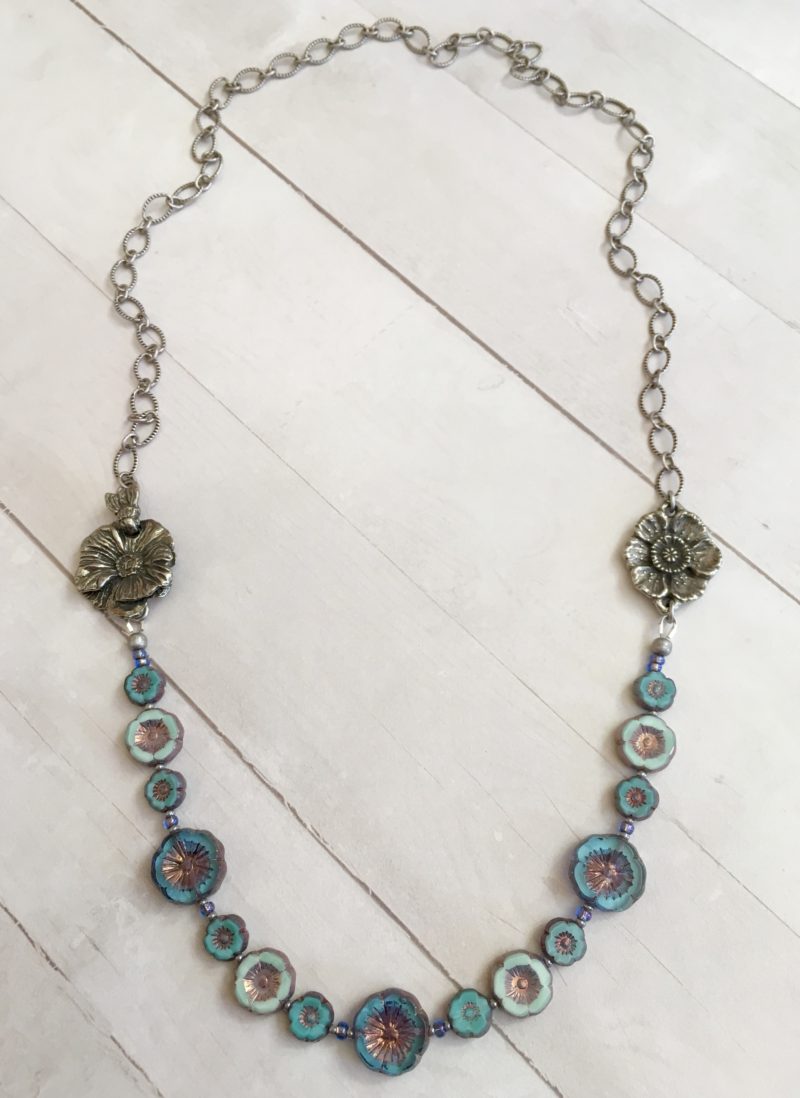 ---
For my next necklace I chose a wonderful focal clasp from our very own Erin Prais-Hintz since there is so much rich pink and purple in Jessie's artwork. I thought it was perfect for this Journey even though she made it for the May 2018 ABS challenge as part of her Simple Truths Sampler Club… it even has a touch of super saturated green in it just like in our inspiration artwork! I used a mix of modern and vintage Czech glass along with a bunch of rose quartz in this strung design. Can you believe that I managed to use two focal pendants in one challenge?? It is a major first for me!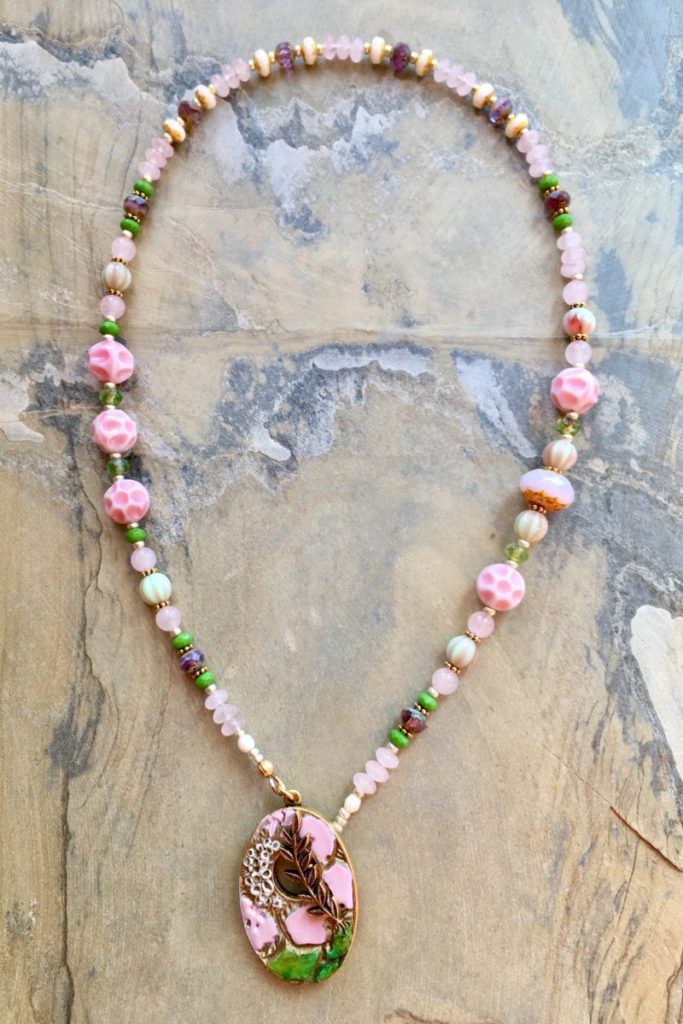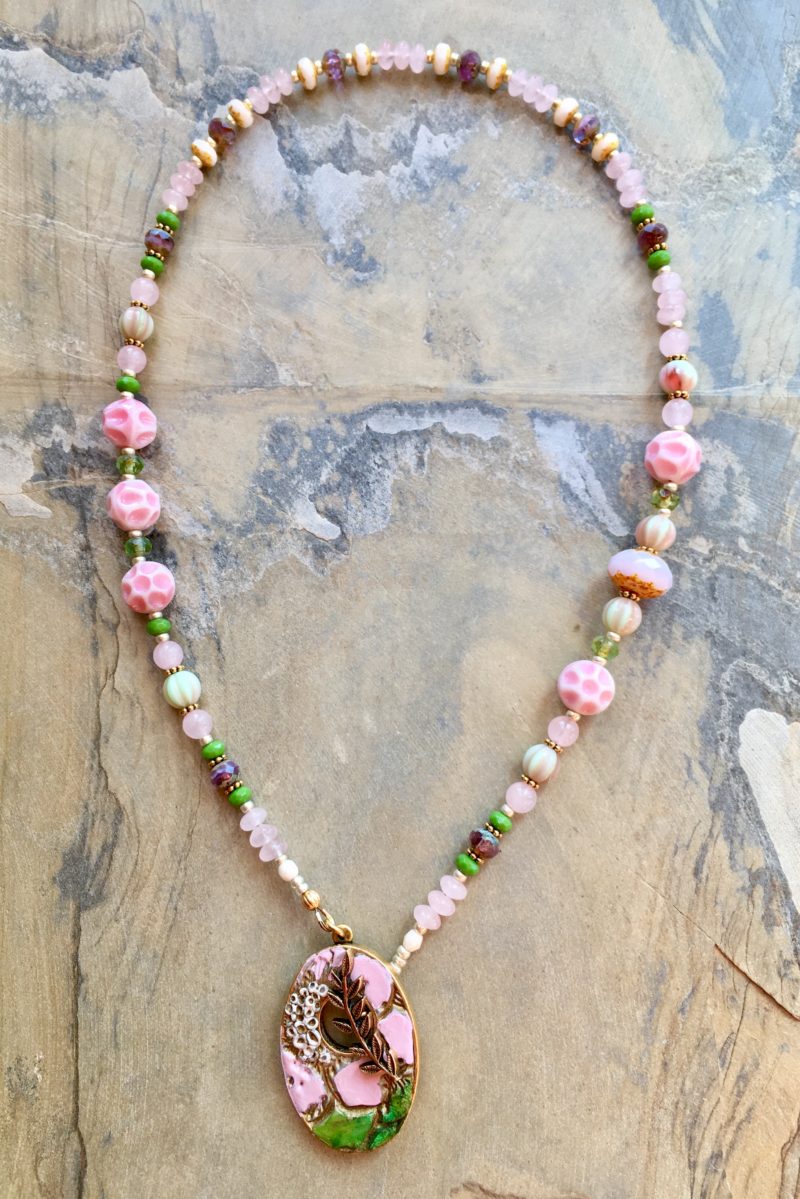 ---
Part of the reason that I was a bit strapped for time for this post is that I'm busy prepping for a home party at a friend's house this coming weekend. I want to make sure that I'm fully stocked with a wide variety of jewelry pieces. Some of what I've been working on for that event are flower related so I figured I'd share those with y'all as well even if there are no art beads in these pieces.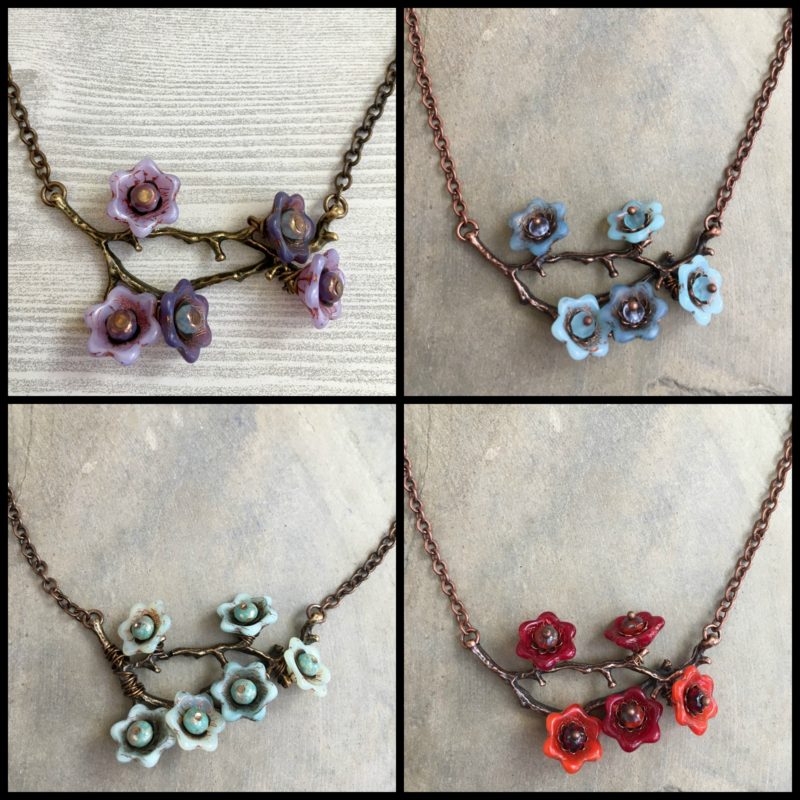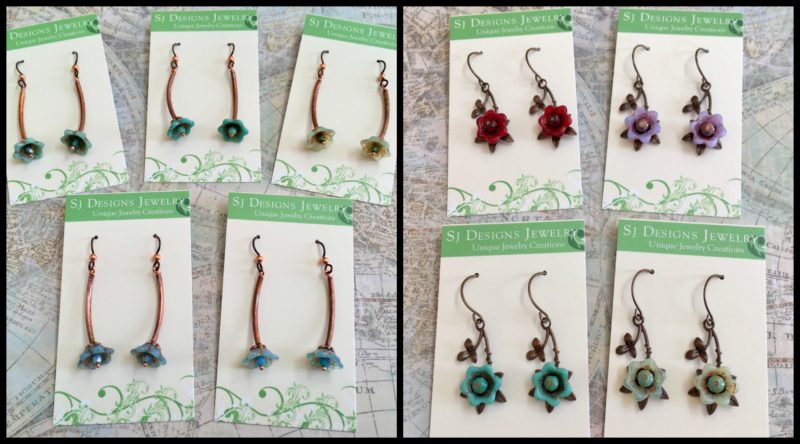 ---
Thanks for stopping by to see my flowery creations!
Don't forget that the deadline for entering this Journey's challenge is Saturday, May 4th. You may enter as many times as you like… don't be shy! The only rule is each piece must include an art bead of some sort.
Click here to submit your entries.
---
Sarajo Wentling, Your Monday Muse