With such a busy, buzzing energy, Jessie Fritsch's encaustic paintings seems to quiver with movement. Soft lines and the blurred colors lend a blink-and-it's-gone beauty to each piece. Haven't you ever had one of those encounters with a bee? Fascinated, transfixed, we stare at this tiny buzzing bee. Holding our breath, beholding this precious, fleeting moment. And then it's gone. Our bee finds a new flower.
Each of Fritsch's paintings is a brief, beautiful encounter with bees. Each one a stolen moment.
To capture the frenetic energy of these pieces, I chose elements that had a sense of movement to them. And to mirror Fritsch's pretty palette, I happily dragged out beads in hues of golden honey, marigold, magenta, and cool leafy greens.
As soon as I saw Jessie Fritsch's paintings, I knew I had to have some coiled fiber beads by Jimena's Treasures. These beads are variegated with pinks and magentas just like Fritsch's flowers, and the fiber has a hushed softness like Fritsch's brush strokes. I also used stick beads from a vintage souvenir necklace, and a vintage lucite bead from my collection. Lampwork beads from The Spacer Bead Shop lend saturated color, and two hexagon brass beads give a little nod to our little bee friends. For a cool clasp I went for a vintage scouting pin. This quatrefoil design always looked bee-like to me, so now's the time, baby!  You're in!  (I'm including a picture of the backside of this pin as a clasp. Mechanically, this brooch works perfectly here.)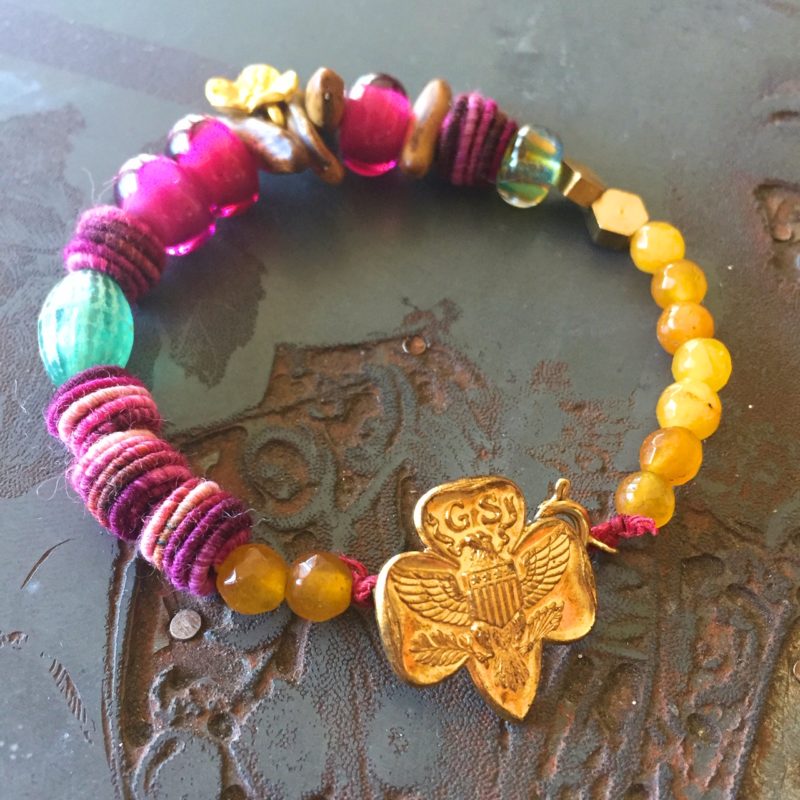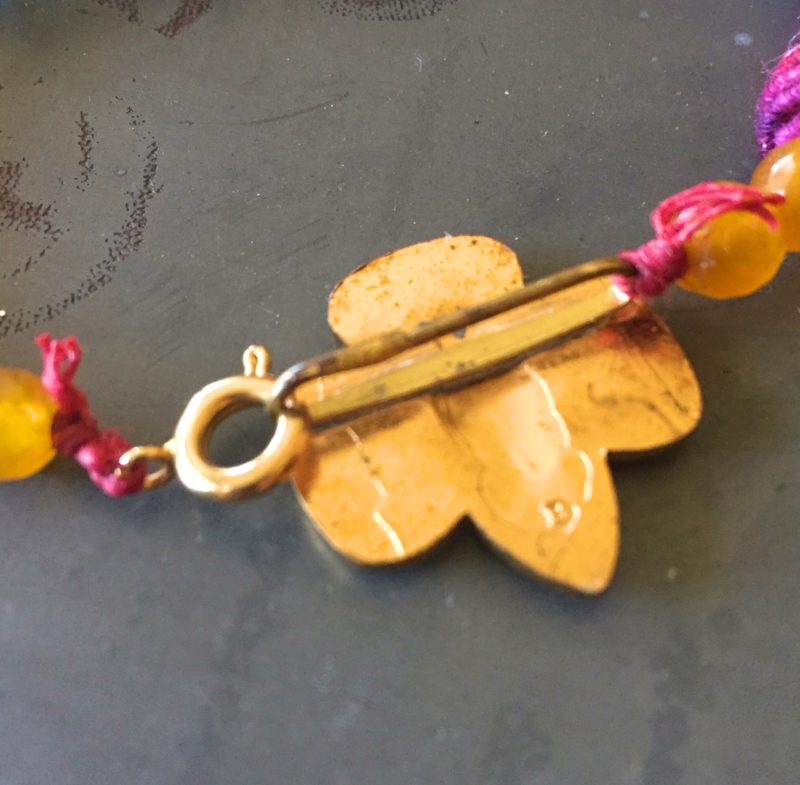 Anne Gardanne's enameled flower link does all the work for these earrings. Her talent for organic color combinations makes these flowers look like they are fresh-picked from the garden. I paired them with a brass link from a vintage bellydancer's belt, and a hammered brass paddle from Beading on a Budget, all to look like drips of honey.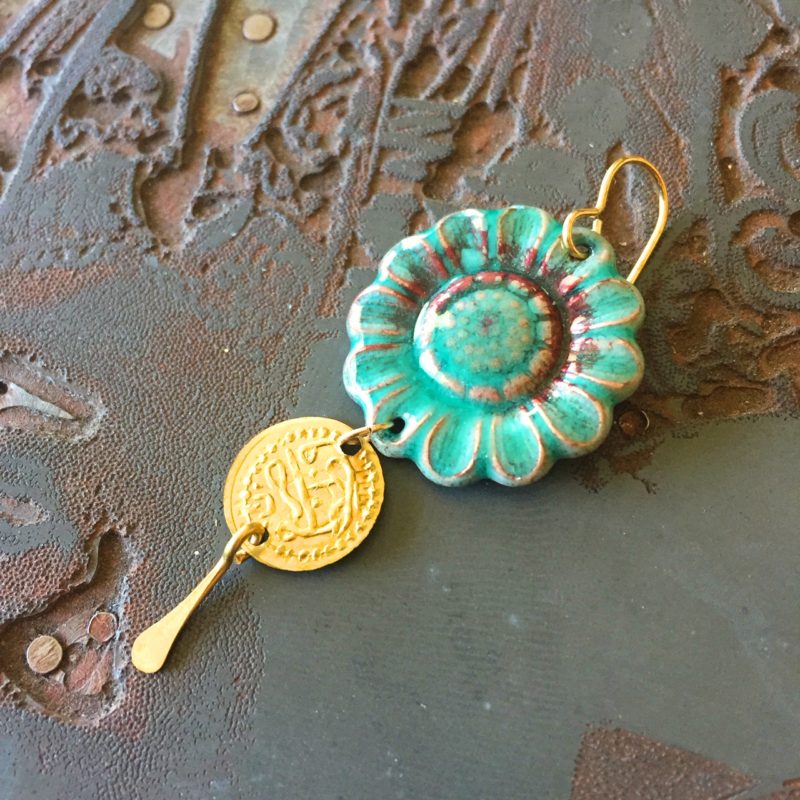 Years ago, when I first started making jewelry, I bought a huge bulk package of cheap gold earring backs (because I knew I wanted to make four million cheap gold stud earrings?! I don't know.) Anyway, those crappy earring backs have become an ever-present albatross in my jewelry supply drawer. A few weeks ago I saw Erin Prais-Hintz's little wire bees that she had made to introduce this Journey and I felt instantly, insanely jealous of her creativity. I want to make my own bees, too! So thankfully, bee wings look a lot like cheap ear backs. To make these little bees I strung two fluted 4mm bead caps, one jimmied earring back, and one 2mm bead onto a ball head pin and finished with a wrapped loop. Then I painted them black with Vintaj alcohol ink. I hung my bees on vintage disco brass rings that looked like a ring of honeycomb to me. Fun and (almost) elegant!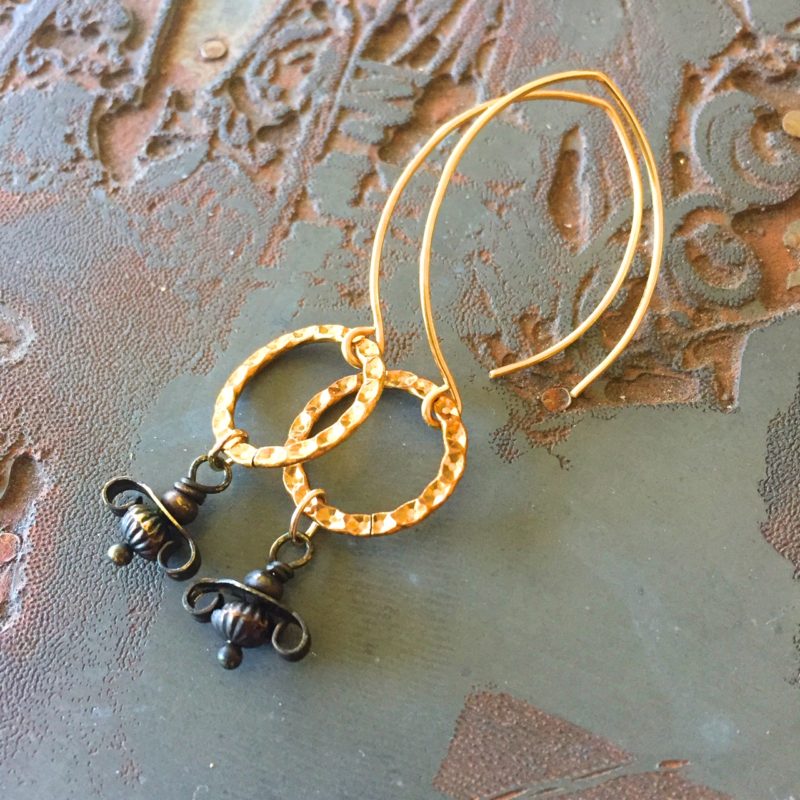 For this bracelet I took my inspiration from Fritsch's honeycomb painting. I wanted to evoke the rich palette of that glowing, golden honey-filled hive. Vermeil-colored flower charms come from a vintage 1990's charm bracelet. I set these against Baltic amber and yellow agate faceted rounds. The real stars though are deep golden lampwork rondelles from Kanna Glass. They look like jars of honey on the window sill.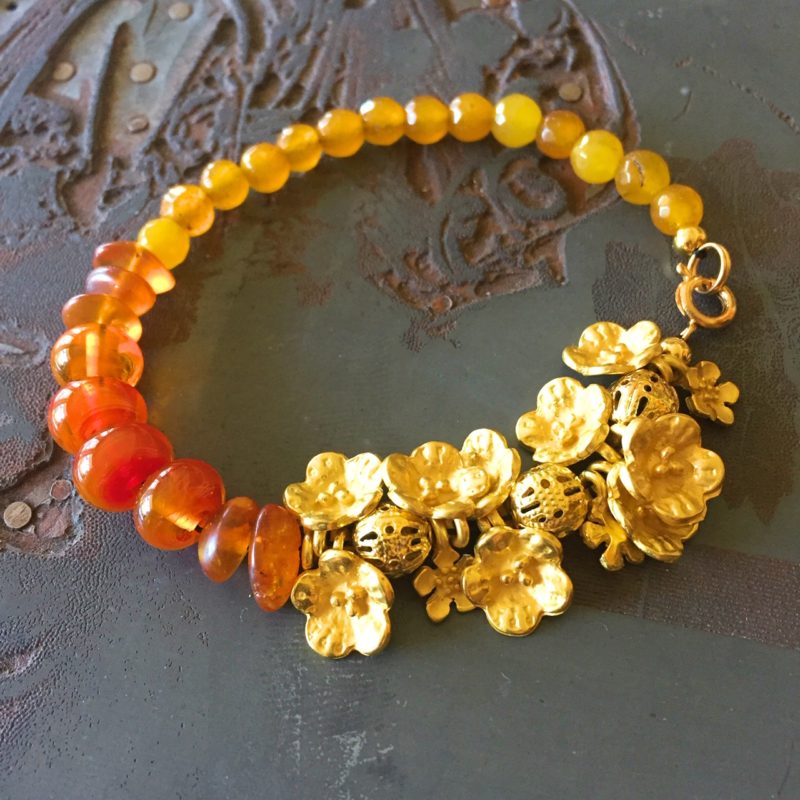 For a quick multi-media project, I made these earrings from supplies around my studio. Using a bee stamp, I stamped black brass tags from Vintaj with clear embossing ink and sprinkled them with gold embossing powder. Blaze these with a heat tool and the embossing powder melts into a softly "fuzzy" bee motif. Then, with my finger, I smeared on some bright turquoise alcohol ink from Vintaj for color.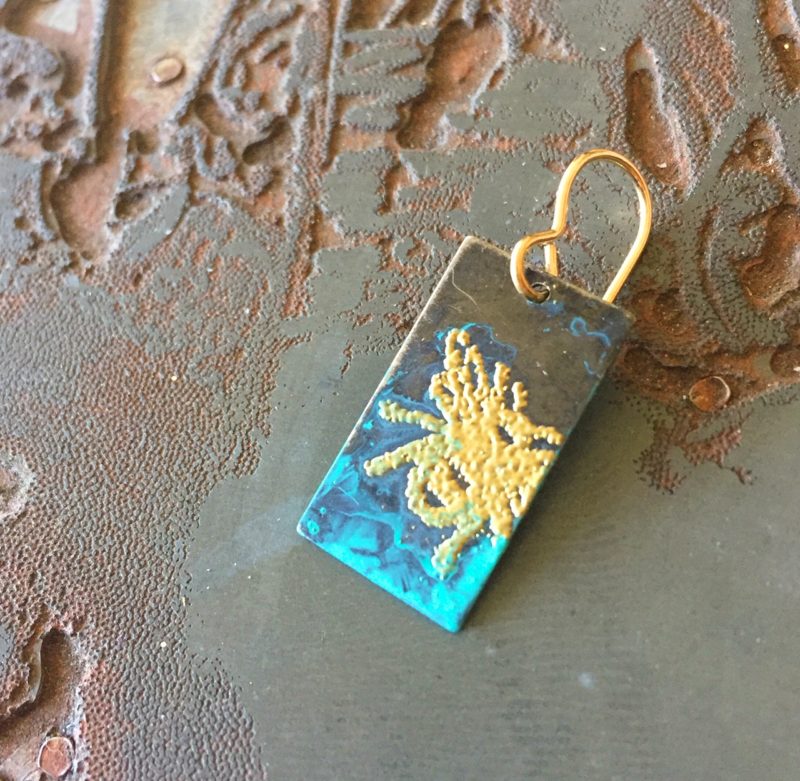 Happy Beading,
Anne