I haven't had much time to peruse it yet, but I have done a couple of questionnaires at the front of the book and discovered that I am a cross between 'The Idealist' and 'The Adventurer' when it comes to decorating my home, and that I have an 'Earth-Element/Blue' Personality! Whatever that means. I can't really see me suddenly becoming Ms Organised but you've got to start somewhere, haven't you? As I work pretty much all day every day in my studio (which is currently a big lovely room, and about to change to a much smaller room with our move in 6 weeks), organisation is something that I really need to prioritise. Do you have your own studio? Please add a link in the comments to photos – I would love to see and share here next week!
Personally, I think this studio looks very pretty as well as practical – a lovely place to be and to work.
Maneki shared SO many wonderful links with us! Here are some of her storage solutions and links to her original blog posts:
And here's a novel idea – repurposing a pet feeder to hold tubes of beads! Bowls can be of great use to keep a desktop tidy when there are things that need to be used frequently throughout the week i.e. need to be kept out. I would love to have a collection of pottery dishes to keep such oft-used items!
Salla has so many seed beads that the pretty glass vials from last week definitely wouldn't work for her! She keeps them in large tubes and has a large fishing tackle box to store them all together. Extremely practical and good for moving around when needed.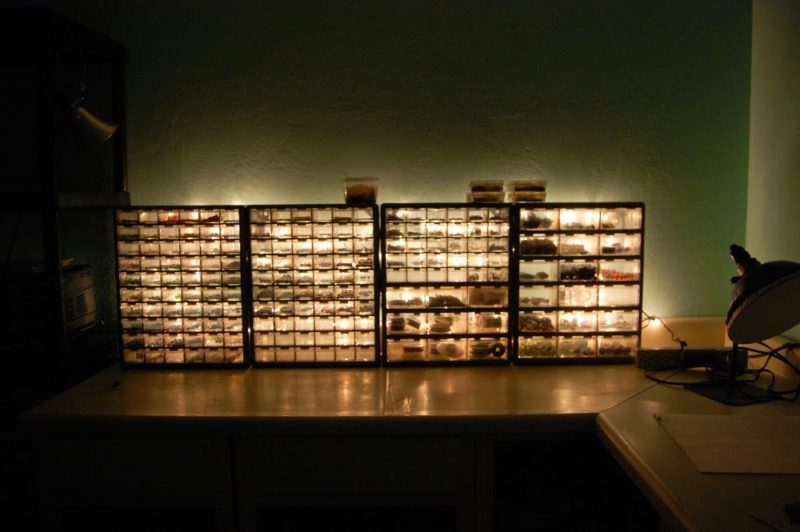 I flipping well *love* the back-lighting! What a totally brilliant idea!
And lastly for now, Ann shared something that she would like in her fantasy studio – former-ABS editor Erin Siegel's fantastic pegboard system.
What a beautiful studio Erin has! The pegboard system is absolutely inspired. It may well be on my fantasy studio wish list now too – thank you for sharing Ann!
What's on your fantasy studio wish list? Do you have any tricks and tips for storing your beads? I would love to see and share here. I'm even considering making this a monthly series – Inside YOUR Studio! – as part of my Amuse the Muse series. I love seeing where people work and getting inspired. It doesn't matter whether it's an outside studio in an artists' co-op or a humble dining room table – it is always wonderful to see where artisans turn art beads and more into jewellery. Would you like to see this series? Share your thoughts and links in the comments below!
And now for the BeadBlogger Links: