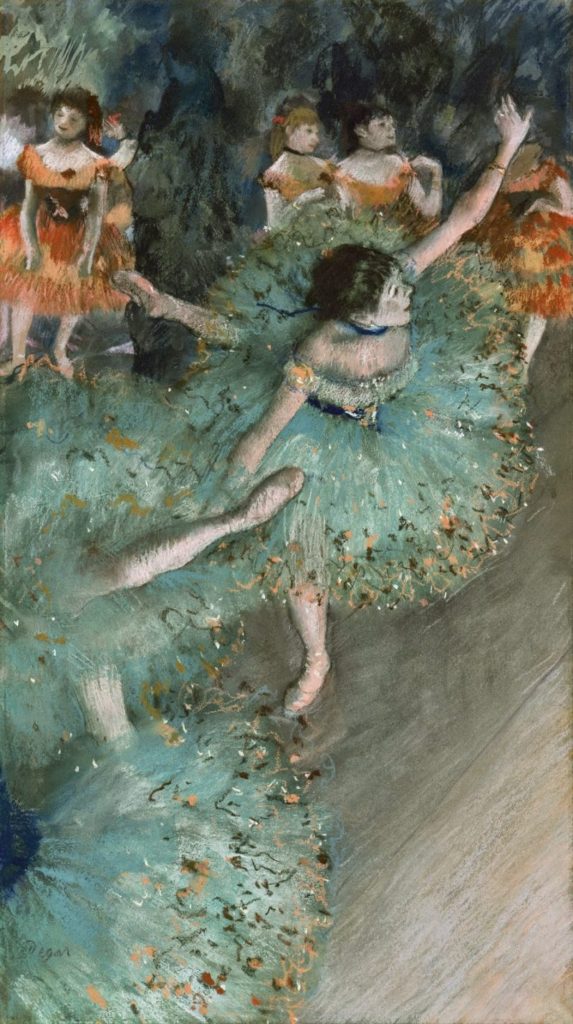 Swaying Dancer (Dancer in Green), 1877-79
by Edgar Degas
Pastel and Gouache on Paper
26″ x 14″ (66 x 36 cm)
About the Art
Degas was fascinated by the world of ballet; hence, it figured prominently in many of his paintings. Here, the group of dancers is depicted in mid-performance, as viewed from an upper side box. Only one of the girls in green is shown full-length, captured as she executes a swift, complicated turn. The other figures are cropped, leaving the viewer to imagine the rest. In the background, a number of ballerinas dressed in orange stand against the landscape scenery, awaiting their turn. Degas' use of a cropped, off-centred pictorial space was influenced by photography and by Japanese prints. He felt that the unfinished, transitory nature of reality could only be conveyed using a fragmented technique. Here, the fleeting nature of the movements is captured with rapid pastel strokes, applied with immense skill.
One of the founders of the Impressionist movement, Edgar Degas (1834-1917) was a prominent artist in the last half of the 19th century. Born to wealthy family, he began his schooling with a baccalaureate in literature in 1853. Due to the wishes of his father, who wanted him to go to law school, he enrolled at the University of Paris in 1853 to pursue a law degree, where he made little effort. Degas, who at age 18 had transformed one of the rooms is his house into a studio, and was a registered copyist at the Louvre by 1853, left law school after two years, and a year later traveled to Italy studying the art of the great masters.
His paintings were exhibited at the Paris Salon beginning in 1865, but they attracted little attention, and his subject matte slowly transitioned from history paintings to more contemporary subjects. In 1870, at the outbreak of the Franco-Prussian War, he enrolled as a member of the National Guard, but his eyesight, which was found defective during rifle training, was troublesome and so he could not serve. Three years later, in 1873, Degas' father died, revealing a massive amount of business debt held by his brother, Rene. Degas was forced to sell the family home and many family paintings in order to cover the debt, and for the first time, had to rely on the income from his paintings for survival. It was in 1874 that he began producing his most successful works.
Although he is considered one of the founders of Impressionism, and he indeed worked with impressionist artists, such as Edouard Manet and Pierre-Auguste Renoir, he rejected the label "Impressionist." He detested the scandals brought about by their Impressionist Exhibitions, and he mocked them for painting outdoors. His personal life was outwardly uneventful, due to his belief that an artist should live private lives of solitude. He thus lived a life of solitude, and eventually broke with all of his Jewish friends, due to his anti-Semitic beliefs and argumentative nature. He never married, opposed social change and technological innovations, always painted indoors, and ceased painting by 1912, at which he time he was nearly blind. He died wandering the streets of Paris in 1917.
Our Sponsors this month are Humblebeads and Eclectic Prairie.
Please visit us tomorrow to see the prizes!
• Please post at least one single shot of your creation in the Flickr pool. This will be used to make a collage for the Monthly Challenge Gallery. Every creation will be added to the collage, regardless of a blog post. So everyone gets included!
• Be sure to share with us the name of the art bead artist in the description of your photo so that if you are selected for the weekly Perfect Pairings on Mondays, both you as the designer and the art bead artist can get the credit you both deserve!
• An
InLinkz
button will be added to the bottom of the Monthly Challenge Recap post. Here you will be able to link up your blog post if you have one. It is no longer necessary to add your blog post URL to the description unless you want to. Be sure to hop around and see all the great inspiration and leave some comment love!
• The Monthly Challenge Recap with Blog Tour will be posted on April 30th.
Monthly Challenge Winners
• One prize winner will be selected at random from all pictures posted on the Flickr pool.
• One prize winner will be selected at random from all blog posts added to the hop for the Monthly Challenge Recap post. So if you want to be in the pool for the second prize, be sure to use the InLinkz code at the bottom of the post to share your process and inspirations!
• Winners will be randomly chosen from all the qualifying entries on May 1st.
Perfect Pairings :: Designer + Art Bead Artist
• Formerly the Featured Designer of the Week, our new Perfect Pairings will now focus on both the jewelry designer and the art bead artist. Be sure to point out all the art bead artists in your work in the description of the photo in the Flickr pool. Links to their website or shop are appreciated. That way we can all find new art beads to love!
• From all the entries during the month, an editor will pick their favorite design to be featured every Wednesday here on ABS, so get those entries in soon.
How to enter the Monthly Challenge:
1. Create something using an art bead that fits within our monthly theme. We post the art to be used as your inspiration to create. This challenge is open to jewelry-makers, fiber artists, collage artist, etc. The art bead can be created by you or someone else. The challenge is to inspire those who use art beads and to see all the different ways art beads can be incorporated into your handiwork.
An Art Bead must be used in your piece to qualify for the monthly challenge.
***Beads strung on a chain, by themselves and beads simply added to wire or cord will not be accepted.***
Please add the tag or title APR ABS to your photos. Include a short description, who created the art beads and a link to your blog, if you have one.
Deadline is April 30th. Photos are approved by our moderators, if a photo hasn't followed the guidelines it will not be approved. You may upload 2 photos a day.
What is an Art Bead?
An art bead is a bead, charm, button or finding made by an independent artist. Art beads are the vision and handiwork of an individual artist. You can read more about art beads
here
.
***A bead that is handmade is not necessarily an art bead. Hill Tribe Silver, Kazuri ceramic beads or lampwork beads made in factories are examples of handmade beads that are not considered art beads.
Beaded beads, stamped metal pendants or wire-wrapped components are not considered art beads for our challenge.***
p.s. If you have a blog, post your entry and a link to the ABS challenge to spread the beady goodness.