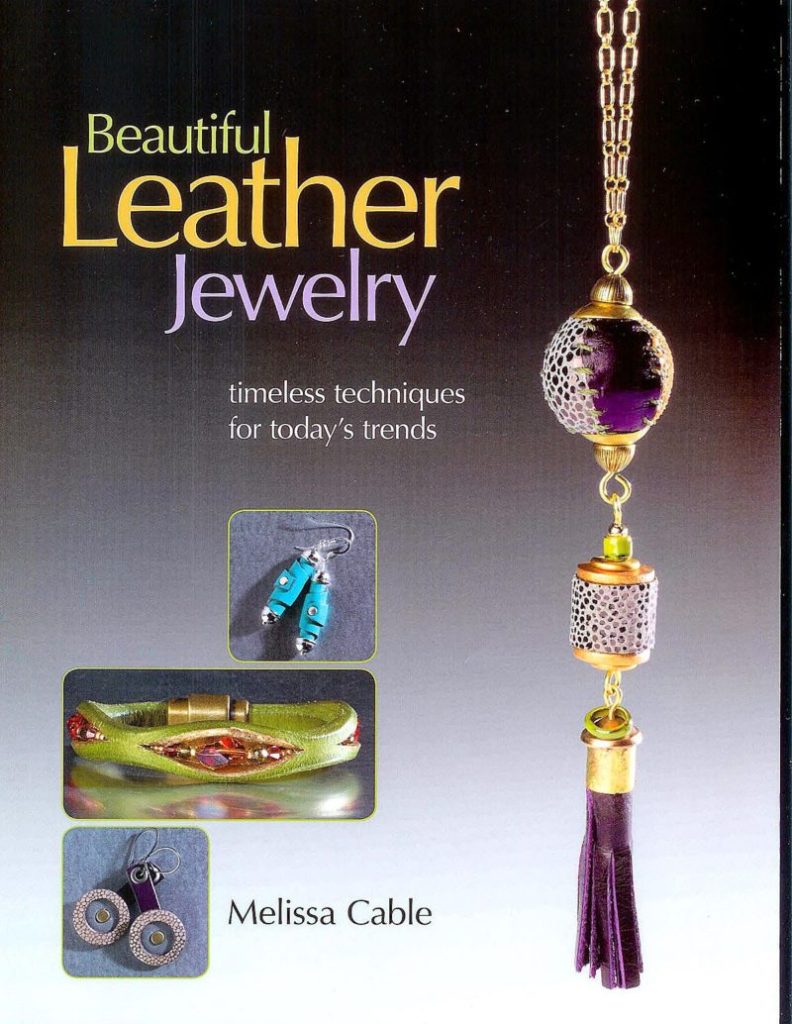 Melissa Cable
has done it again. She has written another very comprehensive, innovative and very timely book: this one is on making leather jewelry. Just yesterday I saw that Stringing Magazine is seeking leather and metal jewelry designs for their Spring issue. You can read more about what they are looking for
HERE
. So I thought a review about this book could be helpful to our readers since combining leather in jewelry designs has become so popular.
What's Inside of Melissa Cable's book?
Leather
This section provides a very detailed account of the different ways leather is processed And which leathers to use for different projects.
Tools
In the Tools section you will find an extensive array of the tools to use with leather, enhanced with great photos and informative explanations of how and why they are used.
Hardware
Snaps, eyelets, rivets, spots and screw posts, are discussed with photos on how to install them
Finishing
Here Melissa Cable shows you a variety of ways to put endings onto your leather projects such as end caps, buckles, rivet-on endings and clasps.
Special Effects
Coloring and preserving your leather projects are discussed here. Some of the topics covered include leather dyes, paints, edge coats, distressing, and sealants.
Projects
Meliss'a initial cuff bracelet project gives you a chance to try out the various techniques needed to work with leather. The project section is exciting and innovative. I counted 25 projects in all in the book, not including the bead making section. I especially like this collar necklace pictured below made with leather and metal disks. Imagine all the possibilities with these materials!!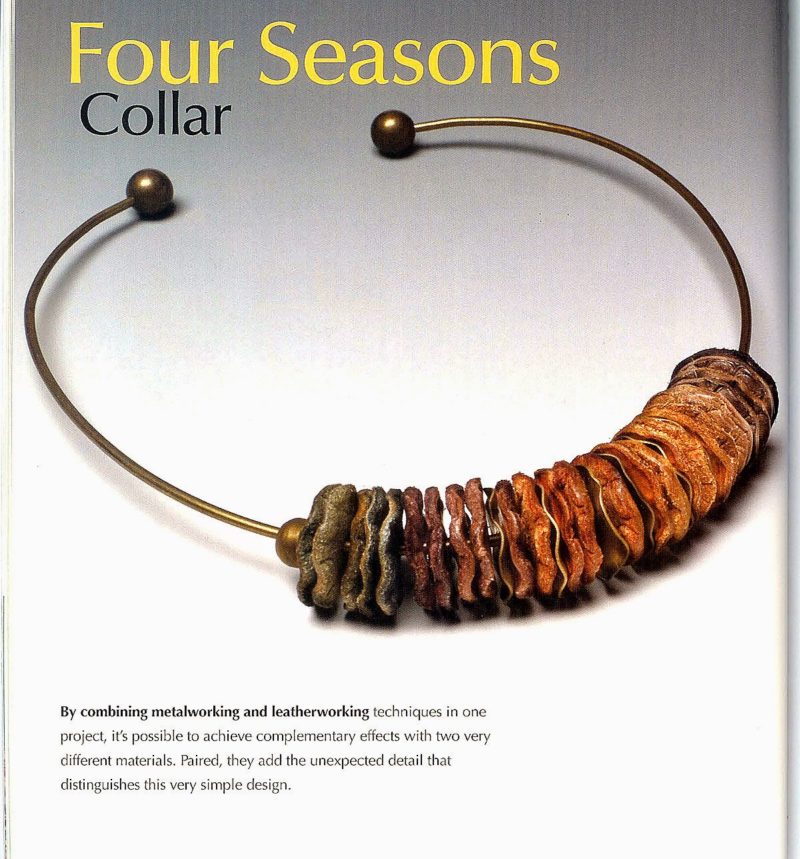 Beads
As a bead maker, this section really appeals to me. She gives extensive details on how to make several very cool beads.
Resources
I'm adding this section based on my own research.
Tandy Leather
is probably the best know and most comprehensive place to shop for leather and leather making tools and supplies.
When I looked into resources for leather supplies, I found, to my surprise that the only Tandy Leather store in New York state is in Syracuse, NY. Great for me as we frequently travel that way.
Tandy Leather
is also available online. In addition to everything possible for working with leather and purchasing leather, they have an extensive free "how to" video section on line as well .
Michaels
has quite a few metal leather working tools and hardware in their stores as well in their new online shopping site. They also carry ready made bracelet and cuff blanks in their stores as well as bags of scrap leather that are very reasonably priced. Your local craft and beading stores may carry leather making supplies as well.
I guess you can tell that I really like Melissa Cable's book Beautiful Leather Jewelry!! If you are interested you can purchase it online from
Kalmbach Books
,
Amazon
or
Barnes and Noble
.