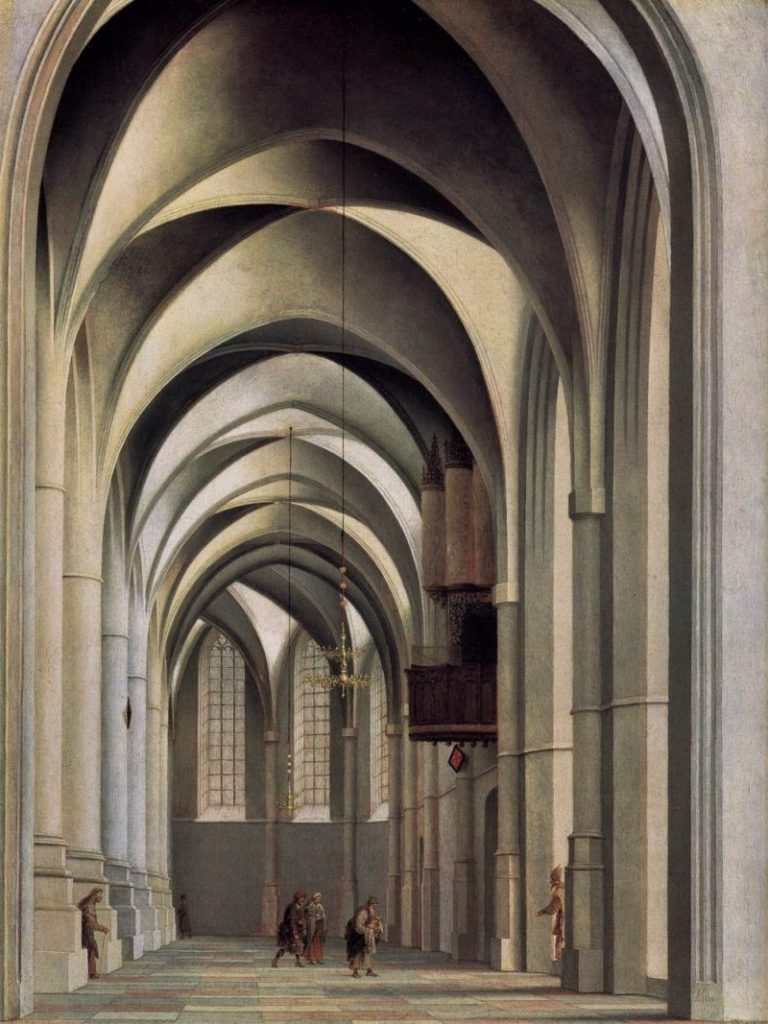 "Choir of Sint-Bavokerk, Haarlem" 1635
by Pieter Jansz Saenedam
37.1 x 48.2 cm"
Oil on Oak Panel
About the Art
Passion for the purity of light and line, so strong an element in Dutch art, is found at its most abstract in the art of Saenredam. He restricted his subject matter largely to the portrayal of whitewashed Dutch ecclesiastical interiors, which he shows stripped of centuries of medieval embellishment by the Reformation's iconoclasm, as seen in the Choir of St. Bavo, Haarlem. It was in this great church that Saenredam and Frans Hals were buried.
About the Artist
Pieter Saenredam was born in Assendelft in 1597, the son of engraver Jan Saenredam. When the latter died in 1607, he left his wife and child well provided, having invested in the successful Dutch East India Company (VOC). Mother and son moved to Haarlem, where Pieter was apprenticed to Frans de Grebber for eleven years. He continued to live in Haarlem the rest of his life, although he regularly travelled around the country to paint in other Dutch cities. Saenredam soon began focusing on architecture. His depictions of church interiors established an entirely new genre in Dutch art. He was precise in his method: Saenredam's in situ sketches were an essential guide for his paintings. His use of perspective in his church interiors was exceptionally meticulous.
Our Sponsors
Please visit us tomorrow to see the prizes!
• Please post at least one single shot of your creation on the
Pinterest Board
. This will be used to make a collage for the Monthly Challenge Gallery. Every creation will be added to the collage, regardless of a blog post. So everyone gets included!
Your entry must be on Pinterest 2 days BEFORE the recap to be included.
•
Be sure to share with us the name of the art bead artist in the description of your photo
so that if you are selected for the weekly Perfect Pairings on Wednesdays, both you as the designer and the art bead artist can get the credit you both deserve!
• An
InLinkz
button will be added to the bottom of the Monthly Challenge Recap post. Here you will be able to link up your blog post if you have one. It is no longer necessary to add your blog post URL to the description unless you want to. Be sure to hop around and see all the great inspiration and leave some comment love!
• The Monthly Challenge Recap with Blog Tour will be posted on
December 31st.
Monthly Challenge Winners
• One prize winner will be selected at random from all pictures posted on the Pinterest
board.
• One prize winner will be selected at random from all blog posts added to the hop for the Monthly Challenge Recap post. So if you want to be in the pool for the second prize, be sure to use the InLinkz code at the bottom of the post to share your process and inspirations!
• Winners will be randomly chosen from all the qualifying entries on December 1st.
Perfect Pairings :: Designer + Art Bead Artist
• Formerly the Featured Designer of the Week, our new Perfect Pairings will now focus on both the jewelry designer and the art bead artist. Be sure to point out all the art bead artists in your work in the description of the photo on the Pinterest Board. Links to their website or shop are appreciated. That way we can all find new art beads to love!
• From all the entries during the month, an editor will pick their favorite design to be featured every Wednesday here on ABS, so get those entries in soon.
How to enter the Monthly Challenge:
1.
You need to have a
Pinterest
account. Go get one ASAP if you don't have one already. It's easy, fun and inspiring.
Subject: Monthly Challenge Board Request
Indicate if you want to be added to the Jewelry Board, Bead Board or both.
You will be emailed an invite to the board within 48 hours. Accept the invite and you are ready to pin your entries.
3. Two ways to pin your entry to the board.
Pin your photo from the internet (on your blog, Etsy shop, etc.)
Add your photo directly from your computer
Create something using an art bead that fits within our monthly theme. We post the art to be used as your inspiration to create. This challenge is open to jewelry-makers, fiber artists, collage artist, etc. The art bead can be created by you or someone else. The challenge is to inspire those who use art beads and to see all the different ways art beads can be incorporated into your handiwork.
An Art Bead must be used in your piece to qualify for the monthly challenge.
***Beads strung on a chain, by themselves and beads simply added to wire or cord will not be accepted.***
Please add the tag or title DEC ABS to your photos. Include a short description, who created the art beads and a link to your blog, if you have one.
Deadline is October 31st.
Photos are approved by our moderators, if a photo hasn't followed the guidelines it will not be approved.
You may upload
2
entries per month.
ENTRIES for ART BEAD ARTISTS!!
• Beads Makers Pinterest Board-Art beads must be created by you and fit the Art Bead Scene's monthly challenge theme. They can be made for the challenge or ones you have made before. 2 entries per month are allowed.
One entry will be picked by the editors on the 28th of each month for a free month of advertising on the Art Bead Scene. Bead entries have to be pinned by the 27th of the month.
Beads only – do not post jewelry on this board. If a post doesn't fit the challenge it will be deleted.
What is an Art Bead?
An art bead is a bead, charm, button or finding made by an independent artist. Art beads are the vision and handiwork of an individual artist. You can read more about art beads
here
.
***A bead that is handmade is not necessarily an art bead. Hill Tribe Silver, Kazuri ceramic beads or lampwork beads made in factories are examples of handmade beads that are not considered art beads.
Beaded beads, stamped metal pendants or wire-wrapped components are not considered art beads for our challenge.***
p.s. If you have a blog, post your entry and a link to the ABS challenge to spread the beady goodness.