I host a designers challenge on Facebook and round 2 voting started today! 30 designers purchased a kit with the same pendant and had 2 color choices, blue or brown. Since it's summer time, our theme is a starfish on the beach. Here are the 2 kit choices: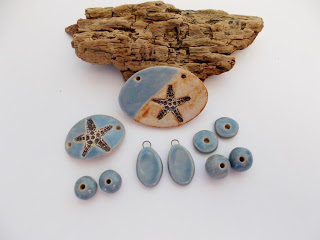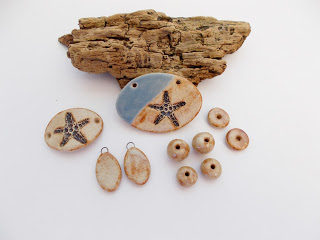 There is also a polymer clay connector in the kit made by Cory Tompkins, but it was a secret component when I took these pictures Lol. Everything in the kit has to be used with any beading technique and any additional supplies from their personal stash. I have opened up the group for voting through Friday, June 3rd at midnight EDT. All likes and comments on the designers 4 pictures counts as a vote. A necklace, bracelet and earring pair plus a group shot has been uploaded to the Facebook group for voting. There are 3 prizes. One for the most votes from the public, one for best use of the ceramic components and one for best use of the polymer clay connector.
Our next round will be in the fall and I am thinking a bird on a branch would be a fun theme! You are all invited to join the group and play along!
https://www.facebook.com/groups/1670109743205467/