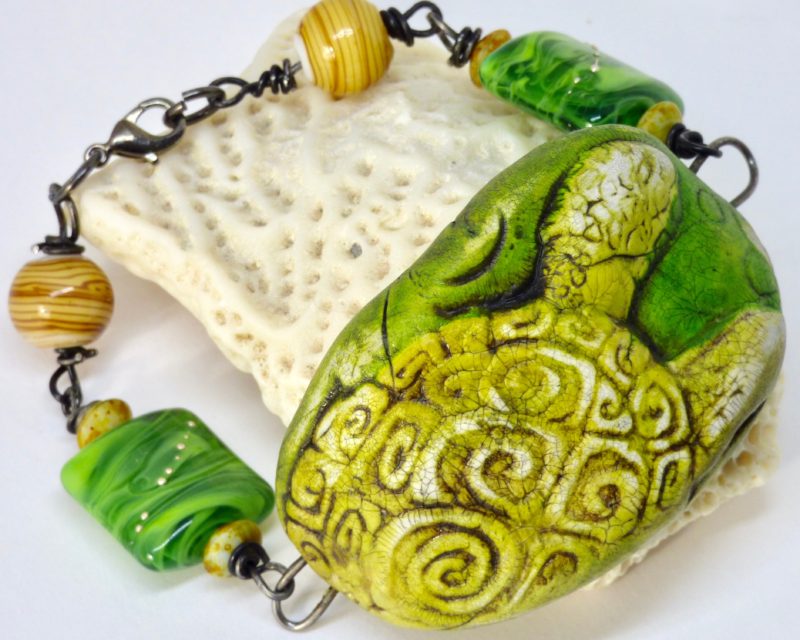 March ABS Turtle Bracelet
by baymoondesign
Uploaded in March 2018

My inspiration came from the earthy greens and yellow colors in the grasses of the watercolor by Marianne North. I used a turtle bracelet bar by polymer clay artist Brook Brock. It had those earthy colors and the turtle seemed to be a creature that might live near the water lilies. The gorgeous green lamp work is by Sue Kennedy. The greens in it are perfect for the greens of the grasses and bracelet bar. I used annealed steel wire which I treated with steel wool and Renaissance wax because I wanted to draw attention to the blacks in the bracelet bar. Please visit my blog at https://bay-moon-design.blogspot.com/2018/03/art-bead-scene-march-monthly-challenge.html to read more about my bracelet and the watercolor.
Image Details
©2023 baymoondesign | Image size: 90.85 KB | Date uploaded: 5 years ago (March 26, 2018) | Category: March 2018 |
641 views, 0 comments, 0 likes
---