Each week one of our contributors gives you a sneak peek into their studio, creative process, or inspirations. We ask a related question of our readers and hope you will leave comments! As an incentive, we offer a PRIZE each week to encourage you to use that keyboard and tell us what you think.
At the next Inside the Studio post a WINNER is chosen at random from all eligible entries.
Here are the results from the last Inside the Studio post.
Congratulations to Victoria Lee!!! You are the winner of a $20.00 gift certificate from GardanneBeads. Please contact
GardanneBeads
to claim your prize.
———————————————————————————————————————–
Hello from MaryHardingJewelry!!
I am happy to be back posting after a six month hiatus while I waited for my broken ankle to heal. I just got back into my ceramic studio about 2 weeks ago so I have limited new ceramic work to share with you today. Below is a picture of some I made in June, 2016 but could not glaze and fire until a few days ago!! My studio was inaccessible to me until I healed well enough to get around with a cane. When I was laid up I had to keep my ankle elevated most of the time, so I could spend limited time making beads and jewelry but I adapted!! I made the beads below for use in my free form peyote stitch jewelry.
Picture below is some beads I glaze fired this week.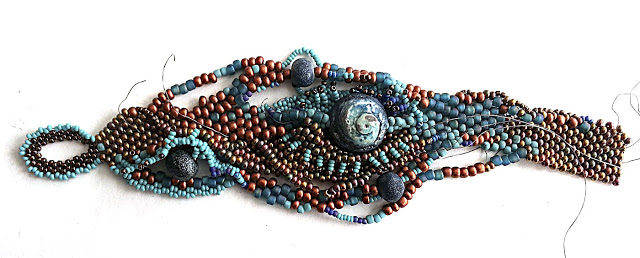 Here is one of the peyote bracelets not quite finished that I worked on during this time. I am excited about using my new beads in some new bracelets and necklaces. So happy to have been able to fire them.
Since I have been back in my studio, I have also been working on orders for some very patient customers and for an update in my Etsy shop. I have about 5 racks full of greenware waiting to be sponged and bisque fired (hopefully this weekend.)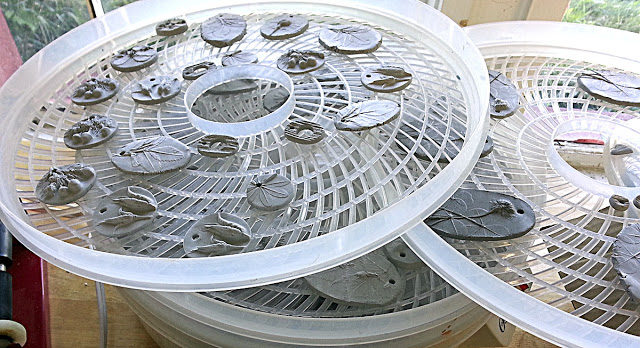 greenware awaiting further finishing
Since I could not fire my ceramic beads, and I was feeling the need for more immediate satisfaction, I turned to my polyclay skills which I learned a few years ago at Christine Damm's Art on The Farm Intensive Workshop. I was able to work in polyclay while keeping my ankle elevated in my LazyBoy chair. I devised a tray for the clay and conditioned it with my hands and worked from my lap.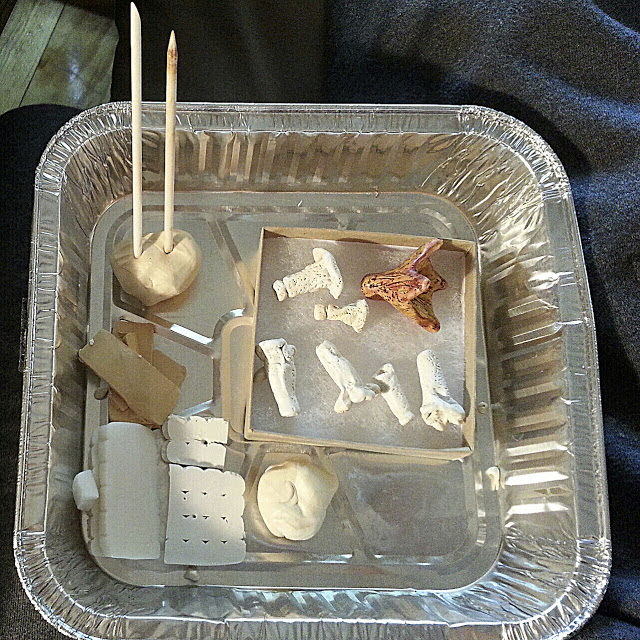 I share below some pictures of what I made. Most importantly, the making helped me tremendously in terms of keeping up my spirits and and filling my need to be creative.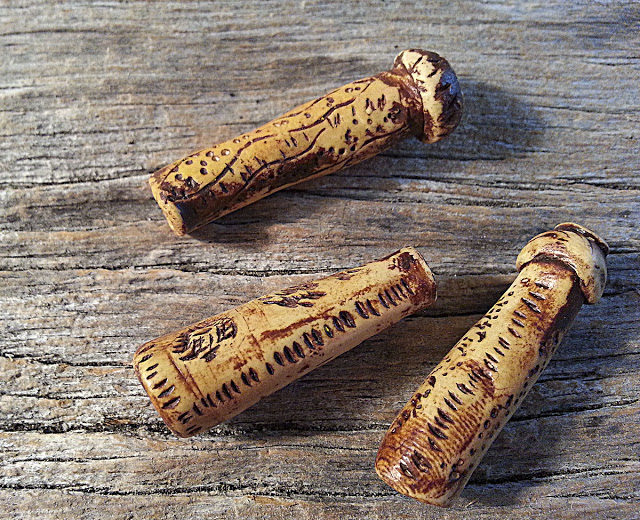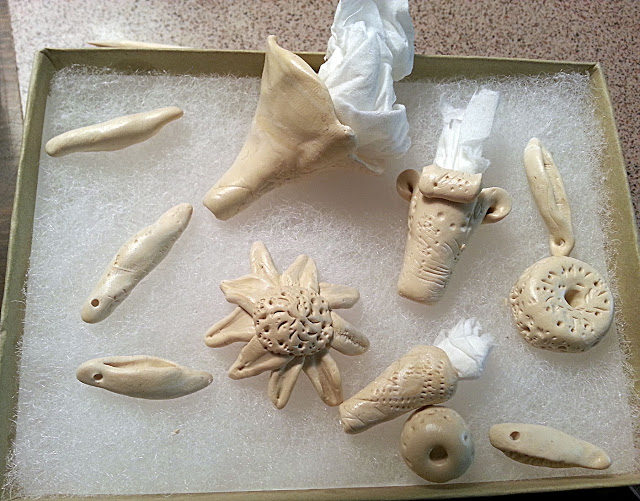 poly beads made in my lap and stored on a soft surface before being cured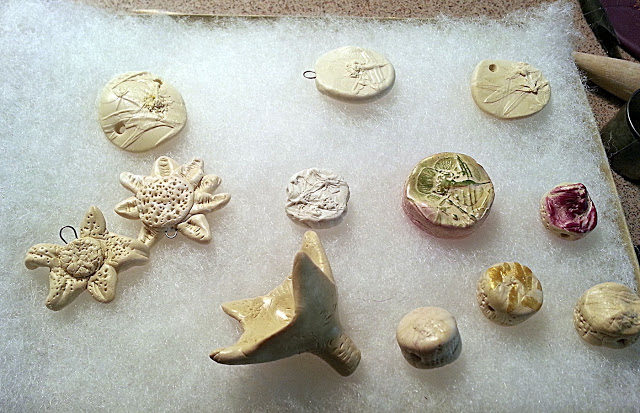 more uncured polybeads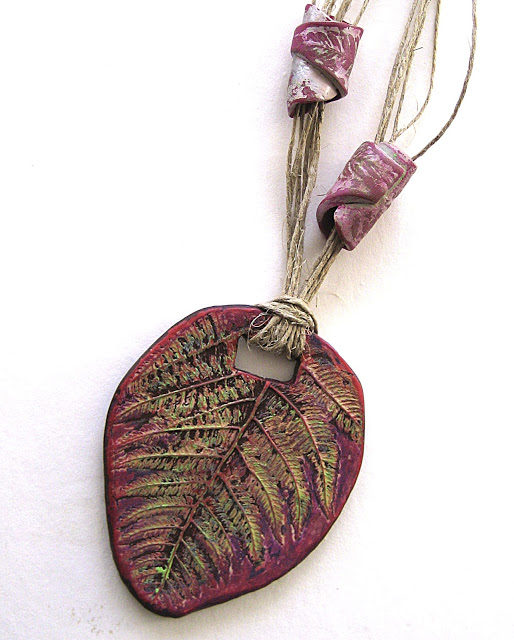 Large leaf necklace I made to participate in a challenge--poly clay MaryHardingJewelry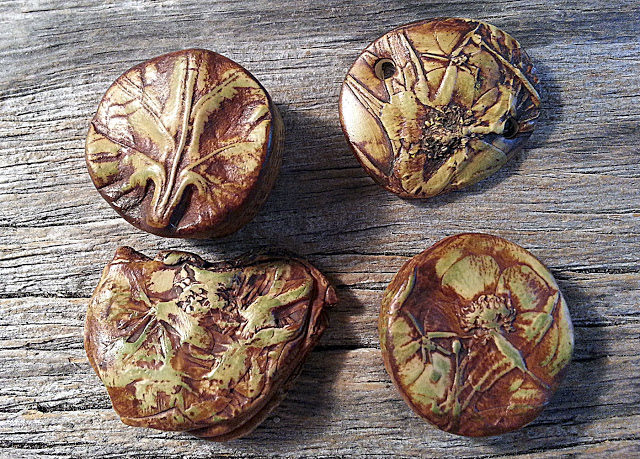 Large hollow beads in polyclay using technique learned from
Claire Maunsell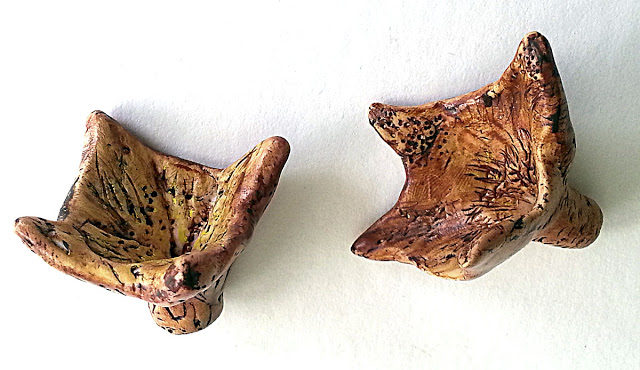 I hope you have enjoyed this look at how I adapted to not being able to create in my usual way and medium.
And this brings me to my question for today. What medium would you choose to express yourself if you could not engage in your usual way for an extended period of time?
Leave a comment below and you will be automatically entered to win a $20.00 gift certificate to my Etsy shop. Hopefully it will be restocked in a couple of weeks.
Thanks so much for stopping by today. I love being able to post again!!
Mary