My posts here are centred around inspiration and there are certain artist that stand out to me as artists that are directly inspired by the world around them. Melissa Gable is one of those artist that comes to mind. She once made the tiniest, cutest ceramic teapot beads that I adored!! I love her work and asked her if she would share with us, the things that inspire her most. So here is what Melissa had to say:
I have been making ceramic beads and components for nearly 3 years, I started with earthenware but I now mainly work in porcelain as I find it nice and strong once it has been fired. My beads and components are sold under my The Clay Hen name. I have also just started to make one off slab constructed leaf plates with underglaze and sgraffito design
In my past life I was a potter for ten years…I hope to get back to someday, once my studio is bigger! I used to make funky one off functional ware from teapots to bowls. I LOVE working in clay! I love all aspect of making, but I have to say my favourite part is opening the kiln, it is always such a surprise and there is a touch of alchemy about it. I live on the beautiful Far South Coast of NSW in Australia, surrounded by nature, which I absolutely love.
My first experience in clay was when I did a course in 1991 – 92 in ceramics. It was an excellent course that taught me all the fundamentals of ceramics, from throwing to glaze technology. From that point on I was hooked. I have been working in clay on and off for about 25 years, although I did have a break for a few years and worked as a web publisher in Government, prefer the clay work! ☺
My recent work has been inspired from trips to the beach, snorkelling: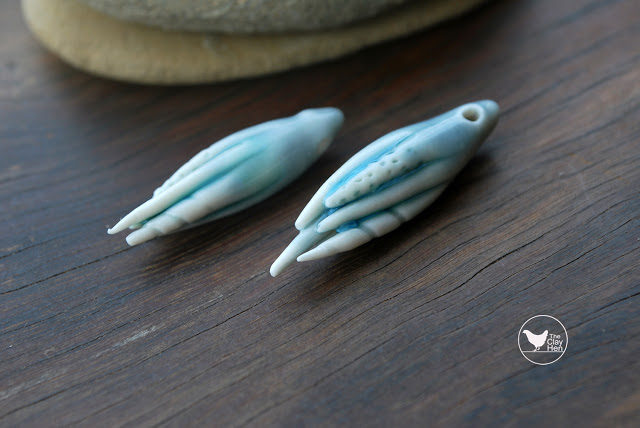 Seeing how the seaweed sways in the ocean currents, spying octopus under rocks with their tentacles darting out to touch your foot and watching the silver fish glimmer as they swim about. Really amazing!! I think my experiences seep into my brain and then come out as I am working. I occasionally draw my ideas, especially if I don't want to forget them. But, a lot of the time it is from experimenting with the clay in the studio…just playing around.
My last series was partly inspired by looking at Nasturtium petals and just how utterly beautiful they are! I did a series of pod and petal inspired beads.
I develop a new technique that gives me a water colour effect after the final firing.
The porcelain I am using is very fine and white so it is a perfect canvas for this particular technique. I especially love it when it is combined with oxides and a peak of white clay shows through.
I have also started to do a range of rustic caps made from the fine porcelain and raku clay which has a lot of grog in it, this gives it a rustic quality and some of the glazes just look fantastic on it.
Where you can find Melissa's work:
http://www.theclayhen.com.au/
https://www.etsy.com/au/shop/TheClayHen
Isn't Melissa's work amazing!! I Have some of her rustic pods on their way to me and I just cannot wait to get them and make earrings for myself!!
As you are reading this I am still a few days from being home from my trip. I am putting this post together before flying off to Italy. I look forward to next post – sharing lots of inspiration from my trip!! See you then! And until then….
Wishing you all "inspiration in everyday"!!
Terri Del Signore
artisticaos