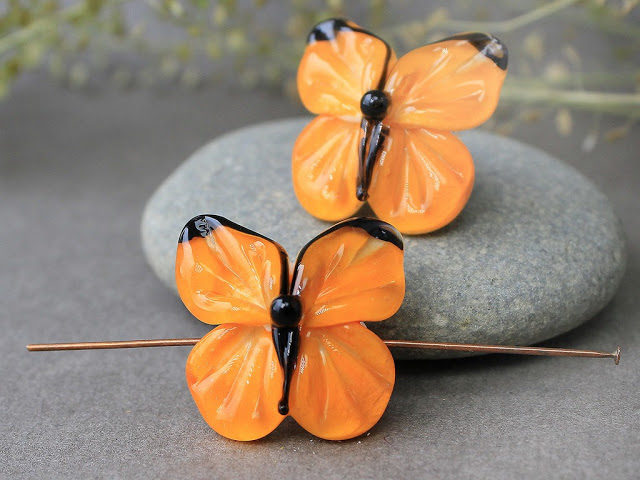 Hmm, last Monday of August. I'm gonna call it. Summer is breathing it's last humid breath and soon those crimp autumn days will be here and I will relishing in all the colors and sights of the season. If you aren't ready to let go of summer, you may want to look away. Autumn inspirations ahead!
I'll ease you into the season with a few late summer garden finds like this sweet little lampwork butterfly bead by
JewelryBeadsbyKate
.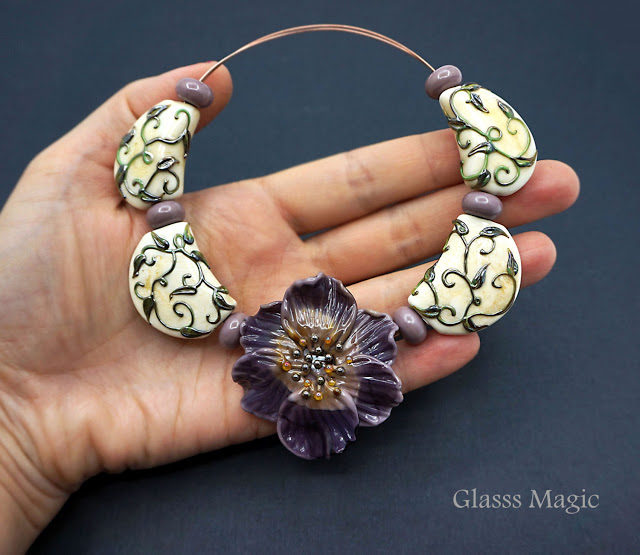 Love this set from Russian lampwork artist Maria Kirillova from GlassMagic. Yeah, let's file these under completely amazing!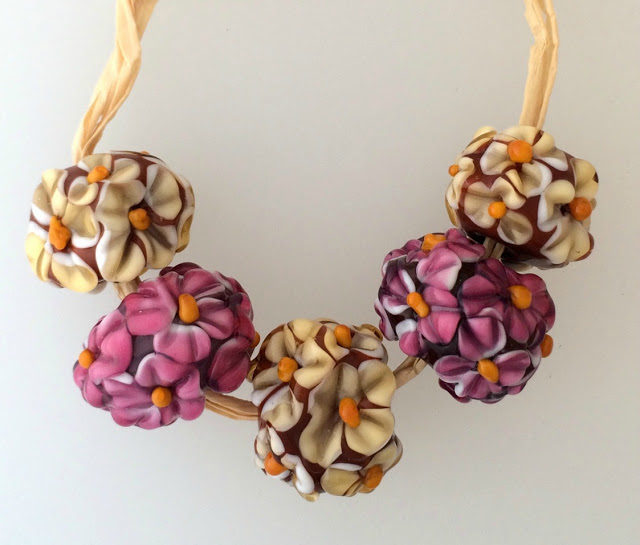 These remind me of autumn mums. They are already popping at the farmer's markets in our town. That's my first hint that fall is a pumpkin's throw away! Lampwork flowers from KatrinaTreasures.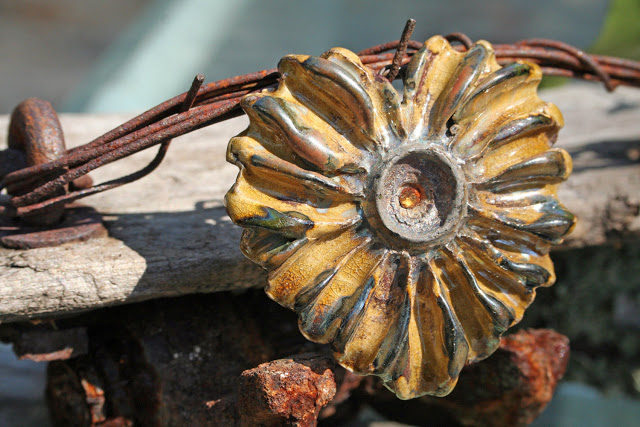 Lisa Peters and Mother Nature must have sat down for tea one afternoon because she is channelling the best of autumn in these rustic floral raku pieces. I have a nice collection of leaves in this style. I must go pull them out today! Stop by LisaPetersArt to find them.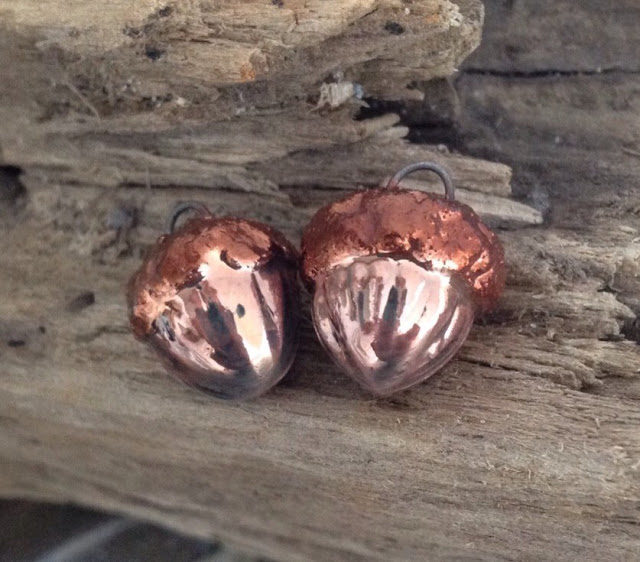 A metallic raku finish on mini acorn charms? Yes, please! These lovelies are from Valerie over at
ClayForACure
. A portion of the sales are donated to finding a cure for cancer. I had to stop writing this post to purchase a pair for myself!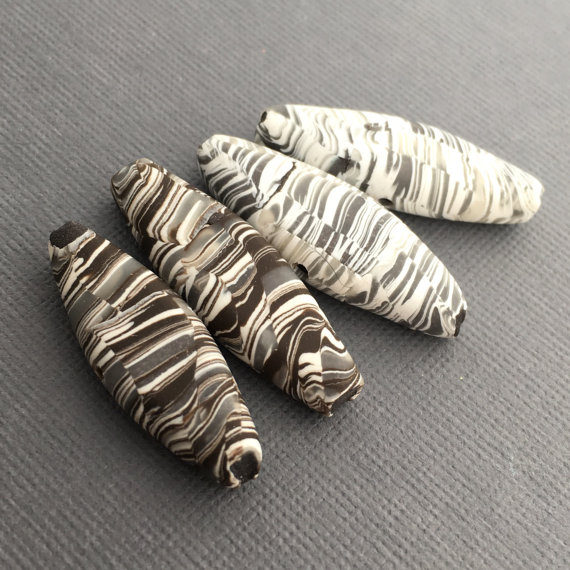 My bead table is filled with autumn beads. These little birch branch beads are one of my latest creations. Find them in my
Humblebeads Etsy
shop.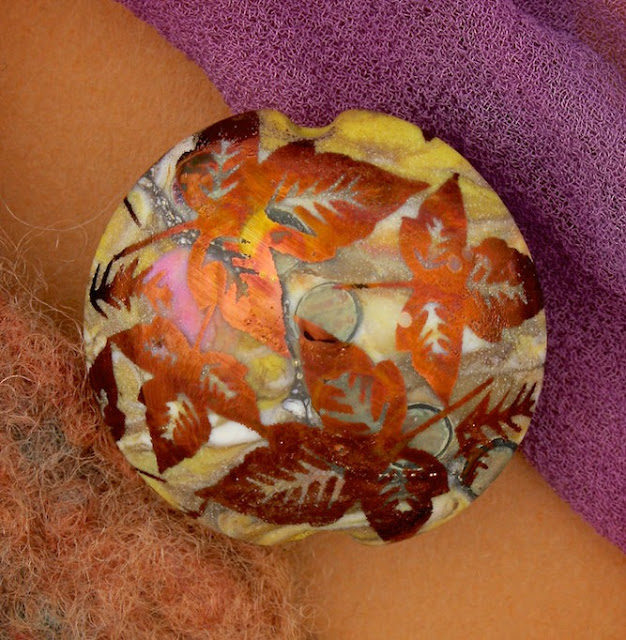 You can find all sorts of autumn goodness created in lampwork glass over at
MasqueBeads
. Just take a few minutes to visit this shop, I want so many!!!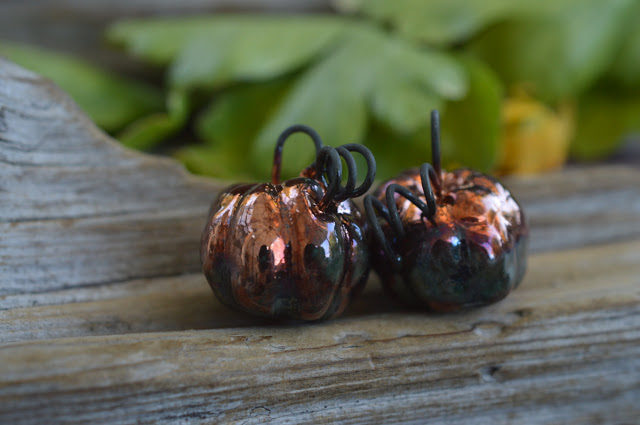 I had to sneak in a pumpkin, what's autumn with out a little pumpkin spice! These goregous raku ones are from
KiyoiDesgin
.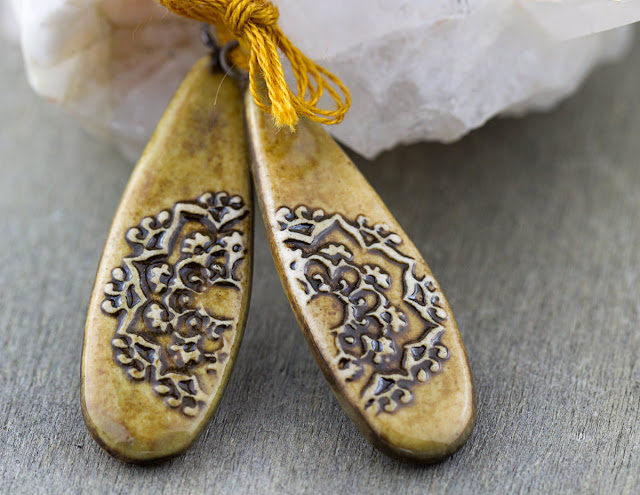 I'm loving this golden mustard color for fall, it's been popping up in my own beads and Carol from TerraRustica has perfectly captured the color with a lacy floral design. Hmm, I may need these too.
Beady Link Party
We invite our readers to share their blog post links with us each week. As long as they feature jewelry or beads, share your favorite post from last week with us. We hope this will inspire you to blog a little more often and bring our community closer together.

1. Please only post blog new links each week. *

2. Visit at least two other blog links and leave a comment. We want to grow our blogging community and encourage you connect with each other.

3. You have until Wednesday each week to share your blog post.

We want to connect more with our readers! Join the party and share you latest beady blog link.

Haven't blogged in a while? It's the perfect time to share what you have been up to, what you find inspiring, your creative process, interview a favorite beadmaker, review a beady book – get creative and get blogging!

The beady link party is open to jewelry designers, beadmakers and group bead blogs.

Share you link using the "Add a Link" Inlinkz button below.

*We ask for fresh links, if you have a post that you haven't shared with us yet but it's a few weeks old, that's cool.