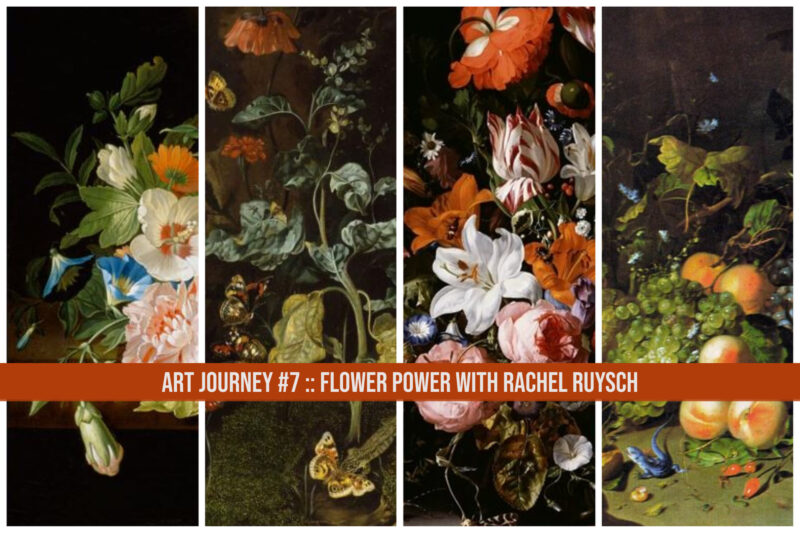 Happy Monday my beady friends! It's that time again… a new Art Journey and a new round of art bead inspiration to get you started. Are you guys as excited about Journey 7 as I am?? I'm totally in love with these lush still life paintings by Rachel Ruysch. As someone with no art history background, I was fascinated to learn more about this accomplished female artist and her life in Erin's intro post.
I normally spend a good deal of time searching through Etsy shops and bead artist websites to come up with Art Bead inspirations to share with you for each Art Journey. But this time, my deadline was upon me and I just ran out of time and mental energy to do that. (It could still happen, but not today.) So, for this edition of my Art Bead Inspirations, I'm taking you on a little journey through my art bead stash. I encourage each of you to paw through your personal stash and see what treasures you uncover that would work for Art Journey 7! I honestly try not to buy anything new for the various challenges that I do… although sometimes I can't resist.
Anyway, this time instead of gathering beads appropriate for each piece of artwork, I put together a few little collections of art beads by themes.
---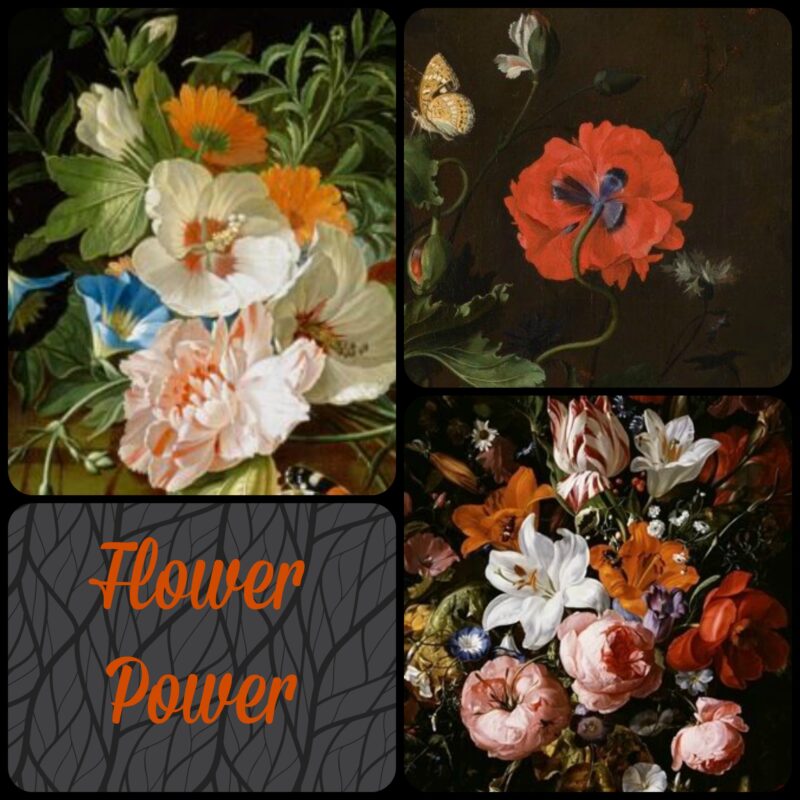 Ok, I'm starting with the most obvious motif… flowers! I'm seriously impressed with the amazing realism that Ruysch acheived in her paintings. It seems like you could reach out and pluck a blossom right out of her arrangements. There are so many great shapes and colors representing in the flora here… lots to be inspired by!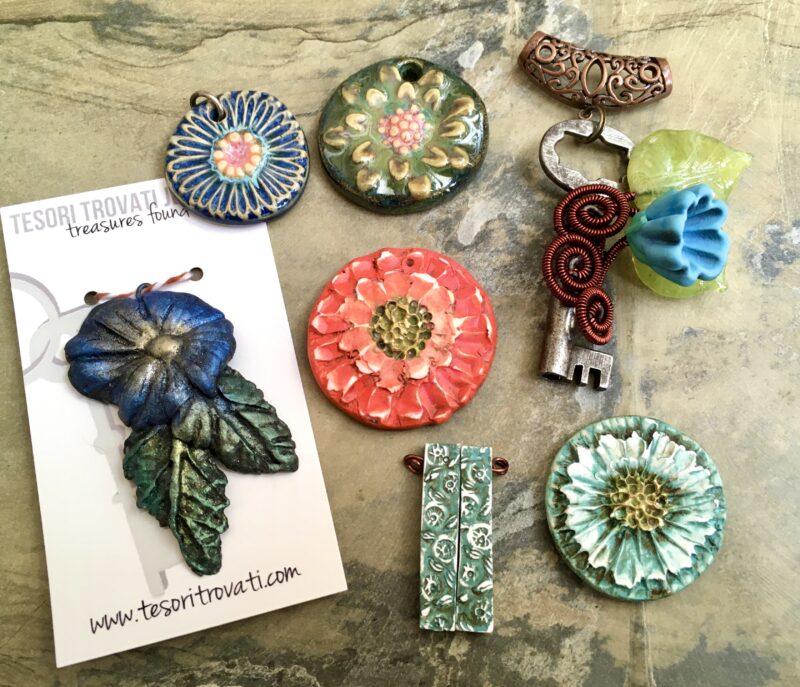 For someone who never considered herself a flowery girl, I certainly have a lot of flower beads in my collection (both in my art beads and otherwise.) For whatever reason, I mostly picked some darker or more muted flowers from my collection other than the gorgeous coral flower from our own Heather Powers of Humblebeads right in the center. The polymer clay sticks and bottom righthand flower are also hers. The top two ceramic flower pendants are both by Tracee Dock of The Classic Bead… the center flower's colors really capture the mood of the inspiration paintings even though they don't match the actual flowers therein. Both the polymer clay flower and leaf pendant by our Erin Prais-Hintz of Tesori Trovati and the wire wrapped key with lampwork flower and leaves by Hannah Rosner speak to the tiny blue flowers peaking out in a couple of the paintings.
---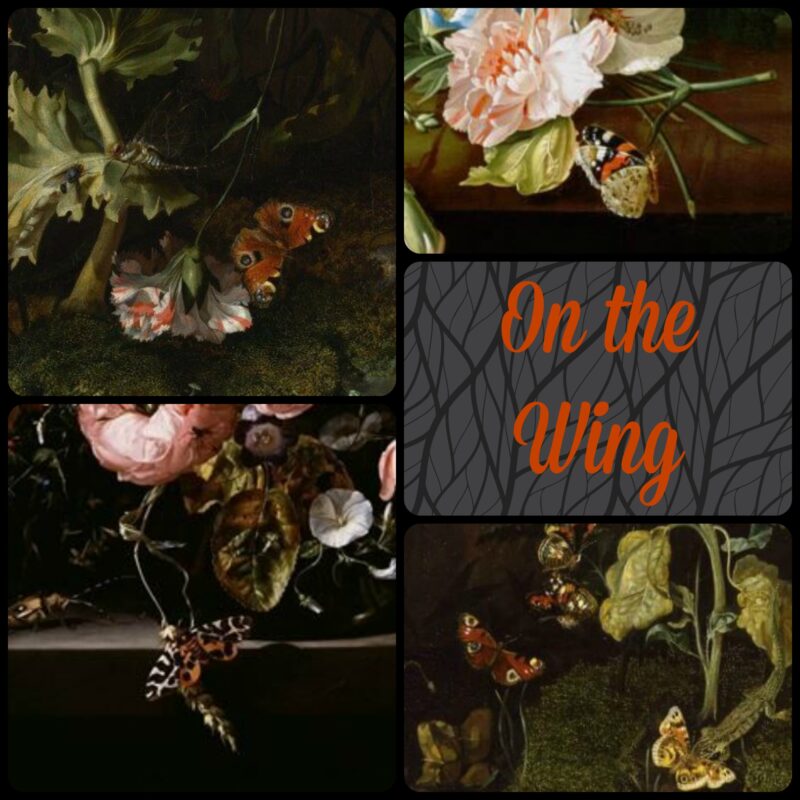 Part of what I love about Ruysch's paintings is that they include insects and other critters. My favorites of course are the butterflies and moths! No matter how many pieces I create, I always seem to have an endless supply of these creatures in my stash… perhaps because I just can't stop collecting! If you are all about the insects too (you know who you are) then this Art Journey should offer you fertile creative ground.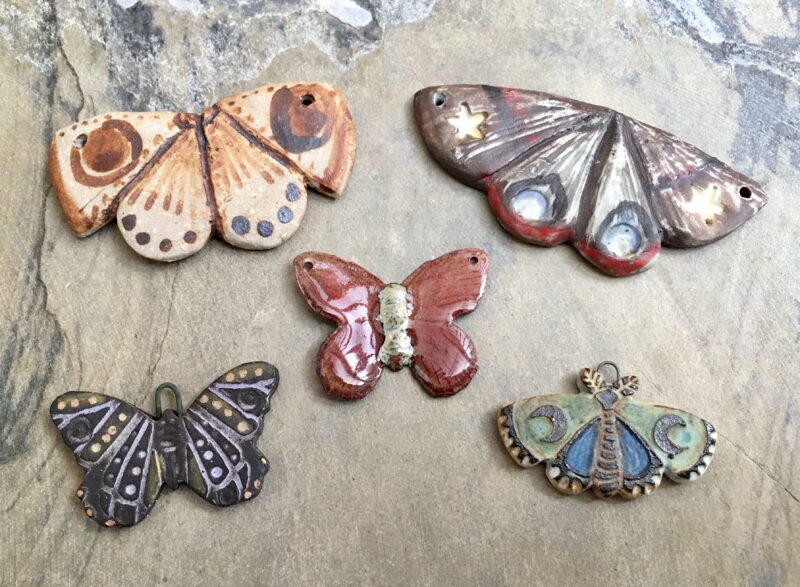 Here are a few of my favorite moths and butterflies currently in my art bead collection. The top two moths are by Jenny Davies-Reazor… I love the muted matte glazes she used and feel like the top right one could have come right out of one of the paintings. The middle piece is a sweet enameled butterfly by Gardanne Beads. The bottom two cuties are from Lisa Peters Russ (left) and Kylie Parry (right).
---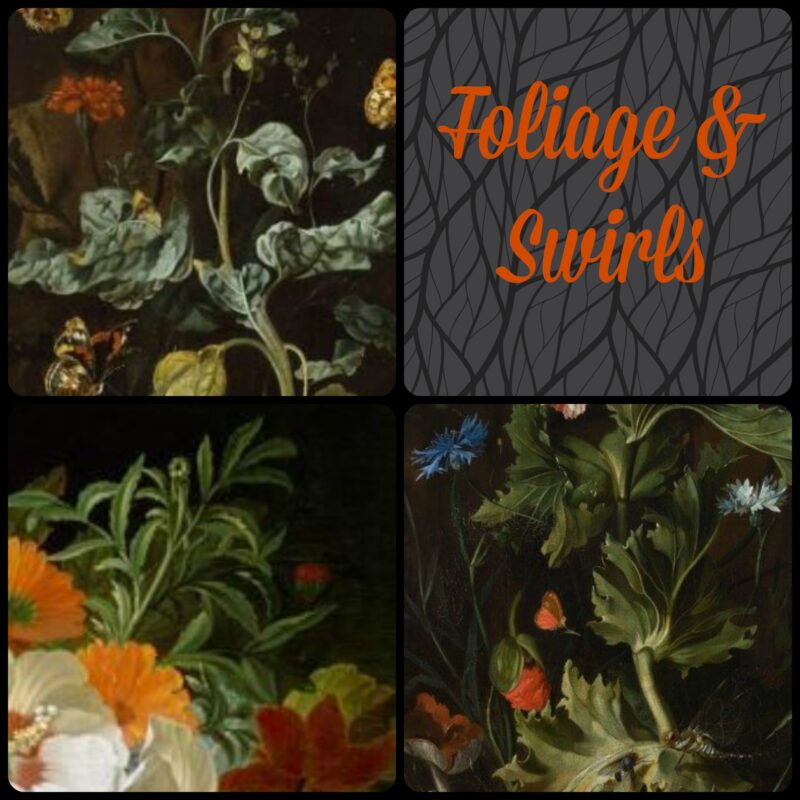 Despite the lush flowers and fruit, there is a dark, moodiness to Ruysch's still life paintings… at least in my mind. I think a large part of that comes from the dark backgrounds and the wild stems and leaves.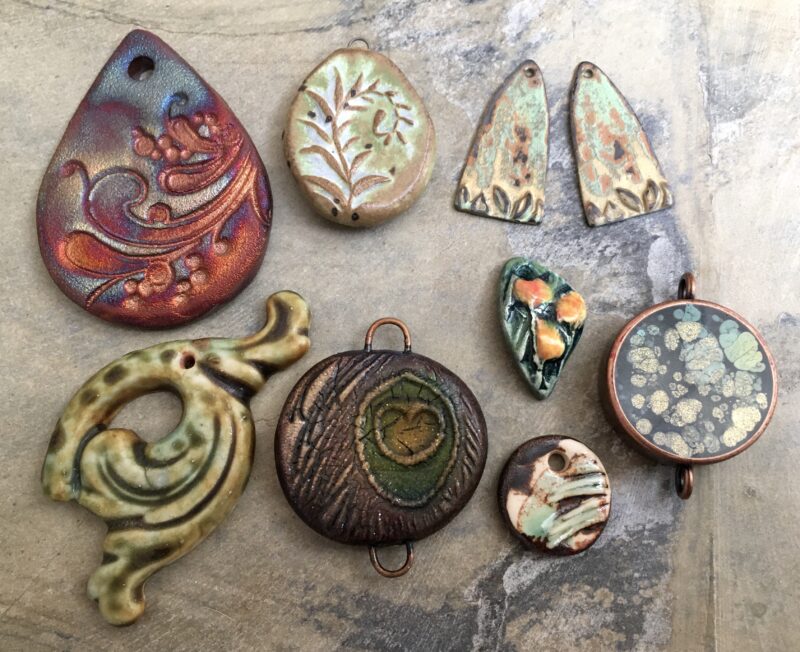 This little collection definitely focuses more on the darker more muted tones as well as the wilder foliage from the inspiration artwork. The top row from left to right includes a raku pendant by XAZ Bead Company, a sweet fern pendant by Kylie Parry, and a pair of colored charms by Inviciti. The bottom left pendant by The Classic Bead is really reminiscent of some of the leaves in the paintings… love those swirls! The middle peacock polymer clay piece by Staci Louise Smith is here for the feel of the colors. Rounding out the bottom row are two lovely organic charms by Mary Harding and a resin filled pendant that I made.
---
This collection of still life paintings is detail rich and there is so much more to be inspired by within them. I didn't even touch on the fruit, the little eggs in their nest, the bright blue salamander, the moss, the pod-like buds… Let your creativity take you where it will bases on what speaks to YOU in Ruysch's paintings.
---
Thanks so much for stopping by to get some art bead inspiration! I hope that I've given you some ideas to get you going for our seventh Journey of the year… If you do create something inspired by this Journey, don't forget to share it with us. Make sure to go to our Art Bead Scene Lounge Facebook Group to submit your creations for this Art Journey. Click HERE and then find the album for the current Journey to add your photo. Remember, you can enter as often as you like… the only rule is that you have to use at least one art bead or component. The deadline for entries is October 16th.
---
Sarajo Wentling, Your Monday Muse