The inspiration for Art Journey #7 is Rachel Ruysch, a painter from the Northern Netherlands during the Dutch Golden Age. The still life paintings are dark and rich, lush with plants, insects and reptiles.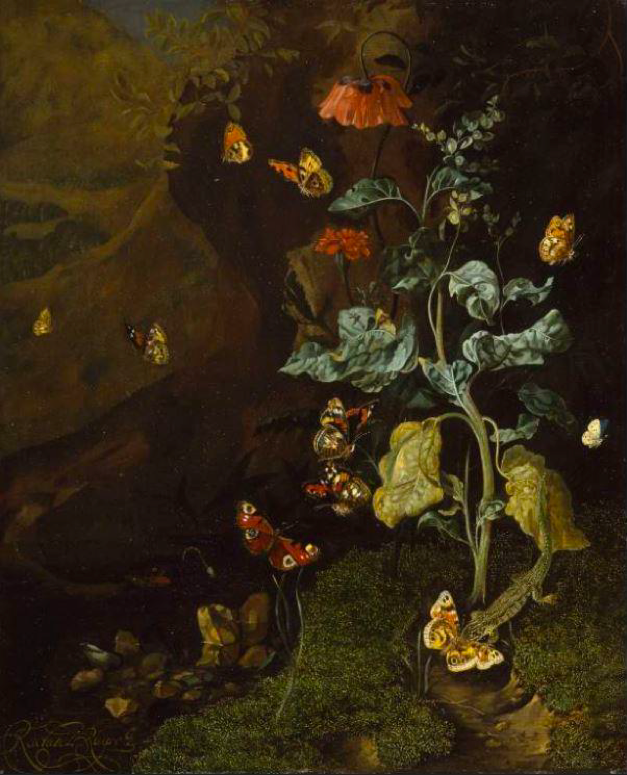 While floral bouquets are a predominant theme, butterflies are also often present. In Insects and a Lizard in a Wood (1684), the butterflies flutter all around the painting, and that led to my first design.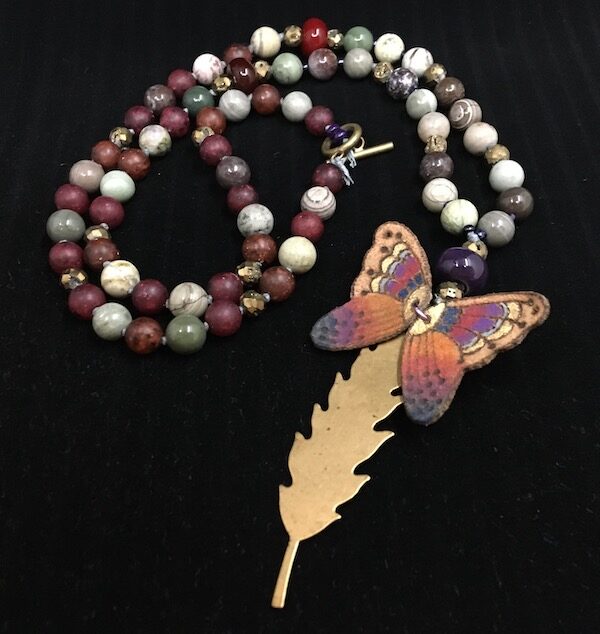 I've had these leather butterfly wings that Rebekah Payne of Tree Wings Studio hand cut, burned with a pyrography design, and hand painted. I wanted to make it looks like a butterfly fluttering around a plant, and I used jump rings and wire to make a pendant with the butterfly and a vintage brass leaf. I think it does seem as if it has just landed there.
Above the butterfly is a dark purple ceramic bead by JeraLuna Designs. Toward the bottom of the strand is jasper separated with dark purple seed beads. I kept it neutral there to let the butterfly colors pop. To draw the eye up the strand, I added two mis-matched dark red lampwork beads by SueBeads part way up the strand and then alternated the jasper with mottled vintage plastic in the rose/purple color from the butterfly. Throughout the strand are beautiful little pyrite druzy beads. They add a nice sparkle and reference both the brass leaf and the metallic paint on the butterfly.
Next I made a necklace with a pendant by Dot Winchell of Winchell Clayworks. It seemed a natural with its black background and floral theme.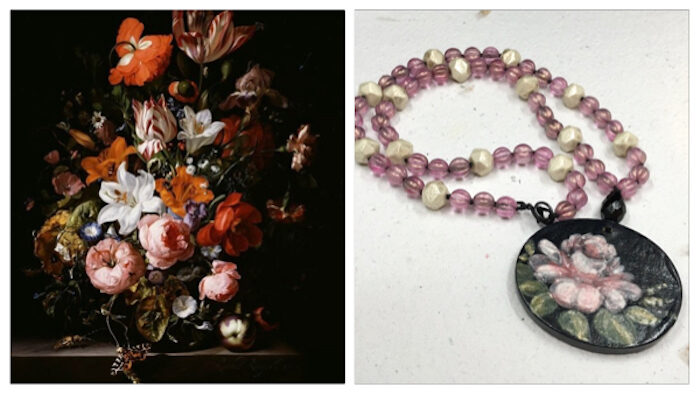 I used some Czech glass and black findings for a simple style knotted on black waxed linen.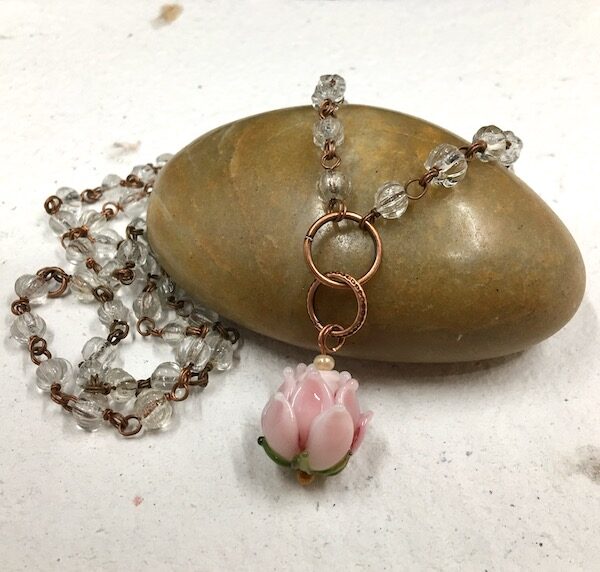 I made one more necklace. I was checking out this gorgeous floral lampwork to see if it or some other beads by the artist, Фунтикова Алла, would work with the necklace above. (I'm sorry I don't have a link to any shop for her.) I just saw how wonderful this one flower would look on a delicate, romantic necklace. I tried to work in some metal leaves in a nice green patina and tiny vintage pearls, but nothing looked as good as this simple design.
The inspiration for Journey #7 is so rich, both in the lovely, glorious colors and the many possible themes – flowers, plants, insects and other creatures. I noticed a couple of lizards and almost made a lizard necklace but did not get to it! If you would like to play along, as well as see what others have made, visit the album on Art Bead Scene Lounge.