Fiber arts, art made by marginalized people, and art meant to fill a utilitarian purpose or created with make-do materials are often overlooked by the art world. That can sometimes be said of beads and jewelry as well. I grew up around quilts and antiques, many of them primitive, both beautiful and useful, and meant to be cared for, repaired and passed down. I value those qualities and appreciate the people who make that art. I was excited to see that quilts from Gee's Bend are the inspiration for Art Bead Scene Journey #3. I saw the touring exhibit some years ago when it was in Wisconsin. I had a great time looking at these beautiful quilts and deciding how to use beads to translate them into jewelry. My bead stash did not let me down!
My first piece was inspired by Loretta Pettway's Housetop variation (2004).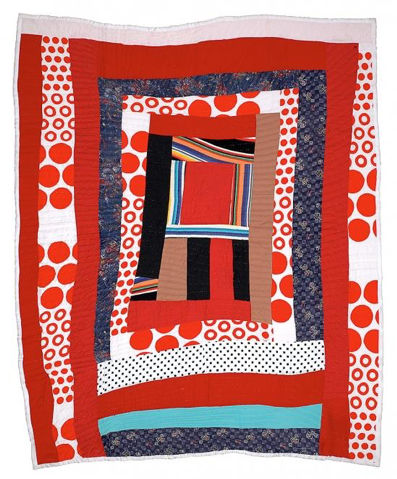 Loretta, born in 1942, has described her early life as full of a lot of hard work, not much of a childhood and many hardships. She prayed to be lifted out of that life, and said she was. This quilt, made in 2004, reads as so full of joy to me. I hope it is because her life was full of joy by then and not only due to my own frame of reference.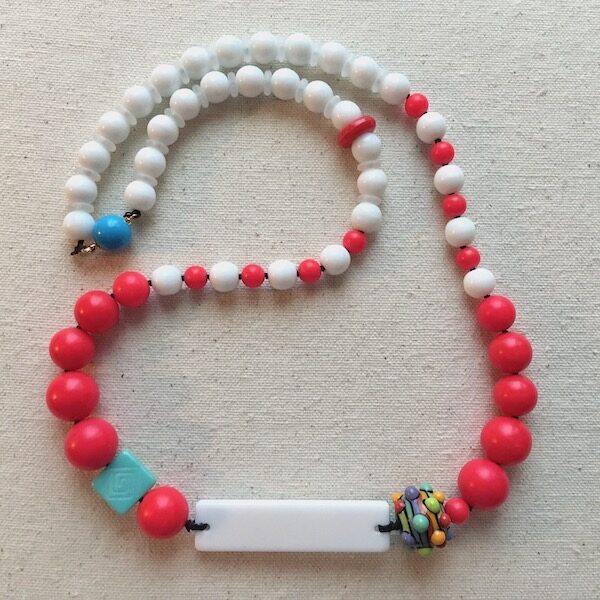 When I looked at this quilt, I saw red, white, round, rainbow. I had recently purchased a small strand of red vintage plastic graduated round beads from Shipwreck Dandy Supply. I had a Beadygirl Beads rainbow colored lampwork bead by Tera Belinsky-Yoder. I knew I had a red plastic donut. In looking for that, I found the little semi-opaque white donuts and the white connector. The design was coming together nicely! I added the turquoise square as a nod to the one turquoise strip in the quilt. The blue floral fabric just fades into the background for me, but the more vibrant blue in the rainbow fabric stands out, so I chose a blue clasp at the back.
The second quilt that inspired a creation for this post is Strips – "Nine Patch" Variation (1950s) by Emma Mae Hall Pettway. Although the colors of red, green and white seemed to be the key colors here, it was the one strip of pastels that jumped out at me.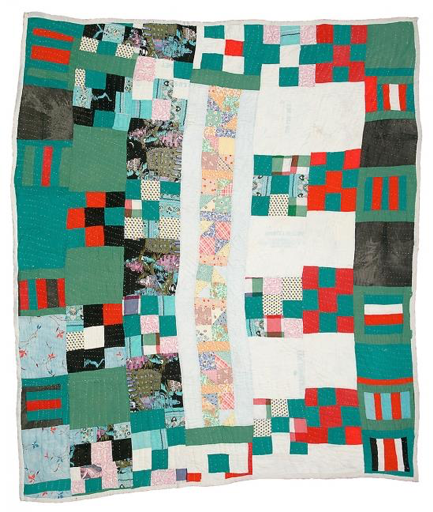 I tend to use a lot of bright colors, but soft pastels all together really charm me. Years ago, I fell in love with a strand of pastel tab beads by Sally Sutherland Designs (back when she went by the shop name Soul Silver) and just took them out to look at them once in a while. When I saw that strip of fabric, I knew those beads had found their project.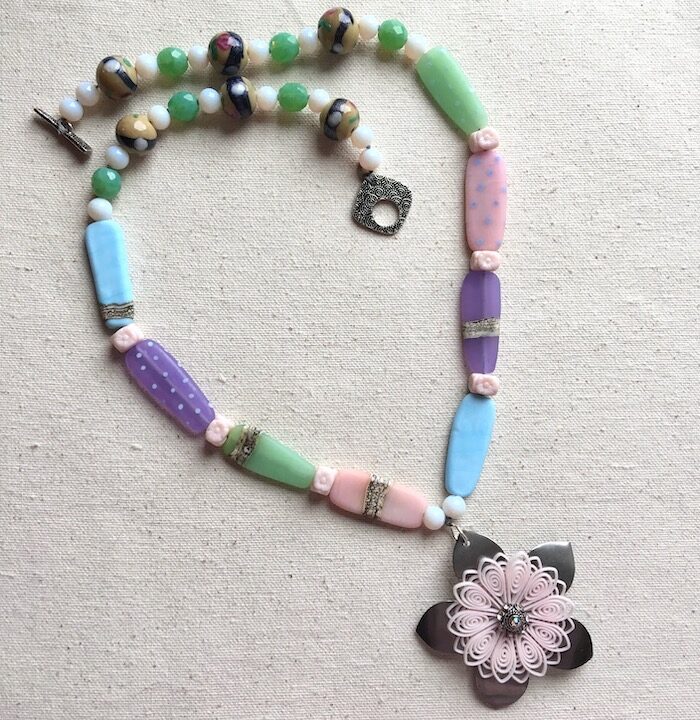 I've been collecting various vintage metal flowers intending to do some stacked pendants and assemblage pieces. When I came upon the pink vintage plastic flowers (that remind me of quilling) it was time to practice a layered look that I've been wanting to try. I checked out Heather DeSimone's book Create Three Dimensional Jewelry for tips to make my pendant.
Adorable square pink floral beads and white rounds were repurposed from a destash necklace. Czech and vintage glass finish out the piece with a TierraCast toggle clasp. The blue and cream beads at the back keep the piece from being too cloying for me.
I loved making these pieces. It was fun to find what grabbed my attention from the quilts and which art beads that brought to mind. See where your Art Journey takes you, and then go to the Art Bead Scene Lounge Facebook page and post in the Journey #3 album.