Happy Monday, everyone! I'm also wishing you all a very happy and safe Memorial Day from the whole Art Bead Scene Team! I'm here today to share what I've been working on the last couple of weeks for Art Journey Four.
As much as I love the dreamy artwork of Odilon Redon, I've been super crunched for time this month, and it gets worse in June. (Don't feel too bad for me… I've brought it all on myself and it's fun stuff including a trip to Bead & Button!) I had high hopes of creating a few more pieces inspired by this Art Journey, but it is what it is. You and I will both just have to be content with one jewelry design for each of the inspiration art pieces this time!
---
The toughest to decide on, and last made, design for me was what I made for Madame Arthur Fontaine. Once I chose to work with the bracelet bar from Captured Moments, it came together pretty quickly, but I just had a hard time getting to that point. I think my brain just wasn't interested in that yellow! The design is really very simple… I just used some brass chain and jump rings to attach the ceramic focal to the body of the bracelet and added some Czech glass roller beads in a coordinating golden hue along the sides.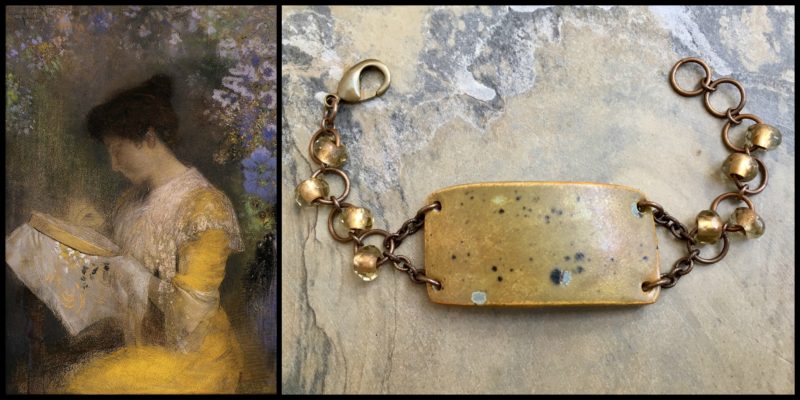 ---
I just adore the riot of colors in Redon's Bouquet of Flowers and this was actually the first piece that I completed. I decided to go with a brightly colored ceramic focal bead covered in petals for this one. Golem Design Studio does not disappoint when it comes to bright colors! It feels a tiny bit like cheating since this is a variation on a design that I've done before, but I still love the effect of this type of almond shape used above a chain tassel for a focal element. The picture cuts off the back, but this is a long necklace that can just be slipped over your head.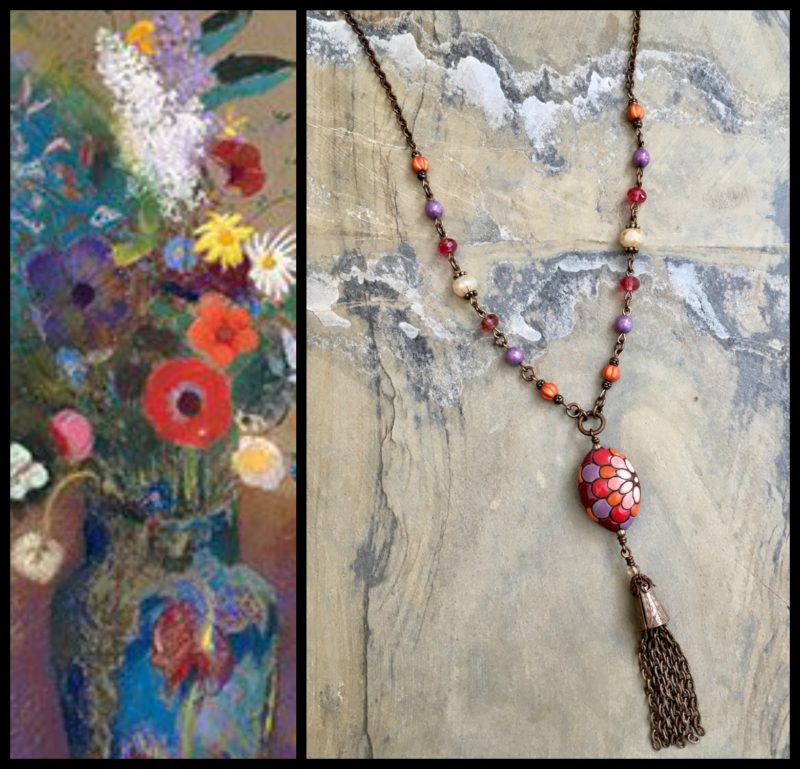 ---
Even though I love butterflies, I feel like I've made a fair number of designs over the past few months featuring them or moths. A new direction was in order so I decided to focus more on the colors… especially in that gorgeous sky. A gorgeous abstract wooden pendant by Summer Wind Art was the perfect starting point for me! It really captures the feel of the sky from the inspiration artwork with it's yummy blue and green tones with touches of gold. You may also notice a sweet little Humblebeads disc bead on the right side! I went heavy on the Czech glass beads in this design and used some new gold plated chain from Vintaj at the back. This another long one with no clasp.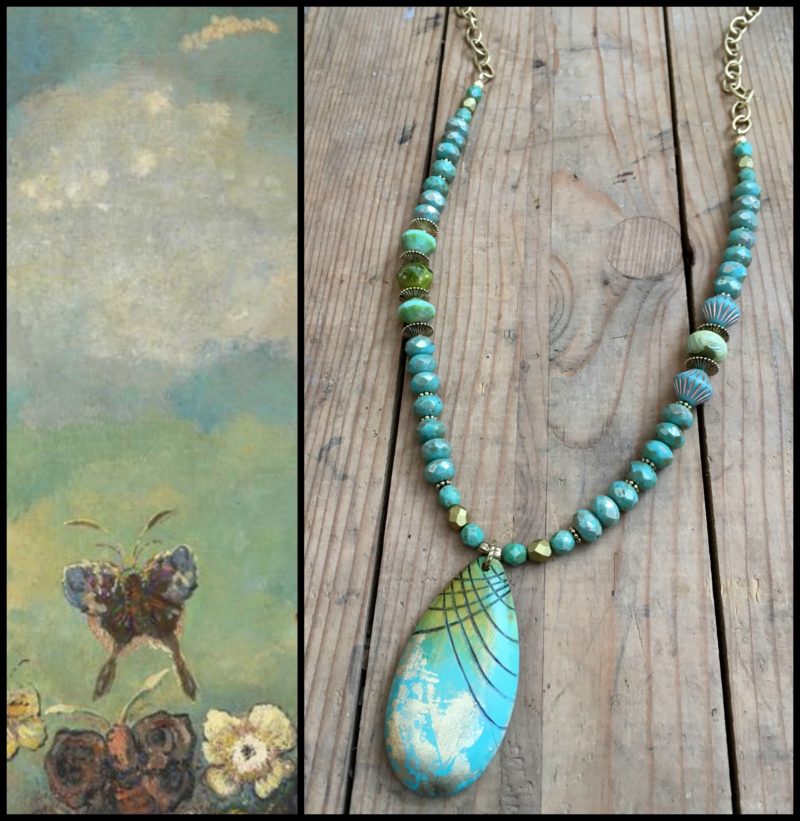 ---
Thanks for stopping by to see what I've been creating. I'm finding this Journey so inspiring and hope you are too! Don't forget to add your designs to the gallery to be eligible for a fun prize at the end of this Art Journey!
---
Sarajo Wentling, Your Monday Muse