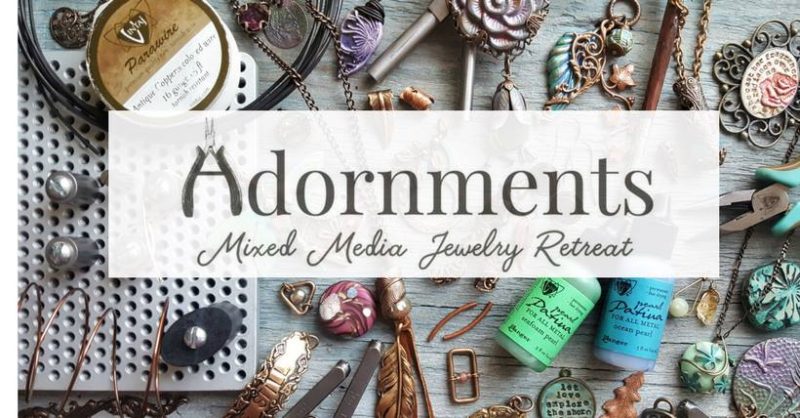 We had a very successful inaugural event in 2017 and we are back…bigger and better for 2018. This special extended weekend retreat is sponsored the creative forces behind Vintaj, the Art Bead Scene and Now That's a Jig.
We invite you to join us for four days of mixed media jewelry explorations with Heather Powers, Jess Lincoln, Erin Prais-Hintz and Brenda Schweder. Play with wire, metal, clay and more during three full days of classes.
The location is just amazing. Galena, IL is a great little city in the rolling hills on the northwest corner of IL just over the IA and WI borders. The downtown looks like it was taken from a Hollywood backlot (and actually was featured in the movie Field of Dreams!). The views from the top of the Chestnut Mountain Resort where we stay are breathtaking. This is a picture from the grand ballroom vista looking over the Mississippi River to Dubuque, IA taken after an intense rainstorm at sunset last year.
We have planned such a wonderful event! Of course, the fabulous classes are the big draw. Each of the instructors is teaching one half day and one full day class. Plus Jess and Heather are each teaching an additional half day class for even more creative fun. What I have heard is that picking which classes to take is the hardest part! (And I wish that I could take those classes, too!) Here are just four of the ten……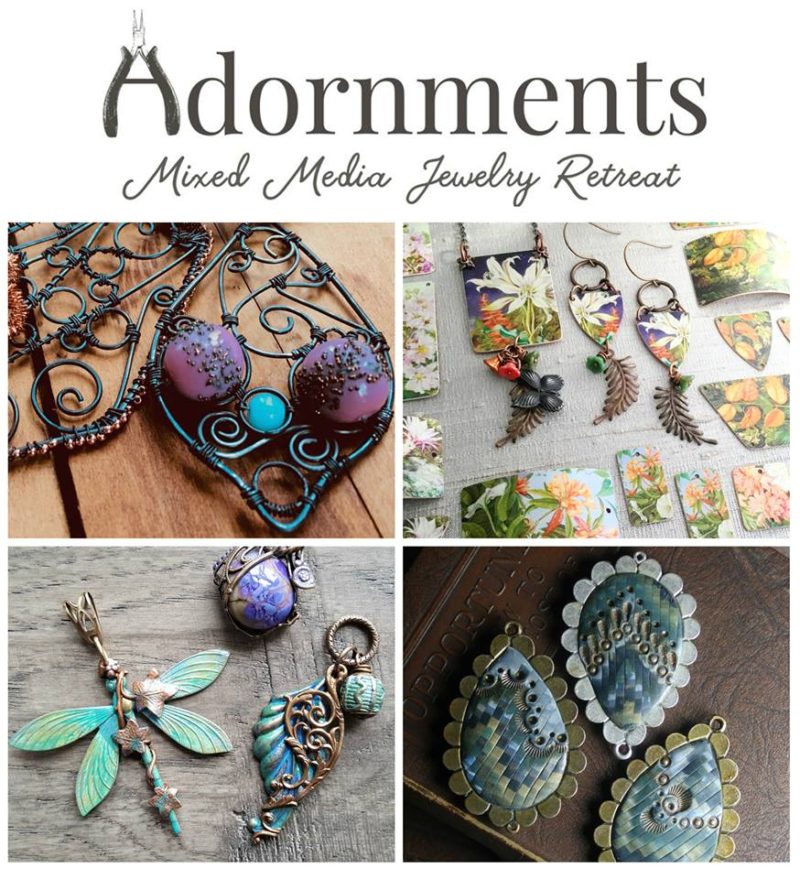 We kick off the retreat with a gift bag from our sponsors bursting with treasures. And I mean BURSTING!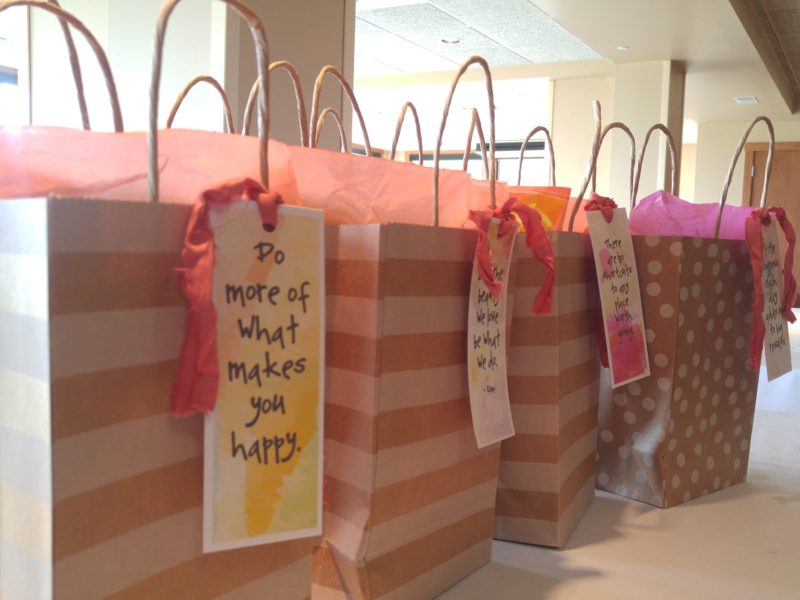 There is also a pendant exchange and design contest where everyone brings beads to share in a specific color palette to create something during our Pajama Beading Party.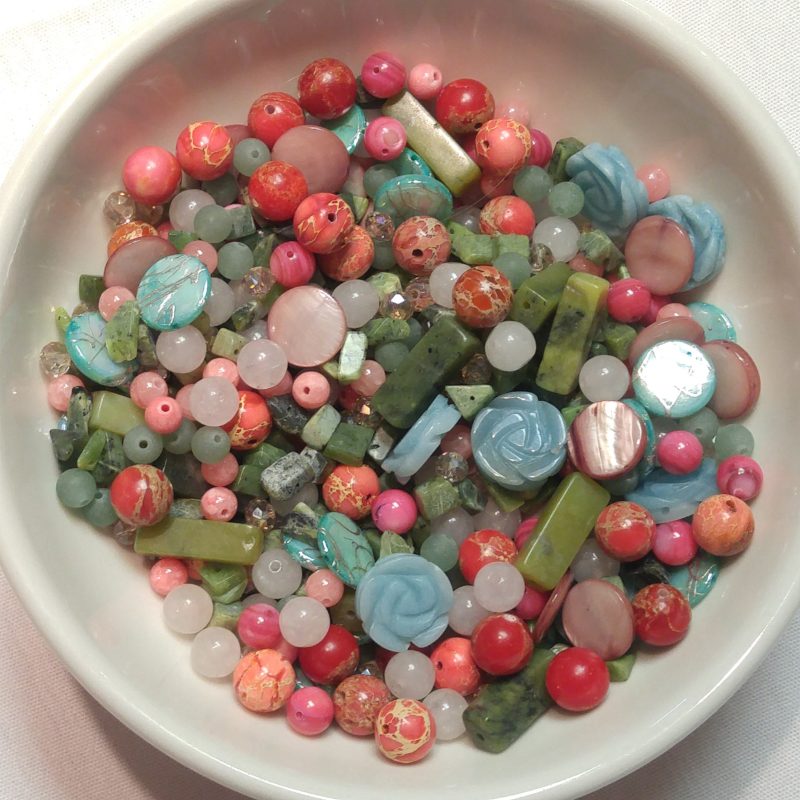 One of the most fun events was something we dubbed the Strung Out Challenge. We patterned this LIVE challenge after Chopped, the cooking show where participants get a basket of items to work with and a well-stoked pantry to raid…in this case, Heather and I swapped beads and components and a focal based on our July Art Bead Scene inspiration. We truly had no idea what we would have to work with! Then we only had a short amount of time to whip up a design. And it really was short! All of this was filmed and broadcast LIVE on Facebook so people at home could catch the fun and was MC'd by the most awesome, Miss Brenda, who threw in a monkey wrench about halfway through (literally…she gave us a plastic MONKEY that we had to somehow work into the design!). That was such a hoot that we are planning on bringing it back for more shenanigans!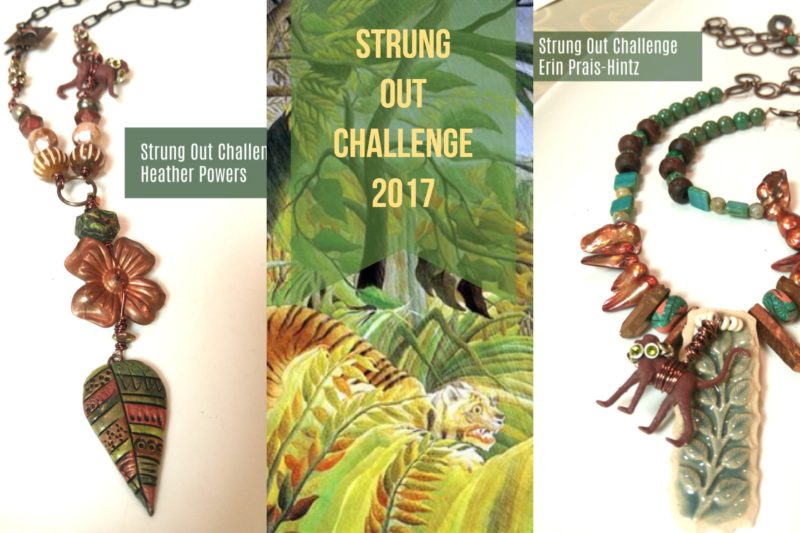 New this year we will be doing a round-robin style Make & Take Event with the instructors and of course we will have door prizes and a special shopping event to stock up on all your favorite beads, tools, components and jewelry from the instructors.
After the farewell party on Saturday, people are invited to an after-hours private shopping trip in nearby downtown Galena, IL at Rustic River Finds, the store that Jess' mom Trish Italia owns. There is always something unique and special to be found here!
Have I piqued your interest? Or are you on the fence?
Don't just take my word for it, here are some testimonials our 2017 participants…
What is the best thing about the Adornments retreat? 
The fellowship of creative minds. I am pretty new to jewelry, but have done lots of other creative endeavors. Everyone there last year made me feel very welcome and not at all out of place (which I really was). In general, if you want to learn, and if you want to feel very welcome and part of the group, this is the place to be! And, if you already know jewelry and the ins and outs of making it, it is still the place to be! ~ Julie

Getting to hang out with others that enjoy my hobby. Plus trying new things in classes that have awesome, friendly instructors. ~ Colleen

It is a great retreat to recharge your creativity and learn while getting to meet and make many connections with creative people. ~ Miranda

Hands down, THE PEOPLE. And I mean the instructors and the students. So much knowledge that Heather Powers, Brenda Meintz Schweder, Erin Prais-Hintz and Jess Italia Lincoln share, it is so awesome. The atmosphere is fun, laid back, lots of laughter and lots of creative minds sharing ideas and of course sharing what we made in our classes. Encouraging each other, we stepped out of our safe zones and tried new things. A wonderful way to spend some time with other tribe members you've yet to meet and those you've already met. ~Sue


I did have some reservations about going last year. The timing was poor, I felt that I didn't have skills that would fit, and I was concerned about whether I would feel comfortable. There were many skill levels so that quickly became a non-issue. Everyone I met, fellow students, instructors, and my roomies, quickly made me feel welcome. So many talented and creative people are inspiring, not intimidating, and the instructors do a fantastic job with patience and humor. The hotel and surrounding area is beautiful. It is a win in all respects. I cannot wait to return this year to learn new things and make wonderful new friends. ~Roberta

Learning. Experimenting. Creating. Sharing. Laughing. Breaking for lunch. Reconnecting with old friends. Meeting new friends. Playing with beads. Challenging yourself. Seeing amazing outcomes. Giggling. Trading beads. Making exciting, new jewelry. Discovering new resources. Playing. Feeling pride in your work. Toasting the best day ever with your new and old friends. Goodnight. Repeat daily. ~Lin
Couldn't have said it better myself! 😀
We hope you will consider attending the 2nd Annual Adornments Mixed Media Jewelry Retreat, July 18-21, 2018.
REGISTRATION IS NOW OPEN
and  already we are on our way to filling to capacity. Don't wait…join us!