This certainly has been a cabin fever type of winter as Terri said yesterday in her blog post.   So you can imagine how extra excited I was when I learned Claire Maunsell has a new video tutorial on CraftCast.  I say extra excited because Claire Maunsell's work is always very special.  So today I want to share with you some of the specifics of this wonderful tutorial now available for purchase on CraftCast.  In case you are not familiar with CraftCast, it is the brainchild of Alison Lee.  She has come up with a unique way to present an artist's work.  She makes it a live event and invites the audience to ask questions as the artist works –in real time. This form of presentation makes the event very personal, as  if you are sitting at the table with Claire and she is telling and showing you how to make her bracelets.  First off she shows and tells you about her materials which are polymer clay.  You see her working with the actual piece of clay she will magically turn into a work of beautiful art.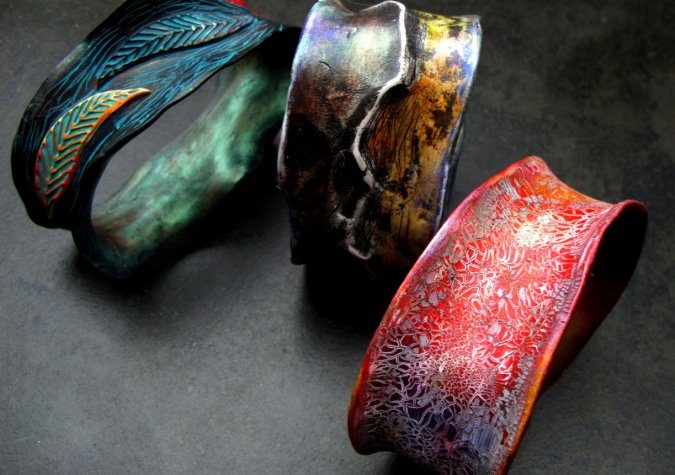 Artisanal Polymer Bangles by Claire Maunsell
As she goes along, Alison will ask questions and make comments.
In the course of this 90 minute video ( which is yours to watch as many times as you want) Claire will make the three different bangles you see in the picture above. She will also cover how to make her signature crackle glaze finish ( the red bangle in the picture), and her unique ways of coloring and carving polymer.  Claire Maunsell's video demonstrations and instructions are clear and thorough.  Claire's live answers to real time questions and remarks mesh seamlessly to the video parts of the presentation.  I watched this video demonstration after the actual live event and I felt as if I were there as it was happening. You will find that the instructions make the projects very doable. No previous experience working with polymer clay is required to be successful.
In addition to the 3 bangles Claire has added in a bonus video of making a pair of pod earrings.
I have tried out this tutorial (I made 4 different bangles) and found it to be the kind of fun that gives me a creative rush. My head was buzzing with ideas.  Once you master the technique of making the bangle you can branch out and try all sorts of surface and coloring ideas  and come up with your very own unique creations.  I hope you will give them a try.  And if you do please send me ([email protected]) a picture of what you came up with and I will post it here next month as part of my monthly post.
Thanks so much for stopping by.
Mary