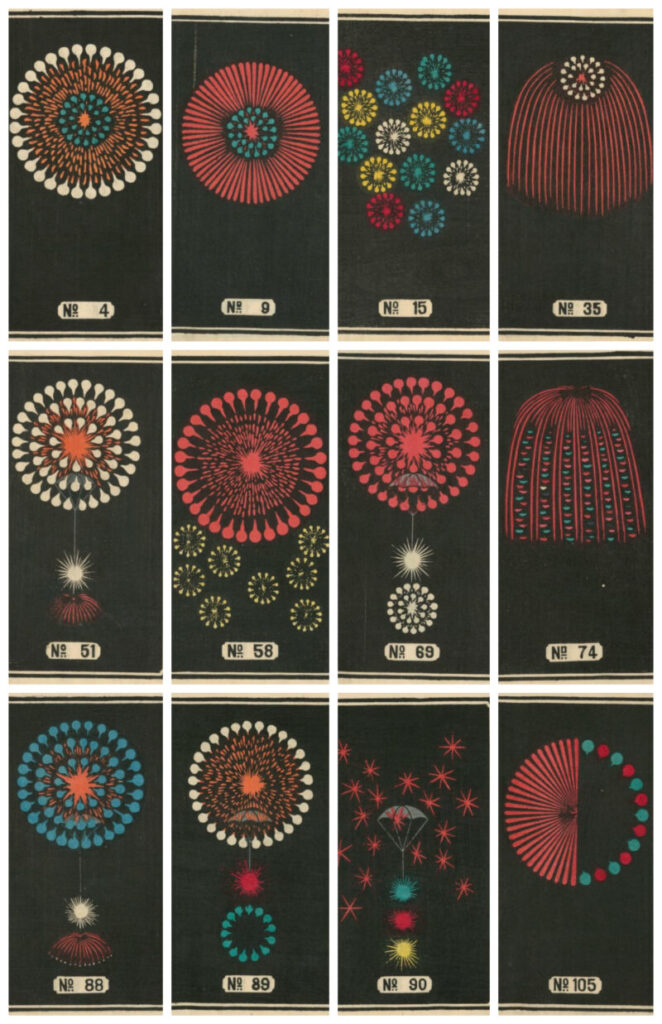 Happy Monday! I hope that you all have had fun with this firecracker of an Art Journey challenge! I was a little bit of a procrastinator this round, but it all worked out in the end. Sometimes we work better under pressure, right?
This weekend I carved out some time to create after having a bit of a artistic slump this month. Hopefully this renewed energy and enthusiasm is a continuing trend! Time will tell, but for now, let me share what I have made for this Journey with you all.
---
I had mentioned in my last post how nicely the murrini used in enamel work mimicked the look of fireworks. As luck would have it, I had a pair of enameled charms by Blue Hare Art Wear that perfectly illustrates this… their black background is the perfect "night sky" for their murrini fireworks! I added some lightweight black and white lucite beads along with some crystal rondelles and teal Czech glass to complete the look.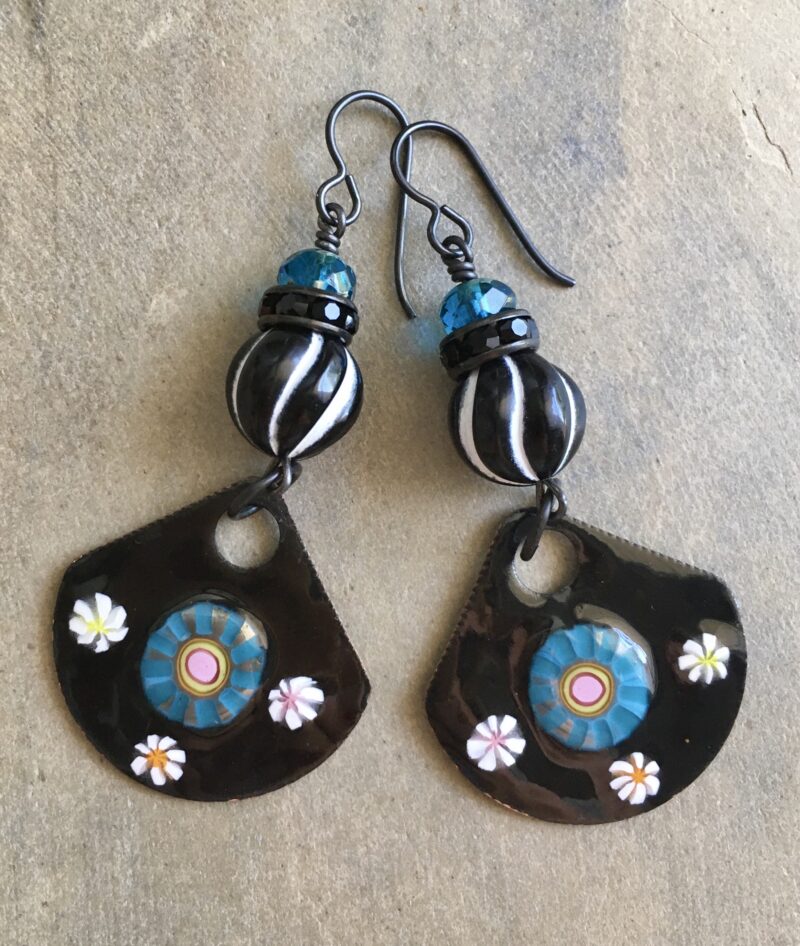 ---
This next pair of earrings is a pretty simple design with quick assembly. Hey, not everything has to take a ton of time or effort… and you still get a really fun result! I paired some great charms from Golem Design Studio with some sari silk cocoons from my good friend Anna Pierson of Saga Hus. Just a quick jump ring connection and attaching the ear wires and done!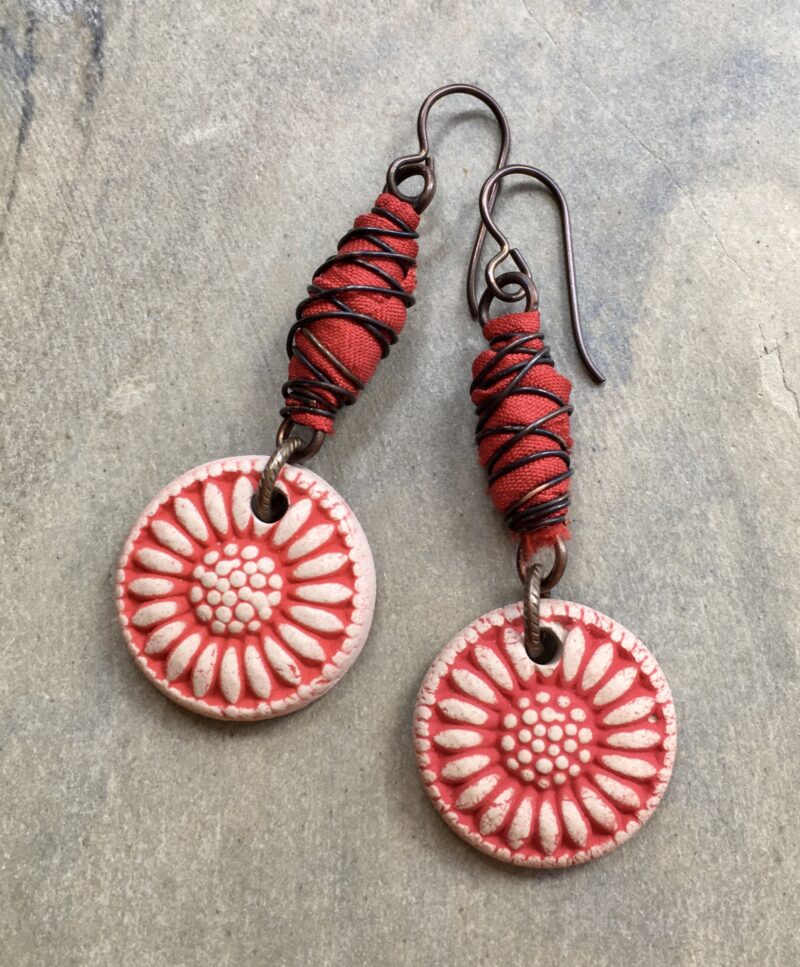 ---
My final design is my absolute favorite this time even though I didn't quite get it finished. (I'm waiting on the clasp I want to arrive in the mail… hopefully today or tomorrow. Packages from the USPS have been pretty slow lately.) My husband bought me this really cool pendant from Round Rabbit ages ago. I honestly didn't think it would make the cut this month, but then I opened a box of Czech glass that I had ordered and found the perfect bicone beads to go with the pendant!
While the colors in this piece are a bit different than our inspiration artwork, the "bursts" in the pendant feel firwork-esque. I chose the ivory colored beads with brown wash stripes and the corrugated brass rounds to echo the pattern in the pendant. When it arrives, the toggle clasp I'll be using also has a burst pattern on the ring side which will help pull it all together.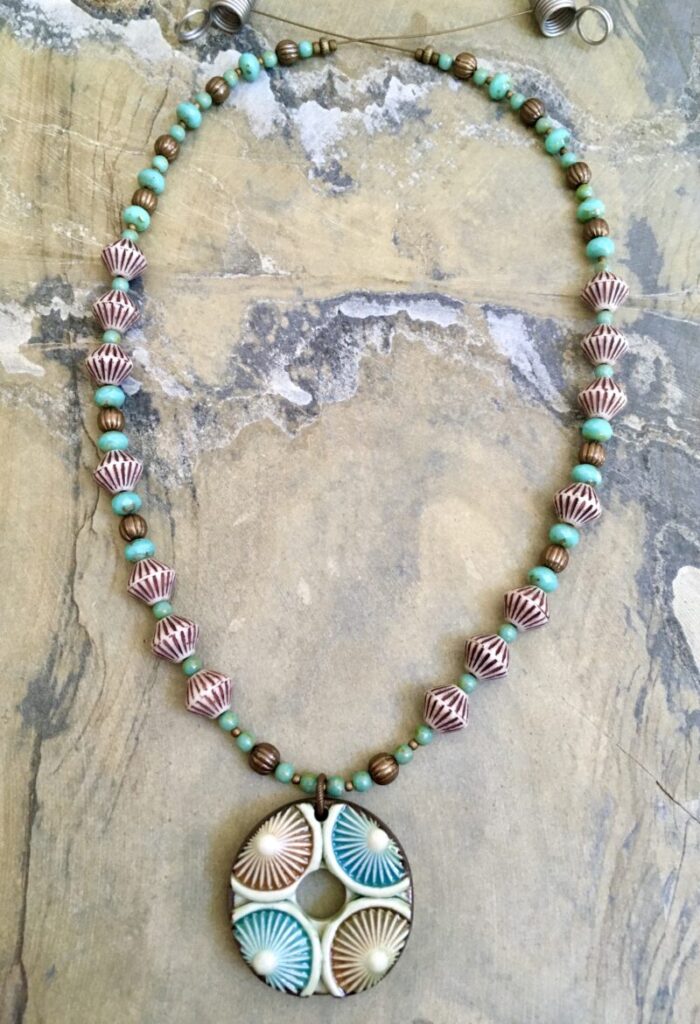 ---
Thanks for stopping by to see what I've been making for this Art Journey! I hope that you're inspired to make and share something for our fourth Journey of the year… Go to our Art Bead Scene Lounge Facebook Group to submit your creations for this Art Journey. Click HERE and then find the album for the current Journey to add your photo. Remember, you can enter as often as you like… the only rule is that you have to use at least one art bead or component. The deadline for entries is July 24th so you still have a little time!
---
Sarajo Wentling, Your Monday Muse