Oops. I did it again.
How can the days be so long and my time so short? I am truly baffled how I can watch deadlines go whooshing by! I can only excuse it that the month for fireworks is traditionally July, and we just rounded into a new month, so in my own mind this was the logical start to the next Art Journey.
So many awesome fireworks inspired pieces! It is never clear what direction people with take and I am literally blown away each time I see what you do! Here is a little slider showing off the fireworks fragments. Commence oohing and aahing!
[smartslider3 slider="14″]
Congratulations Fulogrine Cate!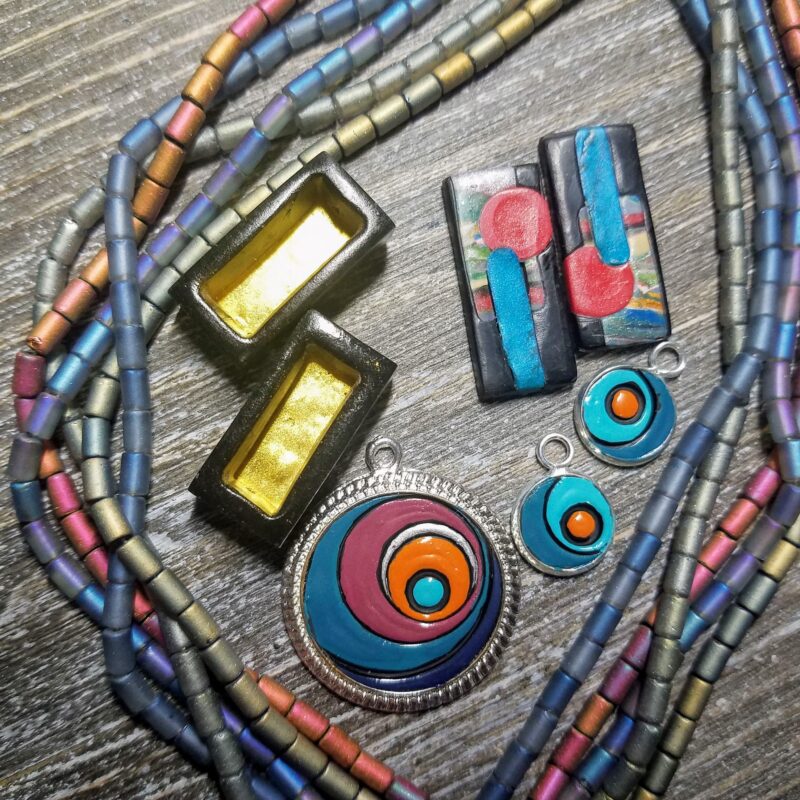 You are our winner of a fabulous prize package from…me! I chose some of my Off-Center mod components, a set of box charms, and included a pair of my new Constructivist polymer clay earring charms along with some delicious glass beads that are PERFECT for our next challenge!
FULGORINE CATE – Please email me at [email protected] so that I can have your prize sent right out!
Art Journey #6 :: Mod Spatial Composition
Each year for our list of artists, we try to branch out in new directions. In looking for a bit of sculpture to inspire us, I came across this charming picture of a young lady in a spiffy hat with a detailed rim.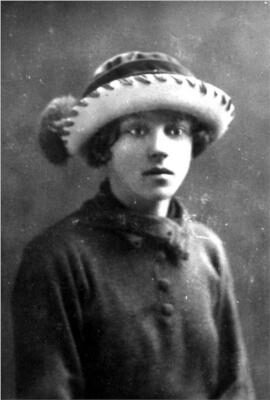 When I clicked through to her artwork, I was fascinated with what I saw. And I had to find out more.
Katarzyna Kobro was born January 26, 1898 in Moscow. As a young woman she studied sculpture at the Moscow School of Painting, Sculpture and Architecture at the start of the Russian Revolution in 1917. In 1920 she moved to Smolensk and joined a community of artists. Here she taught sculpture at the School of Ceramics and designed theater sets and posters. There she met a Polish painter named Wladyslaw Strzeminski, whom she married. In 1922 the couple left the Soviet Union and went to Poland, where they were celebrated for their art and writings and efforts to promote modern art. Katarzyna was a co-founder and member of the artistic group known as Blok, a group of avant-garde artists, among other organizations. Between 1922-1939, Katarzyna was very productive and during this time she created her famous "spatial sculptures" – which were comprised of architectural structures, sculptural forms and constructivist aesthetics. This series is what we will be drawing on for this challenge.
Constructivism is an artistic and architectural philosophy that started in Russia in 1913. Their theory was that art was a practice for social purposes. Constructivism had a big influence on 20th century modern art movements and influenced such major movements as the Bauhaus and De Stijl. Constructivist art is a combination of the unique properties of the chosen material and the spatial presence of the object. Initially, the artists all worked in three-dimensional constructions, but later the movement included two-dimensional works like books and posters.
Katarzyna was clearly a gifted artist with an eye for spacial construction and a keen intellectual nature. She was a very no-frills person, but with a sense of her own style. She had a very intense but short period when she created her most famous works, and after deciding to have a child in 1936 and being a displaced half-German, half-Russian in her husband's homeland of Poland, she was able to ultimately make her mark in the avant-garde art scene. For about ten years between 1937-1948 Kobro all but abandoned her art, and the hardships of an alienated life took a toll on her health.
Only about 30 three-dimensional objects and sculptures of Katarzyna Kobro have been cataloged, many were lost or destroyed. All the remaining works are small format, including a sculpture series of stylized nudes made in plaster – a cheap material designed to reduce the costs.
Kobros artistic intuition led her to create simple, yet beautiful spatial forms. Her sculptures are characterized by strong frameworks, flat planes, curved arcs and undulating lines cutting through the geometric shapes with a look that defies gravity. The solid colors are meant to play with light and shadow, positive and negative space. There is a great sense of movement in these static shapes, with elements breaking the imaginary boundaries by extending horizontally and vertically, and the addition of wave and arch motifs to counter the flatness of the other sculptural parts. Katarzyna organized space in a way that it would not be divided into space enclosed within a form, but rather that her work would coexist with the space and allow space to penetrate it. When you look at these sculptures from different viewpoints, you can see the dynamic nature of the art. Her work is open and egalitarian and its meaning was derived not just from the materials and the space they inhabited but by the spectator's experience in viewing it.
Kobro did survive the war, but her brief and intense career as an abstract sculptor ended in the late 1930s. She separated from her husband in 1945, and had a difficult time finding ways to support herself and her daughter Nika. She supported her family by making felt toys and briefly taught drawing and Russian. She was sentenced to a prison term in 1949 following political accusations, but was dismissed on appeal. In 1950 she collapsed due to cancer and died a few months later on February 21, 1951 at the age of 52.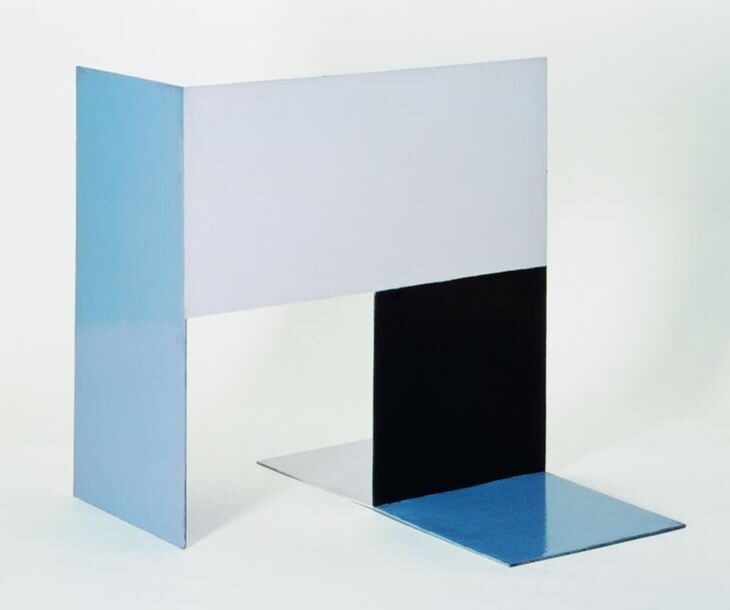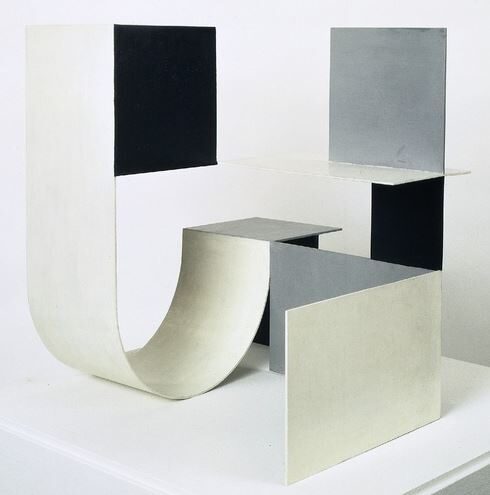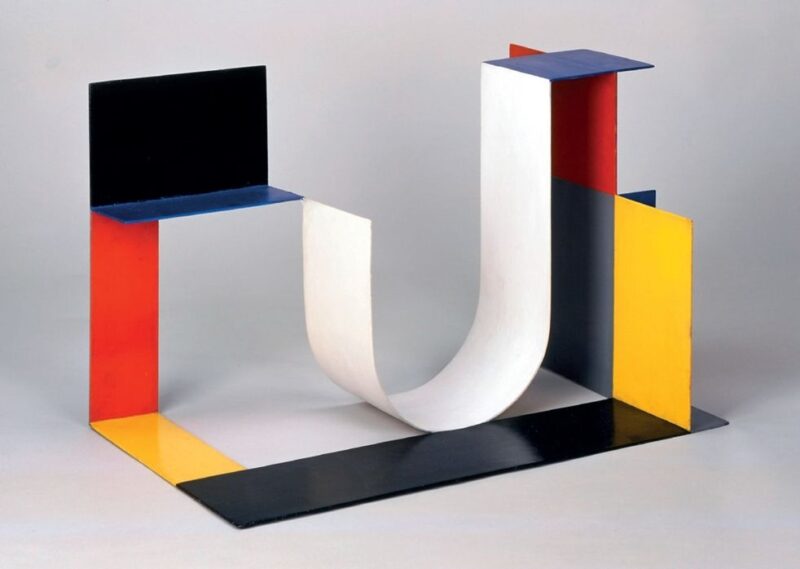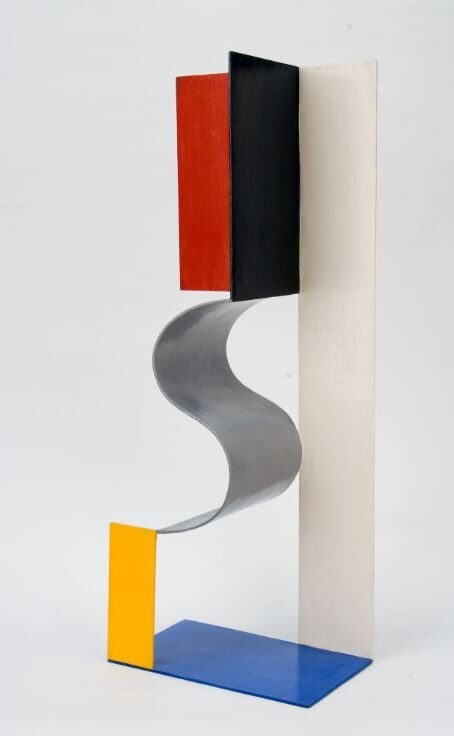 Launch Pad: Kobro's sculptures have interesting relationships with space. There are bold swaths of pure color and geometric shapes. There is a sense of positive and negative space in each piece and a sense of defying gravity.
---
What is the Art Journey Challenge?
Every five-six weeks or so we will challenge our readers to create jewelry inspired by the featured artwork or collection of art or theme. Use any or all of the artworks as your guide to the challenge: color, theme, motif, style, etc. You have until the end of the Art Journey period to share your work and then we pick one winner to receive beads and jewelry-making supplies from our editors and sponsors that will work with our NEXT Art Journey to hopefully inspire you to continue joining the challenges. Our only rule?
You must use at least one art bead in your piece!
We need to emphasize that all art provided on the Art Bead Scene is for inspiration and education only. No art may be downloaded or replicated in your art. Please bear that in mind.
How to Enter the Monthly Jewelry Challenge:
Create something using an art bead that fits within our monthly theme. This challenge is open to jewelry-makers, fiber artists, collage artist, etc. The art bead can be created by you or someone else. The challenge is to inspire those who use art beads and to see all the different ways art beads can be incorporated into your handiwork. An art bead must be used in your piece to qualify for the monthly challenge. Upload your photo to our photo album. Include a short description, who created the art beads and a link to your blog or shop, if you have one.
NEW! Entries will now be posted at our Art Bead Scene Lounge page on Facebook! Go to the Albums, find the one corresponding to the current Art Journey challenge, and post your images there. Remember that each entry is a chance to win! Be sure to add the hashtag #artjourney6 to your post.
Deadline to enter is Friday, September 3rd.
You may upload as many entries as you like per Art Journey, as long as they follow the guidelines. (Please be patient as they are approved by one of our editors to post in the Album).
Our prize for Art Journey #6 will be given away from a random draw of all entries on September 4th with our prize package donated by Heather Powers that will be perfect for use with the Art Journey #7! We hope this will encourage you to play along!
Monthly Challenge Winners
• One prize winner will be selected at random from all pictures posted in our new Facebook albums!
• The winner will be randomly chosen from all the qualifying entries on September 4th.
• Be sure to point out all the art bead artists in your work in the description of the photos when you upload to the new gallery. Links to their website or shop are appreciated. That way we can all find new art beads to love!
What is an Art Bead?
An art bead is a bead, charm, button or finding made by an independent artist. Art beads are the vision and handiwork of an individual artist.
***A bead that is handmade is not necessarily an art bead. Hill Tribe Silver, Kazuri ceramic beads or lampwork beads made in factories are examples of handmade beads that are not considered art beads. Beaded beads, stamped metal pendants or wire-wrapped components are not considered art beads for our challenge.***
Bead Artists
Feel free to share beads that you made inspired by our challenge in our gallery. You can enter multiple submissions for each challenge. We love to promote new artists and share what you've created! Be sure to add some links so that we can know where to find more of your art beads!