When Frank Lloyd Wright was just a young boy, his mother bought him a set of Froebel Blocks. These simple wooden building blocks (the kind we have likely all played with at some time in our youth), were influential in forming the aesthetic of Wright's iconic architectural style. Wright's geometrically-inclined structures are a direct offshoot of playing with blocks as a child. All of his architectural plans were composed of units grouped in a symmetrical or systematic way. Thank you, Mama Wright, for introducing this simple and beloved 'gift' to your son!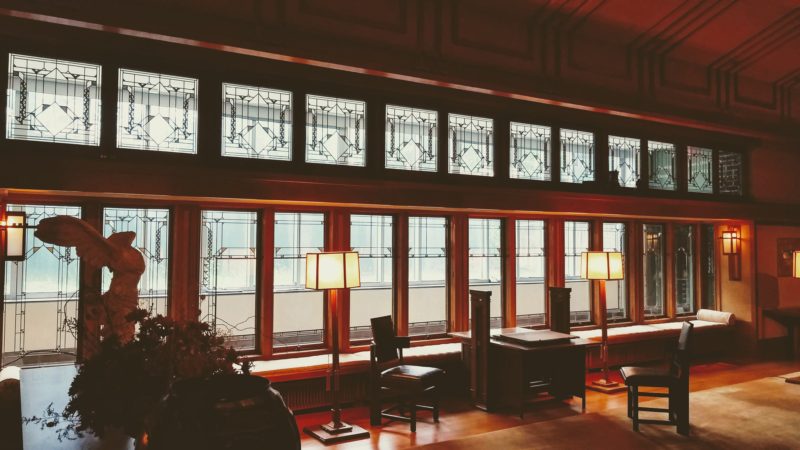 When he was commissioned to build, this included an understanding that it would be more than just a structure, but a whole immersive way of life. Wright would select the materials, creating everything from the furniture to the candlesticks, and also insisted on the precise placement of each in the space.
One of the most captivating creations are his light screens, the stained glass windows that punctuated the structures, allowing the light to play as a participant in his masterpieces. Wright designed over 150 houses, many of which are still standing, which included leaded glass in almost every window to the estimate of well over 4,000 stained glass windows. Frank Lloyd Wright called these stained glass windows "light screens" and more specifically, Prairie windows, as his organic architectural design is referred to as Prairie Style. This new style was a break from the traditional Queen Anne looks that were popular at the time. He also began designing in strip fenestration – essentially long expanses of windows bringing visual interest through ornamentation to an overlooked necessity. Wright's window patterns were truly unique to each structure, integrating the window into the architecture in keeping with the rectilinear designs, rendered in earthen colors.
Of course there are so many iconic window designs to choose from, but for our purposes we have selected three of Wright's light screen designs for inspiration. If you decide to go searching and find another that you like better, by all means, please use that as your inspiration!
Tree of Life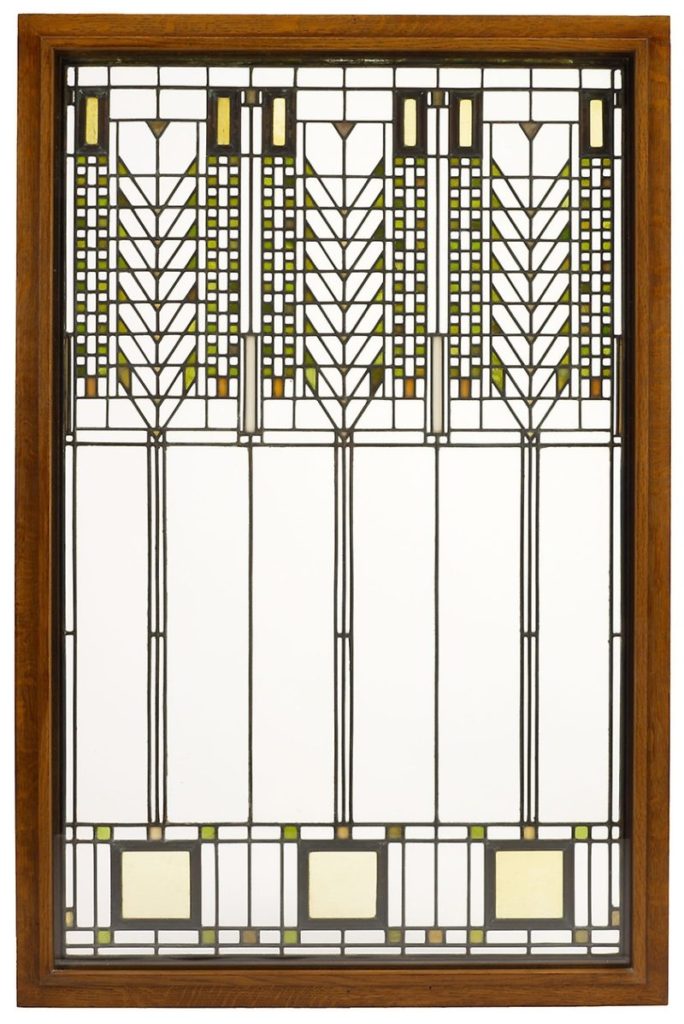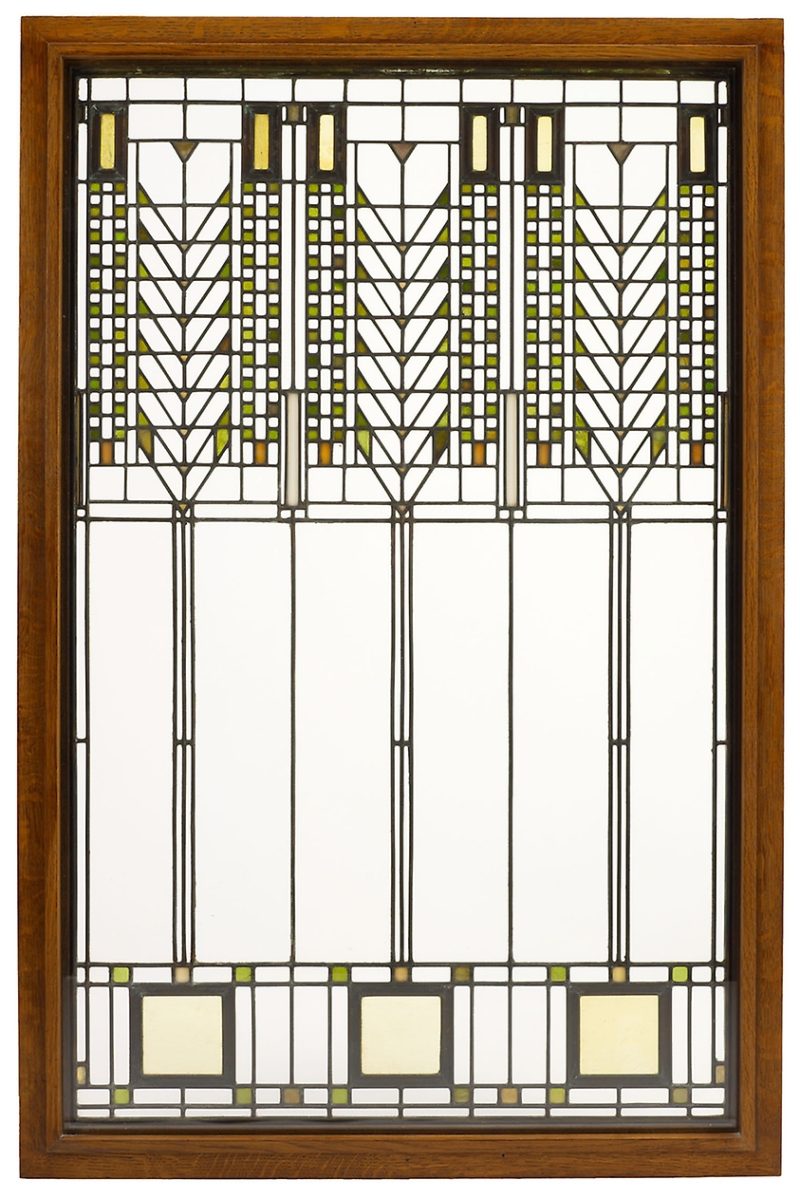 The Tree of Life light screen is one of Frank Lloyd Wright's finest designs. This is one of his most widely reproduced designs, where you can find this image on everything from socks to barware to doormats. While this design works great on its own, Wright intended his light screens to be seen in totality. Imagine the impact that an entire roomful of these windows would have, like a forest in leaded glass!
Out of the foundation grid of strong cubes rises strong leaded lines leading up to the tree tops, the branches reaching skyward. The only discernible color are shades of amber and olive, allowing the beauty of the outdoors to be framed in their lines.
Robie House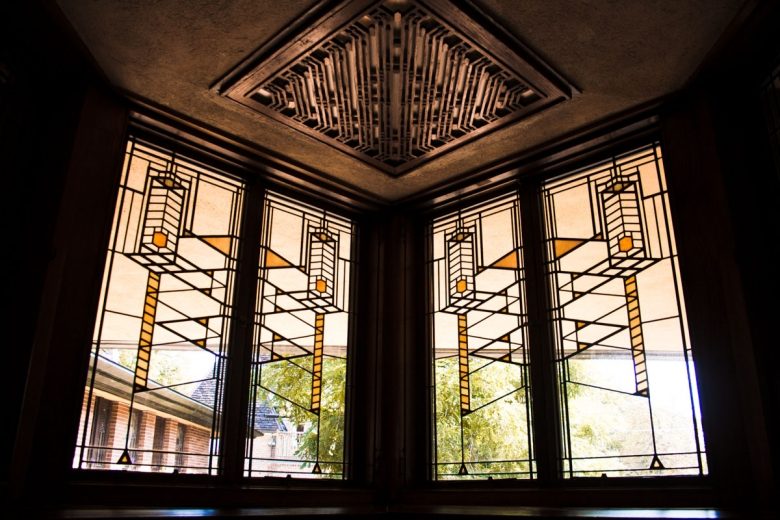 The Robie house, completed in 1911, was the most innovative of all of Wright's Prairie style houses. Every element – from the structure to the furniture to the ornament – was interconnected and integral to the whole. The windows brought in a lot of light to this low-flung, horizontal structure. The iridescent, colored and clear glass panes were set in patterns of flattened diamond shapes on the diagonal which hint at floral forms. Each carefully planned light screen strikes a dynamic balance between transparency and enclosure, providing a view that is integrated with the natural world while blurring the interior space from afar.
Triangular and diagonal shapes abound, and the iridescent glass would be set at an angle so that the colors would change as you moved through the structure.
Coonley Playhouse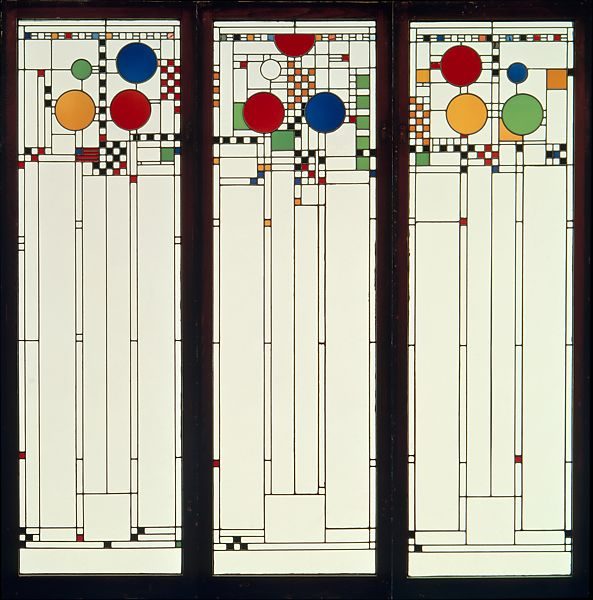 The whimsical window screens in the Avery Coonley Playhouse are widely considered to be Wright's masterpiece in glass. Each one of the more than 40 Playhouse windows were designed in a pattern that wound around the room and would have been a focal point of the building. These have since been ensconced in museums and private collections, but this negates the original intent of them to be an integral part of the unique structure for which they were created.
These windows were the first time Wright took his design cues from an event – imagine a passing parade filled with balloons, confetti and flags. It was also the first time that Wright featured bright primary colors and abandoned his earlier designs inspired by nature. Each one of the panels was a slightly different arrangement suggesting the haphazard and energetic event, while still remaining cohesive. Wright called this playful design "kinder-symphony" which graced the Coonley playhouse, which was actually a kindergarten that Mrs. Coonley operated out of the home.
Launch Pad: linear, geometric, shapes, squares, rectangles, circles, triangles, chevron, grid, transparency, light
Where will this Art Journey take you?
---
What is the Art Journey Challenge?
Every six weeks we will challenge our readers to create jewelry inspired by the featured artwork or collection of art or theme. You have until the end of the Art Journey period to share your work and then we pick one winner to receive beads and jewelry-making supplies from our sponsors that will work with our NEXT Art Journey to hopefully inspire you to continue joining the challenges. Our only rule? You must use at least one art bead in your piece!
Our prize for Art Journey #6 will be given away from a random draw of all entries on December 1st with our prize package donated by Terri DelSignore that will be perfect for use with the Art Journey #9! We hope this will encourage you to play along!
How to Enter the Monthly Jewelry Challenge:
Create something using an art bead that fits within our monthly theme. This challenge is open to jewelry-makers, fiber artists, collage artist, etc. The art bead can be created by you or someone else. The challenge is to inspire those who use art beads and to see all the different ways art beads can be incorporated into your handiwork. An art bead must be used in your piece to qualify for the monthly challenge. Upload your photo to our photo gallery. Include a short description, who created the art beads and a link to your blog or shop, if you have one.
Deadline to enter is Saturday, November 30th.
You may upload as many entries as you like per Art Journey, as long as they follow the guidelines. (Please be patient as they are approved by one of our editors to post in the Gallery).
Click here to submit your entry.
Monthly Challenge Winners
• One prize winner will be selected at random from all pictures posted in our new gallery!
• The winner will be randomly chosen from all the qualifying entries on December 1st.
• Be sure to point out all the art bead artists in your work in the description of the photos when you upload to the new gallery. Links to their website or shop are appreciated. That way we can all find new art beads to love!
What is an Art Bead?
An art bead is a bead, charm, button or finding made by an independent artist. Art beads are the vision and handiwork of an individual artist.
***A bead that is handmade is not necessarily an art bead. Hill Tribe Silver, Kazuri ceramic beads or lampwork beads made in factories are examples of handmade beads that are not considered art beads. Beaded beads, stamped metal pendants or wire-wrapped components are not considered art beads for our challenge.***
Bead Artists
Feel free to share beads that you made inspired by our challenge in our gallery. You can enter multiple photos for each challenge. We love to promote new artists and share what you've created!