Okay, this really isn't a Star War's themed post but who can resist a play on words. Not I.
Admittedly, I've had a rough couple of weeks. First, I got sick. And even worse, hubs is now sick. Being down with the wretched cold has not been conducive to leading my most successful life. As we all know, things still have to happen, even when we are under the weather. Instead of heading to the studio to create something new to highlight for this blog post, I went backwards.
Looking back through Google photo's, I thought that I would show you some of my past designs but also to encourage you to explore. Like a bee finding pollen, find your inspiration in everything.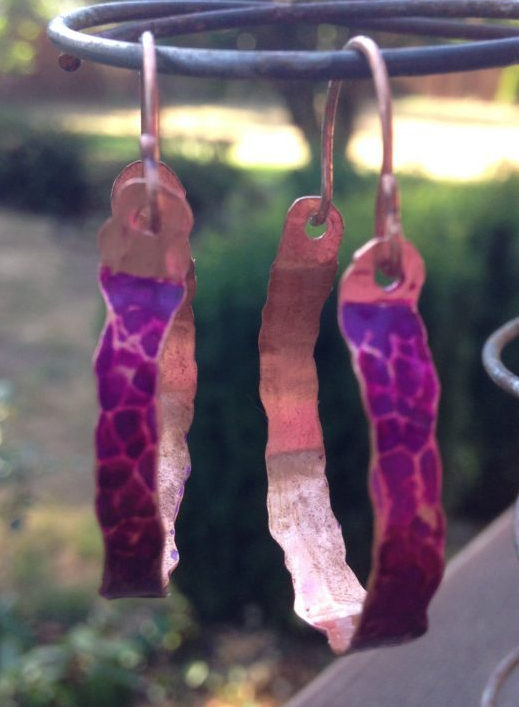 As I went through my photo's, I found that in 2014, I seem to evolve, as a jewelry designer and maker, finding my own voice and vision. Before that, I was doing a lot of stringing work and assembling earrings. I believe this was a result of setting up a "studio" in the basement. It was only a corner, with a table but it was mine. With space of my own to work, it jump started me.
These copper and alcohol ink earrings were my very first hoop earrings. At the time, I didn't know about sawing metals or anything about metal smithing. These are a result of copper wire cut and forging it flat. I didn't even know to anneal the wire. I used an antique iron for my anvil.
My past designs also show trends of interest. Chain making. Wire wrapping. Leather. Stamping. Silk. Artisan beads. Alcohol inks. Enameling. All of the above or combining some of the above.
This necklace, that was published in Jewelry Affaire, might be one of my all time favorites. The combination of mixed metals, Artisan ceramic beads, Czech beads and silk. This necklace is even adjustable. I love working with silk, as it adds such a depth of color and texture to any design it is used in.
One things that I've always loved to to combine different mediums in the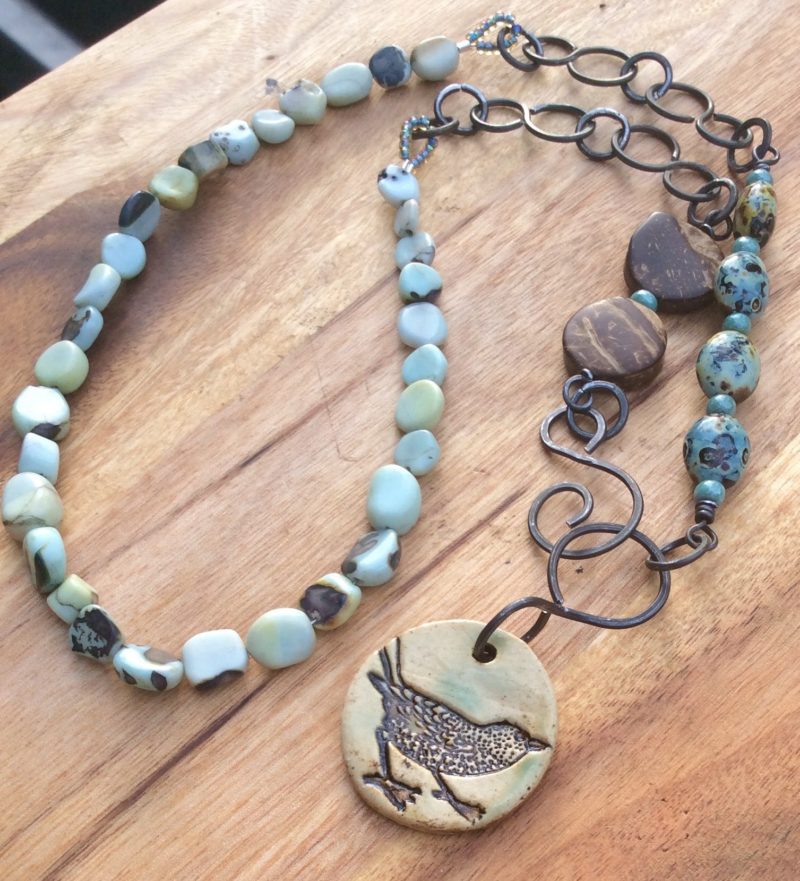 jewelry I create. This necklace combines my love of wire working, artisan ceramic beads (specifically birds), matte opal beads, Czech glass and coconut beads.
I'm always on the look out for new beads, new components, new colors, new ways to combining other types of artwork into making jewelry. I'm still trying to figure out how to use fiber weaving, combined with wire to make jewelry. Or using stamps and Stayz On ink to stamp a design onto sheet metal and then hand painting a picture on the metal. These are just a few of the ideas swirling in my head.
When I think about my design aesthetic and what inspires me, I love big happy colors and materials or themes found in nature. And tying them together with wire, leather, silk and artisan beads. I look for things that excite and call to me. And as I work my way through my jewelry making journey, adding skills such as enameling and metalsmithing, I am continually excited to sit down at my bench and get working… except this last two weeks, under the influence of this blasted cold.
I will leave you today, with a photo of my tiny house studio that my dear hubs built for me. I dearly love having my own space. Only cleaning it when I want to. My creative mess. Where a lot of my fun happens.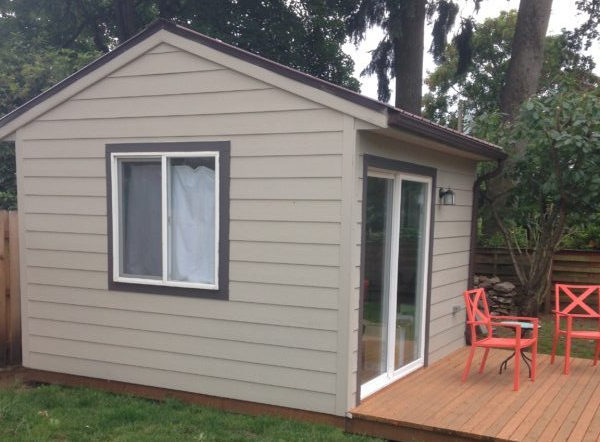 This was just as it was finished. Since then, I've added curtains and hubs planted trees. This year, I'm think of adding flower boxes. We will see if I can talk hubs into doing that for me.
Have a creative day and thank you for stopping by.
Susan