Today we welcome innovative designer, prolific author and charming
instructor Nealay Patel. Nealay is an artist who crafts in beads and fiber to
produce jewelry designs that are striking, colorful and textured. He is a
problem-solver who sees his designs as solving a puzzle. His intricate jewelry
is always highly textural and full of life, using a mix of metal and fiber and
beads and wire. He has authored three books: Jewelry for the New Romantic, Jewelry Designs with Knitted Wire, and
his most recent, Jewelry Made with Wire
& Fiber. Recently, Nealay has started doing monthly Live Facebook videos
featuring a kit that he sells on his Etsy site. Nealay was kind enough to share a
project featuring an art bead with us.
~~~~~~~~~~~~~~~~~~~~~~~~~~~~~~
The power of a single pendant
How rare is it to come across an amazing pendant that works with just
about anything? I asked a bead artisan and glass expert friend of mine to
assemble a special pendant for me with just one word in mind…dagger.
Open to interpretation and inspired by the challenge, Scott Griffin of
Griffin Glass sent over this wonderful pendant and I have to say, he deserves a gold
star!
It was my turn for the challenge next and I didn't know exactly what to
do with it at first, I have to admit. I knew I
loved it simply by itself! So, why clutter up a fabulous pendant with beadwork, right?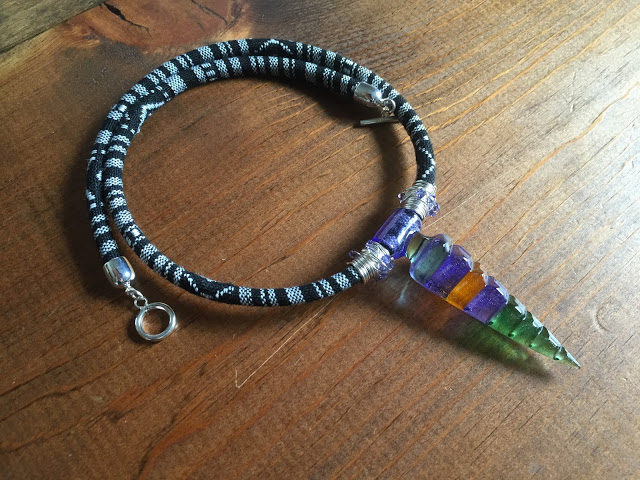 I threw out a few chains and cords onto the table and the fiber cord
spoke to me the most! The detailed, black and white cord worked perfect to set the
backdrop for this star! I added some minor embellishments on either side, a
technique that can be found in my latest book,
Jewelry Made with Wire & Fiber
.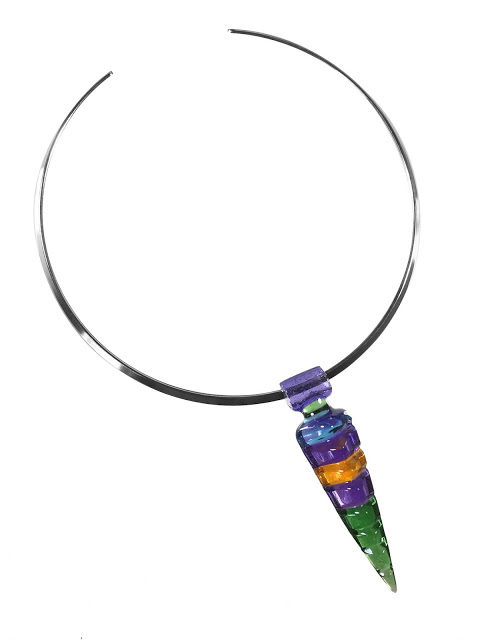 I also had this fabulous wire collar, from Halstead Beads, that worked
amazingly with the pendant! I love the bright silver, un-textured collar that
contrasts with the very textured pendant.
A perfect combo for the fashion forward! Give it a try!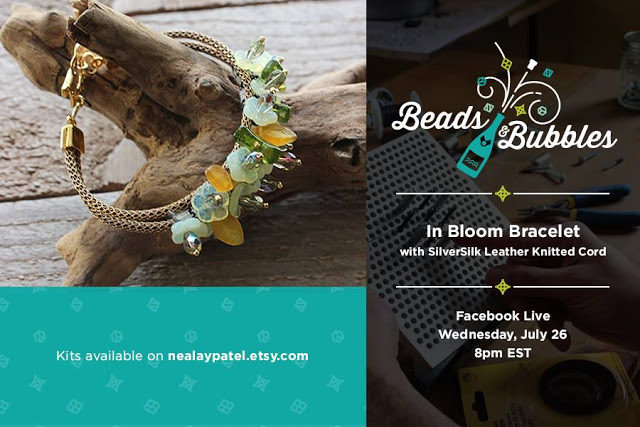 Be sure to stop by Nealay's Beads & Bubbles Facebook page and mark your calendars to watch his next video on Wednesday, July 26th for the In Bloom Bracelet shown above https://www.facebook.com/beadsandbubbles/
Beading Kits by Nealay Patel for this project and more are available in his
Etsy shop: https://www.etsy.com/shop/nealaypatel
And check out his new book Jewelry Made with Wire & Fiber for some great ideas that you can incorporate into your own designs, intersperse with art beads and jazz up your style!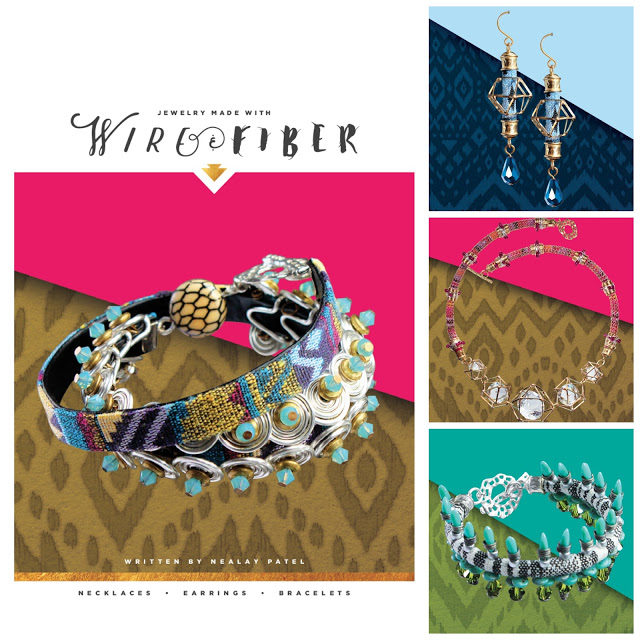 UPDATE!
Nealay has agreed to give away a copy of the digital version of his new book (retail value $21.99) to one lucky random winner for answering the following question:
Tell me…
what type of project would you love to see on a future installment of Beads & Bubbles?
Winner will be chosen at random from all entries
(one per person please!) and announced on July 14th!