The last time I blogged for Art Bead Scene, I shared a look inside my studio as I was getting ready for Bead Fest in Philadelphia. One of the goals I set for my self while at a large show, is to learn a new skill to add to my jewelry designing arsenal. I was fortunate to be able to connect with one of my favorite artists and designers, Staci Louise Smith, for an after show class she was teaching. It was all about wire and connections and cool beads. What's not to love?
Staci's class is called "Wild Wire Gypsy Charm Choker." The kit included 16, 18, 20 and 22 gauge wire. It was great to handle each one and learn more about differences and when to use each one. Staci annealed the wire before class to give it more flexibility and a vintage look. The copper wire started out very shiny. I found out I can anneal the wire with a hand held torch. Pretty cool!
The base of the choker uses 8 feet of 16 gauge wire! Thankfully it was cut into two 4 foot sections which made it easier to handle. Every student hand formed the choker base so differently. You really can't do it wrong after the basic shape is formed. I found out I was in a symmetrical mood when I was designing my choker. Staci told me it looked like daisy petals!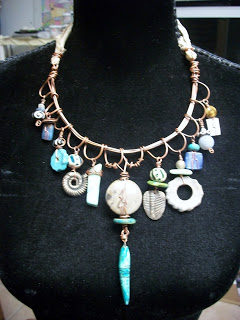 This is my finished necklace. What an amazing statement piece! I added some of my ceramic beads to the wonderful selection of gemstones, glass, metal, and polymer beads included in the kit. I plan on making another unique choker necklace for an October Breast Cancer Awareness blog hop that Andrew Thornton is hosting. I will use silver 16 gauge wire for the choker base with a wonderful mix of pink beads. It is going to look so different, but equally amazing!
The good news is Staci is going to be teaching this wonderful class again at Bead Fest Philadelphia at the Spring 2016 show. So if you love it like I do and want to learn some great techniques from an instructor that is so giving with her tips and techniques, don't miss it!