This has been my favorite necklace for the last few months. It matches all my winter clothes, it feels great to wear and I just love anything with an owl on it. The design is a breeze to whip up and I made several variations.
66 11/0 nickel seed beads
I always over estimate how much linen to use, better to have too much than not enough!
For this project I used 8 different colors of cube seed beads with different finishes like metallic, matte metallic and transparent.
1. Fold the linen cord in half, insert the end loop through the pendant. Open the loop and pull the cord through the loop to create a lark's knot. Create a knot above the pendant.
2. String on the oblong bead, create an overhand knot. String on the ceramic and wobble bead, knotting between each bead. Create a knot on top of the wobble.
3. Separate the two cords. On one cord string a nickel seed bead, 10 square beads, one nickel seed bead. Knot the cord. Repeat the pattern 9 more times.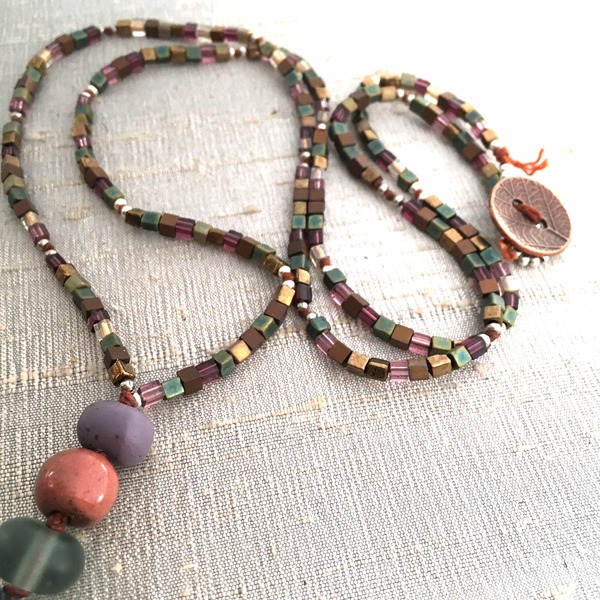 4. String on 26 seed beads, form into a loop and tie the loop with a simple knot. Knot the cord 2-3 more times to create a secure loop. Trim excess linen cord.
5. Repeat the pattern on the other side of the necklace. String on the button and loop the cord 2-3 times through the button before trying a knot under the button, securing it tightly to the necklace. Tie 2-3 more knots under the button. Trim excess cord.
Deer pendants from Allegory Gallery.