I'm filling in for Rebecca today because she's been having a really rotten time looking after some very precious furry ones. I'm sure, like me, you'll want to send the very best of thoughts her way. I decided that this month we might look at building beads. It's a popular form for beads, with houses being particularly prevalent. Let's kick off with what is, to my mind – and many others, I'm sure, the ur-house bead.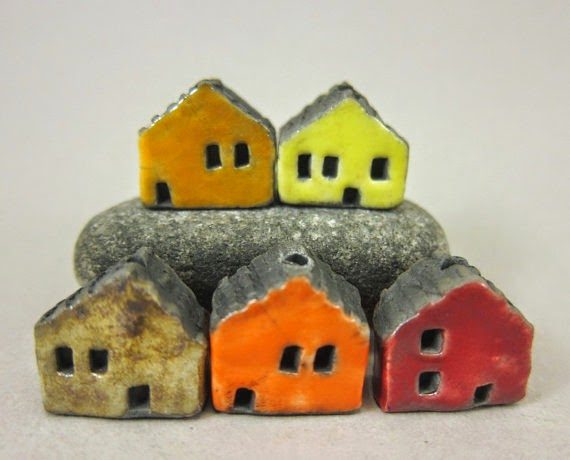 And if there's another contender for that title, then it's surely one of my personal favourites.
I thought of the theme of building beads because I've seen some beauties recently. I've been very tempted by this pendant…
… and these earring charms.
I have also just managed to stop myself – at the final moment! – from snapping up these little wonders:
[Edit – Okay, they've gone….]
Unbelievably, I don't actually own one of these shotgun house pendants…
…and given that I own faaaaaar too many Scorched Earth beads (well, if there can be too many….), that's really something! Searching round Etsy, I also found this little cutie made by UK lampworker, Joanne Joyce.
Sweet, hey? I don't want to leave Rebecca no beads to share for the rest of the month so I'll finish with just one more – something a bit different:
I don't think I could bring myself to fill that bezel – such lovely colours!
I know there are some obvious contenders for favourite house bead that I've missed out here. Shout them out in the comments! And, of course, we'd love to see any lesser-known gems that you like. Don't feel limited to houses – buildings of any sort would be great, from bird houses to sky scrapers!
Bye for now, Claire
Bead Blogger Links
March Monthly Challenge is Haida Totems by Emily Carr. A Canadian artist, her art took on bright hues and bold brushstrokes of the Fauvist paintings she saw in Paris in 1910.
A journal can be a walking momento if you add your own molded embellishments to it. Molding video on the blog too!
Why not upcycle your old blanket into fingerless gloves? It is so fast and easy to do.
It's almost time for everyone to be honorary Irishmen and Irishwomen (unless, of course, you are already Irish – then you already have a great excuse to party). Connie has added a new free pattern in the spirit of the season and has suggestions for more great St. Patty's Day-themed projects
See how to piece decals for larger projects and how to "melt" a decal onto wood.
I list 'em every year but they remain popular! Peep bunnies made from felt.
Are you anxious for Spring? Cyndi will help you get a jump start on your Springtime jewelry!
YouTube subscriptions are great, but are you really subscribed if you don't receive update notices?
Here is what's on my workbench right now! I just finished up a batch of resin raven pendants/ornaments.