I am in the thick of creating for my upcoming gallery exhibit. Here is a sampling of what I am working on…
….but I finally managed to get back on track with the Simple Truths Sampler Club and update their subscriptions for April, May AND June! They were sent out at the end of May, so technically only April was late, and June was early!
I thought I would share with you what I created for those months.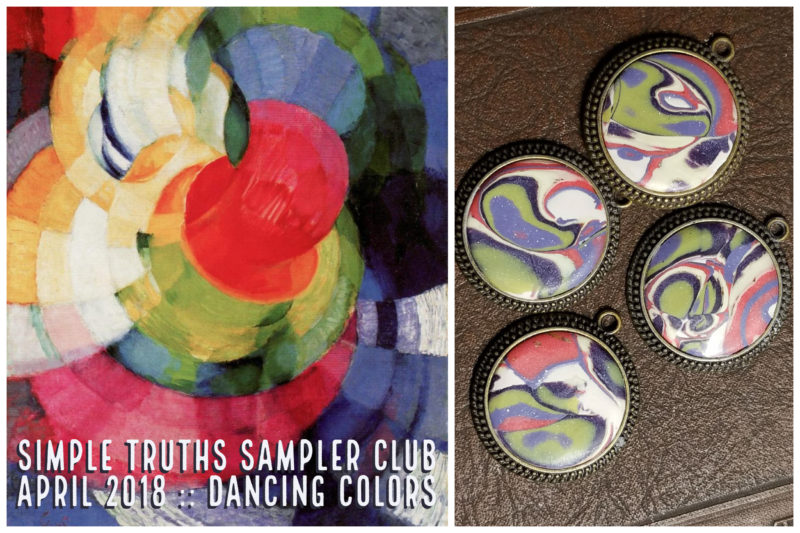 This pendant is part of what I am doing for my upcoming art gallery exhibit. I took this opportunity to mix my own palette of colors from the ones in the painting: a vibrant coral red, deep plum, bright green, soft creamy yellow and soothing periwinkle blue. Then I did a mokume gane treatment with layers of each color (including some translucent with gold leaf) and impressed many circles to imitate the ripple effect of the painting. What happens next is anyone's guess! You can see that each of the pendants was completely different, despite having the exact same palette. That is what I love about mokume gane, the surprise factor. Then I sanded through 6 grits of fine sandpapers, sealed with Renaissance Wax and buffed to a beautiful sheen. More like this in my upcoming exhibit to debut in early July!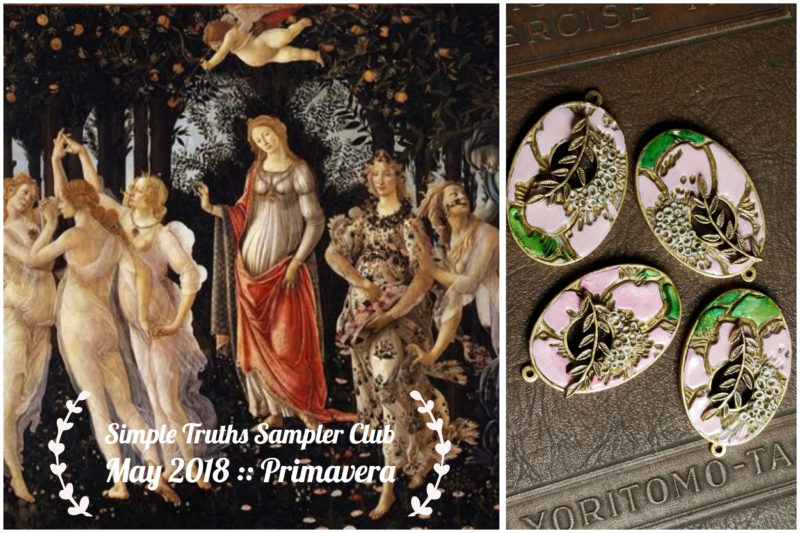 When I was on the Bead Cruise in April we were given a goodie bag packed to the top with all kinds of beads and components from at least 20 sponsors. It was actually overwhelming! On the last night of the cruise we were told to take 5 items from our goodie bags and create a piece of jewelry to wear to the final party. Now most of the people on this cruise were seed beaders so there was a fair amount of things that would appeal to them in the bags, but as luck would have it, one of my favorite vendors – Nunn Design – was a sponsor, too, and they had provided a beautiful copper heart bezel. Since I was in Heather Powers polymer clay class the day before and I asked her if she happened to have some extra clay and paints. She had extra clay, but a very limited supply of ink, paint and patina. So I worked with what I had! I used a stamp that I had brought along for a different class and created a heart bezel with a floral in it. I used the inks to create the foliage, the copper paint to provide the antiquing and the patina to impart a sort of enamel look. Well, my other good friend (and Simple Truths Superfan 😉 Sarajo commented that she loved the pendant I created and wondered if it might be a future Simple Truths Sampler (wink, wink!). Once I saw the classic Primavera painting I was drawn to the lovely lady scattering the blossoms and knew that this would be perfect for May! In my stash I happened to have more Nunn Design bezels, but in an oval shape which are meant as a toggle clasp, and I also had the perfect toggle bar branches! You can use this as a pendant or as a toggle!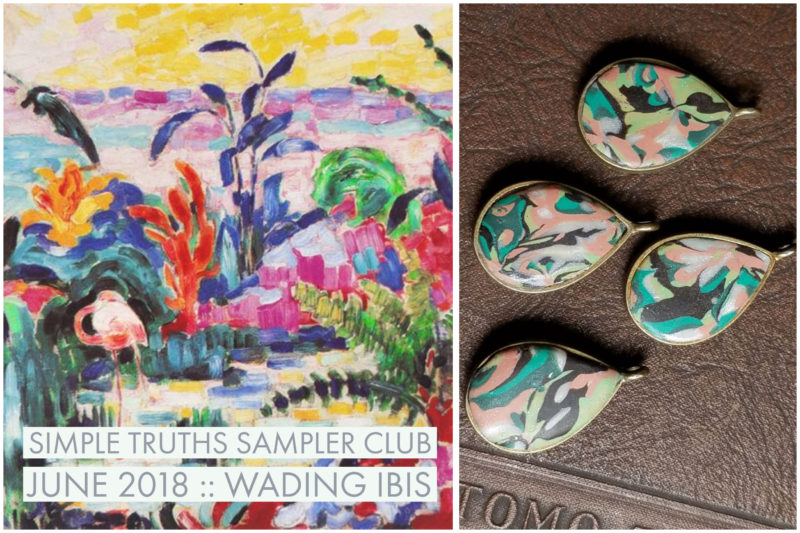 I absolutely adore the bright colors of the June painting, but it was hard for me to pick just one spot to focus on! 
#IWANTALLTHECOLORS
So I decided to hone in on the Ibis that is wading in the water. I love the salmon-pink color of that bird, much like a flamingo, and the way it stands out amidst the dark green foliage. So in the spirit of the creating that I am doing for my upcoming gallery exhibit, I employed a different technique to mix the clay called a Natasha bead. Now this is something that you can do with leftover canes but works equally as well with straight colors. I don't know who Natasha is (seems like no one does!) but I am thankful to her for this method. I created this pendant with colors that I mixed myself, not settling to use the colors straight from the package. If you do it correctly, the Natasha magic reveals itself in a thrilling kaleidoscope pattern when you cut into it. These little open bezels were a great shape and allowed me to mix a complementary pattern for the back, so you have options for wearing it!
So that is what I am working on! And now that I am just 20 days (or less) away from this grand opening to my exhibit (the reception is on Friday, July 6th and will feature dancers! Wish you could all join me!), I will be putting my nose back to the grindstone to make this thing happen!