I was completely smitten with the art of Victor Zaretsky when I stumbled upon it. How could you not be charmed by his use of color, his playful patterns, the haunting beauty of the women he paints? I can absolutely see why he was nicknamed "The Ukrainian Klimt" and Gustav Klimt is one of my all-time favorite artists!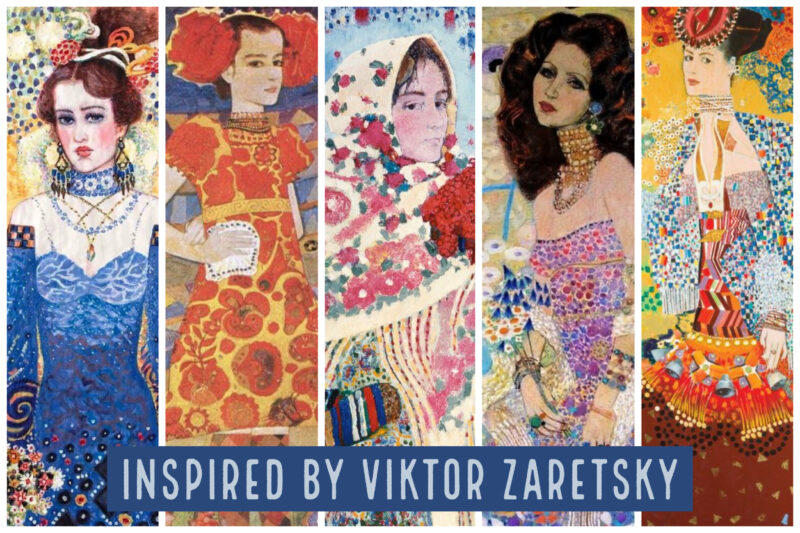 I really wanted to do some pattern play for this, but what? I was also gearing up for a new art exhibit at the Gallery Q in Stevens Point where I exhibit and sell my art. The new show is called "Stumped" and features a furniture maker who started with a huge stump of a tree in his yard (free wood!) and created some amazingly beautiful mid-century modern furniture designs. As is often the case, when one of our members has a show, they extend that theme to the rest of us, which is really exciting. That is one of the greatest things about being a part of a local art community!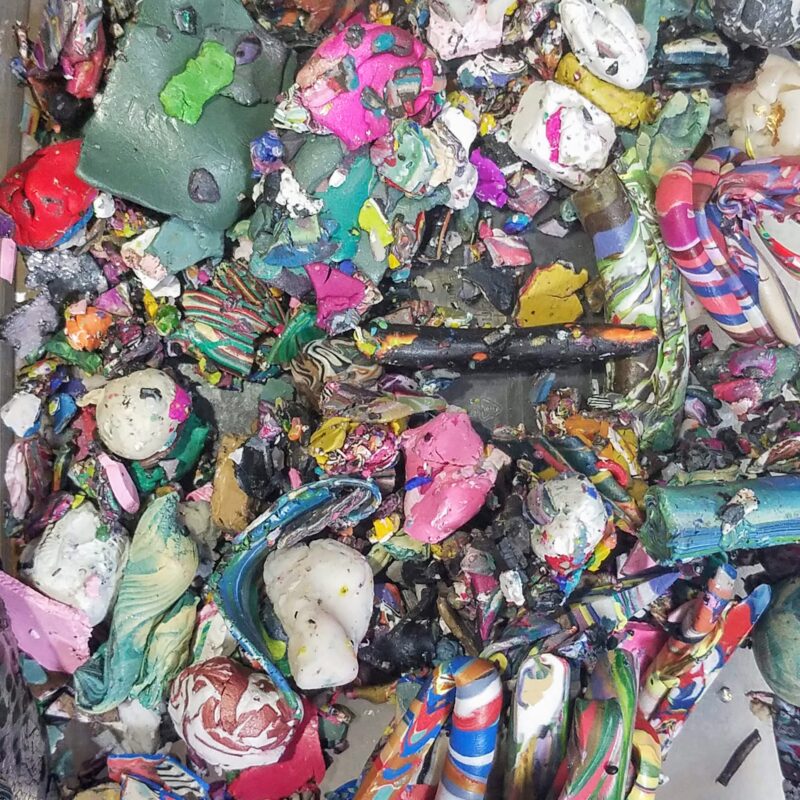 Since I work mainly in polymer clay, I amass a lot of scrap clay. You never, ever throw any clay away, so although polymer clay is essentially a plastic, it is truly the most versatile and reusable medium. So I turned to my scrap box and challenged myself to come up with a way to use that, while also keeping the Zaretsky inspiration in mind. Two birds! One stone! His work is lush and layered and I love all the colors and the patterns that he crams into every square inch of his art. So in keeping with the "Stumped" challenge, I started by sorting some of the colors from the bin, adding in a few bits of fresh clay to balance it out.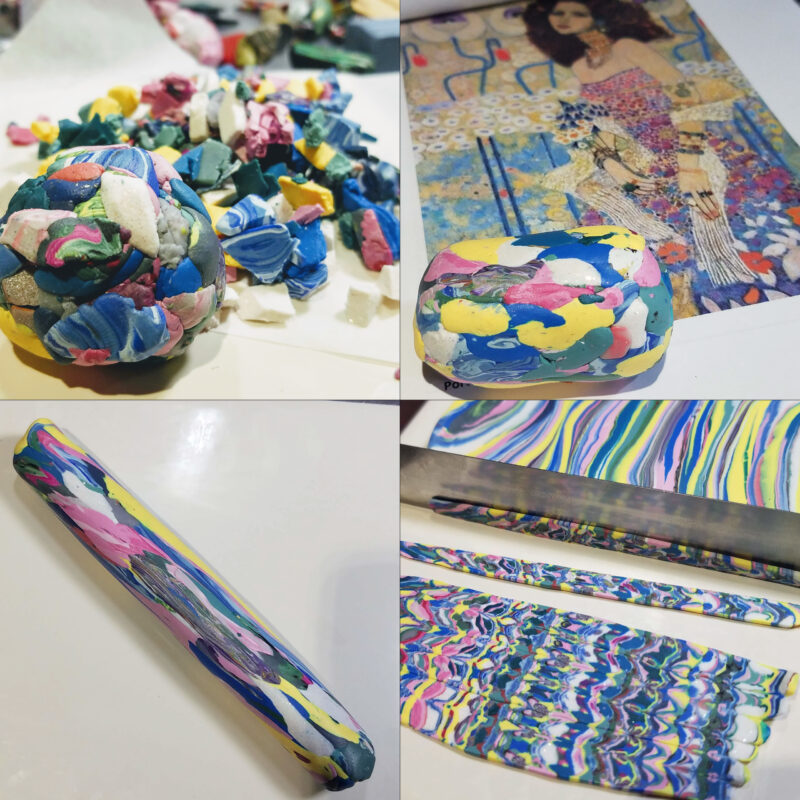 I created a smushed plug of the clay, twisting it and rolling it to make sure that it is well combined with no air pockets. Then I made a flattened pad of it that comes out striped. This is the moment of truth. You have no idea what you might find inside. When you cut into the clay there will be a kaleidoscope of color and pattern inside. It is magical! This is a modification of the Natasha bead technique (which is a perfect name for something to go with Zaretsky's Ukrainian roots!). Thin slices of the clay are mirrored together to form a repeating pattern. It is actually mesmerizing to slice into the clay as each slice as you go through will be slightly different, but will work perfectly with the ones before and after. And the resulting veneer looks a lot like tightly woven fabric. I got so excited by doing this technique that I think I made a dozen in a row!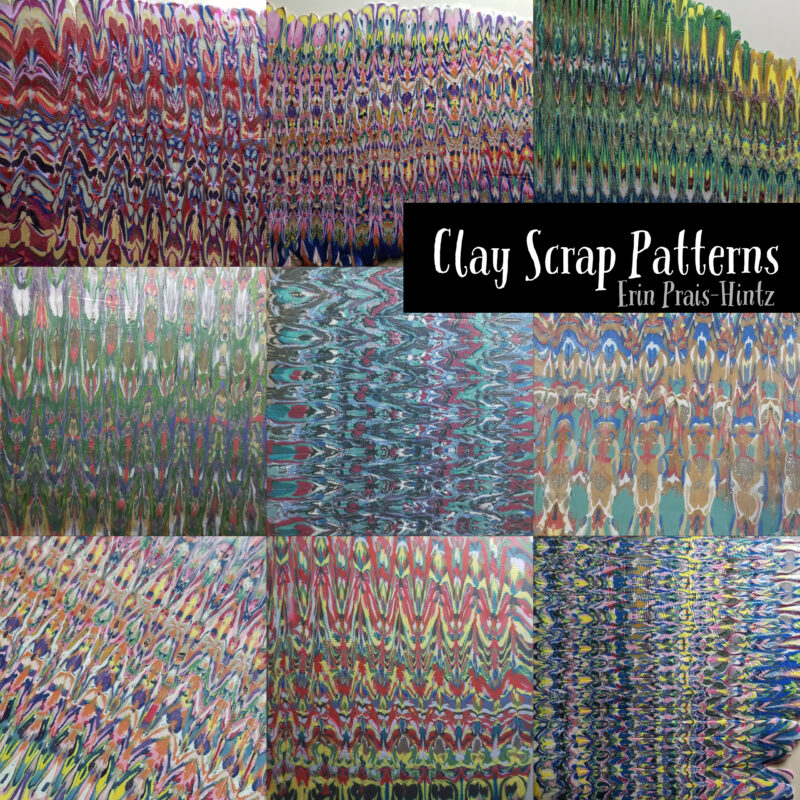 At the end, there is a bit of the striped clay pad that is no longer usable. But remember… a clayer never has any waste! So I took that pad and flattened it further, resulting in a striped sheet. From there I cut think triangles the whole length and staggered them for a chevron pattern or Bargello. So a whole new pattern from the exact same matching colors! Scrap for the win!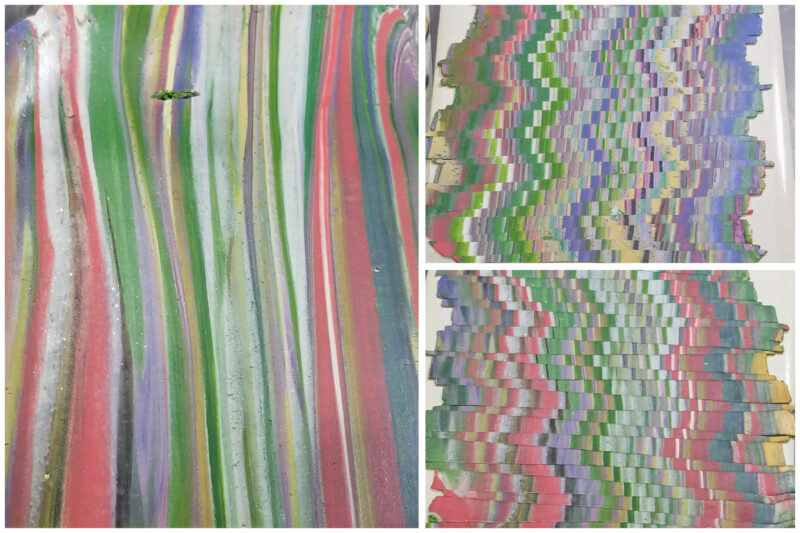 I decided to make them into a simple repetitive shape. I used the same Clay Scrap Pattern on the front with the similarly colored Bargello pattern on the back for interest. I found this shape useful for making a series of necklaces for the exhibit that I call "Going in Circles" which can be worn front or back for different looks in the same palette. I also think they would work as toggle clasps, earring parts and accents in necklaces. I sent an assortment off to my Simple Truths Sampler members and would be so interested to see what clever things they come up with to use them!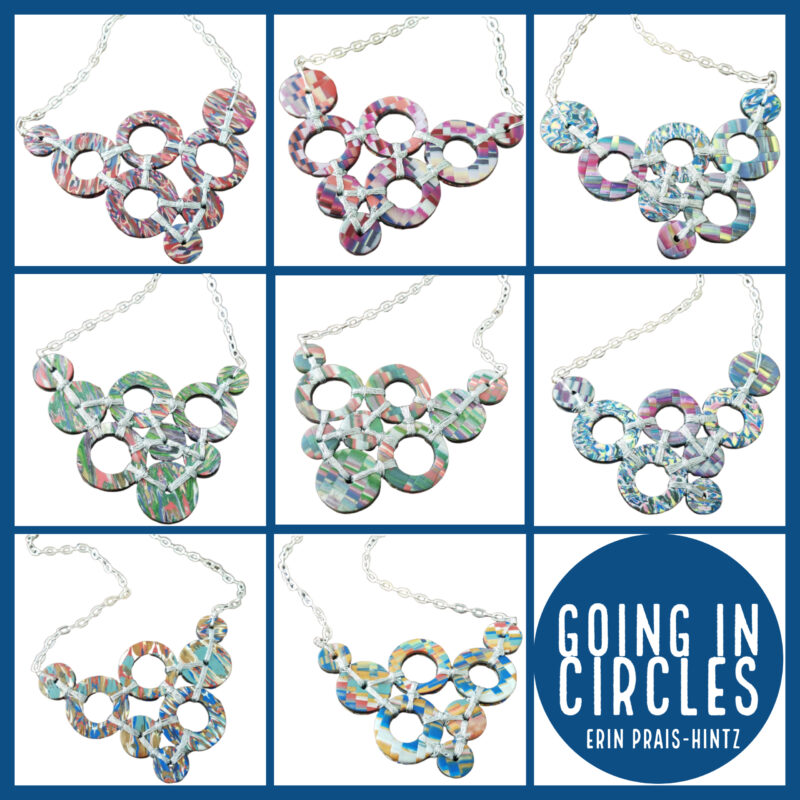 What would you do with some of these components? Do tell! We look forward to seeing more of what you are inspired to make from this Art Journey #2 with the beautiful artwork of Viktor Zaretsky.
Let's make cool stuff together…separately! If you are looking for some way to channel your energies, might I suggest making art? Color energizes. Creativity connects. Art heals. Consider joining in on the #antisocialartshow and make art and share it online to lift spirits and pass the time that we all need to take to ride out this unprecedented time. Check this link out to learn more! Be sure to post to Facebook and blogs and Instagram with the hashtag #antisocialartshow to be a part of the art!