Is it snowing where you are? Of course, not everyone gets a lot of snow but if you live in the northern hemisphere, chances are that you have a little knowledge of the fluffy white stuff.
In several regions of Japan, like Hokkaido and Hokuriku, they get a fair share of snow, whereas more southern areas don't see snow, like Tokyo. In English there are relatively few ways to describe snow compared to the more than 100 ways to describe it in Japanese. Yuki 雪 is the Japanese word for "snow"and here are a few snow and winter related words in Japanese:
大雪 (oo yuki) – heavy snow, literally "big" snow
初雪 (hatsu yuki) – the first snow of the season
雪遊び(yuki asobi) – playing in the snow
雪合戦 (yuki gassen) – snow ball fight
雪祭り (yuki matsuri) – snow festival, the most famous snow festival is held in Sapporo, Hokkaido each February.
風  花 (kazahana) – snow flurries, literally "wind" + "flowers"
雪見 (yukimi) – viewing the snow while sipping tea is a cherished seasonal tradition
雪だるま(yukidaruma) – snowmen, daruma is a round doll that mimics the shape of snowmen that children all over the world like to make
雪うさぎ (yukiusagi) – snow bunnies! These cute little snow creatures are usually decorated with red berries for eyes and green leaves for ears
Our challenge for this final Art Journey #9 are some seasonal Japanese woodblock prints on paper and hand painted silk panels depicting winter snow scenes.
Birds and Fruit in Snow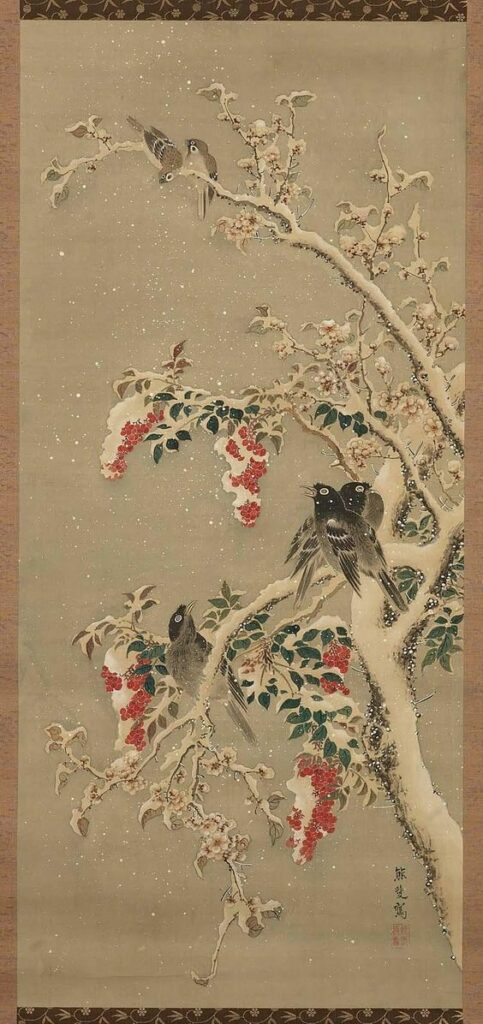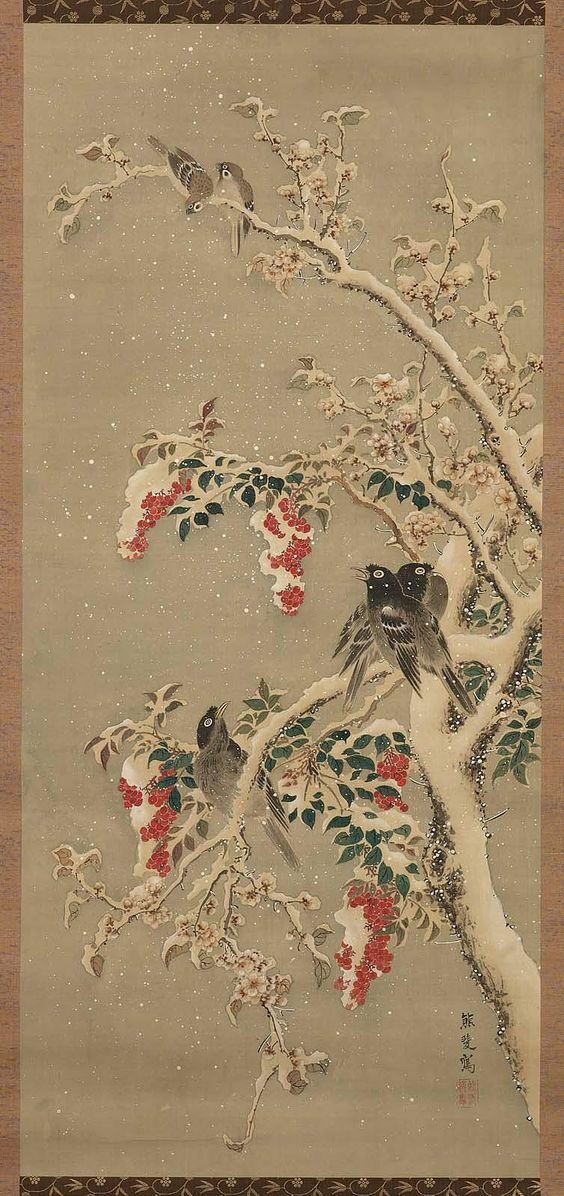 Launch Pad: snowfall, red berries, birds, branches, leaves
Evening Snow at Asakusa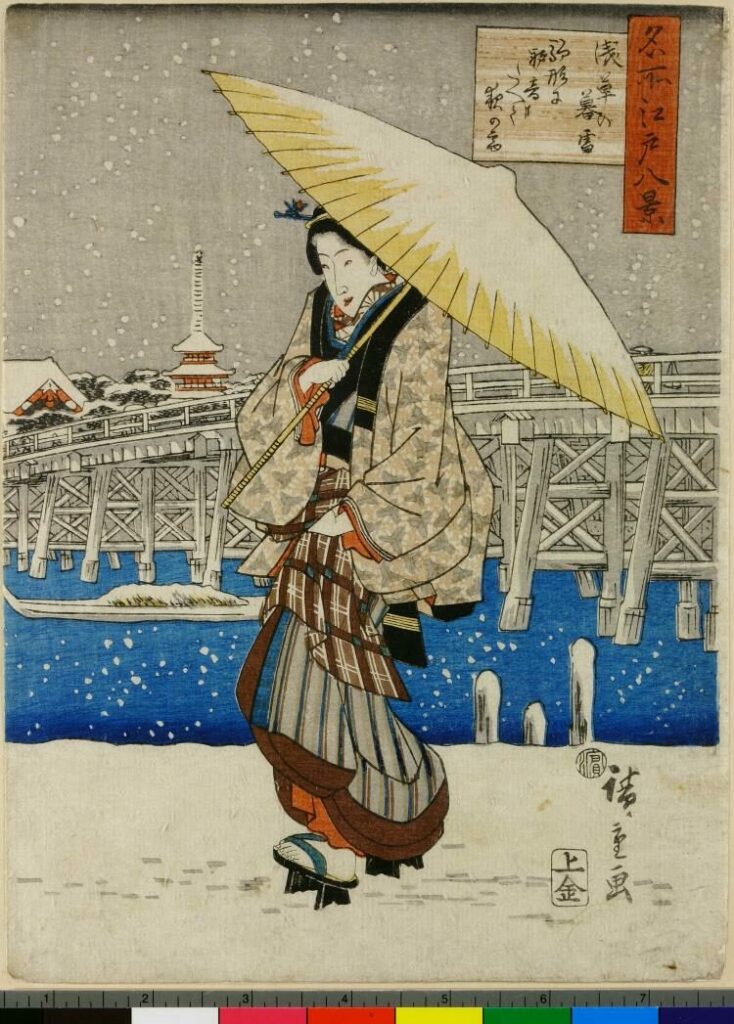 Launch pad: snow, woman, bridge, umbrella, layered fabric/patterns, pagoda, footprints in the snow
Snow at Zojoji Temple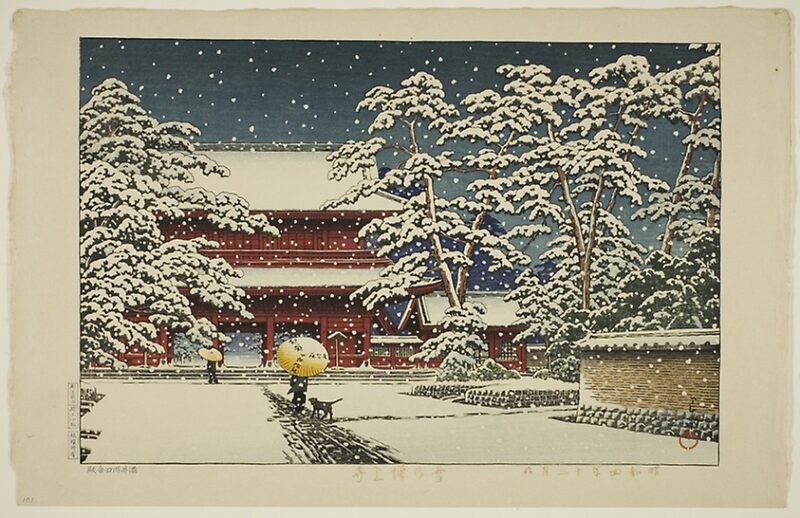 Launch pad: snow, trees, branches, red pagoda, umbrella, black dog
Where will this Art Journey take you?
---
What is the Art Journey Challenge?
Every six weeks we will challenge our readers to create jewelry inspired by the featured artwork or collection of art or theme. You have until the end of the Art Journey period to share your work and then we pick one winner to receive beads and jewelry-making supplies from our sponsors that will work with our NEXT Art Journey to hopefully inspire you to continue joining the challenges. Our only rule? You must use at least one art bead in your piece!
Our prize for Art Journey #9 will be given away from a random draw of all entries on December 31st with our final GRAND PRIZE package! We hope this will encourage you to play along!
How to Enter the Monthly Jewelry Challenge:
Create something using an art bead that fits within our monthly theme. This challenge is open to jewelry-makers, fiber artists, collage artist, etc. The art bead can be created by you or someone else. The challenge is to inspire those who use art beads and to see all the different ways art beads can be incorporated into your handiwork. An art bead must be used in your piece to qualify for the monthly challenge. Upload your photo to our photo gallery. Include a short description, who created the art beads and a link to your blog or shop, if you have one.
Deadline to enter is Tuesday, December 31st.
You may upload as many entries as you like per Art Journey, as long as they follow the guidelines. (Please be patient as they are approved by one of our editors to post in the Gallery).
Click here to submit your entry.
Monthly Challenge Winners
• One prize winner will be selected at random from all pictures posted in our new gallery!
• The winner will be randomly chosen from all the qualifying entries on December 31st.
• Be sure to point out all the art bead artists in your work in the description of the photos when you upload to the new gallery. Links to their website or shop are appreciated. That way we can all find new art beads to love!
What is an Art Bead?
An art bead is a bead, charm, button or finding made by an independent artist. Art beads are the vision and handiwork of an individual artist.
***A bead that is handmade is not necessarily an art bead. Hill Tribe Silver, Kazuri ceramic beads or lampwork beads made in factories are examples of handmade beads that are not considered art beads. Beaded beads, stamped metal pendants or wire-wrapped components are not considered art beads for our challenge.***
Bead Artists
Feel free to share beads that you made inspired by our challenge in our gallery. You can enter multiple photos for each challenge. We love to promote new artists and share what you've created!