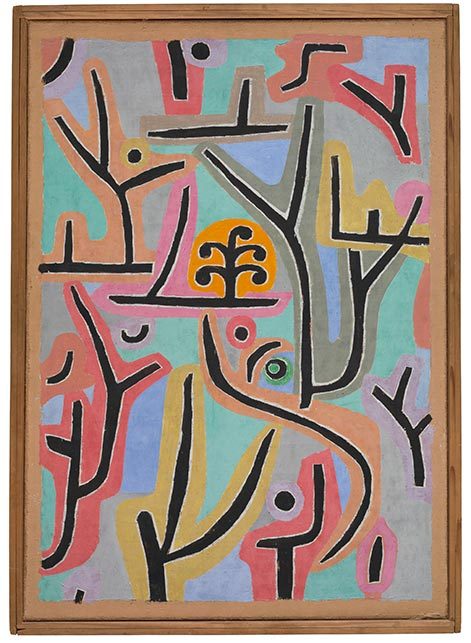 "Park Near Lu"
By Paul Klee, 1938
Oil and coloured paste on paper on jute; original frame strips
100 x 70 cm
About the Art
"Park near Lu." was created when Klee was stimulated by an impression of nature that he experienced in a park near Lucerne. The picture reflects his personal condition at the time. The branches are bare and devoid of leaves, as in winter. But "Park near Lu." is not a winter picture. There is a contrast between the hard black bar strokes that represent the branches and the bright colour tonality of the spaces between them. The work therefore includes spring and winter, death and blossoming in equal measure.
It seems to have been a specific landscape which inspired Paul Klee to paint this picture. Klee's wife Lily travelled several times in the late 1930's to Lucerne for health reasons and she spent time in a sanatorium. Paul Klee had visited her there, when his own physical condition permitted and strolled with her through the park around the sanatorium.
About the Artist
Paul Klee, Painter, Educator (1879–1940). Paul Klee was a prolific Swiss and German artist best known for his large body of work, influenced by cubism, expressionism and surrealism.
"A line is a dot that went for a walk."
—Paul Klee
Paul Klee was born in Münchenbuchsee, Switzerland, on December 18, 1879. The son of a music teacher, Klee was a talented violinist, receiving an invitation to play with the Bern Music Association at age 11.
As a teenager, Klee's attention turned from music to the visual arts. In 1898, he began studying at the Academy of Fine Arts in Munich. By 1905, he had developed signature techniques, including drawing with a needle on a blackened pane of glass. Between 1903 and 1905, he completed a set of etchings called Inventions that would be his first exhibited works.
In 1906, Klee married Bavarian pianist Lily Stumpf. The couple had a son, Felix Paul. Klee's artwork progressed slowly for the next five years. In 1910, he had his first solo exhibition in Bern, which subsequently traveled to three Swiss cities.
In January 1911, Klee met art critic Alfred Kubin, who introduced him to artists and critics. That winter, Klee joined the editorial team of the journal Der Blaue Reiter, co-founded by Franz Marc and Wassily Kandinsky. He began working on color experiments in watercolors and landscapes, including the painting In the Quarry.
Klee's artistic breakthrough came in 1914, after a trip to Tunisia. Inspired by the light in Tunis, Klee began to delve into abstract art. Returning to Munich, Klee painted his first pure abstract, In the Style of Kairouan, composed of colored rectangles and circles.
Klee's work evolved during World War I, particularly following the deaths of his friends Auguste Macke and Franz Marc. Klee created several pen-and-ink lithographs, including Death for the Idea, in reaction to this loss. In 1916, he joined the German army, painting camouflage on airplanes and working as a clerk.
By 1917, art critics began to classify Klee as one of the best young German artists. A three-year contract with dealer Hans Goltz brought exposure as well as commercial success.
Klee taught at the Bauhaus from 1921 to 1931, alongside his friend Kandinsky. In 1923, Kandinsky and Klee formed the Blue Four with two other artists, Alexej von Jawlensky and Lyonel Feininger, and toured the United States to lecture and exhibit work. Klee had his first exhibits in Paris around this time, finding favor with the French surrealists.
Klee began teaching at Dusseldorf Academy in 1931. Two years later, he was fired under Nazi rule. The Klee family moved to Switzerland in late 1933. Klee was at the peak of his creative output during this tumultuous period. He produced nearly 500 works in a single year and created Ad Parnassum, widely considered to be his masterpiece.
Our Sponsors
Our Sponsors this month are
Please visit us tomorrow to see the prizes!
How to enter the Monthly Challenge:
1.
You need to have a
Pinterest
account. Go get one ASAP if you don't have one already. It's easy, fun and inspiring.
Subject: Monthly Challenge Board Request
You will be emailed an invite to the board within 48 hours. Accept the invite and you are ready to pin your entries.
3. Two ways to pin your entry to the board.
Pin your photo from the internet (on your blog, Etsy shop, etc.)
Add your photo directly from your computer
Create something using an art bead that fits within our monthly theme. We post the art to be used as your inspiration to create. This challenge is open to jewelry-makers, fiber artists, collage artist, etc. The art bead can be created by you or someone else. The challenge is to inspire those who use art beads and to see all the different ways art beads can be incorporated into your handiwork.
An Art Bead must be used in your piece to qualify for the monthly challenge.
***Beads strung on a chain, by themselves and beads simply added to wire or cord will not be accepted.***
Please add the tag or title AUG ABS to your photos. Include a short description, who created the art beads and a link to your blog, if you have one.
Deadline is August 31st
You may upload 2 entries per month.

ENTRIES for ART BEAD ARTISTS!!
• Beads Makers
Pinterest Board
-Art beads must be created by you and fit the Art Bead Scene's monthly challenge theme. They can be made for the challenge or ones you have made before. 2 entries per month are allowed.
One entry will be picked by the editors each month for a free month of advertising on the Art Bead Scene. Bead entries have to be pinned by the 30th of the month.
Beads only – do not post jewelry on this board. If a post doesn't fit the challenge it will be deleted.

Monthly Challenge Recap
• Please post at least one single shot of your creation on the
Pinterest Board
. This will be used to make a collage for the Monthly Challenge Gallery. Every creation will be added to the collage, regardless of a blog post. So everyone gets included!
Your entry must be on Pinterest 2 days BEFORE the recap to be included.
• Be sure to share with us the name of the art bead artist in the description of your photo so that if you are selected for the weekly Perfect Pairings on Wednesdays, both you as the designer and the art bead artist can get the credit you both deserve!
• An
InLinkz
button will be added to the bottom of the Monthly Challenge Recap post. Here you will be able to link up your blog post if you have one. It is no longer necessary to add your blog post URL to the description unless you want to. Be sure to hop around and see all the great inspiration and leave some comment love!
• The Monthly Challenge Recap with Blog Tour will be posted on August 31st.
Monthly Challenge Winners
• One prize winner will be selected at random from all blog posts added to the hop for the Monthly Challenge Recap post. So if you want to be in the pool for the second prize, be sure to use the
InLinkz
code at the bottom of the post to share your process and inspirations!
• Winners will be randomly chosen from all the qualifying entries on September 1st.
Perfect Pairings :: Designer + Art Bead Artist
• Formerly the Featured Designer of the Week, our new Perfect Pairings will focus on both the jewelry designer and the art bead artist.
• Be sure to point out all the art bead artists in your work in the description of the photo on the
Pinterest Board
. Links to their website or shop are appreciated. That way we can all find new art beads to love!
• From all the entries during the month, an editor will pick their favorite design to be featured every Wednesday here on ABS, so get those entries in soon.
What is an Art Bead?
An art bead is a bead, charm, button or finding made by an independent artist. Art beads are the vision and handiwork of an individual artist. You can read more about art beads
here
.
***A bead that is handmade is not necessarily an art bead. Hill Tribe Silver, Kazuri ceramic beads or lampwork beads made in factories are examples of handmade beads that are not considered art beads.
Beaded beads, stamped metal pendants or wire-wrapped components are not considered art beads for our challenge.***