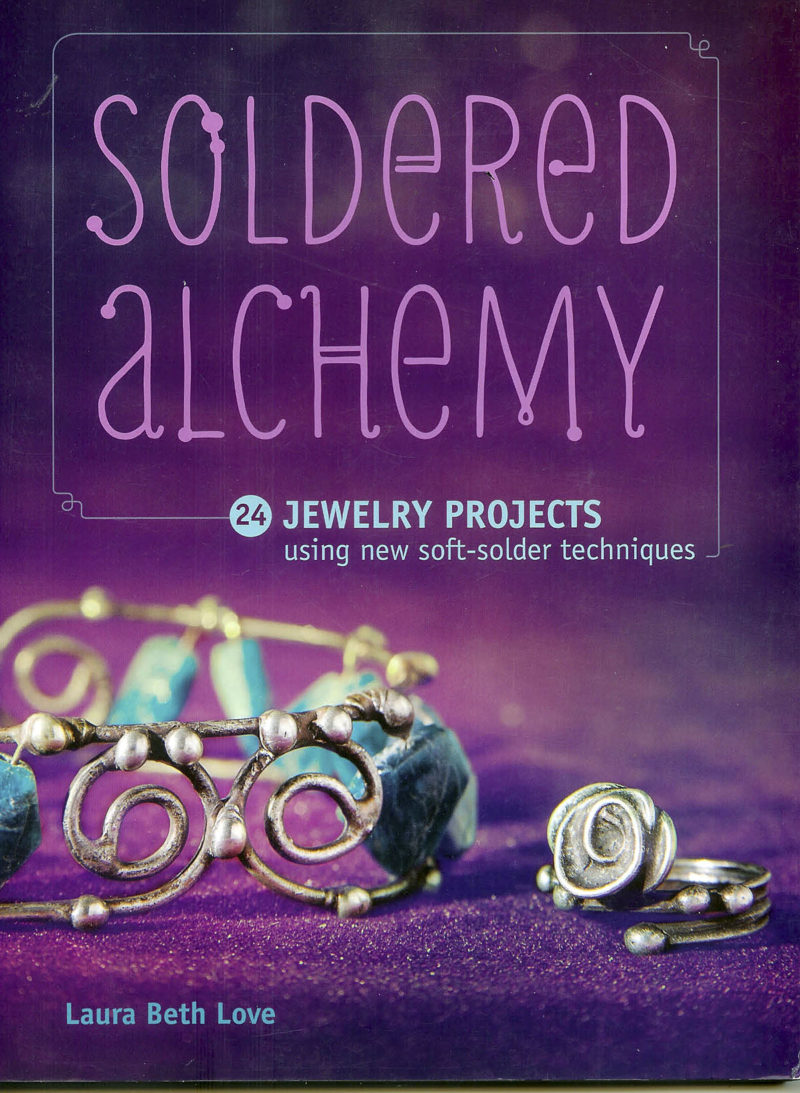 Book cover Soldering Alchemy by Laura Beth Love
Are you afraid of a torch?  Do you stay away from solder because of that fear? I am excited to share with you today this book pictured above which will teach you a method of soldering that never requires a torch.  Instead you will be introduced to a soldering iron and all the "alchemy" you can create with it.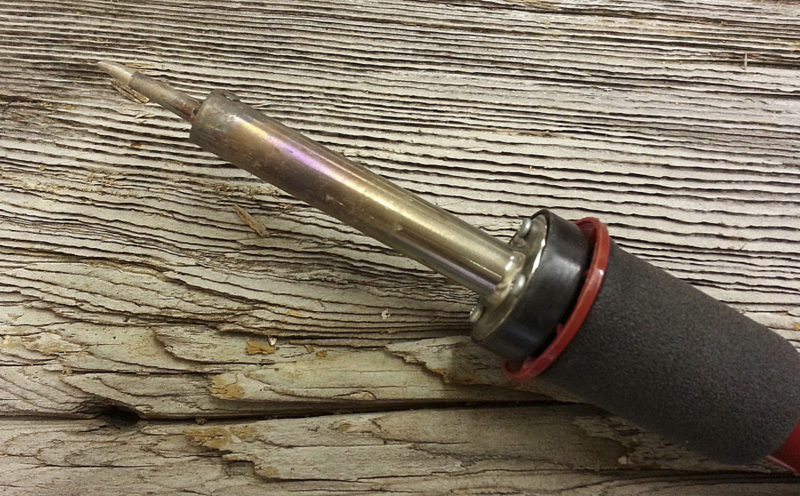 my soldering iron
I missed Soldered Alchemy, when it was first published in 2015, and am so happy I have since found it and purchased a copy.  The main topic of this book is Soft Solder which is the kind that plumbers use or folks that do stained glass work.   It is now sold lead free and until a few months ago it was quite inexpensive. Recently the price has doubled but it is still viable since the methods taught in this book use very little solder compared to how I have done it in the past (working directly from the solder roll with a butane mini torch.)
What's Inside?
Soldered Alchemy teaches a number of great skills for creating soldered jewelry and art beads:
Tinning-  a method of coating wire with solder
How to form 3 dimensional drops of solder
How to bridge wire with solder
How to create a wire frame
How to use copper foil tape
The author, Mary Beth Love, also includes basic wire wrapping and patina techniques in the book.  And best of all 24 jewelry projects that are a gold mine of inspiration for creating art beads.
It wasn't long after I acquired this book that I ordered a Soldering Station and got started.  My family was visiting at the time so we  tried out the techniques together.  We were inspired by one of my favorite projects in the book called A Butterfly Wing Necklace.  Here are our versions: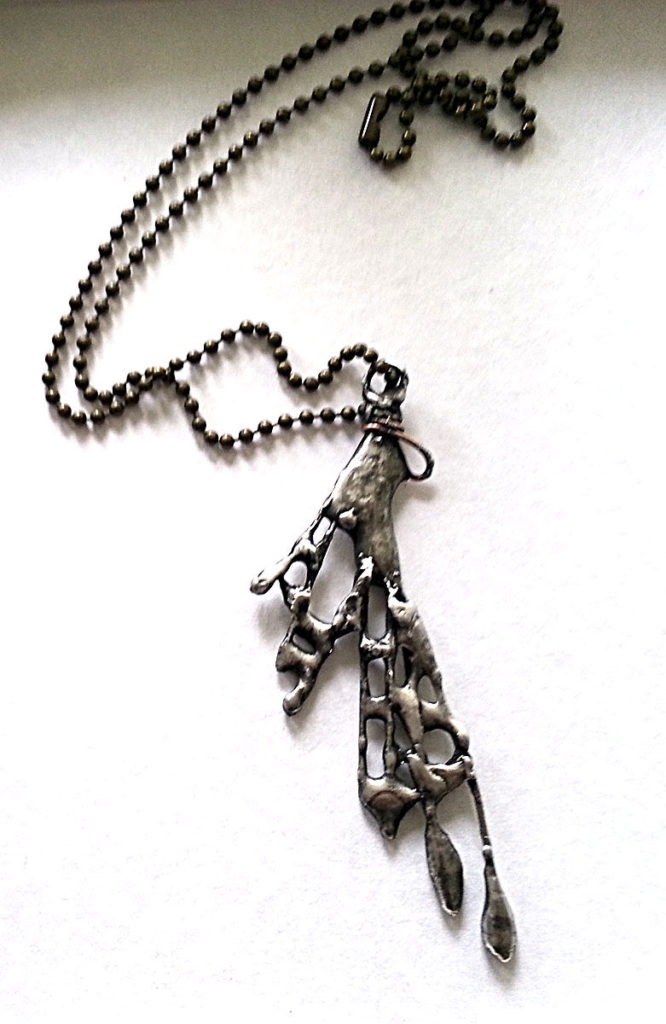 Butterfly Wing Project #1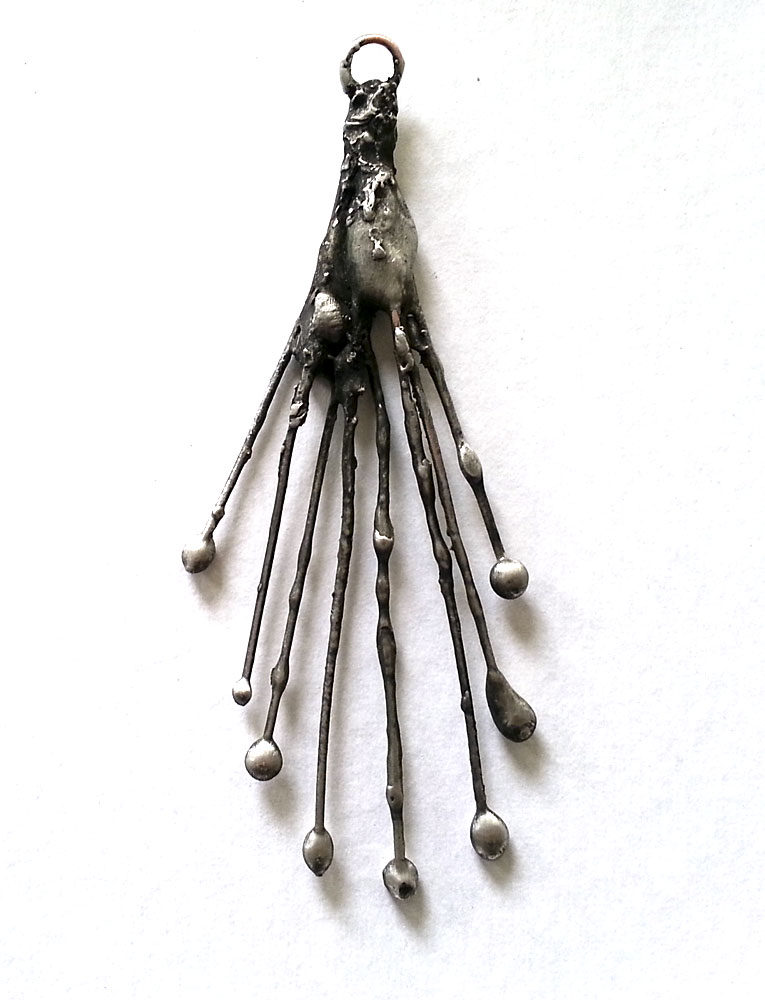 Butterfly Wing project #2
Once I got used to using the soldering iron I could improvise. I got into making some winged critters that are so fun to create.  I especially like the way you can practically draw with the solder once you master the bridging technique. This little critter below shows how I used the bridging technique to create the wings after making a wire framework.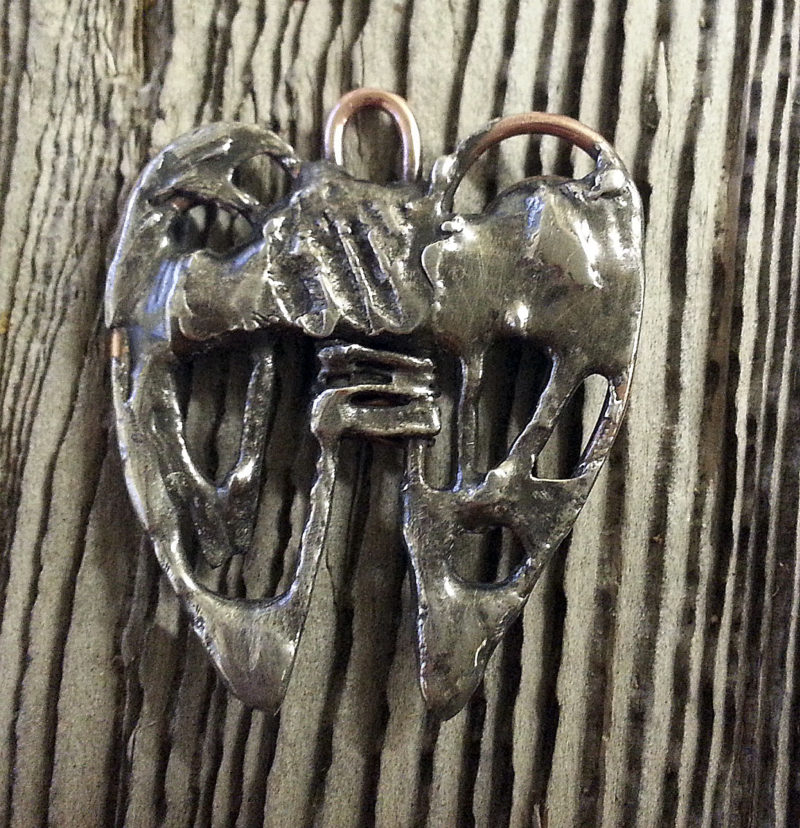 Winged critter made on a copper wire framework using the bridging technique taught in Soldered Alchemy
I went on to trying the copper foil tape technique and was happy to find out that it was not too difficult to learn and would work with my ceramic pieces.  I kept them cool by placing a damp sponge under them:  no cracking or breakage.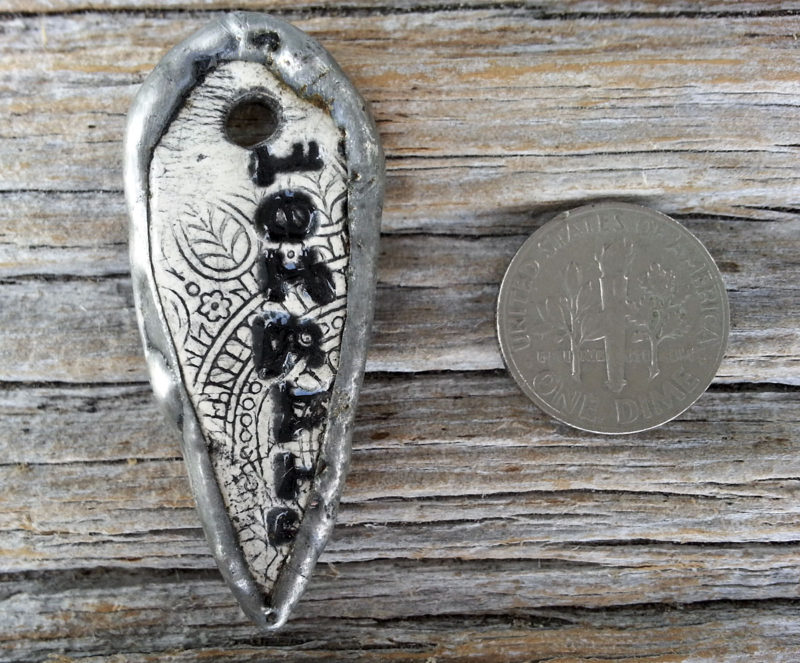 Copper foil tape technique    Urban Edge pendant by Mary Harding
The damp sponge technique also worked with a large fused glass pendant that I wanted to made more secure with solder. No cracking or breakage there either.
I hope I have inspired you to give the soldering iron a go.  (please keep reading for the special announcement below)
Thanks so much for stopping by today.   See you in December!!
Mary
www.maryhardingjewelry.etsy.com
www.facebook.com/MaryHardingJewelry
++++++++++++++++++++++++++++++++++++++++++++++++
                      Special Announcement of  the Winner

                 Porcelain Pendant Set by Artisticaos  
         of the this beautiful Porcelain Pendant set by Artisticaos  
                                 Marla Rizzo   
Congratulations Marla.  Please contact Artisticaos to claim your prize.
++++++++++++++++++++++++++++++++++++++++++++++++++++++++++++++++++++++++++