It is time for the big reveal….Michelle from Firefly Design Studio and Anne from Gardanne each started with identical ceramic and enameled pieces and thought it would be fun to see what each comes up with. Here is a refresher on what each designer started with: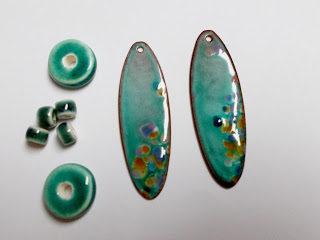 Anne started the earring design with her fun surfboard shaped enameled pair of charms. They are a bronze base with teal and pops of gold, lavender and blue. Michelle added 15mm teal ceramic earthenware discs and 5mm coordinating spacer beads. We each took these components home from the Bead and Button show, so we've had some time to think about our plan of attack!
This is what Michelle designed: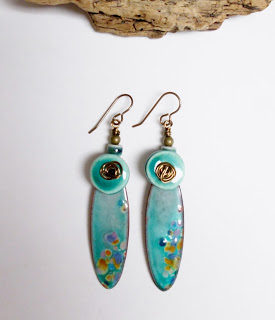 All Michelle added to the above components is 24g wire, 3mm spacer beads and earring wires, all made by Vintaj. Cut 8″ of 24g wire and fold it in half. Squeeze the wire tightly together with your flat nose pliers. Hold the disc in front of the charm hole and from the back, pass the folded wire (folded end first) through the charm and disc holes. Stop at the half way point and bend the wire down at a 90 degree angle. With your fingers, hold the wire in place at the bend and start to twirl the wire over the disc hole. When almost finished, take your flat nose pliers and push the end down through the hole to give it a finished look. With the double wire tail sticking up, place a metal spacer bead, a ceramic spacer bead and another metal spacer bead. This will help with the components fitting together nicely. Make a small wire wrap loop and place earring on the earring wire. Repeat and enjoy!