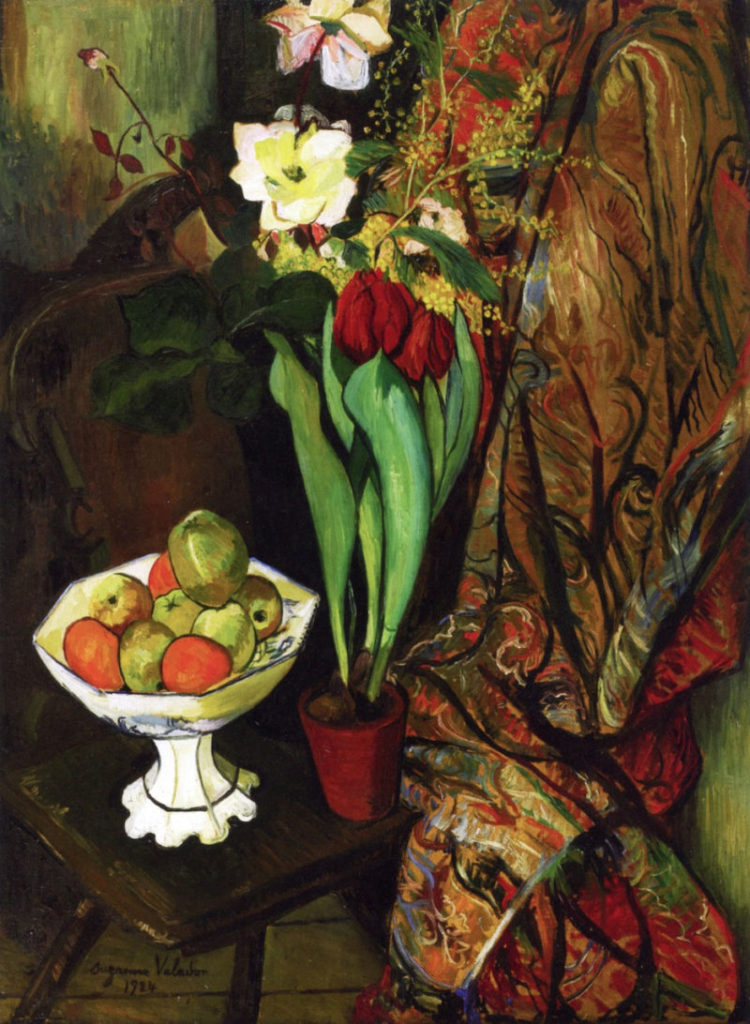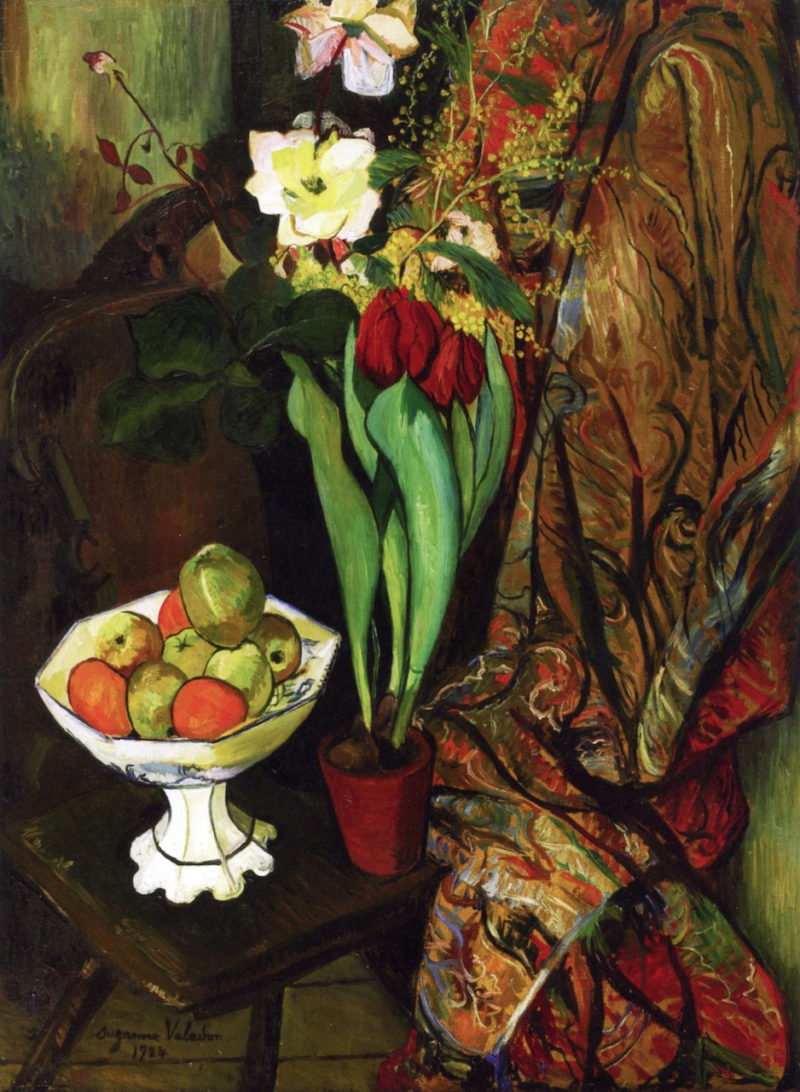 Title:
Still Life with Tulips and Fruit Bowl
By: Susan Valadon
Date: 1924
Medium: Oil on Canvas
What is the Monthly Challenge?
Every month we challenge our readers to create jewelry inspired by the featured artwork. You have until the end of the month to share your work and then we pick two winners to receive beads and jewelry-making supplies from our sponsors. Our only rule? You must use at least one art bead in your piece!
About the Art & Artist:
Suzanne Valadon (23 September 1865 – 7 April 1938) was a French painter and artists' model who was born Marie-Clémentine Valadon at Bessines-sur-Gartempe, Haute-Vienne, France. In 1894, Valadon became the first woman painter admitted to the Société Nationale des Beaux-Arts. She was also the mother of painter Maurice Utrillo. The subjects of her drawings and paintings included mostly female nudes, female portraits, still lifes, and landscapes. She never attended the academy and was never confined to a tradition. Valadon spent nearly 40 years of her life as an artist.
Valadon primarily worked with oil paint, oil pencils, pastels, and red chalk; she did not use ink or watercolor because these media were too fluid for her preference. Valadon's paintings feature rich colors and bold, open brushwork often featuring firm black lines to define and outline her figures. She used hard black lines to emphasize the structure of the body. She also used firm lines in her nudes to emphasize the play of light on curves.
Valadon's self-portraits, portraits, nudes, landscapes, and still lifes remain detached from trends and aspects of academic art. The subjects of Valadon's paintings often reinvent the old masters' themes: women bathing, reclining nudes, and interior scenes. However, the nudes Valadon paints veer far from the norms of this male-dominated genre; the paintings are interpreted in a much different way which could contradict or question the nature of the genre. Many have suggested a vibrant, emotional sense that emanates from her drawings and paintings as a result of an intimate, familiar observation of these women's bodies. Similarly to Valadon, Berthe Morisot and Mary Cassatt painted mostly women, yet because of their middle-class status in French society at the time they were unable to paint the nude body, regardless of gender. Valadon also emphasized her focus on the importance of the composition of her portraits over painting expressive eyes. Her later works are brighter in color and show a new emphasis on decorative backgrounds and patterned materials.
It's thought that her experience as a model and as an artist allowed her to analyze the process that transformed and positioned the body as an object of the gaze within a work of art and influenced her understanding and perspective of women and the female body. Valadon has been considered transgressive in her position as a woman painting the nude female body. Her class allowed her to enter the male public domain of art through modeling and then emerge as an artist within her circle of prominent male artists. She resists typical depictions of women via their class and supposed sexuality through her use of unidealized and self-possessed bodies that are not overly sexualized.
New Submission Policies!
Create Your Account:
Take a minute to create your account on the site right here. I recommend using your full name or business name as your username.
After you create your account, add your profile photo and bio.
(If you have a long-lost WordPress account you may need to reset your password.)
Entering the Monthly Challenge:
When you are ready to add your monthly entry go the submit page. You'll need to login before you can submit your photo. You can submit photos from your computer or mobile device.
Remember to add your blog or shop link and art bead details to the description.
You can upload two photos for each monthly challenge category (jewelry or beads).
Add your photo to the gallery for the current month.
___________________________________________________________________
How to Enter the Monthly Jewelry Challenge:

Create something using an art bead that fits within our monthly theme. We post the art to be used as your inspiration to create. This challenge is open to jewelry-makers, fiber artists, collage artist, etc. The art bead can be created by you or someone else. The challenge is to inspire those who use art beads and to see all the different ways art beads can be incorporated into your handiwork.An Art Bead must be used in your piece to qualify for the monthly challenge. Upload your photo to our new photo gallery. Include a short description, who created the art beads and a link to your blog or shop, if you have one. Deadline is December 30th.
You may upload two entries per month.
***Beads strung on a chain, by themselves and beads simply added to wire or cord will not be accepted.***
Entries for Bead Artists
Art beads must be created by you and fit the Art Bead Scene's monthly challenge theme. They can be made for the challenge or ones you have made before. Two entries per month are allowed.
One entry will be picked by the editors each month for a free month of advertising on the Art Bead Scene. Bead entries have to be uploaded to the photo gallery by the 30th of the month. See above to create an account.
Monthly Challenge Winners
• Two prize winner will be selected at random from all pictures posted in our new gallery!
• Winners will be randomly chosen from all the qualifying entries on January 1st.
Perfect Pairings: Designer + Art Bead Artist
• Perfect Pairings focus on both the jewelry designer and the art bead artist.
• Be sure to point out all the art bead artists in your work in the description of the photos when you upload to the new gallery. Links to their website or shop are appreciated. That way we can all find new art beads to love!
• From all the entries during the month, an editor will pick their favorite design to be featured on Friday here on the ABS, so get those entries in soon.
What is an Art Bead?
An art bead is a bead, charm, button or finding made by an independent artist. Art beads are the vision and handiwork of an individual artist. You can read more about art beads here.***A bead that is handmade is not necessarily an art bead. Hill Tribe Silver, Kazuri ceramic beads or lampwork beads made in factories are examples of handmade beads that are not considered art beads.
Beaded beads, stamped metal pendants or wire-wrapped components are not considered art beads for our challenge.***
Join us Tomorrow to see our prizes and sponsors for December!