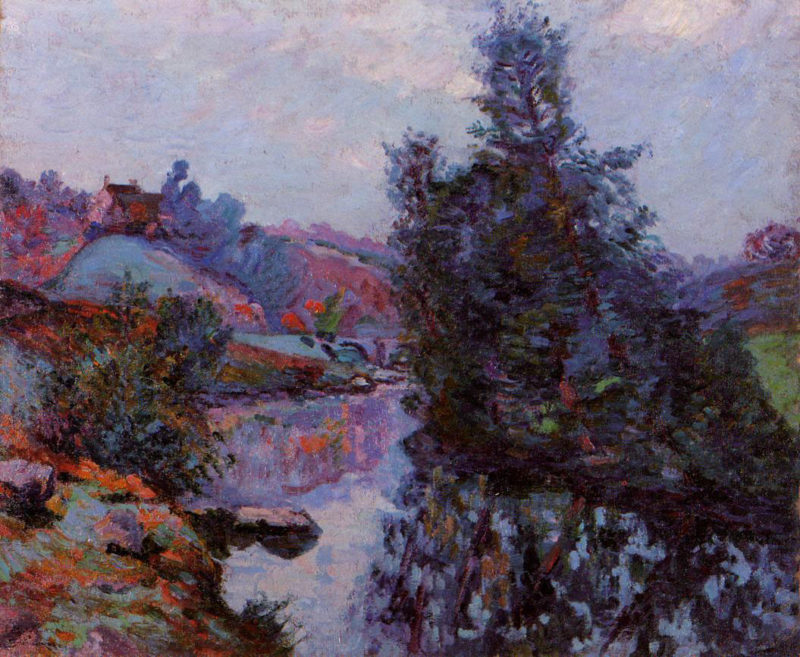 Title:
Crozant, The Bouchardon Mill
By: Armand Guillaumin
Date: 1906
Medium: Oil on Canvas
This colorful yet subdued impressionistic painting creates a wonderful mood.
What is the Monthly Challenge?
Every month we challenge our readers to create jewelry inspired by the featured artwork. You have until the end of the month to share your work and then we pick two winners to receive beads and jewelry-making supplies from our sponsors. Our only rule? You must use at least one art bead in your piece!
About the Art & Artist:
Armand Guillaumin (February 16, 1841 – June 26, 1927), was a French impressionist painter and lithographer. Born Jean-Baptiste Armand Guillaumin in Paris, France, he worked at his uncle's lingerie shop while attending evening drawing lessons. He also worked for a French government railway before studying at the Académie Suisse in 1861. There, he met Paul Cézanne and Camille Pissarro with whom maintained lifelong friendships. While he never achieved the stature of these two, his influence on their work was significant. Cézanne attempted his first etching based on Guillaumin paintings of barges on the River Seine.
Guillaumin exhibited at the Salon des Refusés in 1863 and later became a friend of Vincent van Gogh whose brother, Theo sold some of his works. Noted for his intense colors, major museums around the world display Guillaumin's art. He is best remembered for his landscapes of Paris, the Creuse département, and the area around Les Adrets-de-l'Estérel near the Mediterranean coast in the Provence-Alpes-Cote d'Azur region of France. Armand Guillaumin died in 1927 in Orly, Val-de-Marne just south of Paris.
New Submission Policies!
Create Your Account:
Take a minute to create your account on the site right here. I recommend using your full name or business name as your username.
After you create your account, add your profile photo and bio.
(If you have a long-lost WordPress account you may need to reset your password.)
Entering the Monthly Challenge:
When you are ready to add your monthly entry go the submit page. You'll need to login before you can submit your photo. You can submit photos from your computer or mobile device.
Remember to add your blog or shop link and art bead details to the description.
You can upload two photos for each monthly challenge category (jewelry or beads).
Add your photo to the gallery for the current month.
___________________________________________________________________
How to Enter the Monthly Jewelry Challenge:

Create something using an art bead that fits within our monthly theme. We post the art to be used as your inspiration to create. This challenge is open to jewelry-makers, fiber artists, collage artist, etc. The art bead can be created by you or someone else. The challenge is to inspire those who use art beads and to see all the different ways art beads can be incorporated into your handiwork.An Art Bead must be used in your piece to qualify for the monthly challenge.Upload your photo to our new photo gallery. Include a short description, who created the art beads and a link to your blog or shop, if you have one. Deadline is November 30th.
You may upload two entries per month.
***Beads strung on a chain, by themselves and beads simply added to wire or cord will not be accepted.***
Entries for Bead Artists
Art beads must be created by you and fit the Art Bead Scene's monthly challenge theme. They can be made for the challenge or ones you have made before. Two entries per month are allowed.
One entry will be picked by the editors each month for a free month of advertising on the Art Bead Scene. Bead entries have to be pinned by the 30th of the month.
Monthly Challenge Winners
• Two prize winner will be selected at random from all pictures posted in our new gallery!
• Winners will be randomly chosen from all the qualifying entries on December 1st.
Perfect Pairings: Designer + Art Bead Artist
• Perfect Pairings focus on both the jewelry designer and the art bead artist.
• Be sure to point out all the art bead artists in your work in the description of the photos when you upload to the new gallery. Links to their website or shop are appreciated. That way we can all find new art beads to love!
• From all the entries during the month, an editor will pick their favorite design to be featured on Friday here on the ABS, so get those entries in soon.
What is an Art Bead?
An art bead is a bead, charm, button or finding made by an independent artist. Art beads are the vision and handiwork of an individual artist. You can read more about art beads here.***A bead that is handmade is not necessarily an art bead. Hill Tribe Silver, Kazuri ceramic beads or lampwork beads made in factories are examples of handmade beads that are not considered art beads.
Beaded beads, stamped metal pendants or wire-wrapped components are not considered art beads for our challenge.***
Join us Tomorrow to see our prizes and sponsors for November!