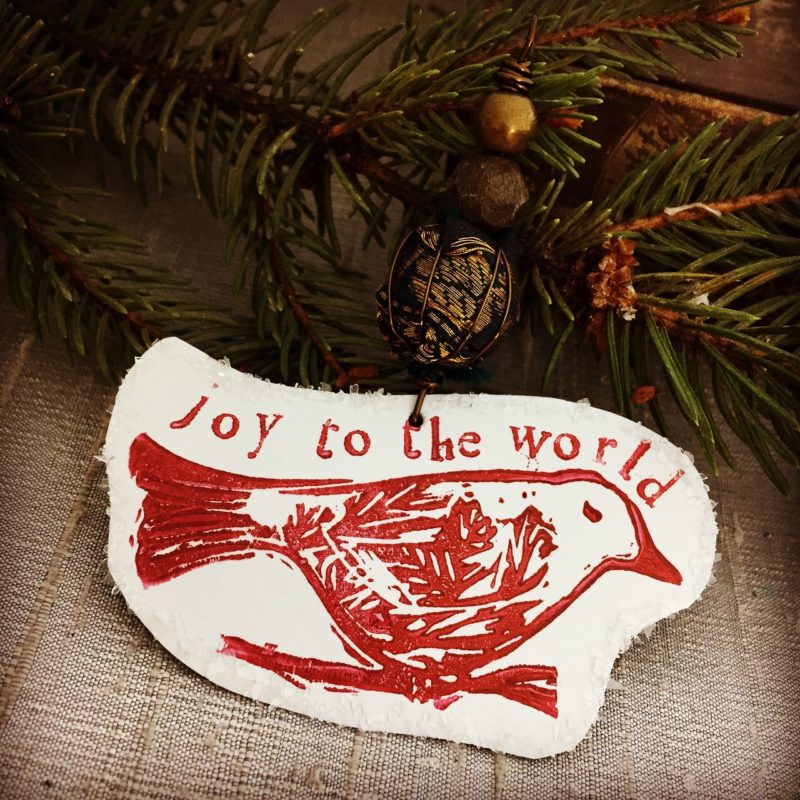 Welcome to our 7th annual ornament hop! I'm looking forward to seeing your winter and holiday inspired ornaments. Make yourself a cup of hot cocoa and turn on some sounds of the season as you enjoy a little winter merry making.
My ornaments started over Thanksgiving weekend when we gathered together for our family holiday crafting party. This year we carved stamps from rubber to make cards, gift tags and garland. I turned my bird bead design into a rubber stamp.
My uncle gifted me with some mysterious steel flashing that is primed white on one side and gray on the other. He said it was for roofing and I said it would be perfect for ornaments. I cut out some pieces of the metal and stamped them with my design. After they were dry I punched holes in the top and added white glitter around the edges for a snowy effect.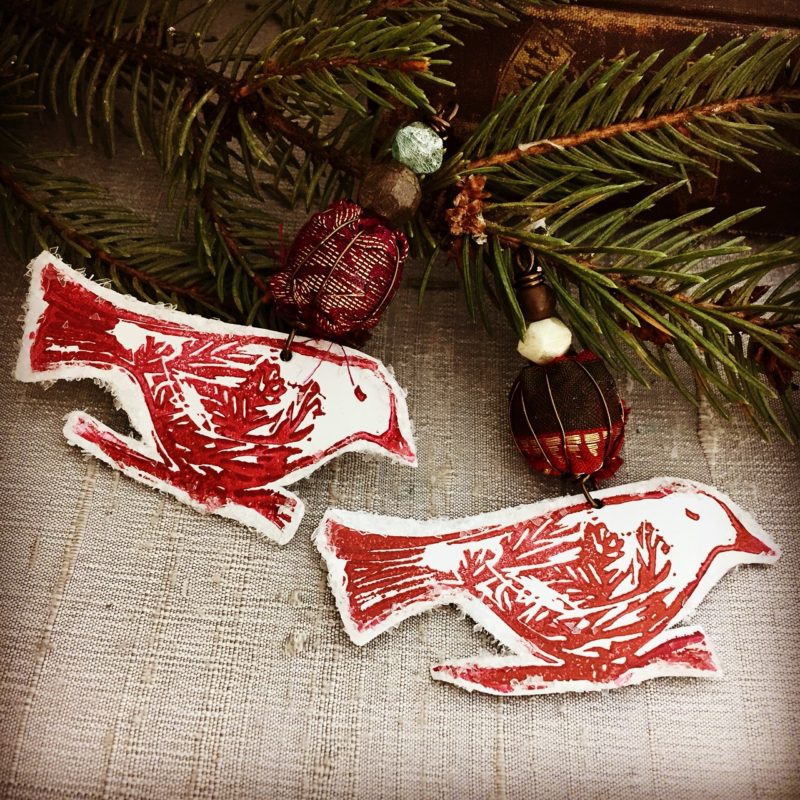 I created sari wrapped beads to embellish my metal ornaments along with Czech glass and wood.

Sari Wrapped Beads
16-18mm wooden beads
2" sari border ribbon
15" 28 gauge bronze colored wire
Quick drying tracky glue
1. Apply a thin layer of glue around the middle of the wooden bead. Wrap the ribbon around the center of bead. Add a small drop of glue on the end of the ribbon, press to the bead and hold for a few seconds. Let the bead dry for 10-15 minutes.
2. Pull the wire through the bead and leave a 1" tail of wire on the end of the bead. Wrap the wire around the side of the bead, insert in the hole of the bead and pull the wire tight. Repeat wrapping the wire around the bead, securing the ribbon each time you pass through the hole.
3. Trim the ends of the wire flush with the hole of the bead.
This project is recommended for decorative items only, I'm not sure how well the wrap would hold up with the wear in a jewelry design.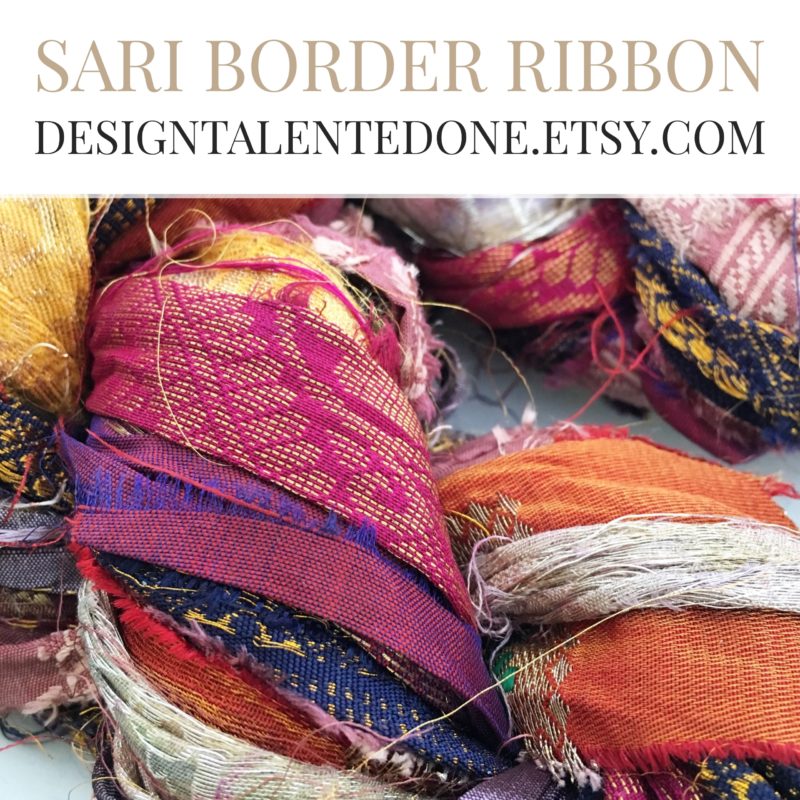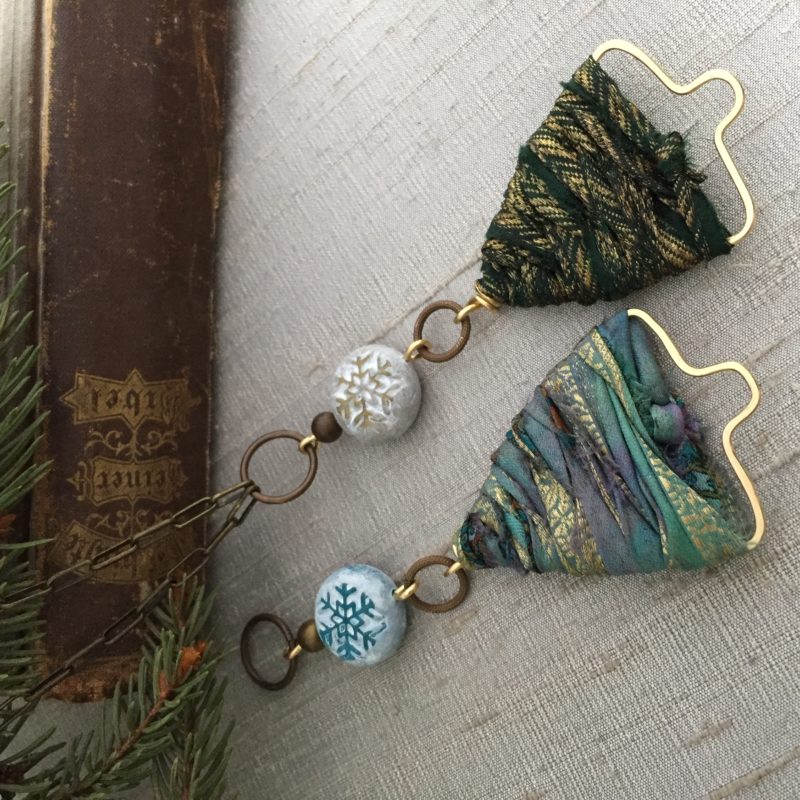 If you caught my Bead Table Wednesday video yesterday then you'll notice my sari ribbon theme/obsession! You can watch the video here to learn how to make these Sari Ribbon Tree Ornaments. I paired these up with my snowflake beads. 
Now it's your turn! Share your ornament link below.
On Saturday I'll draw two winners for a $30 Humblebeads.com gift certificate. One winner will be chosen from the links of your ornaments and the other winner will be drawn from the comments below. Winners will be drawn on Monday.
If you could wish for any beady gift this year what would it be?
Don't forget to visit your fellow makers today and share the hop with your friends!