Each
week one of our contributors gives you a sneak peek into their studio,
creative process or inspirations. We ask a related question of our
readers and hope you'll leave comments! As an incentive we offer a free
prize each week to bribe you to use that keyboard. The following week we
choose a random winner.
You have won a bird and Wedgewood bead set from Heather Powers. (I totally want one of those!)
Email Heather
to claim your prize.
~~~~~~~~~~~~~~~~~~~~~~~~~~~~~~~~~~~~~~~
Hello, lovelies!

My company name, Tesori Trovati, is Italian for 'treasures found.' And that is exactly what I think of when I place each bead just so or when I make new clients. Each is a treasure to me. In fact, when I am asked to work with a client, I call that the 'treasuring process,' where we come together to make a piece of wearable art that is original and unlike anything else.
I have had the good fortune over the past few months to have worked with a new client named Miss Linda. Now, she is not totally new-to-me… her husband had me create a special something for her a few years ago, but I really never had met her until December 2014. That is when she contacted me in a huge rush requesting a very special custom creation. She wanted something eclectic and unique, and I am very delighted that she remembered me. I literally had about a week to get it all together. You see, Miss Linda works for a large community foundation in our area and one of their founding members, Miss Helen, was retiring. She wanted me to create something special for her to remind her of how deeply she affected them all and how deeply she would be missed.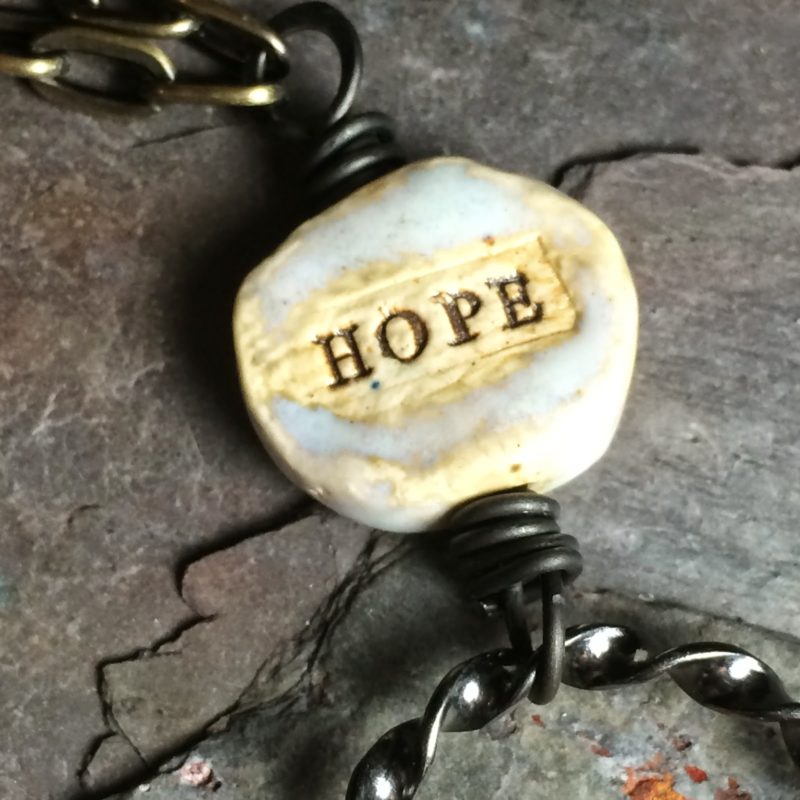 Miss Linda was the perfect client in that she gave me mostly free-range. She shared with me snippets of the Miss Helen's personality (she is the kind of person who makes up funny lyrics and sings them to you), her tastes (loves owls and says 'hoot hoot' when someone does something great), her favorite color preferences (brights), and special words and phrases that are meaningful (inspiration, hope and look what we found!). It was easy for me to get a picture in my mind of who Miss Helen was and what might appeal to her even though I had never met her. And from there I had a vision.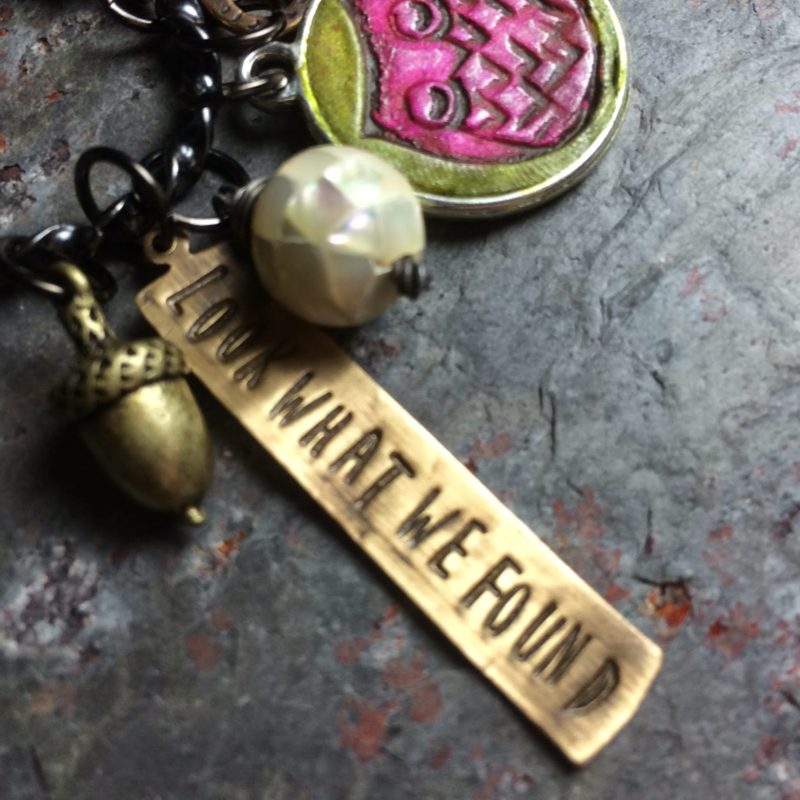 One of the best things a client can tell me is 'I trust you.' That means that they have faith that I will come up with something that meets or exceeds their expectations. That also means that I have a panic attack right before I give the completed creation away. What if they feel they made a mistake? What if they don't like the direction that I went in? What if I selected the wrong words or colors? What if… what if… what if…?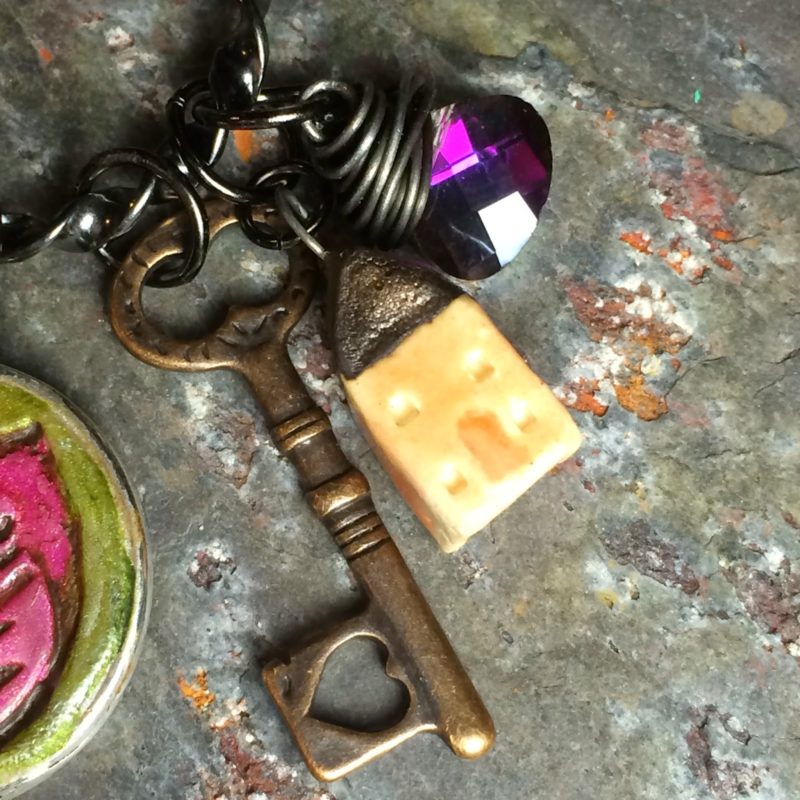 But I needn't have worried because Miss Linda was moved to tears by the personal touches that I added into this piece. And the reveal that Friday met with the same awe by the recipient who was overwhelmed by the details of the piece. In addition to the piece all packaged in my signature box with ribbon, I included a little card that detailed all the parts of this long talisman-style necklace that can be slipped on long or doubled over short. Each piece had a meaning. They read this to Miss Helen at her party so that everyone could enjoy the gift. (Click it to see it larger!)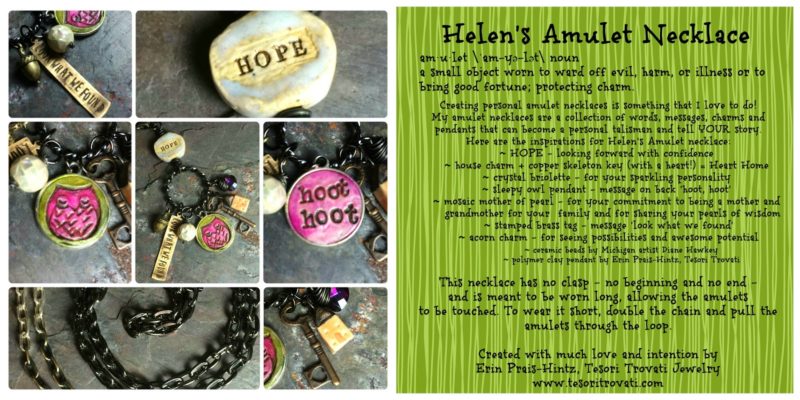 And then Miss Linda gave me another honor: a repeat performance! Another dear colleague and friend was leaving the foundation. Would I be able to come up with something as special as her?
Miss MaryO has a vibrant and fun personality. She signs her signature with a characteristic flourish of an "O" and she loves bright colors. She travels, drinks wine and coffee. Watches Project Runway. She also is a jewelry designer.
When you create custom for a client, there are so many rewards. But when you know that you will be creating a piece for an accomplished jewelry designer, the nerves can be a bit intense! So I really knew that I had to step up my game.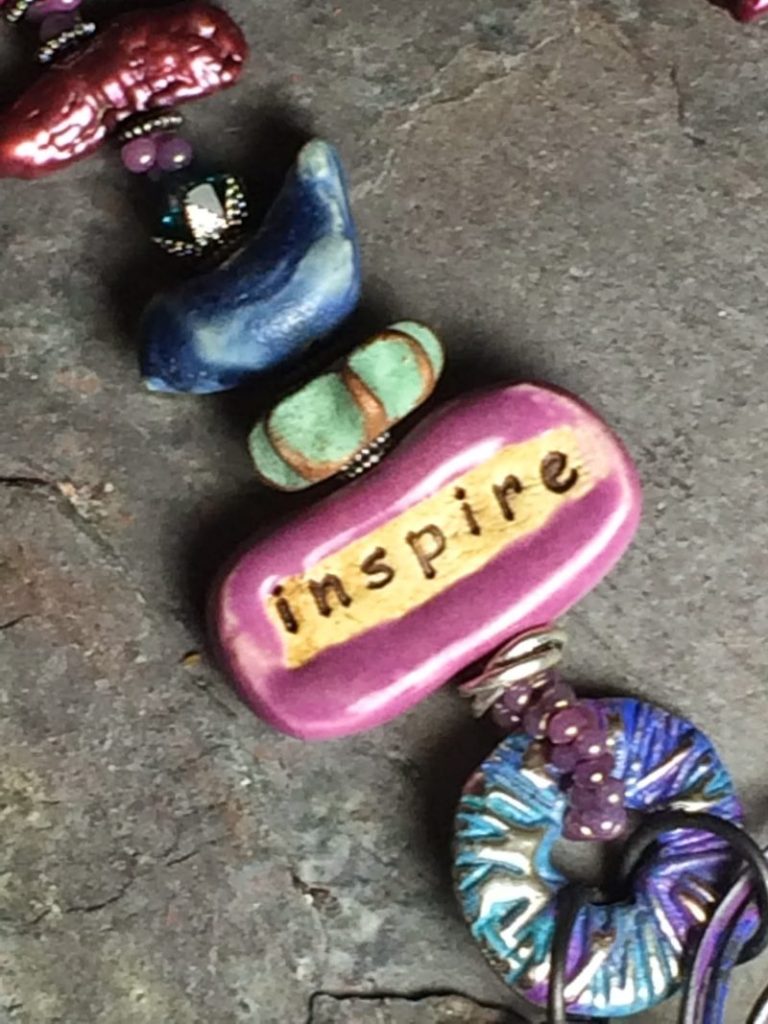 When the reveal came for Helen's Amulet, Miss Mary immediately keyed in on the word bead by Diane Hawkey and indicated that it was by one of her favorite bead artists. Mine, too! Small world, indeed! So I started with the word beads I had from Diane…. luckily I had placed a huge order for them in the fall so I had a lot to choose from and "Inspire" was the one that stood out for Miss Mary's personality. That bead set the color palette. Miss Linda had told me that the two of them had often talked about the blue bird of happiness. This symbol was something powerful that I knew I could add and, as luck would have it, I happened to have a bluebird from Miss Diane herself! Sweet serendipity!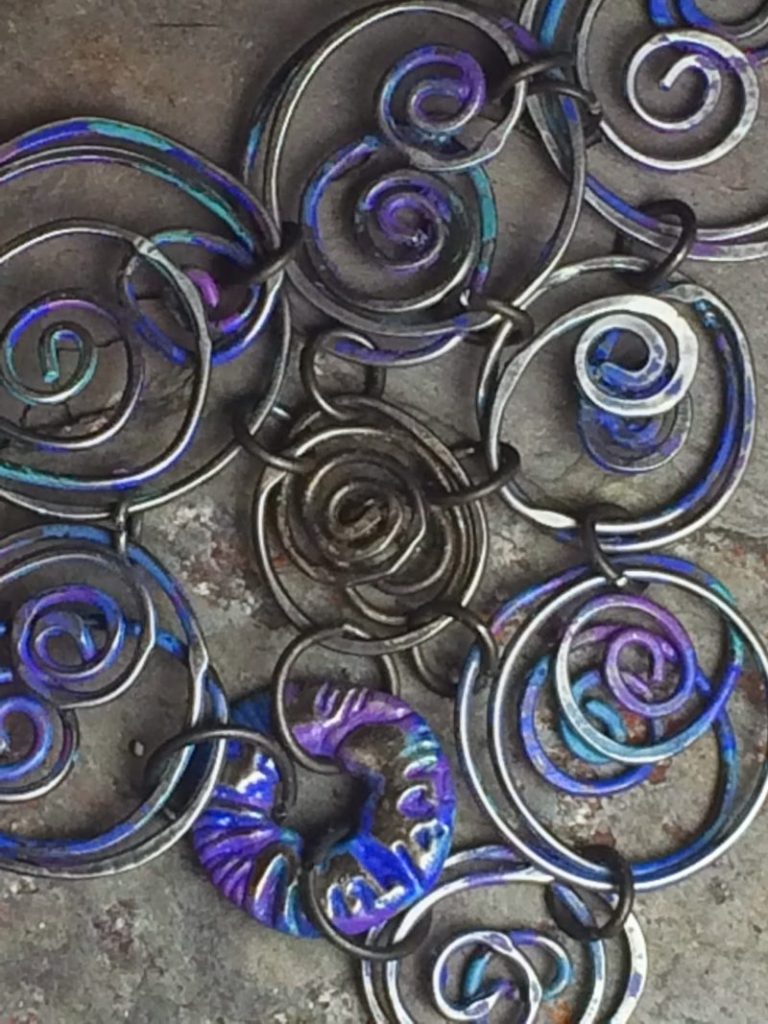 I just knew that the "O Doodles" that I created for my starring role in the Wire Doodle DVD through Interweave last fall would be the perfect start to this necklace that had to make a statement as big as Miss MaryO herself! (I actually had to finally break down and watch the video so that I could faithfully reproduce the O Doodles! And I wasn't too bad of a teacher, if I do say so myself! 😉 I created these "O Doodles" in 18-16 gauge steel wire and then hand patina-ed each link with various colors, sanding off to let the wire show through. I used a touch of gold on the center one, because it is obvious that when Miss Mary is around that people gravitate to her sparkling personality!
Inspire Happiness
Created especially for Miss MaryO
The rest just sort of fell into place with pyrite diamond-shaped beads, raspberry stick pearls, inlaid turquoise brass beads from Nepal and the most gorgeous rough cut nuggets of amethyst with an AB finish from my favorite gemstone supplier Beads Direct Online.
For the presentation, I did a similar thing with a card that detailed my choices. That is something I think I will consider doing for future reference for custom orders like this because I know they appreciated the thought behind it.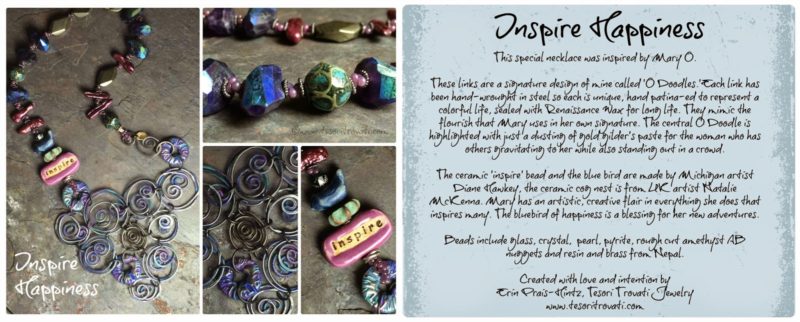 Here is what Miss Linda had to say about the experience…
She
was absolutely blown away and delighted by each personalized piece that
you included! She wore it to work the next day – which was her last day
– and it
looked just stunning. She was wearing all black – with a turtleneck
top, black skirt and black leggings – so the outfit was entirely about
showing off the necklace. She received so many compliments on how it was
just perfect for her. I know that she especially
appreciated the bluebird bead, as did I.
Thank you again, Erin! I'm an extremely satisfied customer!!!

XO Miss Linda
I don't always get to know the people that I do the custom work for, but I have never had anyone come back and tell me that I didn't get it absolutely right. That always gives me warm fuzzies! Knowing that my clients really do trust me helps me rise to the occasion and makes for a really delightful experience all around. I really do love to make original, one-of-a-kind creations, far more so than being in any gallery or boutique, where I am not sure what to make that might sell. Making treasures is what I am all about. It allows me to really put a lot of love and intention behind the choices and tailor them for a perfect fit to their lifestyle, tastes and personality. Yes, it can cause a bit of stress, but by asking a lot of the right questions and getting an image in my mind of who that person is it turns into a vision that really works. (In fact, I just found out that I will be creating a bespoke necklace for a woman from the UK who saw one of my creations on my cousin who travels the world… looking forward to that treasuring process!)
But I know that not everyone feels the same way about custom work.
So…. my question to you….



Do you take custom orders or not?
Why or why not?
Would love to hear about your experiences!
A winner will be chosen at random to get a $20 gift certificate to spend in my shop!