Each week one of our contributors gives you a sneak peek into their studio, creative process or inspirations. We ask a related question of our readers and hope you'll leave comments! As an incentive, we offer a prize each week to encourage you to use that keyboard and tell us what you think. The following week a winner is chosen at random from all eligible entries. And here are the results from last week!
Congratulations to Alice Peterson!

—
Hi, it's me, Julie! Happy Friday, and nice to see you again for Inside the Studio!
There have been lots of exciting things going on lately in the world of Uglibeads! Last week there was an auction, this week a new blog post, the weekly email newsletter came out yesterday (click here to sign up to receive those in future), and of course – big Etsy update happening tomorrow (9 AM MDT, Saturday October 10) – some new smoky ivory, marsala-y, cranberry-ish beads! And whatever else I have time to photograph before then 😉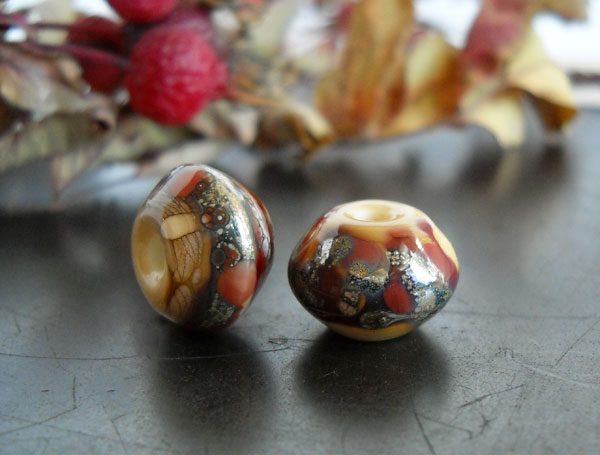 And… just… stuff! Lots of good stuff happening lately. I'm always curious to know what's behind it whenever I go through a really creatively productive time. As if there was some magic I could bottle up and put away for the next time the muse goes on vacation. Knowing my muse, she probably hasn't unpacked her bags since she got home from the last one…
Unfortunately, there is no 'muse magic'. But there is yoga. And that's kind of the same thing.
Now…. when I say 'yoga', I really mean, 'that thing I do for myself because it makes me feel joyful, and connected, and powerful, and peaceful, and grounded, and balanced, and AWESOME.' It's a shorthand. When I say 'yoga', replace it with whatever it is that does the same for you. Your joyful, connected, happy, awesome thing.
So I love yoga. A lot. It's become a vital part of my creative practice. If you asked me what the most important tool is in my studio, I might say my yoga mat. It calms me, it helps me focus so I can sit for longer and have a more productive day at the torch, it helps decrease shoulder and back pain from sitting hunched over, it helps me to keep my mind clear when I'm working on new ideas… It's a no-brainer. But even so, sometimes I really struggle to set aside even 10 minutes a day. Every morning, I think, 'Yikes… I have so much to do today… I just don't have time." If I happen to look over at my desk and see the 'to-do-list' staring at me, that's it. No yoga.
But recently, I had a revelation during – of course – an online yoga class. In the middle of some long, drawn-out pose, the teacher (Felicia Tomasko, yogaglo) was chatting about the ever-present 'to-do-list', that (frustratingly) never really gets shorter, no matter how hard you work away at it. As soon as you cross something off, you remember something else that needs doing, and it gets added to the list.
So, as she so wisely said (loosely paraphrased by me – I was too busy breathing to take notes),
the real victory is not in crossing things off your to-do list,
it is in *setting aside the to-do list*
to make time for the things that are really important to you.
Lying flat on my back on my yoga mat, taking that all in, a lot of things suddenly made a LOT of sense. Things that bring you joy, things that bring you closer to the people you love or closer to yourself… those are MUST do's. Not to-do's.
BIG difference.
Just for fun, I experimented this week, keeping a running list on a pad of yellow legal paper. All the things I needed to get to during the week to keep Uglibeads running smoothly. Usually I just sort of keep it 'up here' in my head, or on about 83 post-it-notes stuck all over my desk. But I must say, I felt a little calmer having it all in one place. I'm about 95% less likely to forget something, and there's comfort in that.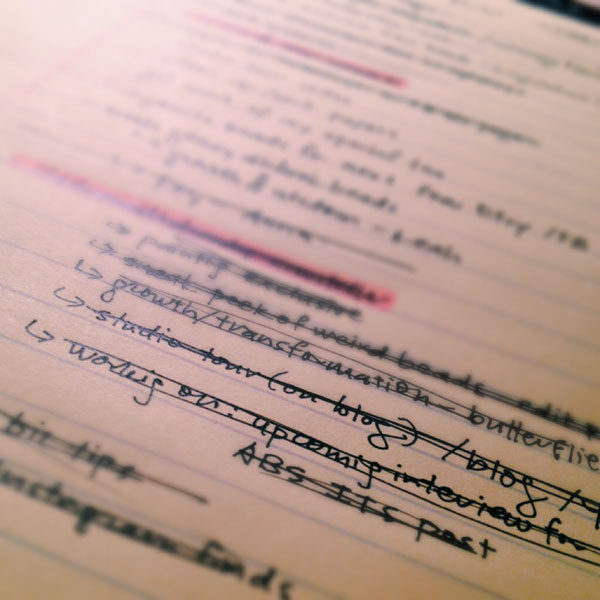 And here's how it went: even though I worked harder than usual to clear my plate this week, the list is now longer than it was when I started. Yes, longer. I'm making anti-progress!
Do you know that feeling? It goes something like this:
Aggghhhhggrrrghhhgggghhhhgrrrgghhaaaahhhggggrrghhhh!!!!!!!!!
It's ok. Scream into a pillow if you have to. You can borrow mine.
So that's where my head has been at the last few weeks. I've been keeping a very watchful eye on 'the list', but more and more often I set it aside. Without guilt. For yoga, and for all the other things that keep me in good physical, mental and creative shape. Because when I do that, it's so much easier to be the best version of me there is – in all aspects of my life.
In light of that… I painted a butterfly…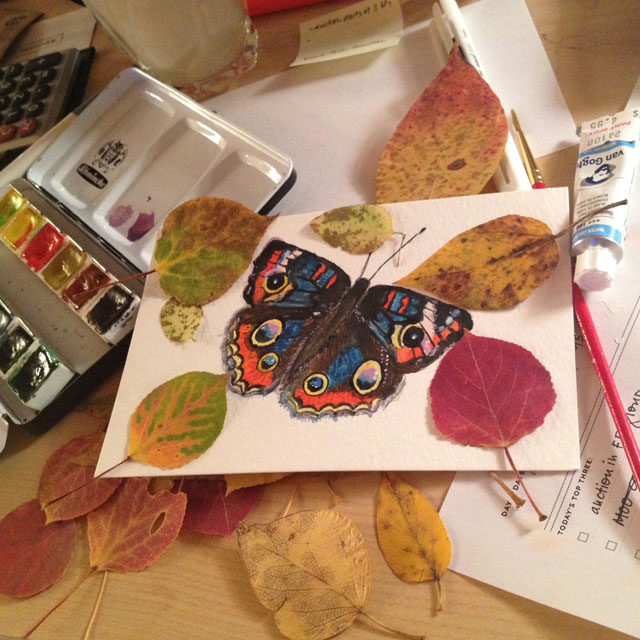 I went to my beginners' metalsmithing class and sawed out little triangles and circles for hours and hours like a zen master…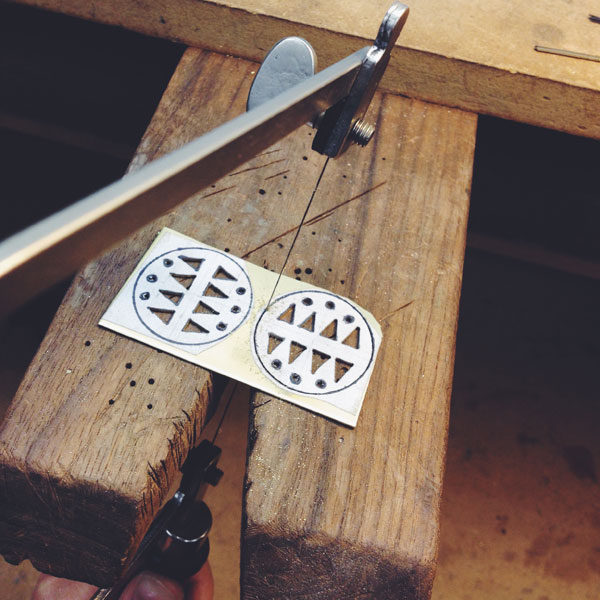 I started to experiment with a new series of beads called the 'earth angel' series (full of colors and watery-sky-cloud-star inspiration that I can't wait to dive into!!) and made a new amulet necklace with the first pendant in the series…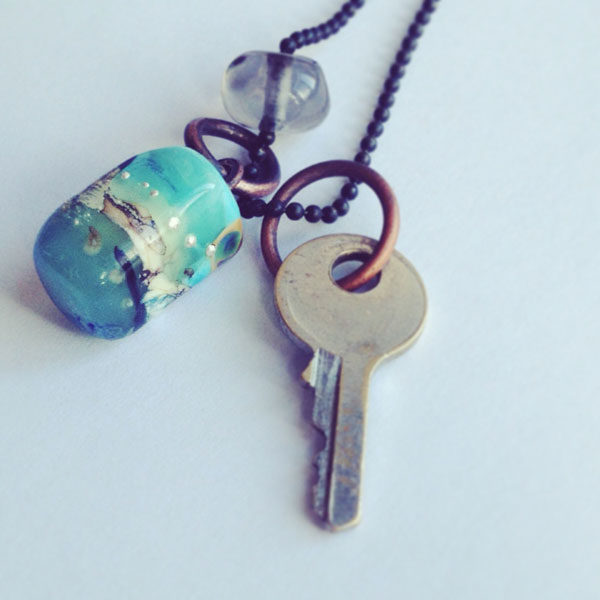 I sat and drank this amazing latte in a coffee shop right around the corner from my house…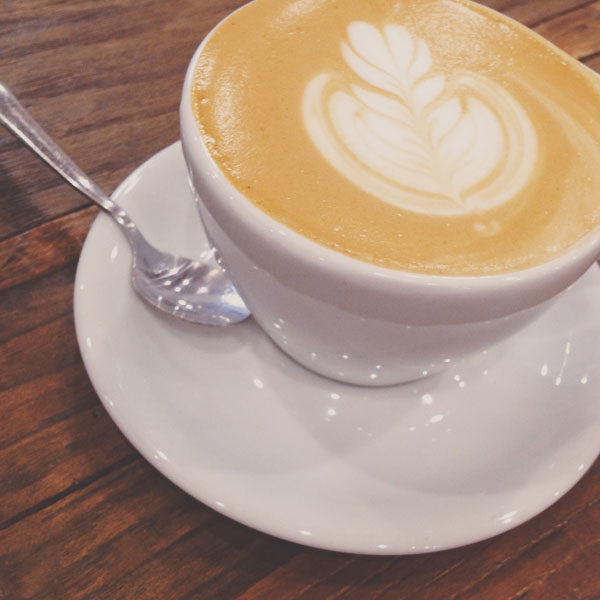 I picked up some beautiful new inspiration…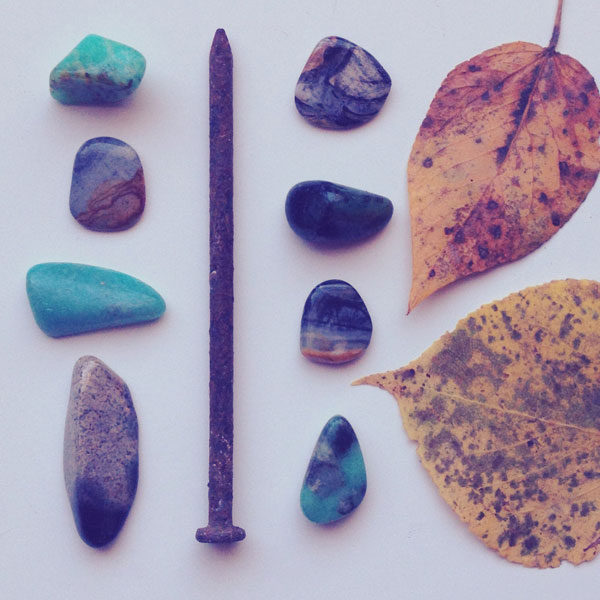 And… I managed to cross a few more things off the list in between. Balance.
So – no, my life is not all painting butterflies and doing yoga and drinking coffee and collecting rocks and leaves. And neither is yours. Nor should it be. It's not always realistic to take time away from the to-do's. There are a lot of things in life that need to get crossed off the list by somebody, or our world would be in a state of total chaos.
But sometimes you can take a moment. And when you do, it goes something like this:

Yaaaayyyyyaayayaaaaayyyyyaaayyyyyyyyyyaaayyyyyyyyyyy!!!!!!!
So, here's where the BIG GIVEAWAY comes in! And my question for you: what is the first thing you would do if you could 'set the list aside' for a few minutes, or a few hours, or… longer? Let me know in the comments below, and you'll be entered to win a special mini-pendant, made just for you, from my new 'earth angel' series (similar to the one shown in the necklace above). The winner will be announced in next Friday's ITS post.

Thanks so much for joining me – until next time!

xo
Julie
—
Julie is a glass beadmaker with a passion for building community and inspiring conversation around her writing. Her best work comes from that magical place where nature meets creative flow. You will find her hanging out most days in her
Uglibeads Facebook group
or on
Instagram
, and you're invited to join in the adventure by signing up for her
weekly email newsletter
.