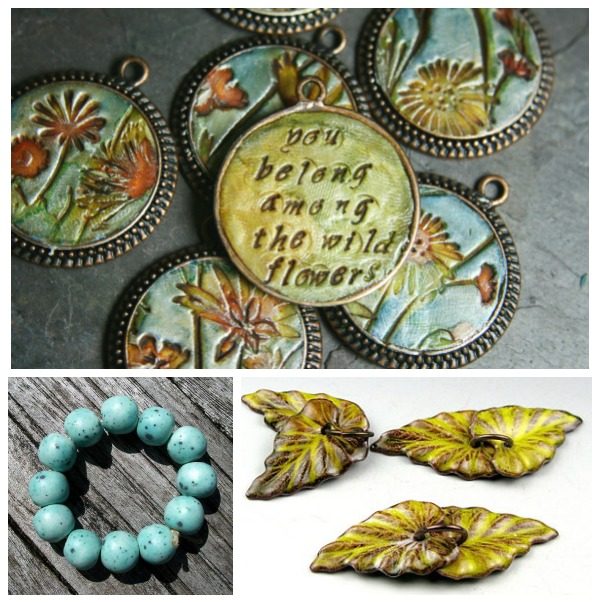 Hello! It's been a while since we had a Monday Muse – I moved last month but the beads are getting put back into order and I'm ready to start creating again. My muse this Monday is chopping a the bit to start on the Art Bead Scene's Monthly Challenge. I love the inspiration, the design and colors. So I stopped by my fellow Art Bead Scene contributor's shops to see what they had that matched this month's theme.
Pictured above:
Tesori Trovati – pretty sure I have one of these in my bead stash, I must dig it up!
Ceramic rounds from Firefly Design Studio, I love using these in my designs.
Enamel leaves from Gardanne Beads, I just bought some of these in teal blue at Bead & Button.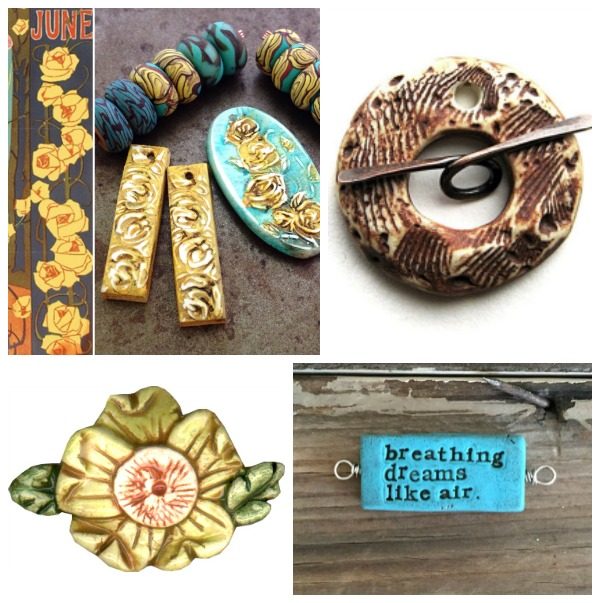 Top from left to right:
See, I told you this challenge spoke to my muse! I created a whole set to match this month's inspiration. Humblebeads on Etsy.
I love Mary Harding's clasps and spotted this one in her Etsy shop. It reminds me of the branches in the poster.
Love the flowers from Creative Impressions in Clay. Tari specializes in buttons, but can make most of her designs into pendants.
Swoondimples also captures the poetic in her beads, and this one matches the dreamy quality of the inspiration piece.




Beady Link Party

New for Mondays! We invite our readers to share their blog post links with us each week. As long as they feature jewelry or beads, share your favorite post from last week with us. We hope this will inspire you to blog a little more often and bring our community closer together.

1. Please only post blog new links each week. *

2. Visit at least two other blog links and leave a comment. We want to grow our blogging community and encourage you connect with each other.

3. You have until Wednesday each week to share your blog post.

We want to connect more with our readers! Join the party and share you latest beady blog link.

Haven't blogged in a while? It's the perfect time to share what you have been up to, what you find inspiring, your creative process, interview a favorite beadmaker, review a beady book – get creative and get blogging!

The beady link party is open to jewelry designers, beadmakers and group bead blogs.

Share you link using the "Add a Link" Inlinkz button below.

*We ask for fresh links, if you have a post that you haven't shared with us yet but it's a few weeks old, that's cool.