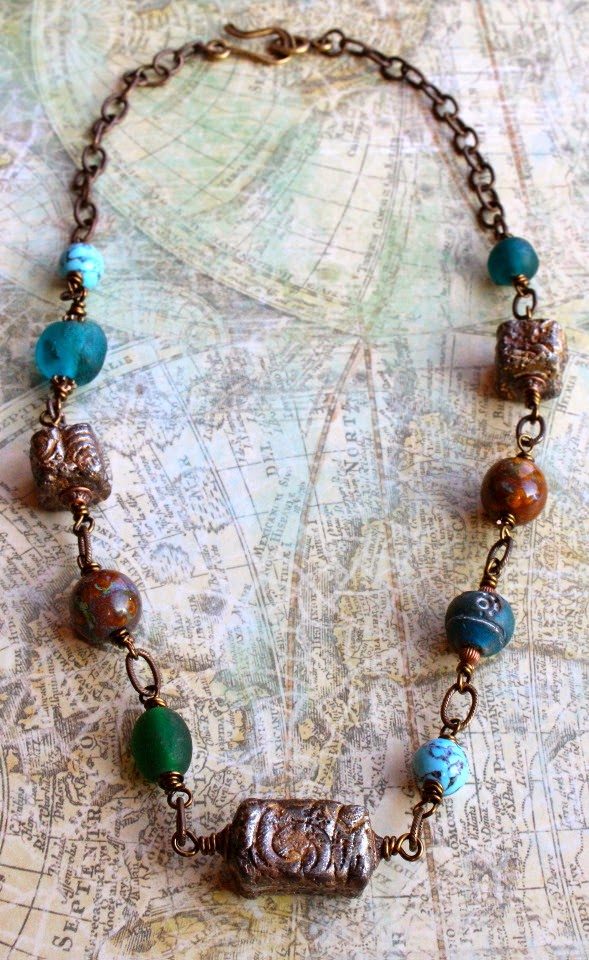 At the risk of appearing to be completely self-serving, I decided to select the design that Sarajo Wentling made with the Building Blocks beads that I sent her for the May 2014 Simple Truths Sampler Club. I am usually not done that fast with the selection of the month, so it amazes me that she was able to pull this together so quickly upon receiving them.
What I am reading on blogs about this painting is that it is a tough one. No one denies that this painting is certainly beautiful, but the subject matter just doesn't lend itself willingly to a theme. I felt the same way when I set about to make the beads. I was not feeling that inspired by the painting, despite the beauty. It made me rue the fact that I had committed to making something from the ABS painting!
But that is okay.
Because sometimes when you are stuck in a corner, you turn around and see things a whole lot differently.
What I am seeing in the great designs in the ABS Flickr pool (and what happened to me) is that our readers are breaking down the painting to the base elements…the colors, the patterns, the shapes. Sarajo isolated the colors in Miss Brandi's palette and selected a simple combination of orphan beads that work well together because they have the same overall size, visual weight and rustic quality of the art beads.
If you are stuck for that spark to strike with this image, I suggest you try focusing on one aspect… the arches, the tower, the buildings, the blue sky… and build your design from there.
And, I would be lying if I didn't say I was delighted to see how something I made for the month was translated into a design. So thank you, Miss Sarajo, for being my 'something good' today!