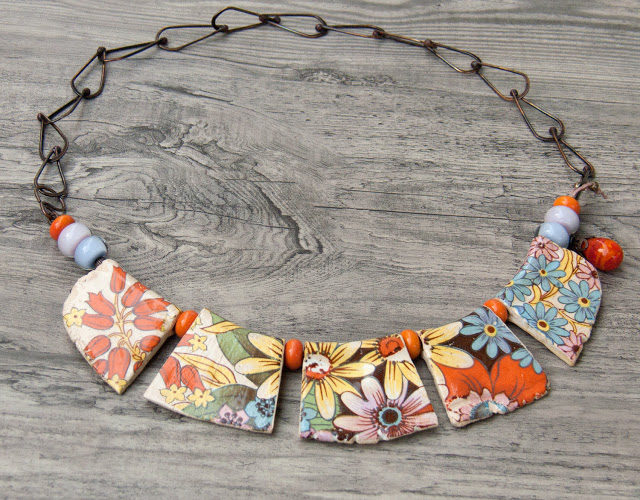 The playful artwork for August evokes the feeling of walking in a park in the fall. The trees seem to be alive with color and almost dancing. Same is true for this beautiful bib style necklace from WinterBirdStudio. The ceramic focal components seem like shards of a long forgotten piece of pottery with a very 70s color palette that plays perfectly with this month's challenge art. And this would be the perfect necklace to wear on a stroll through the park.

+
Featured Bead Artists ::
(Pssst…Kathrin is getting married! Great sale happening! Check it out!)
+
+
+
ArtIncendi
We are now using Pinterest!
Pretty please make sure that you post a link in your Pinterest description
so that I have someplace to attribute the picture!
And don't forget to tell us about those art beads – providing links to bead makers is appreciated!
Deadline August 29th to get your pictures posted to the Pinterest boards for the creation of the Monthly Challenge Recap post for August 31st.
TIP: If you upload your photo rather than pin it from your blog or shop, edit the pin (the little pencil button) and add your link as the source. Save your edits. This will allow us to click directly on your photo and go to your blog or shop to read more about your entry. If you don't, I might not be able to access the photo to share it.