Please join me in welcoming long-time reader Sarah Raines for a guest post. Sarah is a most excellent writer who creates such thoughtful and many-layered jewelry designs in response to her inspirations. Come along and see how Miss Sarah interpreted the crazy dream-like world of J. J. Granville! Enjoy!
I'm delighted to pop into the Art Bead Scene blog as guest artist for Art Journey #8. When I received a sneak peak of the Journeys this year, I was instantly drawn to the work of J.J. Granville. I loved the whimsical, fairy-tale quality in his illustrations, but also the infusion of quirkiness and satire that mixes in. His style is perfectly suited to lithography, an art style that I've been appreciating more and more. So I invite you to pour yourself a cup of your favorite beverage, pull up a chair, and let's get lost in the imagination of J.J. Granville.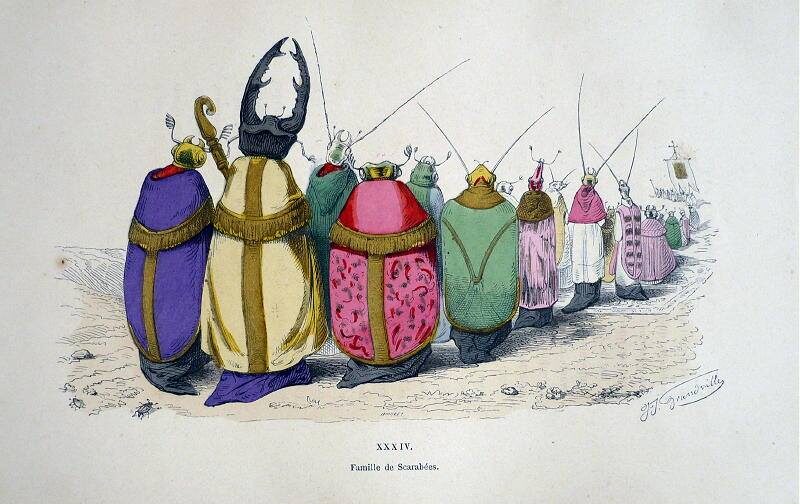 Metamorphosis of the Day was the first of his illustrations I saw, and I was immediately smitten by it. While he considered it a satirical commentary on the haughtiness of people, I found it quite fanciful and delightful to think of beetles and bugs dressing up for a night on the town.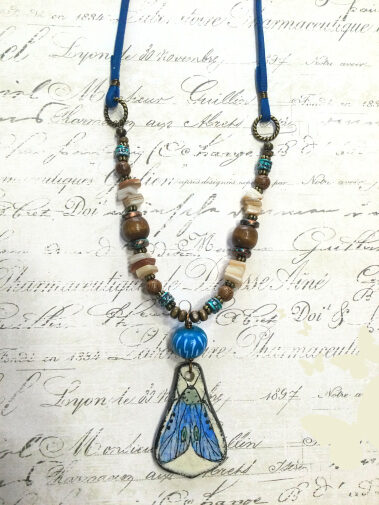 A lovely moth pendant from Artisticaos was my stepping off point for this illustration. Something about the folded winds and delicate antennae of this moth made me think he'd be right at home strutting his stuff with the finest of insects. The brightness of his wings is picked up by a hand-painted ceramic bead and an assortment of wood beads, shell slices, and metal spacers fill out the space. Some of the metal spacers have a dusting of patina on them which draws the color upward, where it ends in a strand of blue leather lace.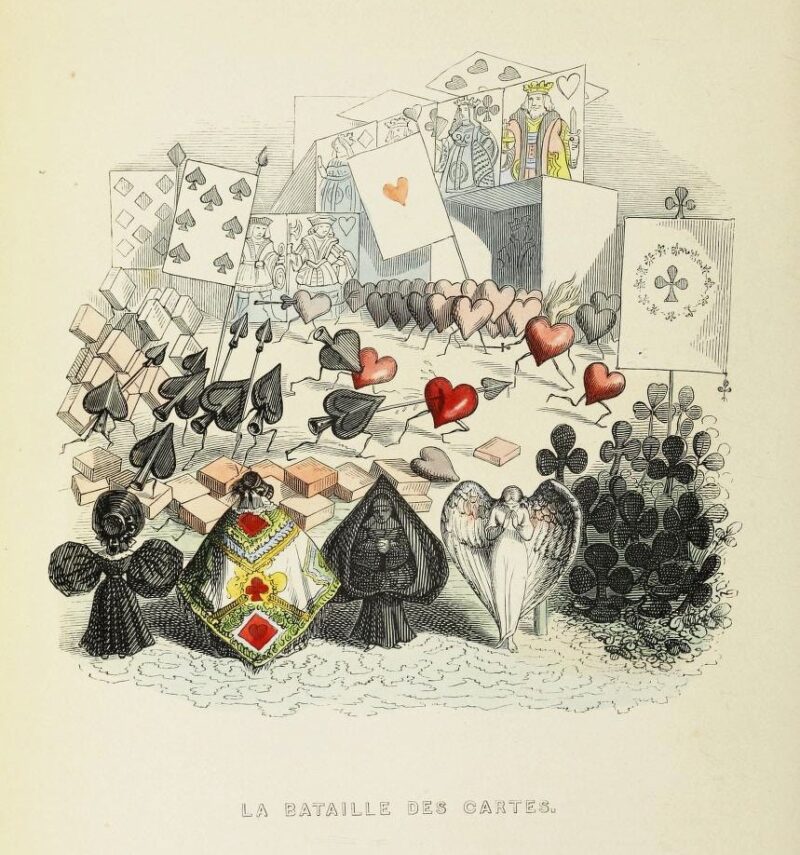 This next piece, Battle of the Playing Cards, has undeniable association with fairy-tales. The imagery is deeply entwined with that of Alice in Wonderland. Scenes of playing cards acting as consorts for the Queen of Hearts and painting roses red instantly came to mind. Fortunately, Humblebeads released a fabulous collection of Alice in Wonderland faux tin pieces and I knew they would be perfect for our Art Journey.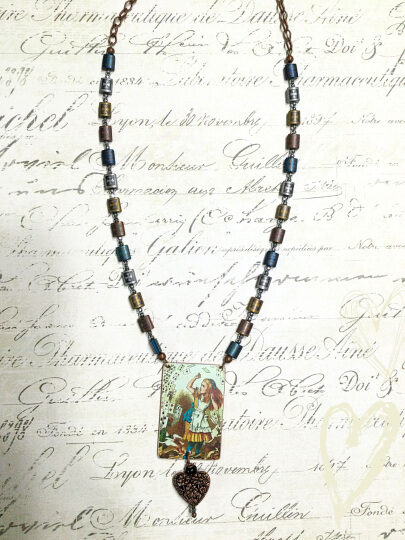 Isn't that pendant fantastic? I love that image of Alice getting flooded by that flurry of cards while White Rabbit tries to sneak away in the background. I tried a lot of different designs with this one, but in the end decided to use this assortment of metallic hued beads so that the pendant would remain the focus of the eye. The metallic beads are card-shaped and each are embossed with a tiny cross and accented with faceted silver beads. Copper chain in diamond links brings in the warm colors of the pendant and subtly plays off the card theme. Of course, we can't forget the Queen of Hearts herself, and she is symbolized by the copper heart dangling from the pendant. This one is a wonderful addition to my collection of Alice-inspired jewelry.
The remaining artwork by Granville had a distinct celestial theme so I wanted to group them together. A couple of them were a surprise to me because they weren't in my sneak peak! I was inspired in equal parts by his illustrations and the book The Starless Sea by Erin Morgenstern, which was gifted to me last Christmas. Despite the name, the moon, sun, and stars all play a pivotal role in this magical book. Since reading it, I've wanted to create some jewelry that reminded me of how I felt reading this book.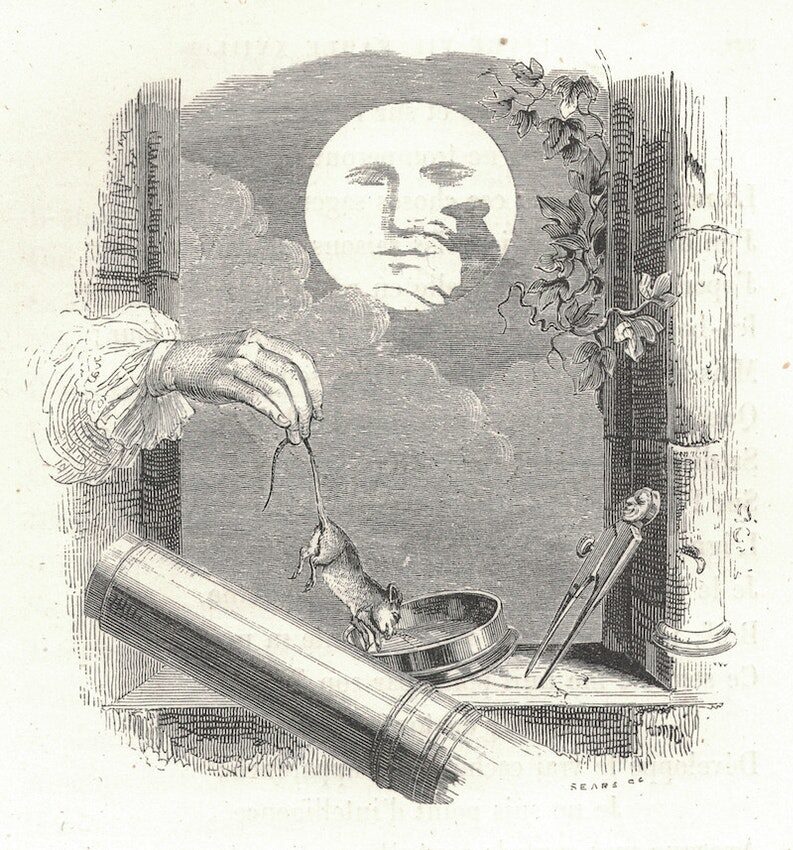 An Animal in the Moon is quite a tongue-in-cheek illustration. I'm enthralled by anything with a man on the moon – this piece reminded me a bit of Georges Melies "Trip to the Moon". I'd like to think that in some corner of the universe a little mouse snuggles up in the night and cast his shadow over the moon.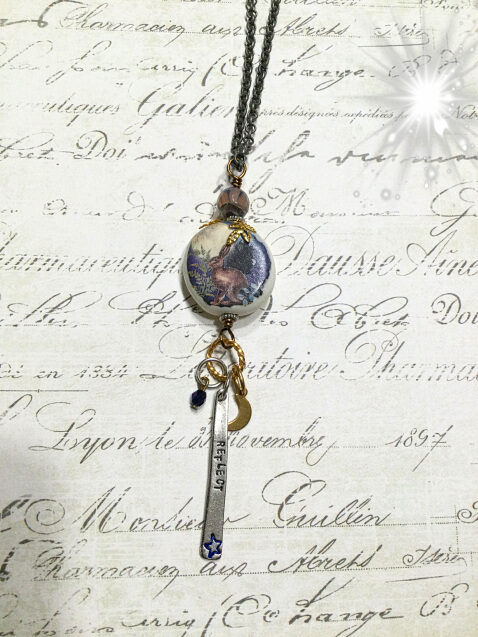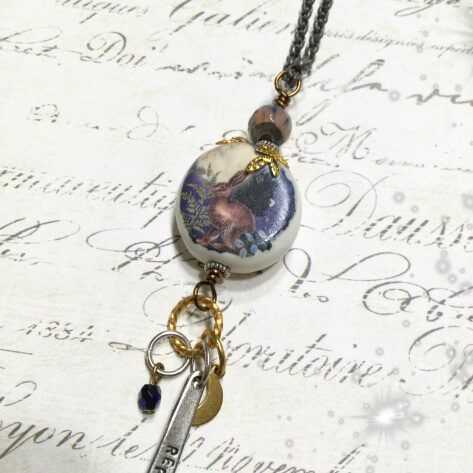 The closest I could get was with this beautiful bead of a rabbit against the night sky with a full moon. This gorgeous piece is the work of Natalie McKenna of Grubbi Beads. I paired it with a selection of charms from Vintaj, a bright gold leafy bead cap, and a reticulated grey agate bead. It is strung on oxidized silver chain. The mix of dark grey and bright gold reminded me of the dark night sky and brilliant light of the moon and how those two contrasts intertwine. In The Starless Sea, there is a character – a little girl who likes to pretend she's a rabbit. Her story was my favorite in the book and so this necklace is an homage to Eleanor, who "was a rabbit, not a girl".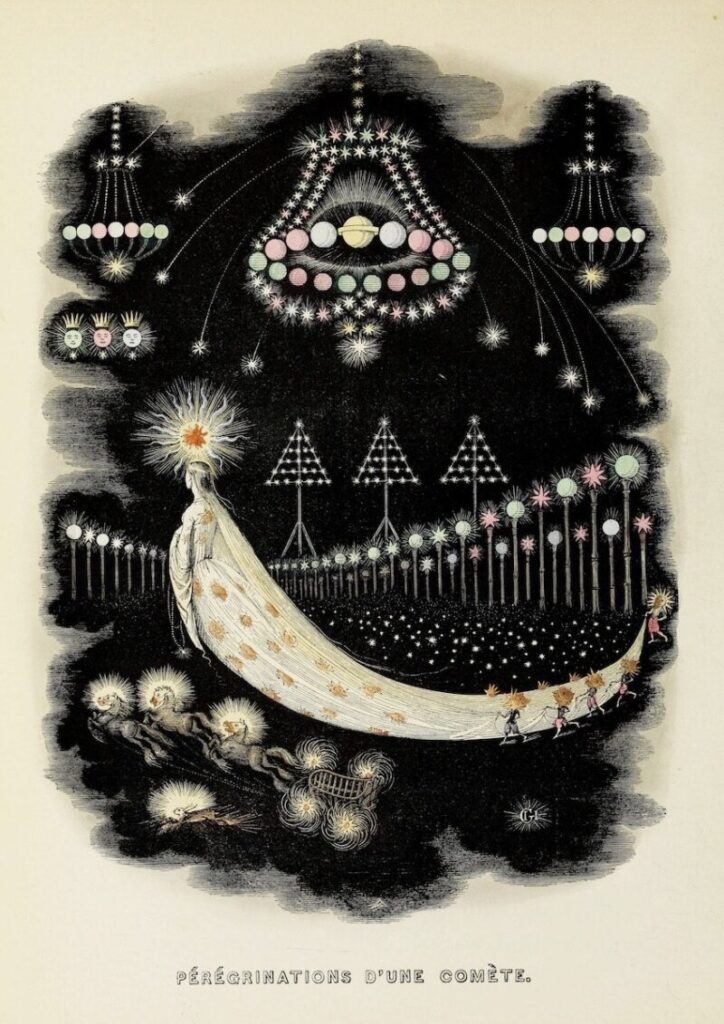 Now, to say that Wanderings of a Comet captured my attention would be an understatement. When I saw it for the first time, I couldn't break away from it. It is breathtakingly beautiful and I love every aspect about it – from all the celestial imagery mimicking diamonds, to the flying chariot pulled by fiery horses, to the contrast of the solid black background – everything about this piece sings of the magic of night skies. And how imaginative of him to fashion the comet into a woman wearing a cape of stardust! Fold in a bit of Art Deco influence, and I'm sold. This is my favorite of the selection of illustrations from Granville.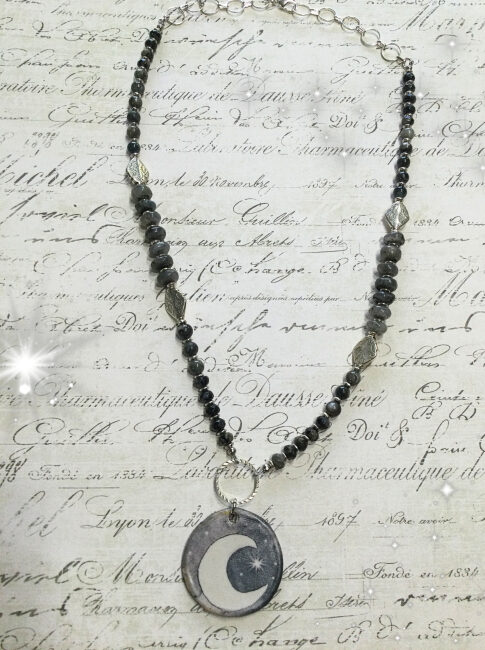 This piece takes as its inspiration another pendant from Grubbi Beads, this one featuring a lovely crescent moon with a twinkling of stars against a painterly grey/black background. I think it perfectly captures the essence of the Granville illustration. I suspended it on an etched silver jump ring and then created a heavily beaded necklace comprised of dark black agate and labradorite. Silver spacers and patterned silver diamond beads add light and shimmer to the otherwise dark palette (and a touch of Art Deco), much like stars do across a night sky. The necklace is finished with soldered circle chain. In The Starless Sea, the stars form a coup to control time and fate, but the Moon intervenes. This moonscape pays tribute to the story of the Moon, who takes shape as a dark-haired woman clothed in silver and light to aid our heroes in their quest.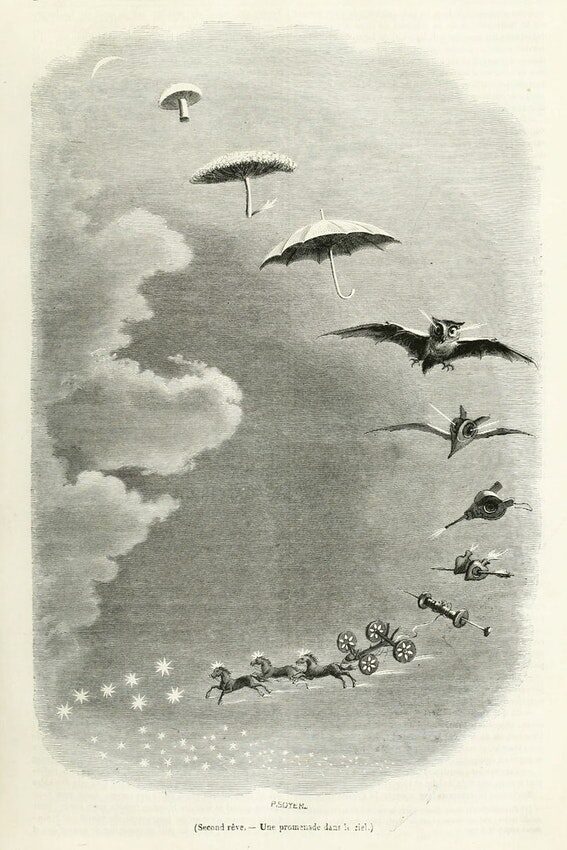 Our last stop on our journey is A Promenade Through the Sky. I was delighted by the transformation of objects as they fly through the sky, ending with the horse-drawn chariot afloat in a sea of stars. What imagination Granville had to place all these objects together and morph them slowly into each other! It's quite a fanciful take on charts that show the waxing and waning of the moon.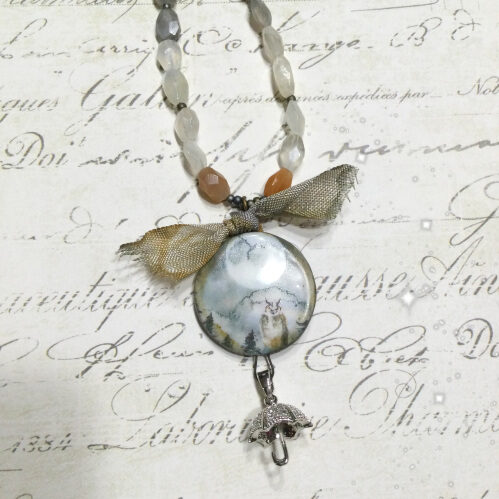 I used as my starting point, this hauntingly beautiful ceramic connector from Grubbi Beads. (Can you tell I have a passion for Grubbi Beads moon themed pendants?) This one features an owl perched amid a mountain forest with a full moon hovering above. I used a selection of grey and peach moonstone beads to string the necklace, punctuated with tiny matte grey seed-beads. The necklace is finished with etched silver chain and a heart toggle. Both the owl and heart are nods to the imagery in the Promenade. To cover the bare wire loop at the top of the connector, I hand dyed some seam binding in shades of grey and gold and tied it to the piece. A silver umbrella hangs open and suspended beneath – again as a connection to the imagery in Granville's illustration. Owls have an important role in The Starless Sea. The Owl King and his flock fly in and out of the stories that fill the pages to tell the tale of the Starless Sea across time. This necklace reminds me of his story too and the power of transformation that Granville so artfully reminds us.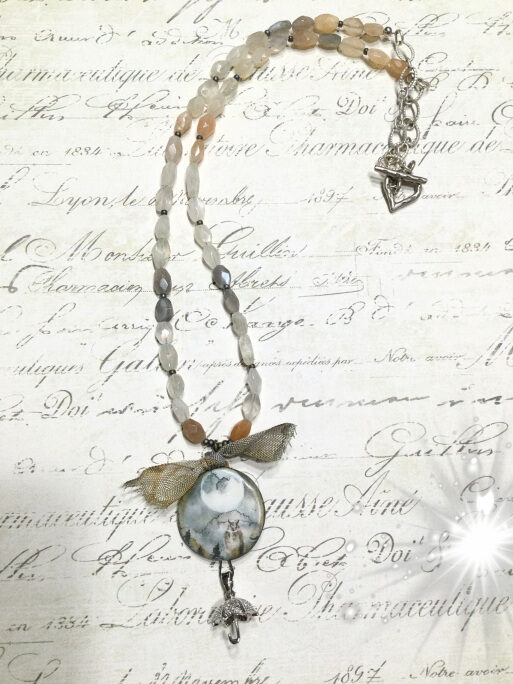 I hope you've enjoyed our journey together through these remarkable pieces of art. If you haven't yet, take some time to sit with Granville, let your imagination wander, and make your own creative story from the art beads and bits of your collection.
You can follow me on my blog where I write about the ordinary miracles that fill our days: https://anordinarymiracleday.wordpress.com
And on Instagram: seraines317