Happy Monday my beady friends!! It's time again to share with you all what I've been making for our current Art Journey. As usual, I had high hopes of getting more accomplished… but life happens. My muse has been pulling me towards some bead bead embroidery projects featuring beer bottle caps. That combined with my husband taking a week off work to enjoy what may be the last of our warmer weather in Minnesota has cut into my art bead time! But I'm here to show you what I've completed so far. The dark and lush still life paintings by Rachel Ruysch truly did capture my imagination and I hope to circle back and get a few more designs done.
---
Per my usual process (or MO) I started off with a pair of earrings. I thought it was time to play with some gorgeous charms from Inviciti with a rich patina to them. It's a little hard to tell in my picture, but the Czech glass flowers I chose for this design have a lovely etched and gold finish to them that pairs nicely with the aged look of the charms.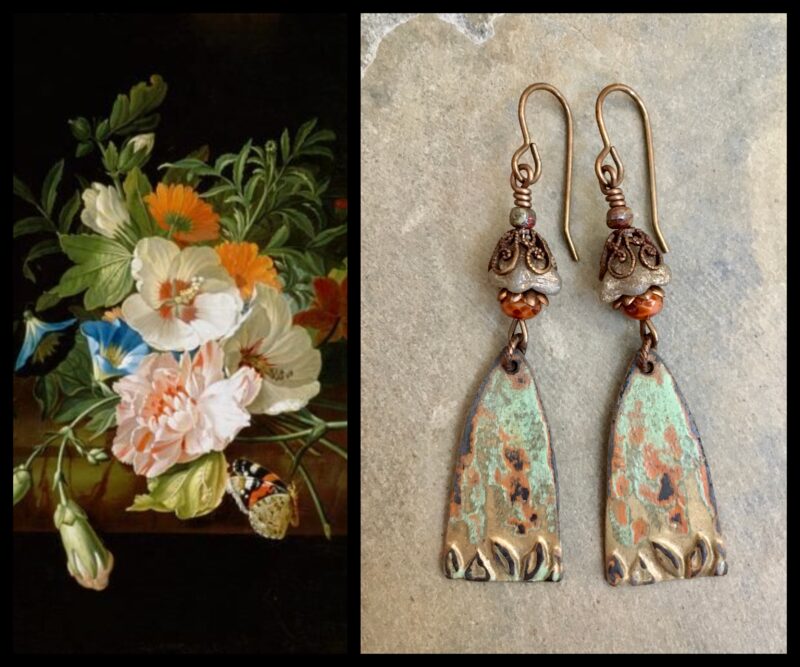 ---
The first necklace I made is far more petite than most of my creations tend to be. I wanted to keep my design relatively simple and in a smaller scale to match the delicacy of the enameled butterfly pendant from Gardanne Beads. I just didn't want to overwhelm its beauty or dwarf it with beads that were too big.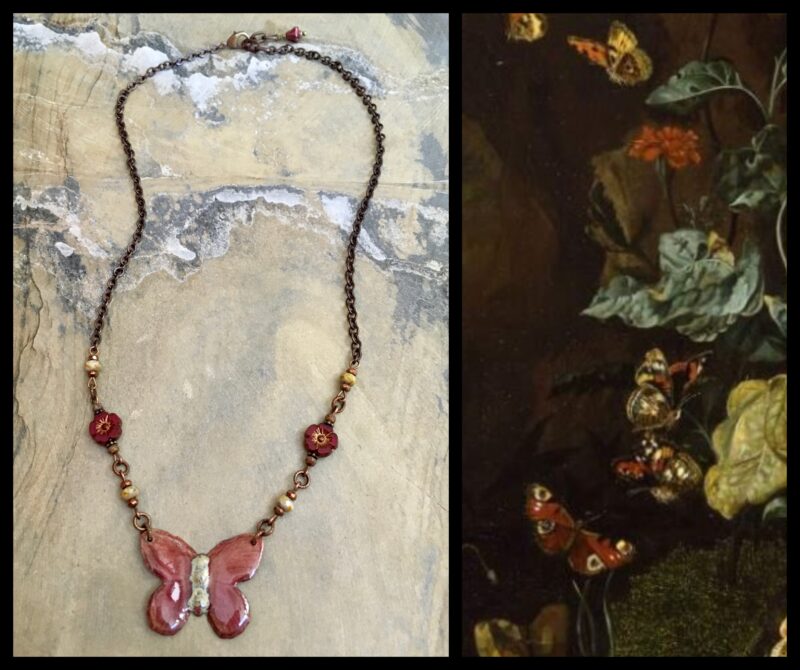 ---
Where my last necklace was delicate, this next design is big and bold! Ok, ok… it's not exactly huge, but comparatively much large scale. The beautiful metallics of the raku pendant by XAZ Beads drove the direction of this design. I immediately went digging for druzy, plated hematite, and various Czech glass beads with autumnal metallic finishes. Adding copper elements was a no brainer with the coloring in the pendant. I love the rich, autumnal colors going on here with the pops of blue.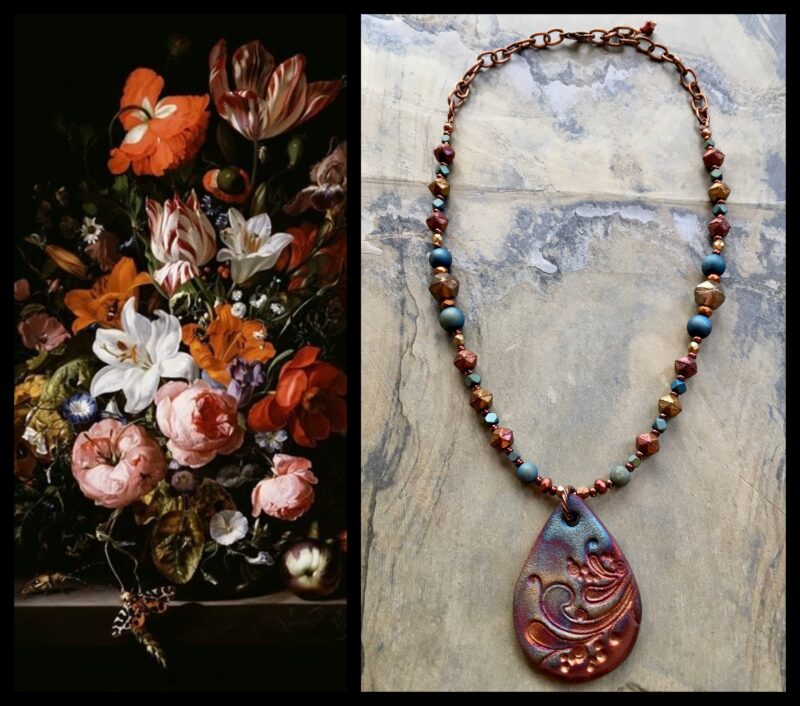 ---
I had really hoped to finish at least this one last necklace, but time ran out on my for this post. The amazing moth pendant by my ABS team member Terri DelSignore of Artisticaos was just the perfect thing for this Art Journey… and I got it in plenty of time for this challenge (in theory anyway.) I came up with a selection of beads that felt just right… but then my brain got stubborn about how to put them all together. Finally deciding on a nice burnt orange waxed Irish linen for my stringing material, I thought that maybe, just maybe I could pull this off. Nope. Ultimately it was the way the Humblebeads discs were sitting that gave me pause. As perfect as they are as a compliment to the pendant, they just weren't sitting right in the knots because I could only fit one of the two strands through them.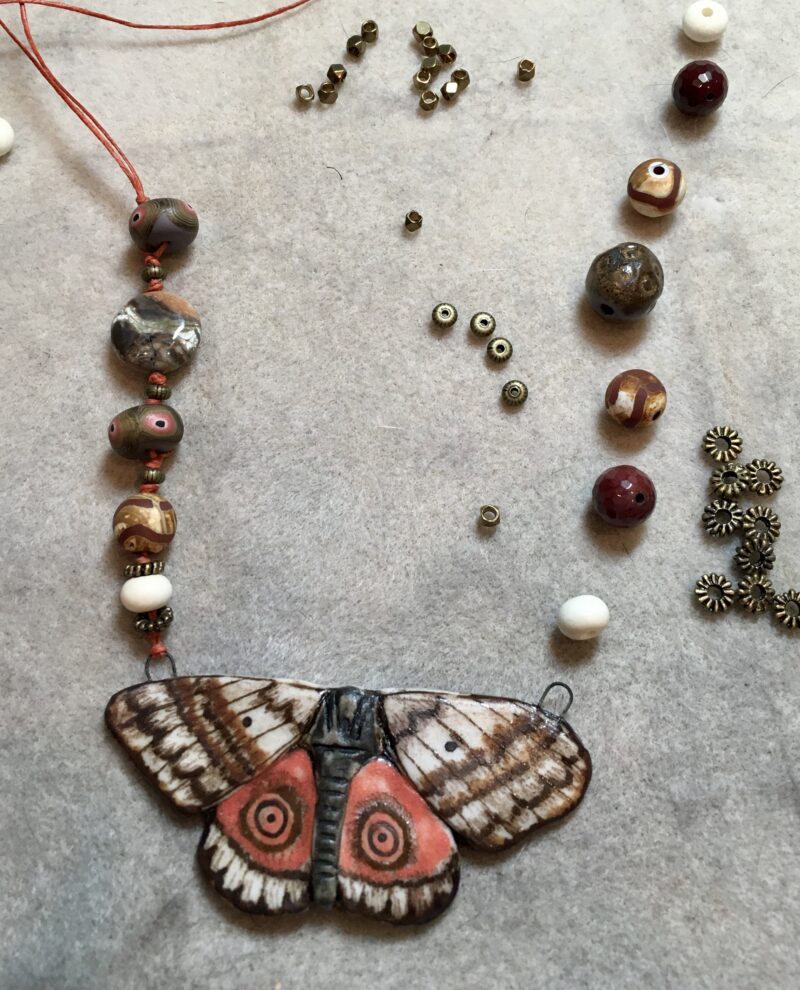 I'm determined to rework and finish this design… hopefully in time to share it yet for this Journey. I already have too many half thought out projects abandoned around my bead space… I don't want to add another one, especially when the concept is this close to coming together. I'll cut this apart and start over. (Luckily waxed linen is relatively inexpensive in the grand scheme of things!) My plan is to enlarge the holes in the polymer clay discs and give it another go. Fingers crossed that the the second try (as well as the other side of the necklace) give me less grief.
---
Thanks for checking in to see what I've been making! Have you created something inspired by this Journey? If so, don't forget to share it with us. Just go to our Art Bead Scene Lounge Facebook Group to submit your creations for this Art Journey. Click HERE and then find the album for the current Journey to add your photo. Remember, you can enter as often as you like… the only rule is that you have to use at least one art bead or component. The deadline for entries is October 16th. Happy creating!!
---
Sarajo Wentling, Your Monday Muse