I've been so excited to get to my bead table and play with some much needed bright colors for this Art Journey. We've had a little of what we call "Fool's Spring" here in Minnesota, but I'm sure that there's more snow to come. For now, I'll have to be happy with color blooming in my jewelry designs.
I really went overboard creating for this Journey… I made 8 pieces!! I think it was a combination of being completely smitten with Viktor Zaretsky's work and not enough creating time in February. Regardless of the reason, I was super productive and I'm loving what I made! I hope you enjoy my designs too… let's get to it!!
---
A Girl In Blue
There's something ethereal about Zaretsky's A Girl in Blue to me. Her face is so serene, her gown stunning in it's color and pattern, the background colors soft and dreamy… I want to know where she is off to in this fancy outfit and if that bird is in the wild or perhaps a kept pet.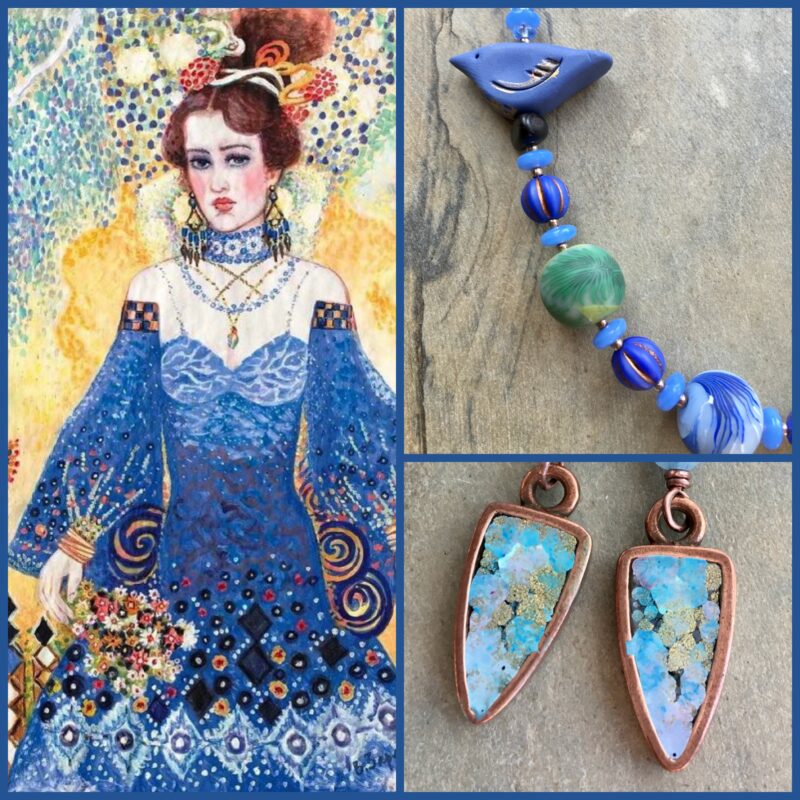 As is often the case, I started out my making with some earrings. I had a couple of charms that I made in a class at the Adornments Retreat with our own Erin Praiz-Hintz last summer that seemed pretty perfect for this art inspiration. I was so happy with how this pair of "Petri Dish" colorized resin charms turned out…especially how well matched they are considering you really don't know how they will end up when you're making them. The splotches of overlapping color in them reminded me of the pointillism-esque background of A Girl In Blue. Pulling colors from both the artwork and my charms, I chose some faceted Angelite rounds and some purple crystal rondelles. These may be tough for me to part with.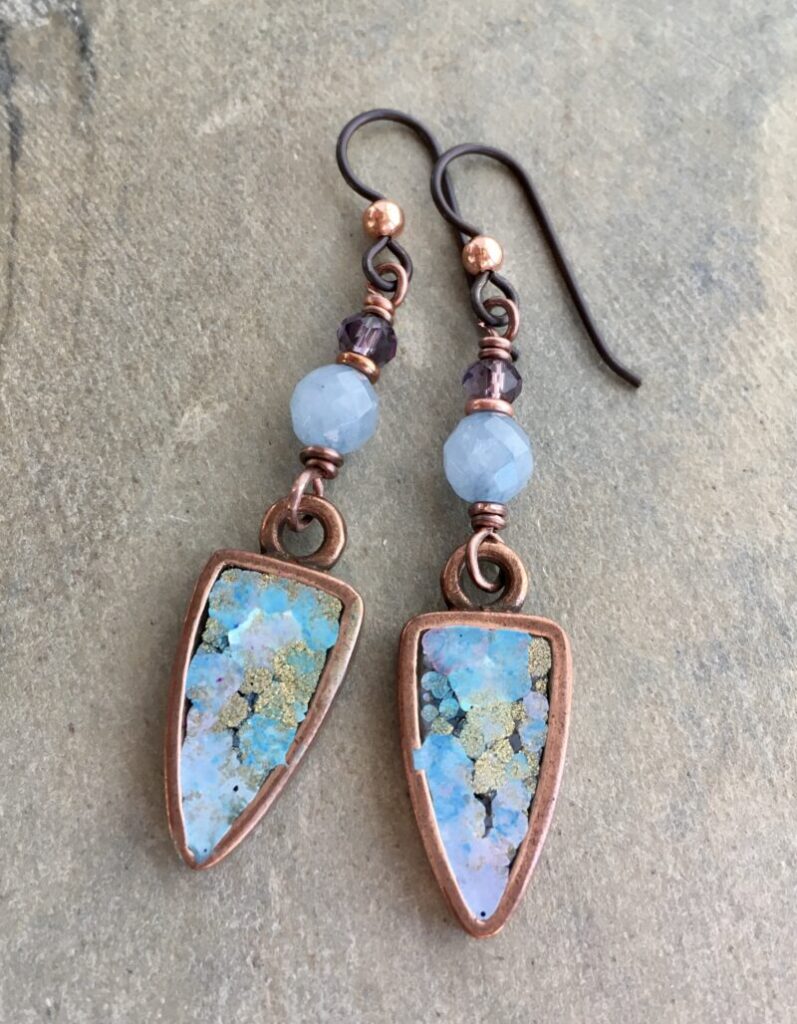 Continuing with some art beads from the creator of the Art Bead Scene, Heather Powers, the starting point for my next creation was a lovely set of polymer clay beads from Humblebeads that I've had squirreled away for quite a while. The mix of colors and patterns in her rounds picked up on a lot of what was happening in the artwork. Her little bird, while different than the on in the picture, had the right colors… and is still an avian cousin! In between Heather's beads, I added some Czech glass spacer beads in a lovely blue and some fun blue and gold melon beads. I also gave the bird a little wooden "perch" to sit upon. At the back of the necklace I went with a double strand of a smaller brass chain instead of a single strand of something larger scale. I just felt like it added some visual interest.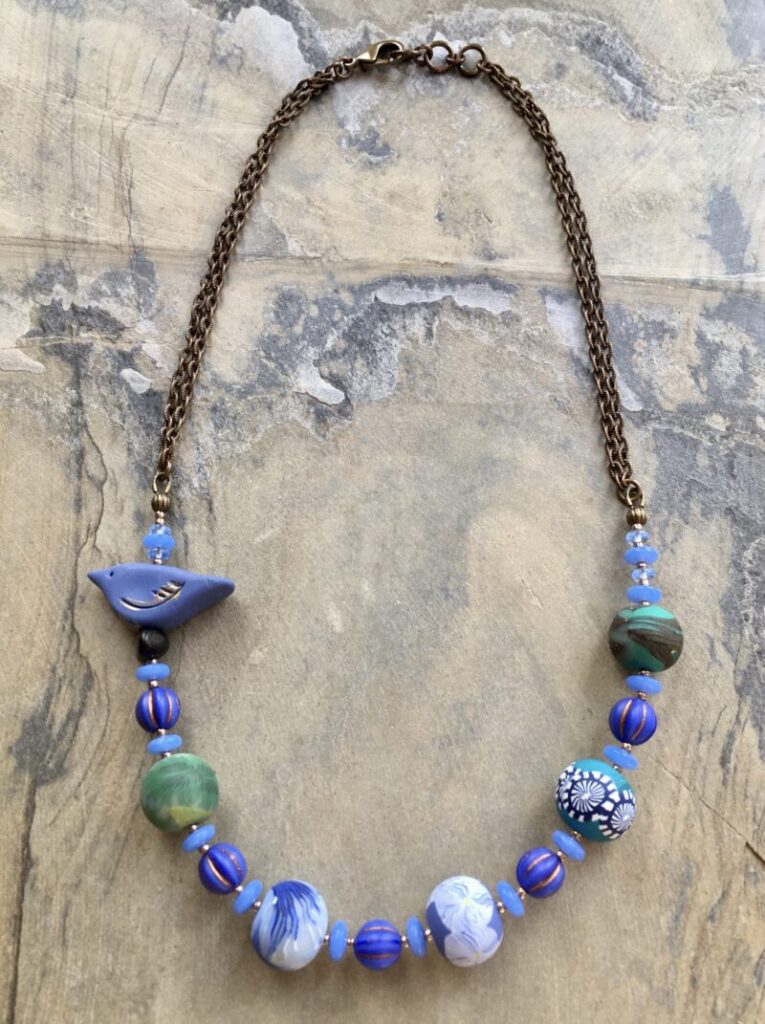 ---
Nastya
I find it ironic that the artwork that I found the least appealing is the one that inspired the most jewelry this time! Life is funny that way. Maybe it was just that the beads that "worked" for Nastya just were speaking to me.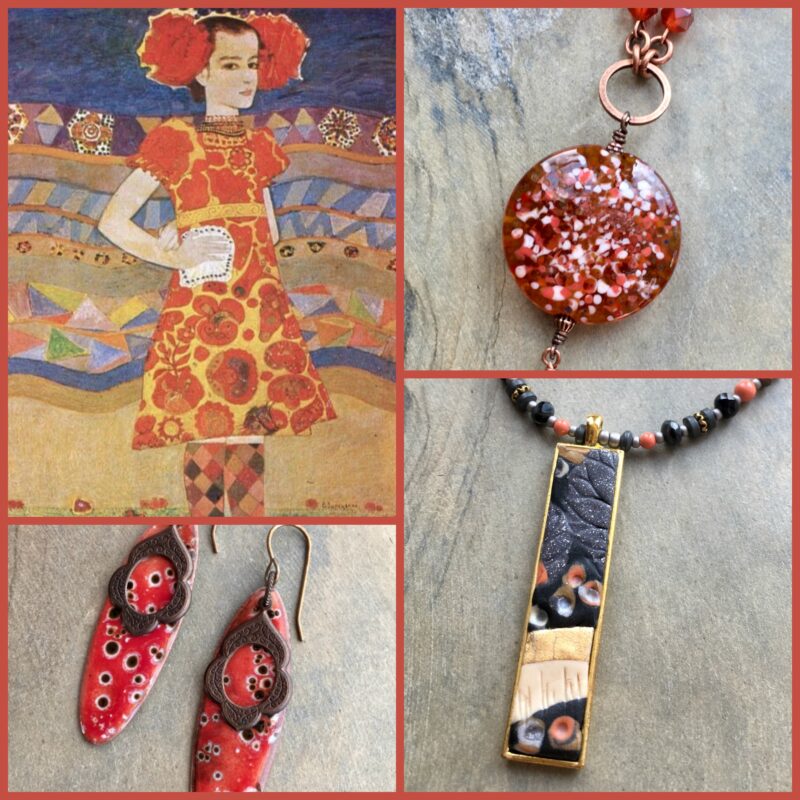 First up, a long necklace featuring a large lampwork glass focal bead by Sue Beads and a chain tassel that I made. The links along the body of the necklace are star cut Carnelians and snow capped red agate. I also included some ivory colored Czech glass flowers to echo the floral pattern of the dress.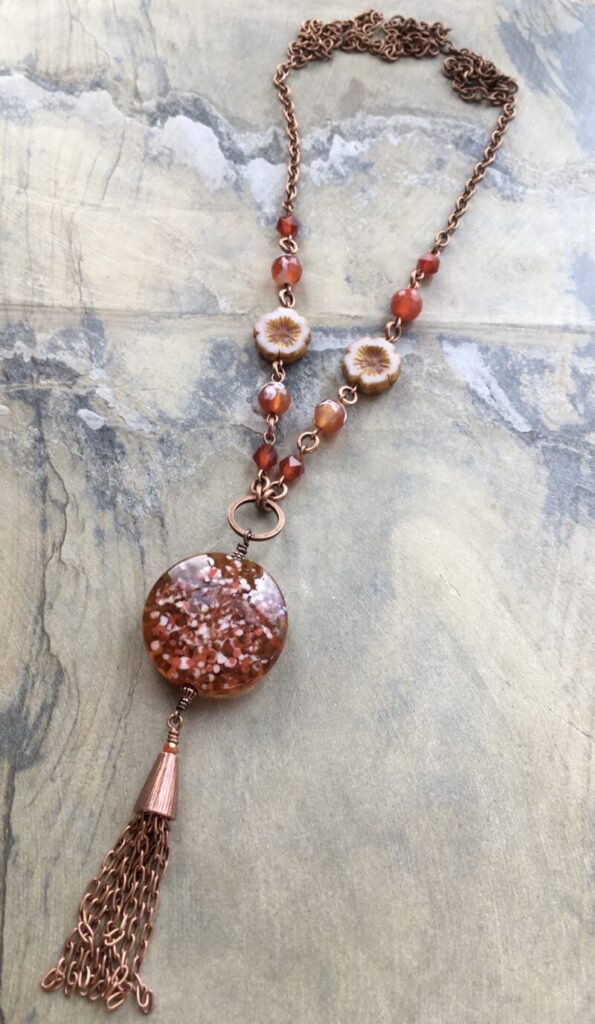 As always, I couldn't resist a quick pair of earrings! I paired some lovely orangey-red elongated enameled ovals from Gardanne Beads with some Vintaj brass charms. The charms addd some movement and interest but don't hide the lovely enamelwork underneath.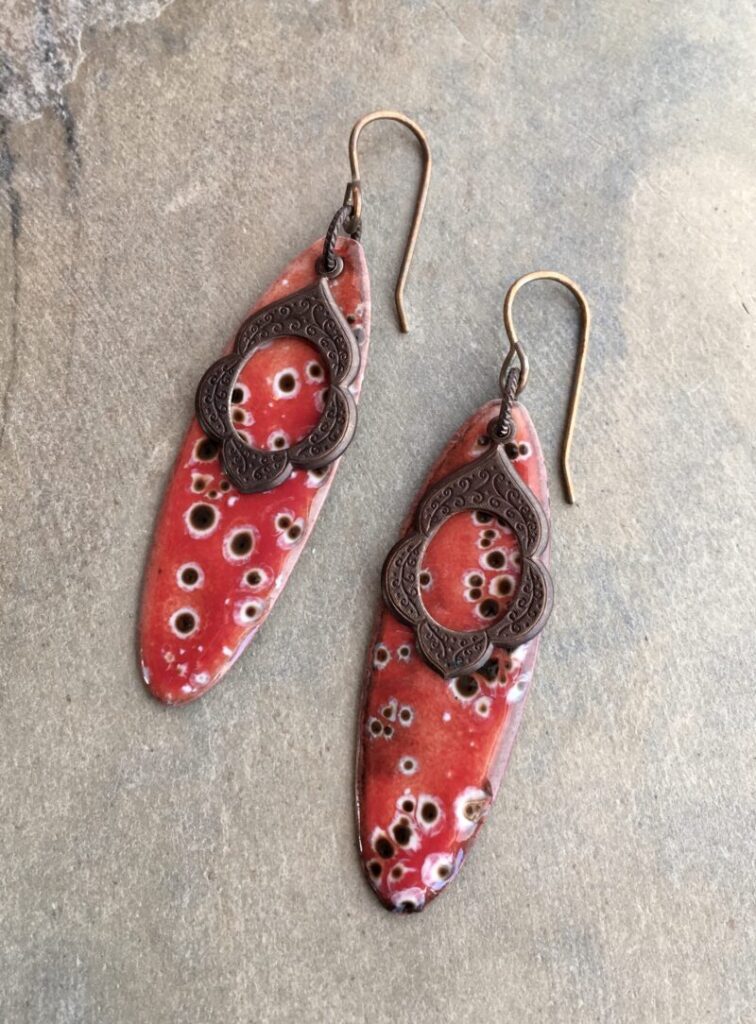 Playing with some of the dark greys, cream, and lighter orange tones I picked out a gorgeous polymer clay pendant from Erin Praiz-Hintz of Tesori Trovati. She made it for a totally different Art Bead Scene challenge back in October 2018… inspired by a Japanese robe but it was perfect here. Not only did the colors work nicely, the style of the pendant reminded me of the collage-like pieces Zaretsky used in Nastya. For this strung design I used a mix of coral colored Swarovski Crystal pearls, black Czech glass, and matte grey plated hematite. There are also some matte platinum colored seed beads and gold plated spacer beads in the mix.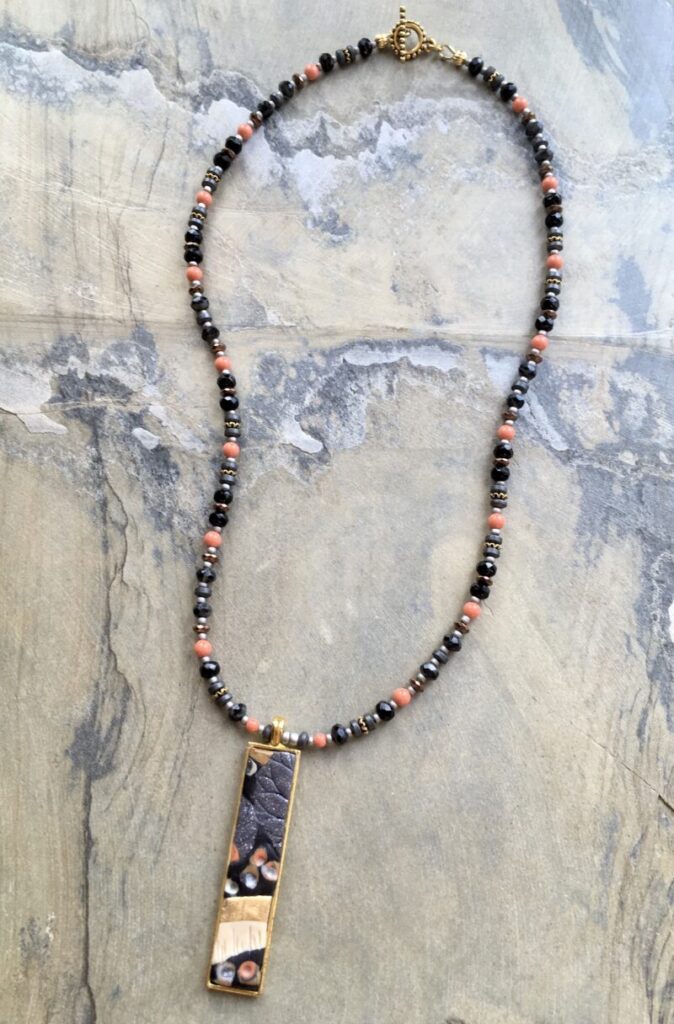 ---
Portrait of Olga Kravchenko
To say that purple is not the most represented color in my personal bead stash is a serious understatement. It's just not a color I'm super drawn to and I also feel like finding really attractive purple beads is challenging… especially with Czech glass. With that being said, you probably won't be surprised that I only made one design for this next piece of inspiration artwork!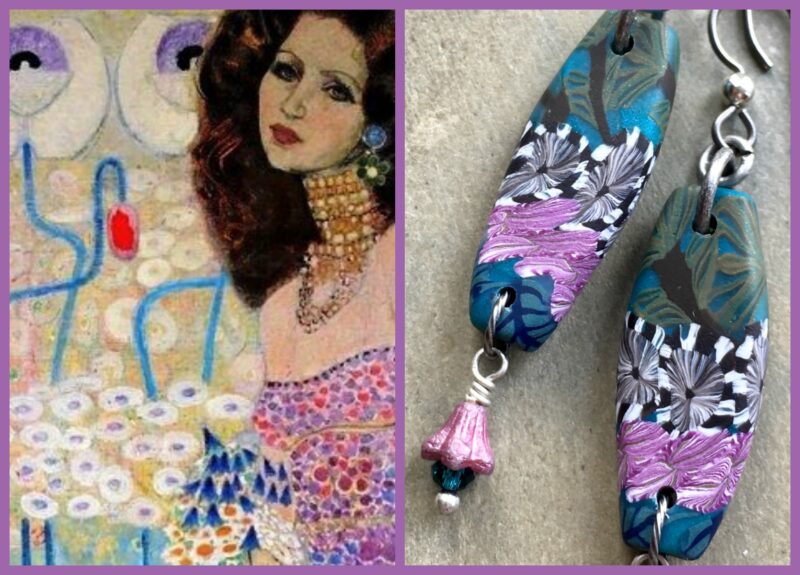 Lucky for me, I did have some fun two-hole charms from Humblebeads that had several of the main colors from Portrait of Olga Kravchenko. This is a pretty simple design… I just added some tiny Czech glass flowers with teal crystal centers as little dangles from the bottom. Easy peasy!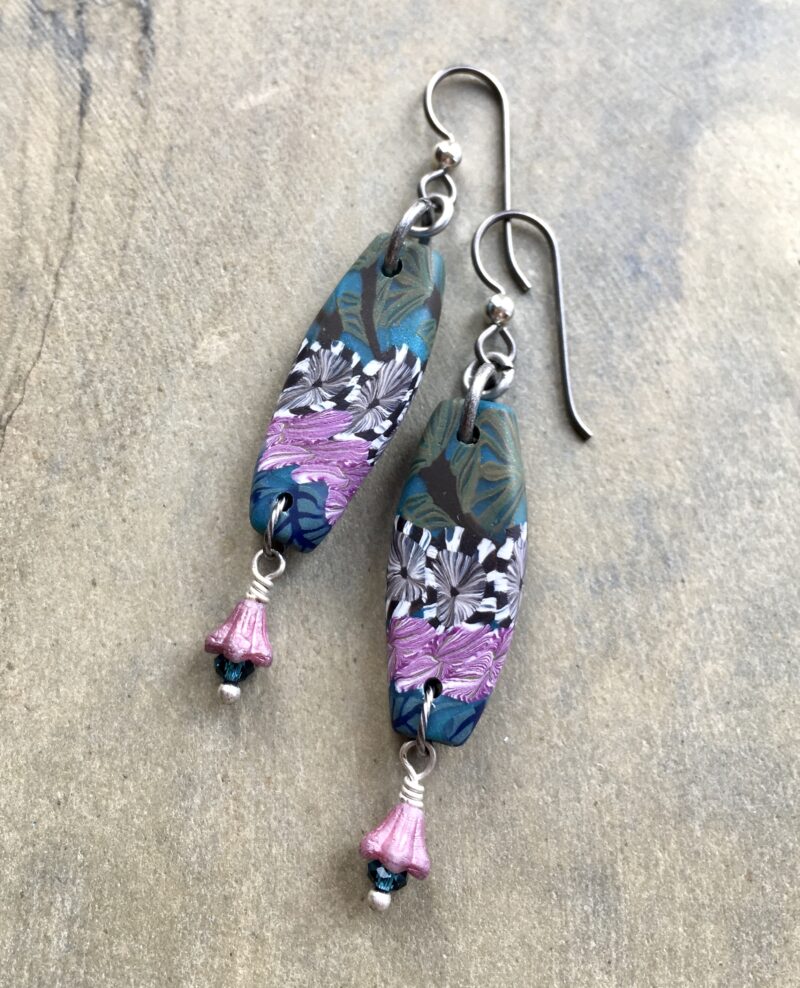 ---
Eugenia
I seriously can't get enough of the bright colors of Eugenia! I love Ann Schroeder's description of this painting as "bold and juicy" from her recent post and can't think of a better one. I had so many fabulous art bead choices for this one that it was hard to choose where to start. I may have to circle back to some of the other pieces soon.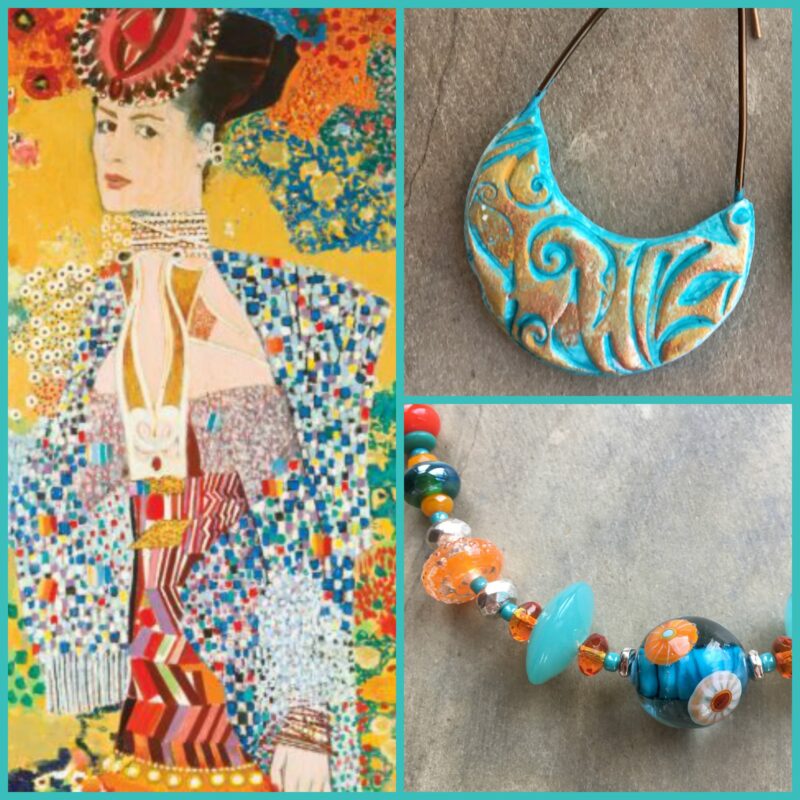 If I had to pick a favorite creation for Art Journey 2 it would be the necklace I made in response to Eugenia. Seriously, this one may be a keeper for me… we shall see how that pans out. I had a little strand of lovely lampwork beads in a range of textures and colors by Donna Millard that were just so juicy. Turquoise and orange is one of my very favorite color combos. I used all of the beads from that little strand and just added in some turquoise seed beads and some coordinating Czech glass. I also added in some silver plated and pewter beads into the mix to go with the chain I'd chosen.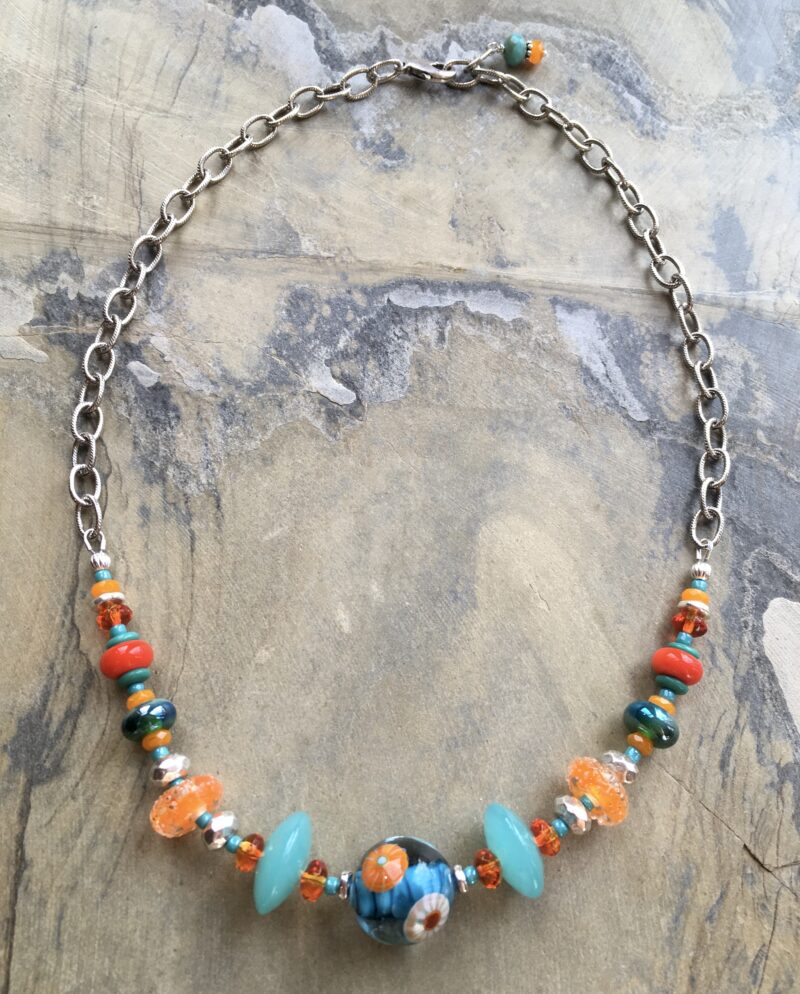 The earrings I made for Eugenia seem like a bit of a cheat but Jenny Davies-Reazor's gorgeous polymer clay charms are too yummy not to share! All I had to do was slip ear wires onto the charms and they were ready to go. I'm kind of kicking myself for only buying one other pair of these cuties from her at Bead & Button!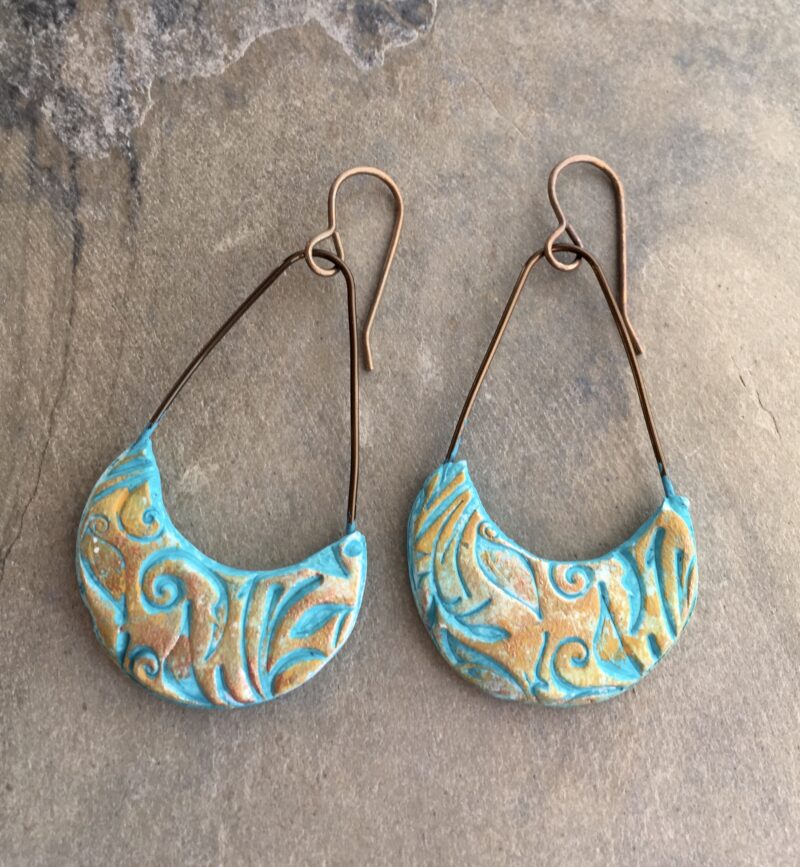 ---
Thanks for stopping by to see what I've been up to! Believe it or not, I actually managed to get a few of these designs added to my Etsy shop in case you're interested. You can check it out HERE.
---
Deadline to enter is Friday, March 28th.
Go to our Art Bead Scene Lounge Facebook Group to submit your creations for this Art Journey HERE. Remember, you can enter as often as you like… the only rule is that you have to use at least one art bead or component. Our prize for Art Journey #2 will be given away from a random draw of all entries that come in by March 28th. This Journey's prize package is being donated by Anne Potter and will be perfect for use with the Art Journey #3! We hope this will encourage you to play along!
---
Sarajo Wentling, Your Monday Muse